If you have a panini maker, great! But if not, that's okay for this Ham and Roasted Red Pepper Panini recipe, too!
DO NOT let the word panini scare you off. You absolutely do not need a panini maker to make this sandwich. And if you don't know what a panini (okay, panino…anyway…) is, don't even worry about it. It's just a fancy word for a toasted sandwich made with Italian bread. I mean you could call a grilled cheese sandwich a grilled cheese panini and it would mean the same thing…and yet, so fancy!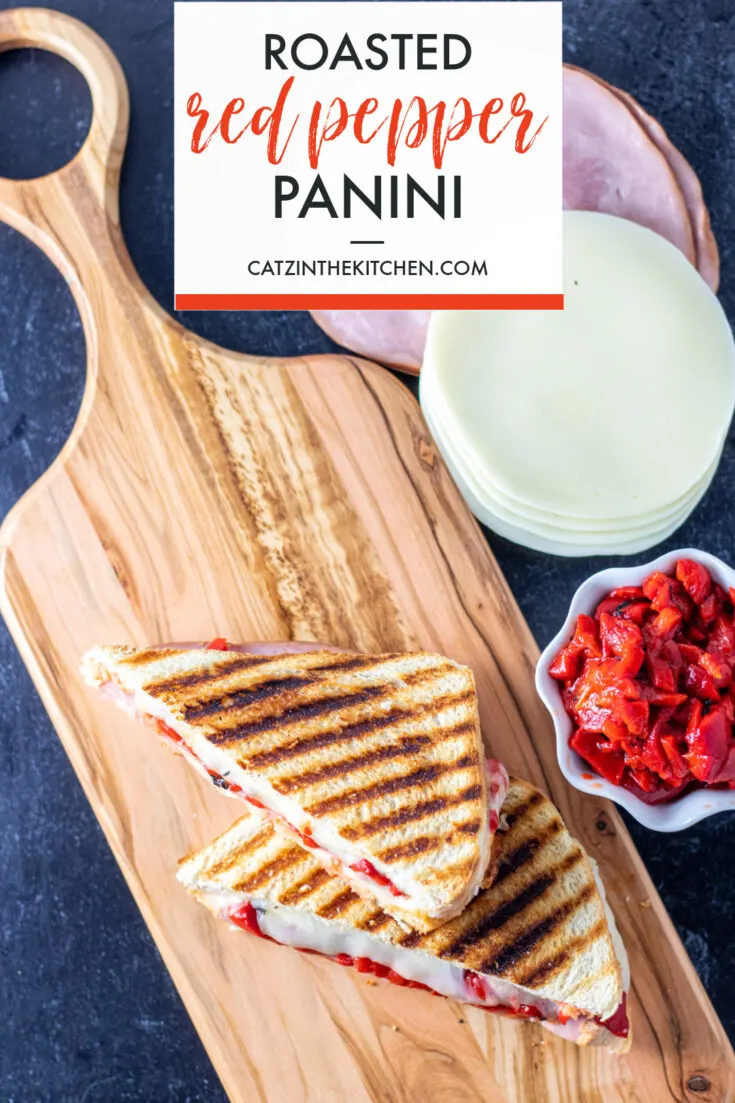 It's back to school time and this panini (or sandwich) is great for lunch or dinner. I actually love to serve panini for dinner. Especially when I'm not really in the mood to cook but really want to give the family a good meal. Here are the other panini we've shared with you over the years:
I have to thank Eden for this recipe as she came across it in one of her cookbooks and we all just loved it and have made it so many times since. If you've made her One Pan Roasted Rosemary Mustard Chicken then you will want to make this recipe, too. Trust me, there is lots of amazing flavor in this sandwich, and it doesn't take long to make at all.
See, the perfect meal for lunch or dinner!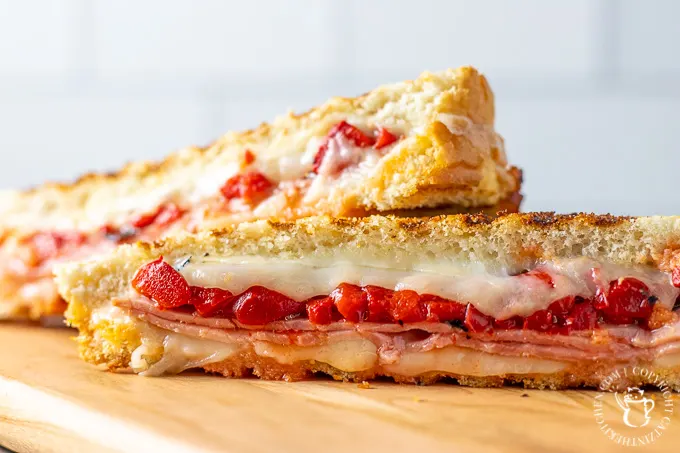 So let's talk about how to make this sandwich if you don't have a panini maker. We actually own a panini maker that I bought for Josh eons ago and is still going strong, but if you don't have a panini maker, no worries. Simply use a griddle or a large nonstick frying pan over medium heat and instead of just letting it grill up like you would a grilled cheese sandwich, use a wide metal spatula to gently press down the sandwich a few times on each side. You're essentially squishing down the sandwich a little ensuring that all the cheese gets melted into the rest of ingredients.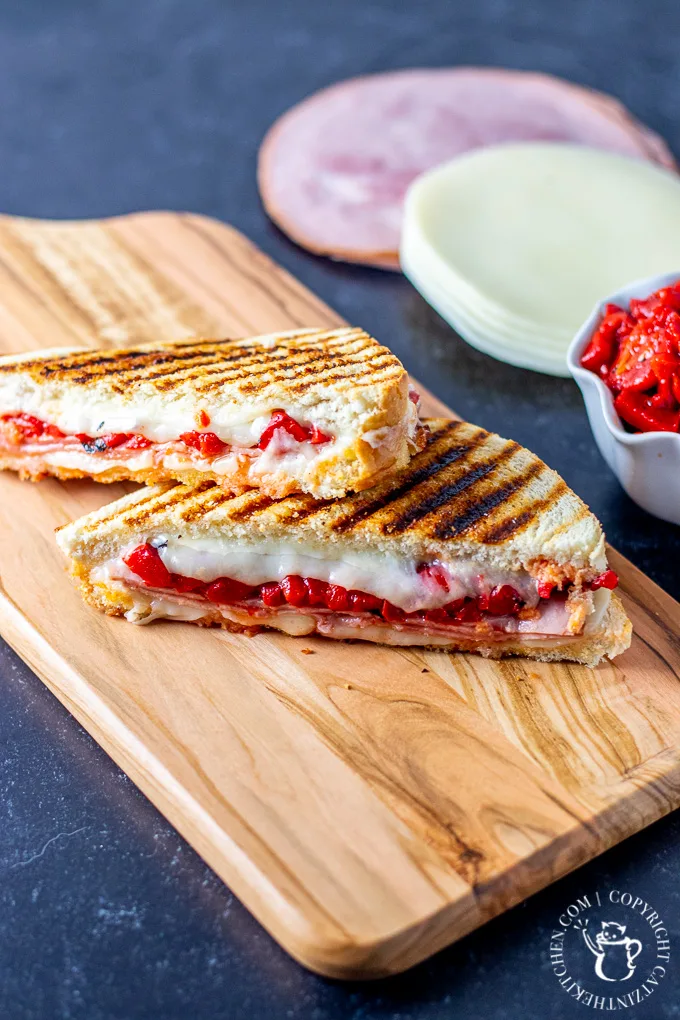 Key Ingredients that make this sandwich the bomb:
Sourdough bread. You can use Italian for this one, but sourdough has a great texture so it will hold up to the moisture of the gooey melted cheese and roasted red pepper. When this bread heats up in the pan, it gets a great crust on it.
Good quality melty cheese. We used provolone in this sandwich, but Monterey Jack, Swiss cheese, muenster, or even cheddar would work
Roasted red pepper. If you can't find a jar of roasted red pepper, any jarred roasted bell pepper would work. The red adds a beautiful color, though.
Wanting to jazz up this sandwich even more? Add some pesto, switch up the deli meat, or add a garlic aioli for a fun twist.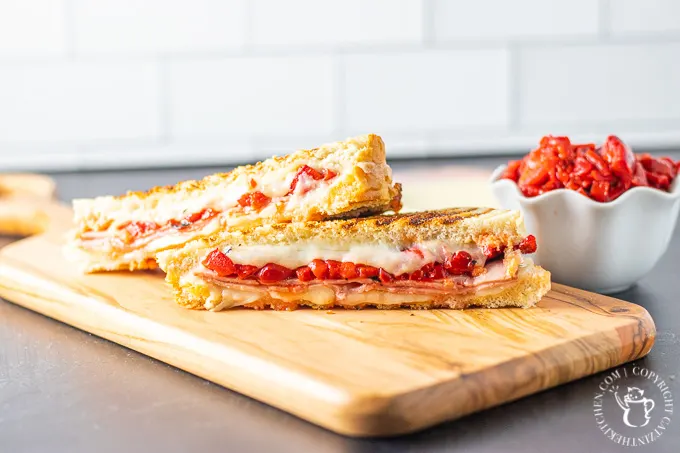 There are so many ways to add flavor and make this panini recipe your own. In addition to the above suggestions, you can easily pair this panini with a side salad, a bowl of soup, or you can even go even simpler and throw some kettle chips on the side and call it a day. Your family will love it!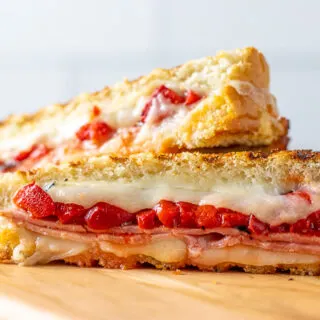 Ham and Roasted Red Pepper Panini
If you have a panini maker, great! But if not, that's okay for this Ham and Roasted Red Pepper Panini recipe, too!
Ingredients
8 slices sourdough bread
16 slices provolone cheese
2-3 jarred (16 oz) roasted red peppers. Drained and finely chopped
8 slices Black Forest ham
4 tbsp unsalted butter at room temperature
Instructions
It's best to make these sandwiches in an assembly line fashion. Lay 4 slices of bread on a cutting board. Top each slice of bread with 2 slices of cheese, 1/4 of the chopped roasted pepper on each slice, 2 slices of ham, and another 2 slices of cheese per slice of bread. Place the remaining slices of bread onto each prepared sandwich and spread btutter on the outside of each sandwich evenly.
Using a Panini maker, griddle, or large nonstick frying pan, heat to medium heat and allow to heat up for about 3 minutes. Put the panini onto the heating instrument that you're using - if using a griddle or fying pan follow these instructions: put the panini onto the griddle or frying pan and cook, turning once, until each side is golden brown, about 2-3 minutes per side. As the panini cooks, use a wide metal spatula to gently press them down once or twice on each side.
Using the spatular, transfer the panini to a cutting board. Let cool for 1-2 minutes to allow the cheese to set slightly. Cut each panini diagonally. Serve right away.
Nutrition Information:
Yield:

4
Serving Size:

1
Amount Per Serving:
Calories:

936
Total Fat:

46g
Saturated Fat:

27g
Trans Fat:

0g
Unsaturated Fat:

15g
Cholesterol:

120mg
Sodium:

2265mg
Carbohydrates:

79g
Fiber:

4g
Sugar:

10g
Protein:

53g
Nutrition information isn't always accurate.