This apple bacon brie grilled cheese panini elevates the classic with apple butter, creamy brie cheese, bacon, and fresh apple slices!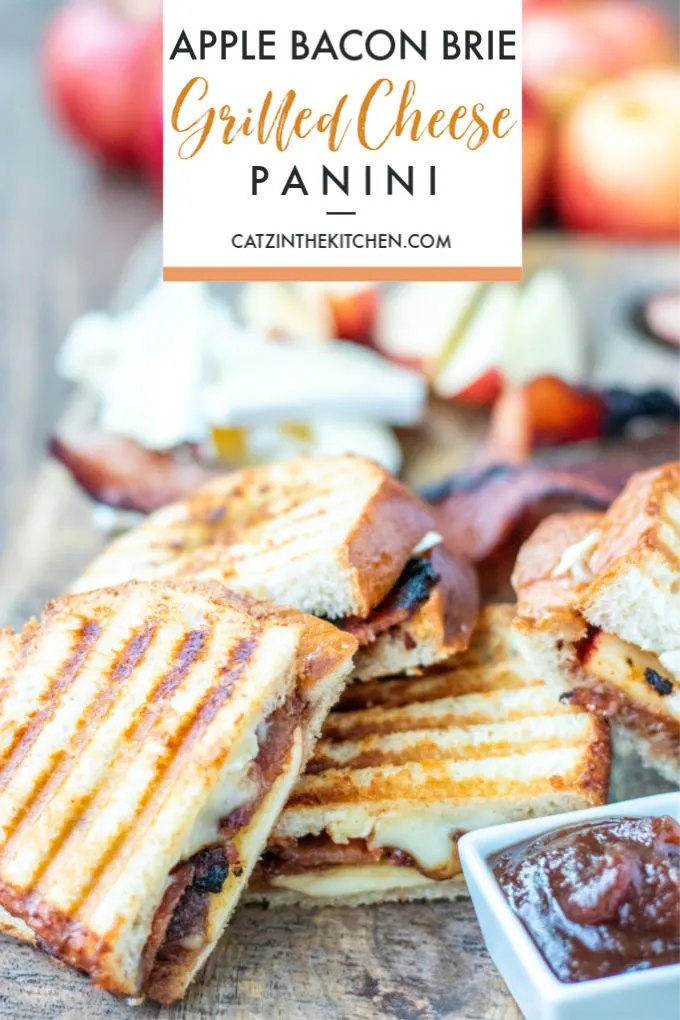 This post originally appeared on Catz back in May of 2012 – one of our older recipes, for sure! Back when we were a family of four and all of our photos were phone photos! Some of these older recipes, though, are certainly worth updating with current photos, recipe cards, etc, so they don't get lost, and this is definitely one of them! We still make a lot of grilled cheese sandwiches and panini as a family, and this one is hard to beat. The combination of being quick, incredibly simple, and absolutely delectable is a winner every time. If you don't have a panini maker, you could also make this on a grill pan or in a skillet…but if you don't have a panini maker, well…why don't you have a panini maker?!
I feel like lately I have been spending a lot of time making meals that require…a lot of time. And I don't mind that. Spending two or three hours preparing a meal and then relishing the culinary triumph of flavor, texture and appearance is exhilarating. No problem there. Of course, sometimes, I spend two or three hours preparing a meal only to experience the agony of culinary defeat, but that's another story (I'm looking at you, grilled shrimp bruschetta). Regardless of the success or failure rate of one's more complex food-related undertakings, there are certainly days when I just want to whip something up in five minutes. And, of course, while that is all well and good, it's not very rewarding.
Sometimes it's nice to find middle ground – a meal in which the preparation is neither underwhelming or overwhelming, success is a guarantee, and the finished product is simple yet totally pleasing. Our recently discovered Apple Bacon Brie Panini is such a meal. This panino has an elegance to it, with the slightly melted brie adding sophistication (or so we imagine), the lightly toasted Italian loaf adding texture, and the apples and apple butter adding a subtle sweetness. I can guarantee you this: unless you have some sort of freakish aversion to one of the ingredients, you will very much enjoy, and even crave, this sandwich. It is quite fantastic.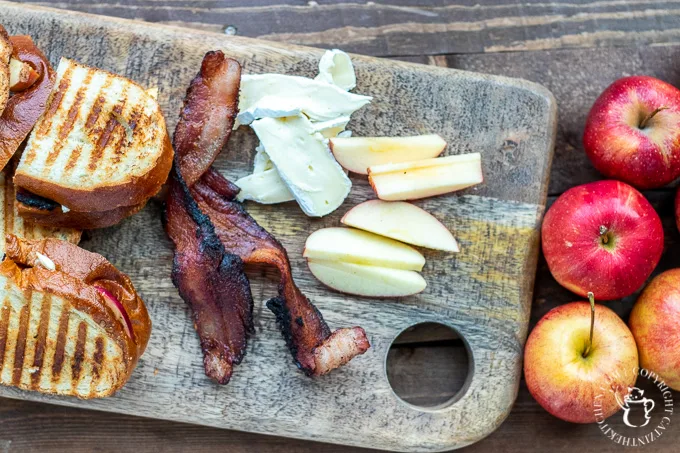 There are a number of steps here, so we'll dispense with the usual rambling, sentimental, educational, preposterous, omnidirectional, trivial and occasionally humorous opening and move straight on into the cooking. I should also say that this meal is not perhaps as cost prohibitive as it may at first seem. The brie is a six or seven dollar item, to be sure, but you'll use only half of it, so plan two brie-related meals in the same month and you're down to about three dollars there. The Italian bread is quite cheap, and a staple in the Rief household. A jar of apple butter will last you a good long time, and the bacon is about three or four dollars, tops. So, ten dollars, perhaps, once you throw in the butter and the apples? Not too shabby.
Begin by getting all of your ingredients out. You'll be using many of them simultaneously, so there is no need to be going and fetching them all the time. You'll want to begin by frying up the bacon. Use applewood smoked bacon if you have it available. It's delicious, and it keeps the apple theme going! Cook it just to the point where it is done – no blackening or charring. While well done bacon is quite charming aside an over easy egg or atop hashbrowns, it has no place in this sandwich.
To achieve evenly cooked, just finished bacon, I recommend using a griddle, electric or traditional. You'll want about two pieces for each panino you intend to make. (2020 Update Note: or you could do this)
Next, slice up the actual apples themselves. I strongly recommend Gala, but any type of sweet apple should work well enough.
On to the brie. If you haven't worked with a whole round of brie before, it is quite marvelous. It has the oddest texture, and really ought to be cut with a cheese knife. If you have one, hats off to you. I don't. (2020 Update Note: We do now!)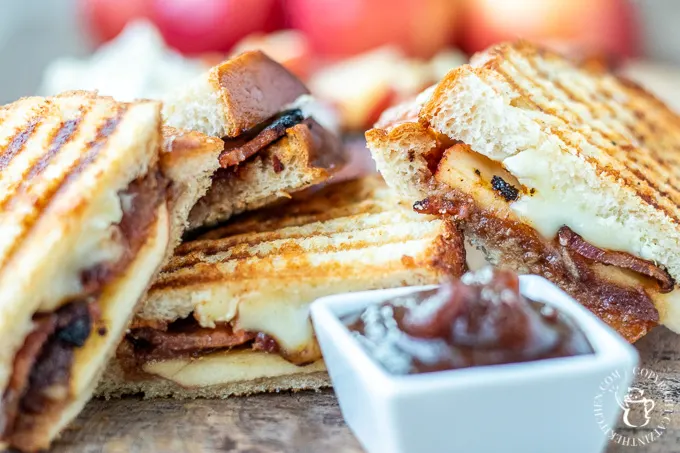 It seems a shame to cut into this beautiful little presentation of cheese, but it actually gets better once you do. Who knew?
Go ahead and cut out a wedge of the cheese, and cut it into small slices. Don't worry too much about keeping the shape of the slices even – brie is bad about that, and it doesn't matter anyway.
Once the brie is all sliced up and ready to go, it's time for the apple butter. Apple butter has been a favorite of mine since I was a kid and my parents used to take me to Denny's. Remember all of the different littles sample-size containers of different jams and jellies? There was an apple butter in there, and I remember being captivated by the creaminess and spice of the stuff. It is a little bit magical. I understand it can be made at home – a project for another time.
Go ahead and generously spread that apple butter on a slice of the Italian bread. Speaking of the bread, you can buy it whole or have the bakery slice it for you. While I enjoy very much buying whole loves of bread, I strongly recommend having the bakery slice this one. First of all, the bread is very soft and has a tendency to mush when you slice it yourself. Secondly, keeping the width of the slices uniform helps these sandwiches turn out just right, and let's face it – the nifty machine at the bakery is a bit more precise than we are. Sad but true.
Atop the bottom slice of the sandwich (that would be the one slathered in apple butter), place slices of apple until the bread is evenly covered.
Next, it's time to bring the bacon back to this party – lay a couple of slices on that apple goodness.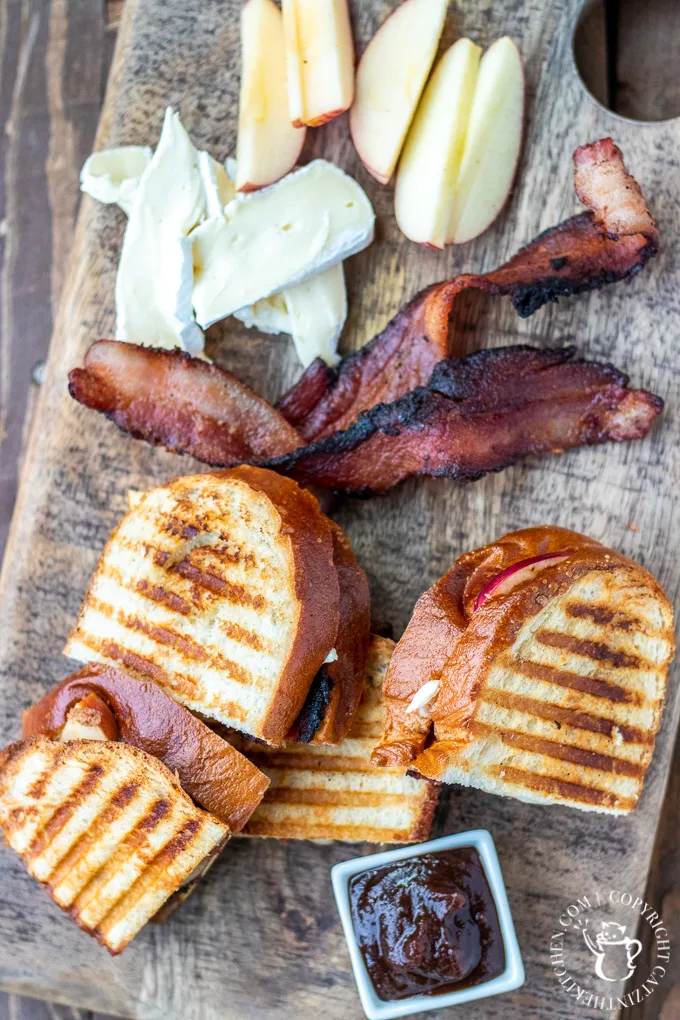 Apple butter, apples and applewood bacon. Yes, we're about maxed out on the apple quotient here, so we'll move on. To brie. Not a bad place to move on to. You may need to pull and spread the brie a bit with your hands to get relatively even coverage. Remember, it won't melt much.
It really depends on how your cheese slices came out. If they squished up a bit, you may need to spread them back out.
At this point, it's time for butter. Oh, and while you're at it, get that panini grill heated up. You're going to want it to be fully heated when you place these on the grilling surface.
Right, the butter. If you have softened butter – well, good for you, because this next part will be easy. If you don't…well, hopefully you're not following this in realtime the first time through, because you really ought to soften up some butter. Makes the spreading easier. Who knew? (turns out, pretty much everyone knew…except me, apparently…well, actually I knew, but forgot…does that count?) Spread a bit of butter on each side of the completed sandwich.
Now, prep your grill, and we're ready to go. A small bowl of olive oil and a basting brush are my tools of choice for panini grill preparation, and this recipe is no exception. Brush a bit of olive oil on the grilled surface, and everything will go…smoothly.
A couple of minutes per side is all it takes with the grill on high heat. You don't need to melt the brie or cook the apples, just soften them up a bit. In fact, you want the apples to retain a smidge of their signature crunch.
And then…voila! Cut in half and serve. Don't serve with apples – can you say overkill? Wine or sparking cider is good, along with something crunchy. Chips? A small, crisp salad? Looking at these pictures, I would probably garnish with something green next time.
I hope you enjoy this panino as much as my family did. The kids are crazy about it, as are my wife and I. We've made it a couple of times now, and I have a feeling it will become the default excuse for picking up a wheel of brie at the grocery store…
Apple Bacon Brie Grilled Cheese Panini
This apple bacon brie grilled cheese panini elevates the classic with apple butter, creamy brie cheese, bacon, and fresh apple slices!
Ingredients
Eight slices Italian bread
Two Gala apples, sliced, skin on
Four ounces brie cheese, sliced
Approximately eight tablespoons spiced apple butter
Two tablespoons butter, softened
Eight slices of thick-sliced applewood smoked bacon
Instructions
Fry bacon on griddle to just done. Set aside on paper towels to drain.
Preheat panini grill to high.
Spread two tablespoons of apple butter each on four slices of Italian bread.
Cover same four slices of bread evenly with sliced apples.
Top sliced applies with two pieces of bacon per bread slice.
Cover bacon with sliced brie, roughly one ounce per bread slice.
Top each with remaining slices of Italian bread, forming four sandwiches. Spread butter on both sides of each sandwich.
Place panini on grill. Close grill and cook approx two minutes per side, or until bread is lightly browned and cheese is melted. Slice in half and serve immediately.
Notes
If you don't have a panini maker, you could also use a grill pan or a skillet - you won't get quite as much of the gooey squishy crunchiness, but it will still be yummy as all get out.
Nutrition Information:
Yield:

4
Serving Size:

1
Amount Per Serving:
Calories:

376
Total Fat:

16g
Saturated Fat:

9g
Trans Fat:

0g
Unsaturated Fat:

6g
Cholesterol:

46mg
Sodium:

498mg
Carbohydrates:

47g
Fiber:

4g
Sugar:

23g
Protein:

11g
Nutrition information isn't always accurate.