Craving one of Red's excellent wraps? This Red Robin Whiskey River Barbecue Chicken Wraps imitation recipe is tasty, easy, and takes about 25 minutes to make!
We just recently remade these and updated the photos! Good news – they're still as good as they were back at the beginning of 2013!
As regular Catz readers know, Chels and I love to imitate meals we enjoy when eating out. Oftentimes, that means imitating Chevy's or California Pizza Kitchen, a couple of the casual dining establishments nearby that our whole family can enjoy, but the menu at Red Robin is another one that we enjoy reverse engineering from on occasion. Most people are familiar with Red's excellent burger menu, due to their national presence, but have you ever taken the time to look at their chicken entrees? If you have, one item undoubtedly caught your eye – the Whiskey River Barbecue Chicken Wrap. If you've never tried it, order it the next time you're at Red Robin – you won't be sorry!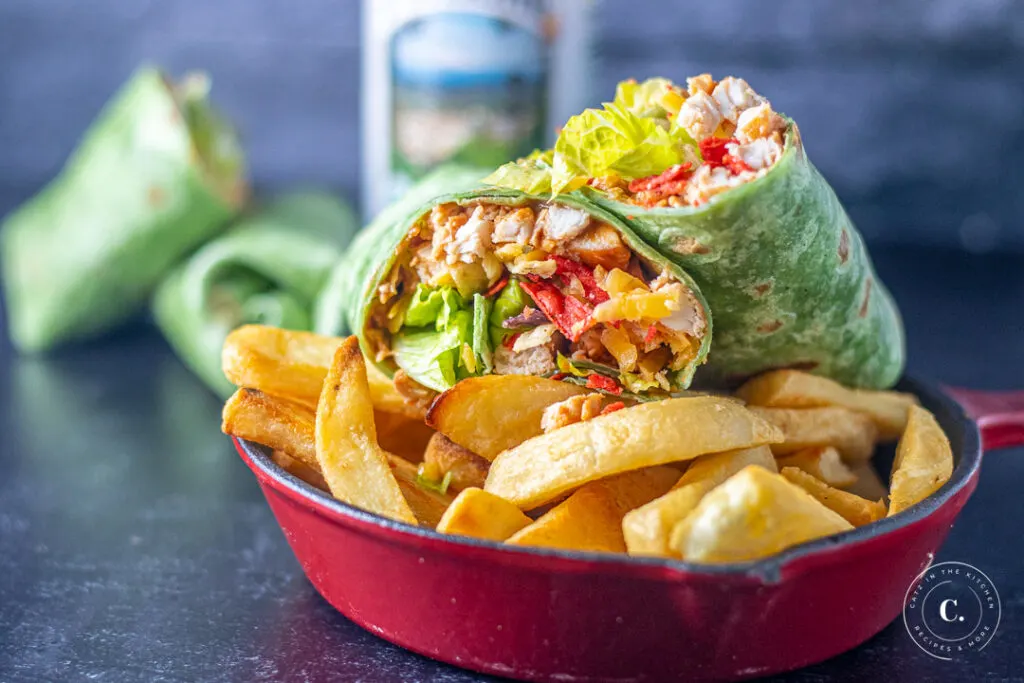 In the meantime, though, we've been working on an imitation to share with you, and, if I may say so myself, it's pretty dead on. We didn't try to recreate Red's Whiskey River Barbecue Sauce – that's some secret recipe of theirs, and while it's very tasty, we've been just as happy using whatever good quality barbecue sauce we happen to have stocked in the fridge. This was probably one of the easier "imitation" recipes that Chels and I have ever done, and now we make it all the time!
The key "barbecue" element of these wraps is the barbecue sauce, so if you're not in a position to grill the chicken, it's not the end of the world. That being said, however, if you can, do it. The last couple of times we've made these for dinner, we've marinated the chicken breast in barbecue sauce for at least two hours and then grilled it over charcoal while basting it with additional barbecue sauce. I like to get a good, dark sear on the chicken breast first over direct heat to really caramelize the barbecue sauce, and then let it cook through over indirect heat so that it stays nice and moist inside. Serve with chips, or, better yet, serve them Red Robin style – with steak fries!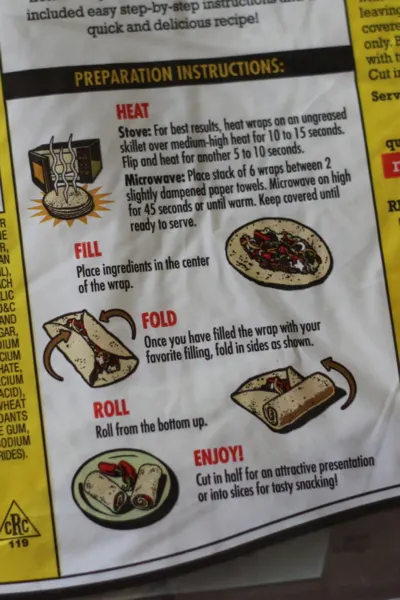 The hardest part of this meal? Learning how to properly roll a wrap (at least, if you've never done it before!). I learned several years ago from the back of a package of Mission wraps. If you don't have Mission wraps available, here's the snapshot that taught me!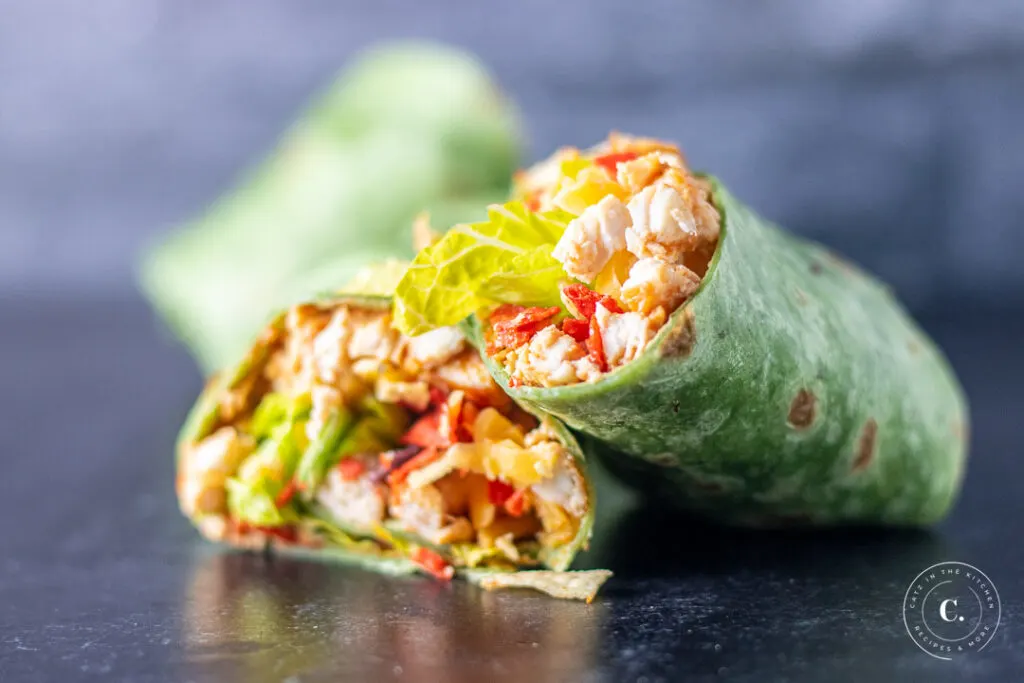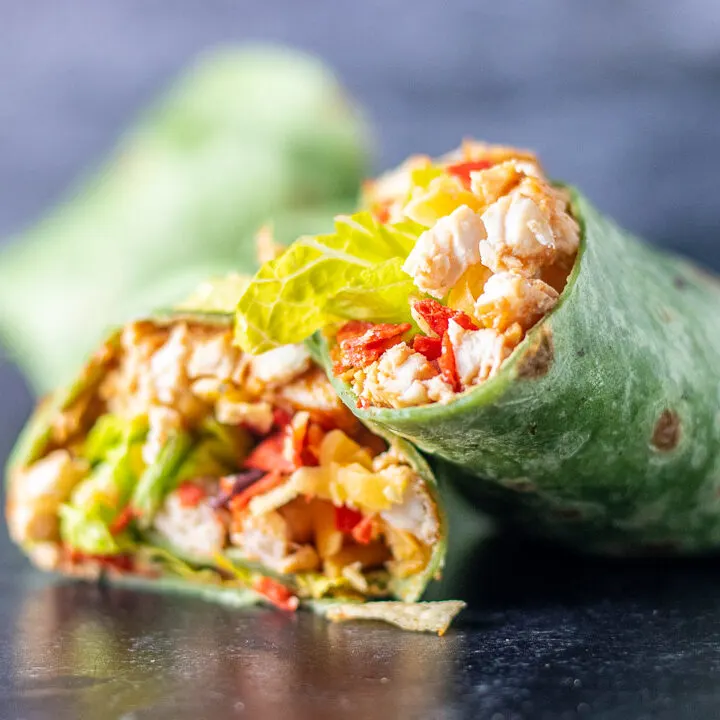 Barbecue Chicken Wraps
Craving one of Red's excellent BBQ chicken wraps, but lack the cash or time to get one? Solution!
Ingredients
One bottle of barbecue sauce
One boneless, skinless chicken breast
Half head chopped green leaf or iceberg lettuce
1/2 cup shredded cheddar cheese (Tillamook!)
4 tbsp ranch dressing
1 cup tri-color tortilla strips
4 spinach wraps
Instructions
Optional step for additional flavor: marinate chicken breast in barbecue sauce for 2-3 hours prior to grilling.
Preheat grill to medium heat. Grill chicken breast until cooked through, basting with additional barbecue sauce while cooking.
Chop chicken breast into small pieces.
Heat wraps one at a time on a skillet over medium heat for about ten seconds.
Remove wraps to prep surface, spread 1 tbsp of ranch and 1-2 tbsp of barbecue sauce on the wrap, top with one quarter of chicken, one quarter of cheese, one quarter of tortilla strips, and one quarter of lettuce.
Roll up wrap, cut in half, and serve immediately.
Notes
Nutrition Information:
Yield:

4
Serving Size:

1
Amount Per Serving:
Calories:

476
Total Fat:

19g
Saturated Fat:

6g
Trans Fat:

0g
Unsaturated Fat:

12g
Cholesterol:

43mg
Sodium:

721mg
Carbohydrates:

54g
Fiber:

5g
Sugar:

6g
Protein:

21g
Nutrition information isn't always accurate.