A bit tastier (maybe healthier?) than the fast food version, these sausage egg & cheese biscuit breakfast sandwiches are so simple to whip up!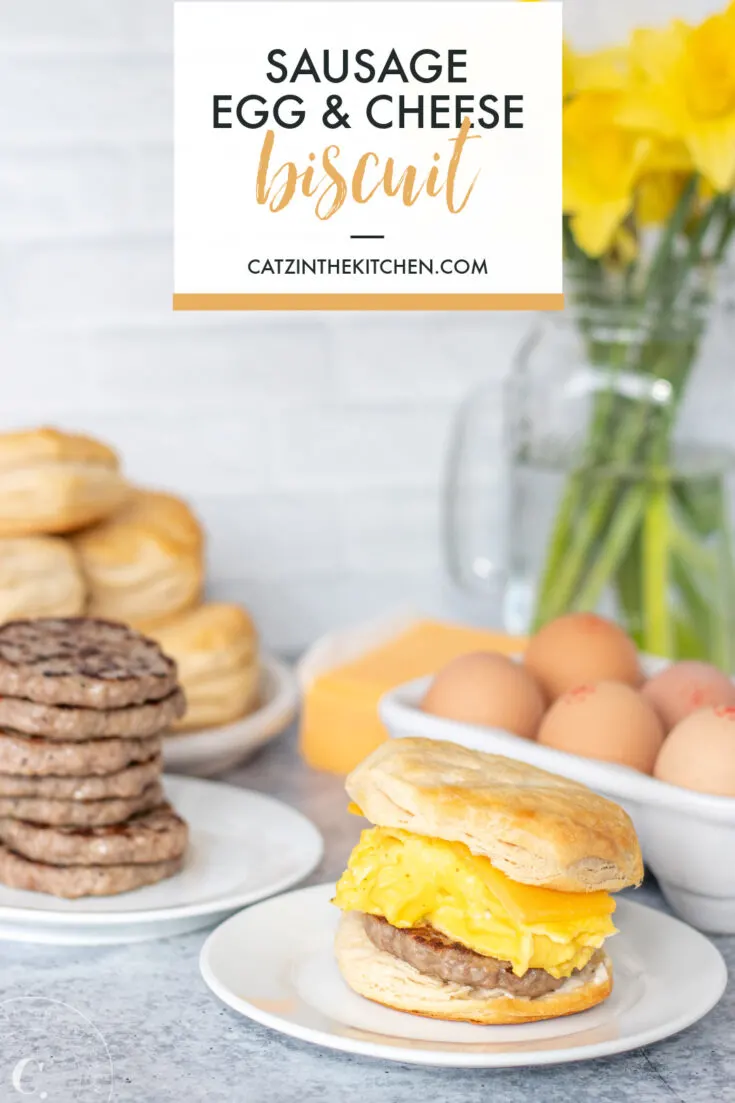 Let me start by saying this is not something we had intended to share on the blog. It's barely a recipe – more like an idea! We do, of course, have a recipe on the blog for Overnight Sausage Egg & Cheese Casserole, so I guess you can think of this as the sandwich version. Or, perhaps more likely, you might see this as inspiration to DIY your next sausage egg and cheese biscuit, instead of picking it up at the drive through window of a certain fast foot restaurant…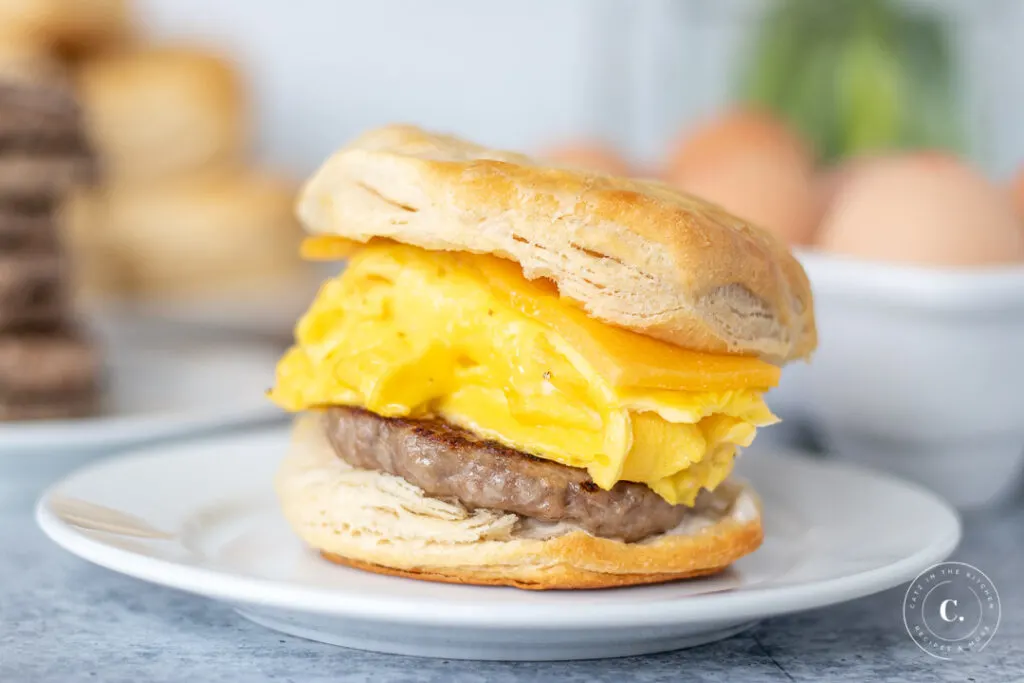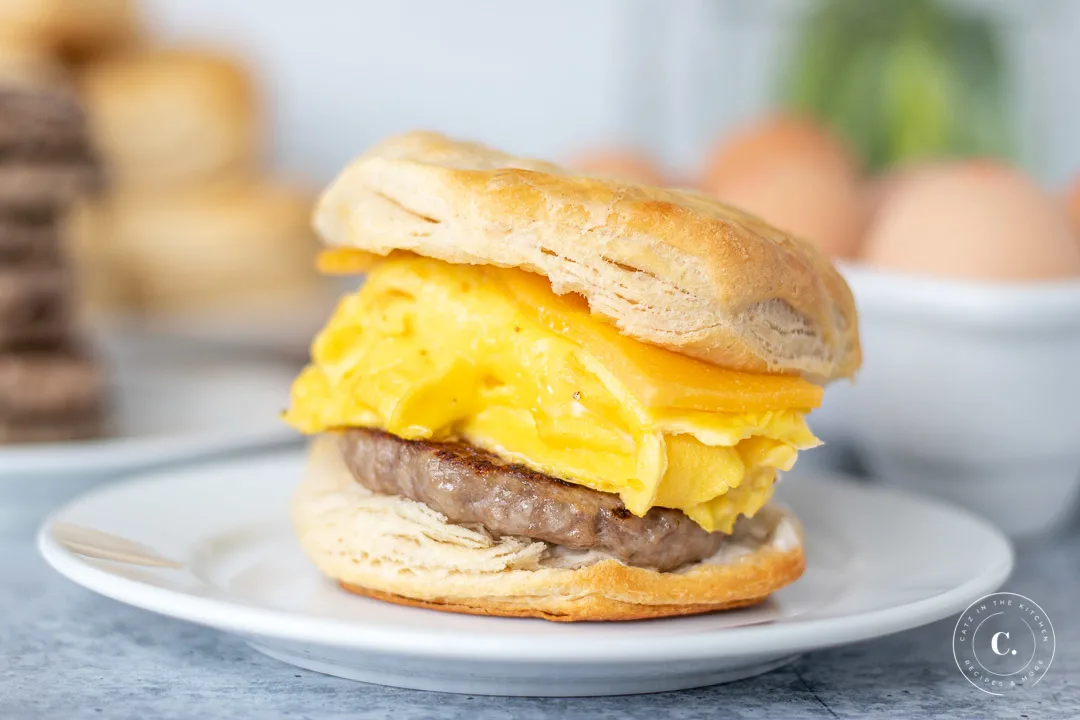 But Chels insists that (a) people love simple little recipes, and (b) that some of y'all wanted to see this recipe specifically. If indeed we can call it a recipe. I will say that the Saturday mornings we make these are relaxing. These little breakfast sandwiches come together in about 15 minutes, and if you make extra or don't eat them all (doubtful), they keep very nicely in a plastic sandwich bag in the fridge. Take them out a morning or two later, throw them in the microwave for about 45 seconds or so, and voila, breakfast.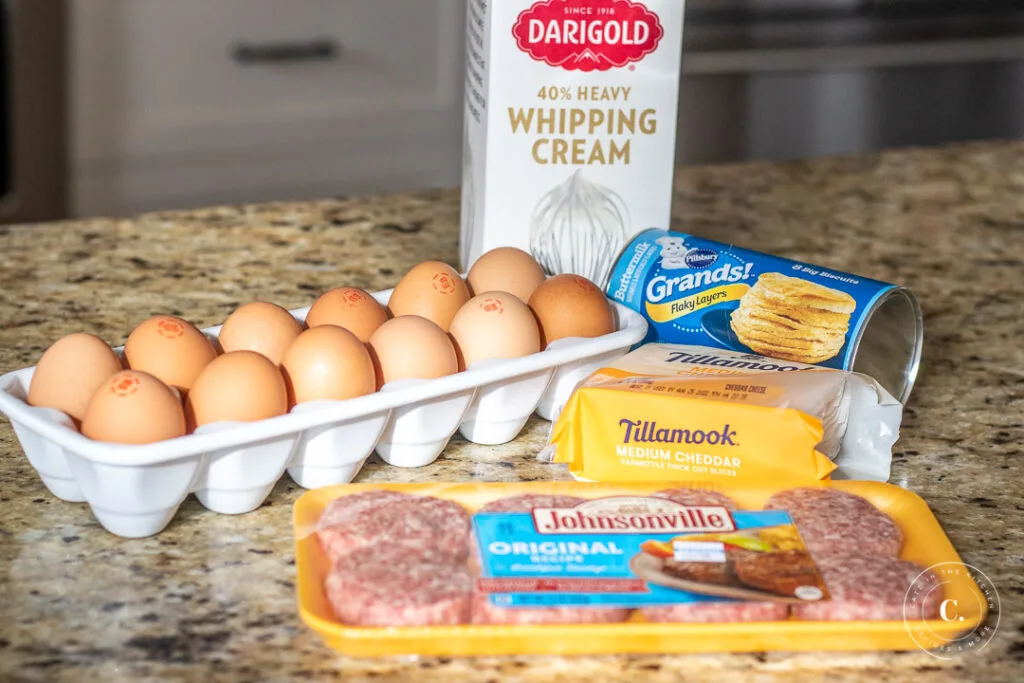 The ingredients here are ones you could choose to "scratch" – you could make your own biscuits, you could (technically) make your own sausage, and you could certainly slice your own cheese (doy…)! But since the point of this recipe is to keep things really simple…Grands biscuits are tough to beat for easy, flaky, and tasty, and breakfast sausage is just too easy to grab out of the fridge at the store (also, I love breakfast sausage…so much).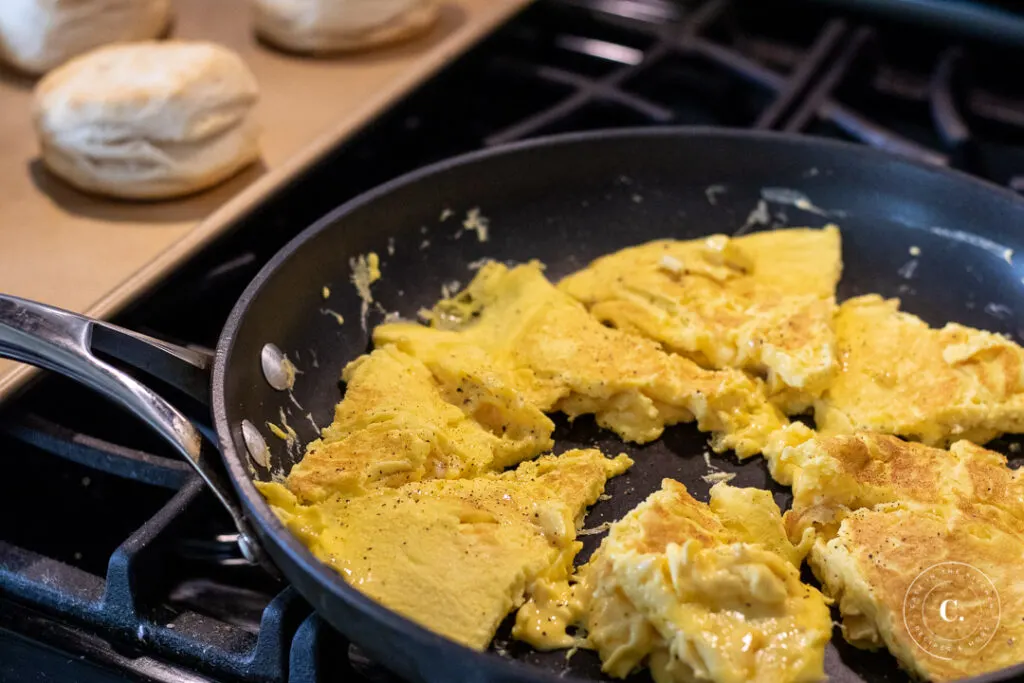 For the eggs, you want to make sure they are not too dry – a lot of the "juiciness" (?!) of this sandwich comes from the eggs, so I recommend making them with a bit of heavy whipping cream, using essentially the method from our scrambled eggs recipe, but without the cheese. You could certainly try to cut them into squares or circles to make them fit the biscuits better, but I found that even the triangular cuts (easiest to do in a round pan) worked just fine.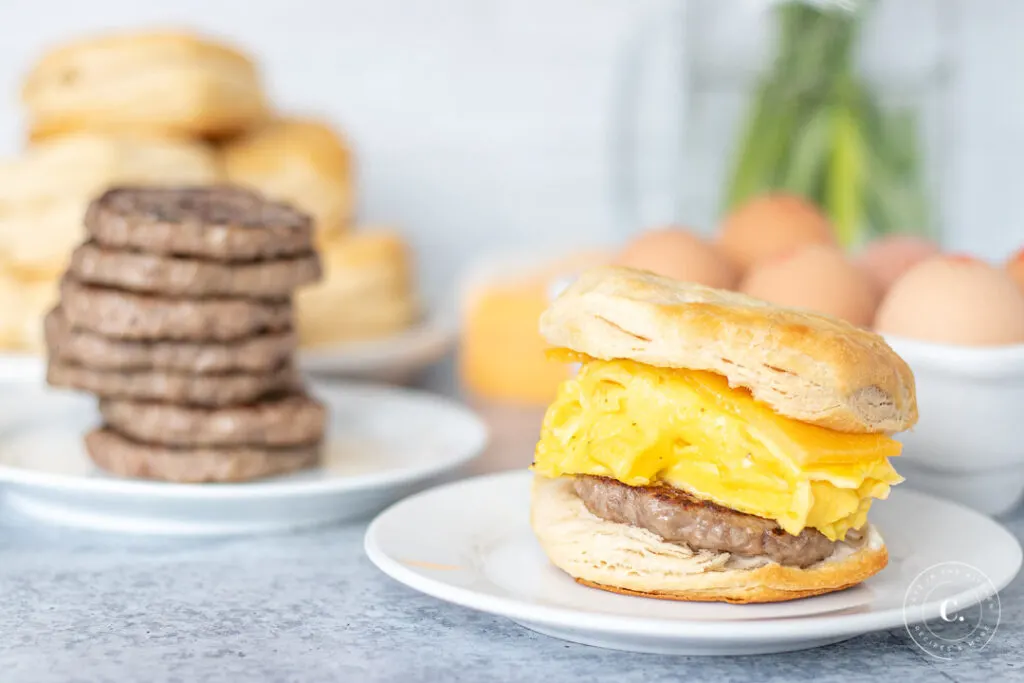 For the sausage, the one adjustment you might need to make is to the width and thickness of the preformed patties. If you grab something similar to what we did here, these little breakfast sausage patties are a bit small in diameter to fit the biscuits, so prior to frying them up, I just spent a moment flattening them out a little by hand, which gets them closer to the same size as the rest of the sandwich. If you're slicing up a Jimmy Dean roll sausage, something like that, you may have to do the same, otherwise only your middle bites will include that particular goodness!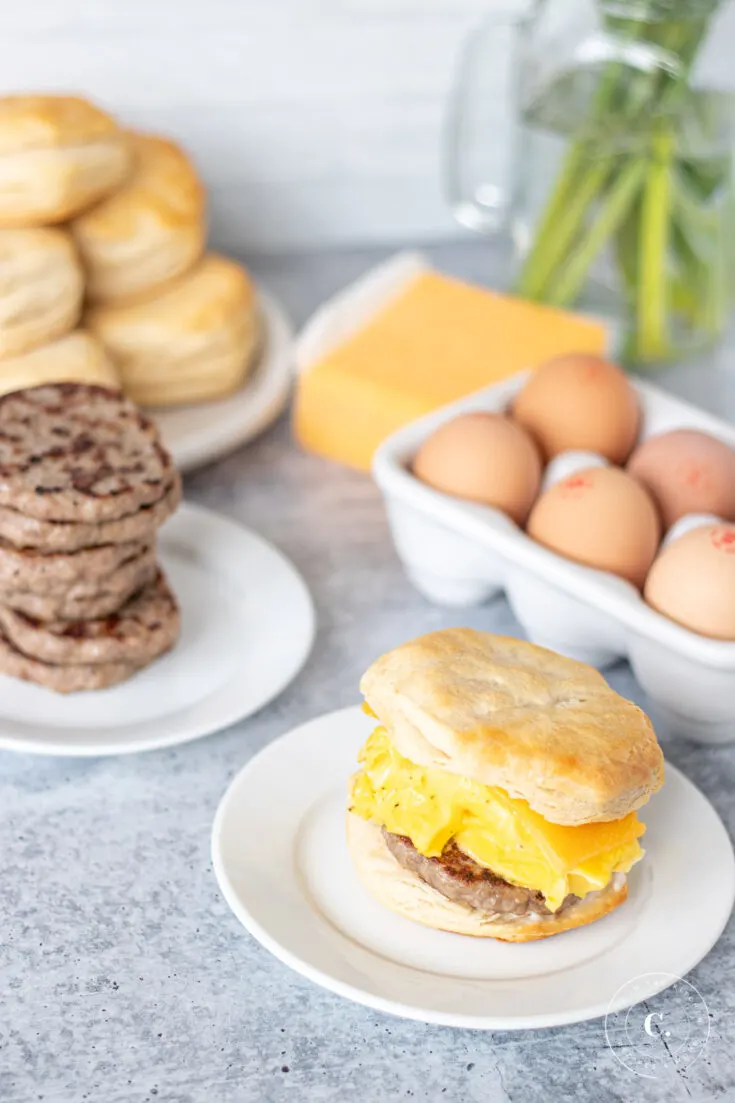 Typically, the only condiment we add to these is mayonnaise – and even that, just a bit on one side of the biscuit. Cooked properly, the eggs, sausage, and cheese should carry enough moisture to keep the sandwich from being dry. But, clearly, in a recipe this basic, add whatever you want! Horseradish gives a little kick, as does hot sauce. A spoonful of sausage gravy could be delightful, if slightly messier and less portable. Switch out your sausage for a slice of Canadian bacon and add hollandaise to fancy it up (eggs Benedict to go, anyone?). It's just a simple breakfast sandwich. Do as you wish.
As I finish typing this, our nine-year-old son Christian just asked if we could have these for breakfast again this morning. That's after he had them last weekend, and again during the week as leftovers. So, if you were waiting for his seal of approval, it looks like you have it. 😊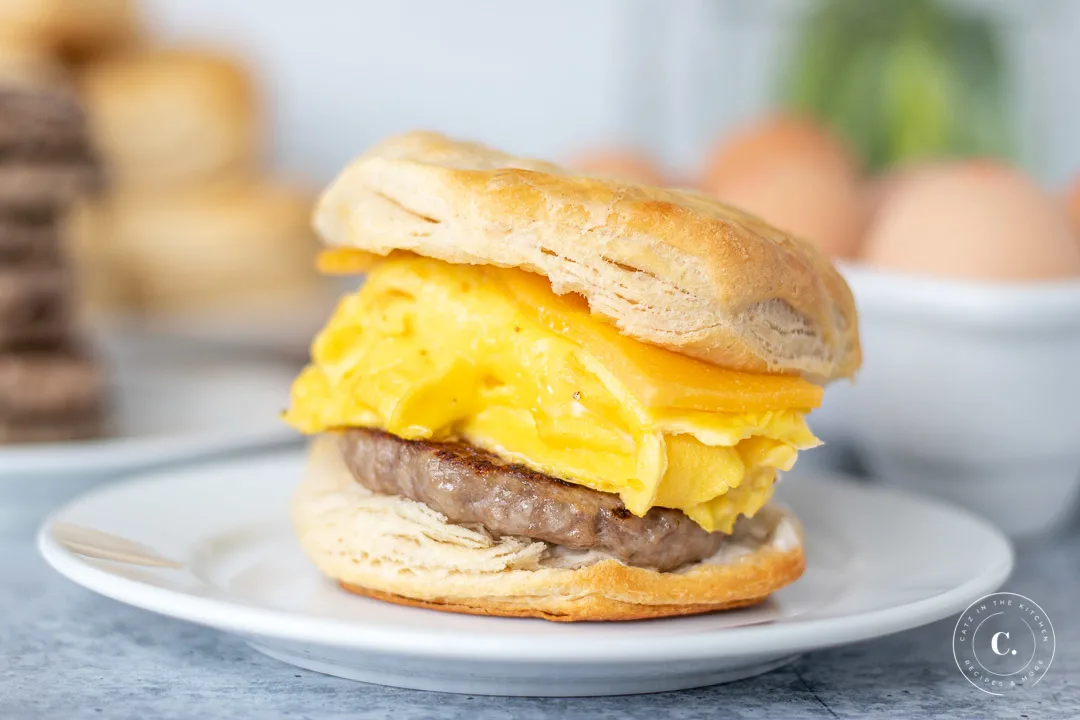 Sausage Egg & Cheese Biscuit Breakfast Sandwiches
A bit tastier (maybe healthier?) than the fast food version, these sausage egg & cheese biscuit breakfast sandwiches are so simple to whip up!
Ingredients
8 eggs
8 breakfast sausage patties
1 can biscuits (good quality, flaky variety recommended, should make 8)
8 slices cheese (cheddar recommended, but pepper jack, etc would also be good - your choice)
1/4 cup heavy whipping cream
1 tbsp butter
Instructions
Preheat oven as instructed on biscuit can and prepare bisciuits according to can instructions (we usually underbake ever-so-slightly so they stay light and fluffy).
Preheat a griddle or large frying pan for your sausage patties. As mentioned in post, if needed, flatten out the patties by hand to get them closer to the width of the biscuits if needed. Add sausage patties to griddle or pan, and fry on each side until a safe internal temperature is reached.
While the bviscuits are baking and the sausage is frying, crack eggs into a large bowl and add heavy whipping cream. Whisk until well combined.
Heat a large frying pan over medium heat, and add a tablespoon of butter, spreading it around to evenly coat the pan as it melts. Add the egg mixture, and cook gently, occasionally scraping the bottom of the pan to avoid burning, but disturbing the eggs as little as possible (a rubber spatula can be helpful for this). Turn off burner just before you think eggs are done (they will finish cooking in the pan) - you're aiming for a consistency just between that of an omellet and traditional scrambled eggs. Using your spatula, divide the eggs into eight equal portions.
Cut the biscuits in half, and spread a condiment or two of your choice on the bottom biscuit half (we use mayo). Layer sausage, egg, and then a slice of cheese, topping with the remaining biscuit half for each sandwich. Serve immediately!
Notes
Have leftovers? Place the whole sandwich in a plastic sandwich bag and store in the fridge. To reheat, use either the oven or the microwave.
Nutrition Information:
Yield:

8
Serving Size:

1
Amount Per Serving:
Calories:

337
Total Fat:

27g
Saturated Fat:

12g
Trans Fat:

0g
Unsaturated Fat:

12g
Cholesterol:

249mg
Sodium:

531mg
Carbohydrates:

5g
Fiber:

0g
Sugar:

1g
Protein:

18g
Nutrition information isn't always accurate.
dfjhdjf