Why is it the ultimate Guinness slider? Because it's made with Guinness in the meat, a Guinness glaze, and Guinness sauce, of course!
We have a few recipes for St Patrick's Day here on the blog, though we definitely worry less about making sure the recipes are authentically Irish and more about ensuring they are festive and delectable, frankly. While I'd love to become more proficient and knowledgeable when it comes to authentic Irish cuisine, the reality is that there are folks out there who are in fact Irish, have been to Ireland, or the like, and are in a better position to share those ideas and recipes!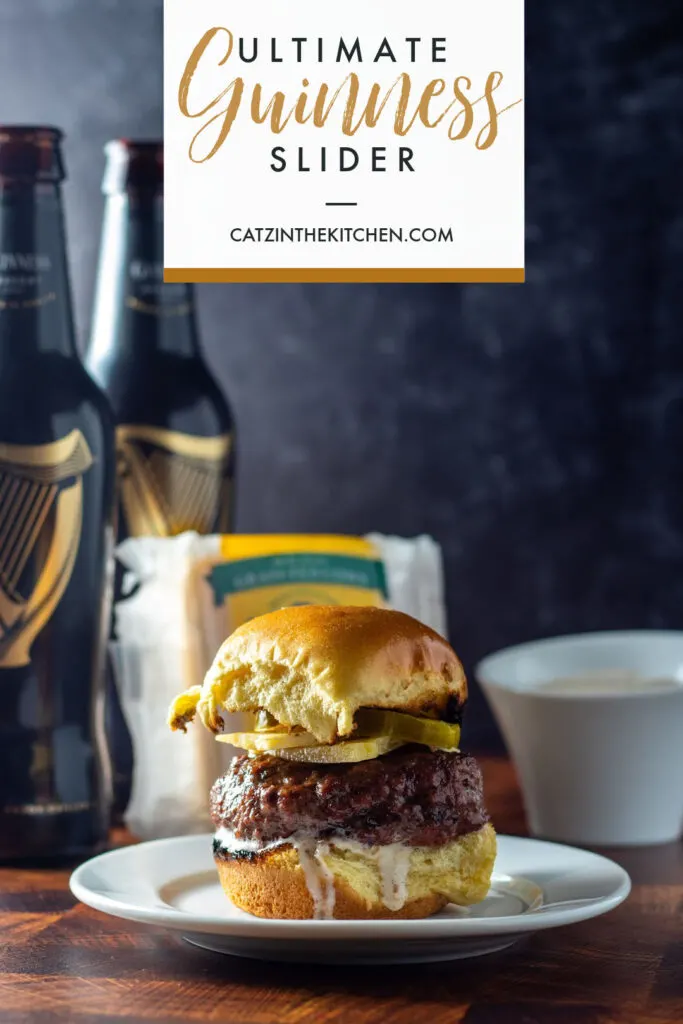 For our part, we've kept our "Irish" recipes mostly to meals that are green, made with Guinness, made with Irish whiskey, or use ingredients that have some association with the Emerald Isle. When it comes to cooking with Guinness specifically, the ideas and applications are absolutely endless – stout beer can be an intriguing flavor in a wide variety of applications! Just here on our site, we've used it in chocolate cake, shepherd's pie, and fondue!
As for this outrageous little miniature burger, I've taken to calling it the ultimate Guinness slider, not because it's better than any other slider out there (or even any other Guinness slider – I can't claim to have tried them all!), but because of its multi-faceted use of the famous Irish stout. Where this slider is concerned, there isn't just Guinness in the meat. There's isn't just Guinness in the glaze. There's even Guinness in the spread! And just to make things a wee bit more Irish, we've topped these mouthwatering little fellas with Kerrygold Dubliner cheese – a treat imported from Ireland, but easy to find here in the States, with a nutty, sharp, slightly sweet flavor to it. I hear it's sometimes served alongside a pint of Guinness, and tasting them together in this slider, I believe it. (This post not sponsored by or affiliated with Guinness or Kerrygold.)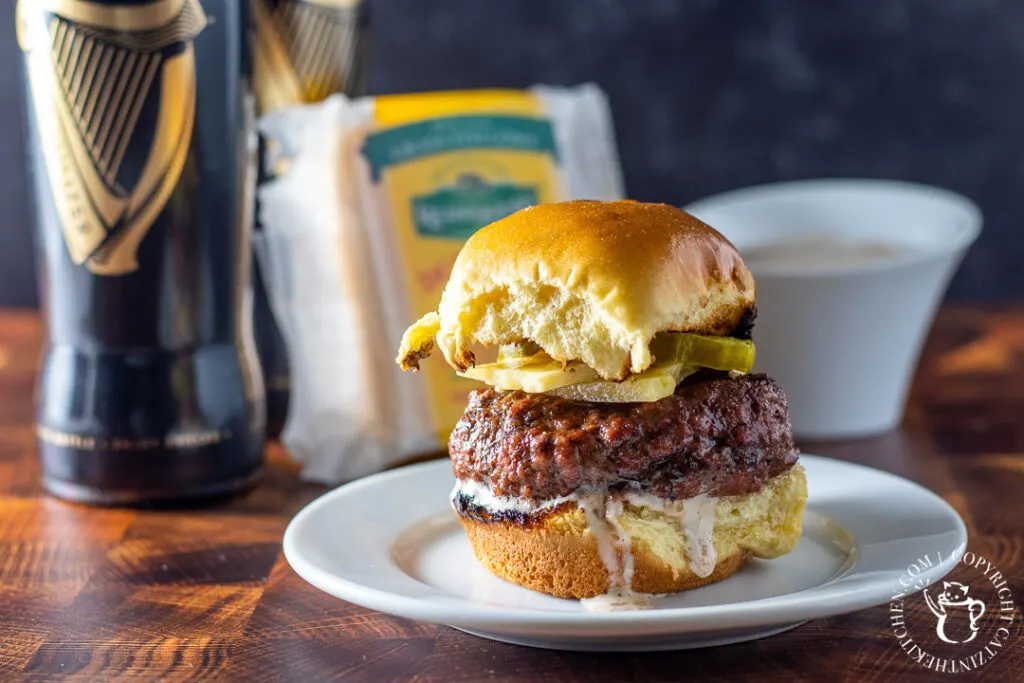 Now, for a final "Irish-ish" touch, I considered serving these sliders on potato buns. And you could certainly do that. However, nothing says elevated pub food to me like a buttery, lightly toasted brioche bun. I realize brioche is clearly French, but let's be honest here – the French know what's up when it comes to bread. So follow your heart here, and feel free to serve your ultimate Guinness slider on the slider bun of your choosing, but consider doing yourself a solid and picking up some fresh brioche rolls. You won't regret it.
For my part, I struggled for years with sliders – I would go to a restaurant, especially some kind of decent gastropub, and bite into a slider that was so compact and juicy and simple but bursting with flavor it just made me want to weep (and eat more), but at home they would inevitably turn into hockey pucks. A couple of years ago, I felt like I finally got it right when we made these bacon skillet sliders. These Guinness sliders, on the other hand, I grilled up on the Traeger, which obviously added some additional juiciness and smokiness, but you can certainly use a skillet on your stove or a traditional grill to whip up a batch of these delightful stout-glazed treats. I also used a slider press to form these patties, but forming them up by hand isn't much harder at all.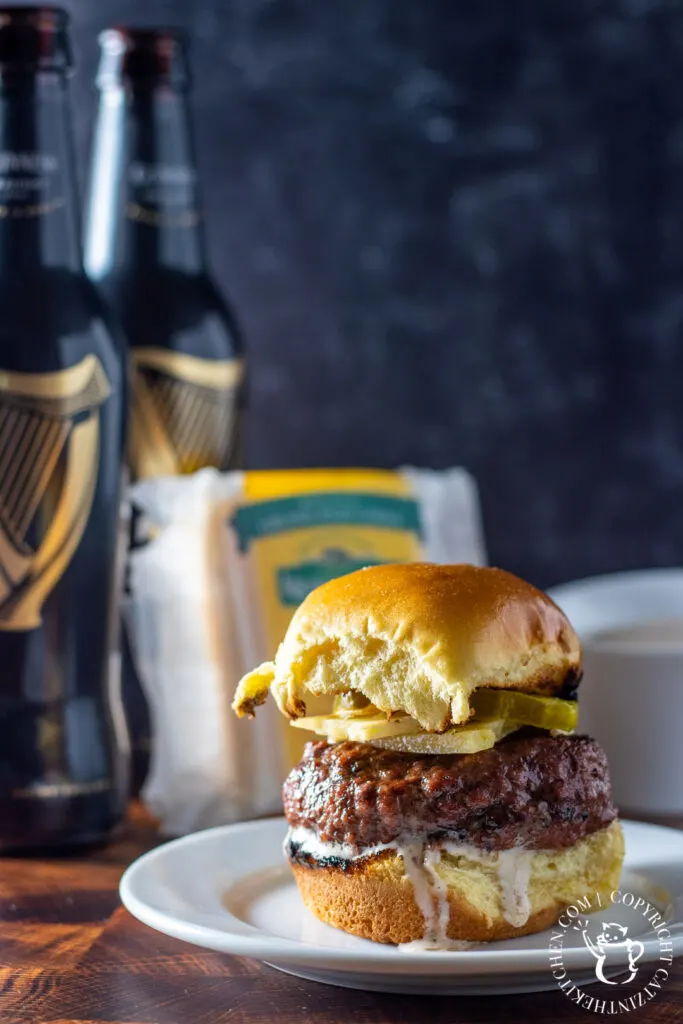 So, what's the moral of my slider story? Where the Guinness is concerned, there are three elements here that compliment each other – the Guinness in the beef helps keep the meat juicy and rich-tasting, the Guinness glaze adds a sweetness to each bite, and the creamy, mild Guinness spread subs in for the mayo, providing the moisture and melding the flavors together. The pickle adds a little saltiness, the cheese adds sharp and nutty undertones, and the buttery brioche bun, once lightly toasted, provides the textural contrast and a solid platform that holds up to the sauce and juiciness of the patty itself.
Whip yourself up a batch of these Guinness sliders this St Patrick's Day, and whether you partake in the drinking of beer or not, you'll have one more way to see what all the Irish stout fuss is about! Slán go fóill!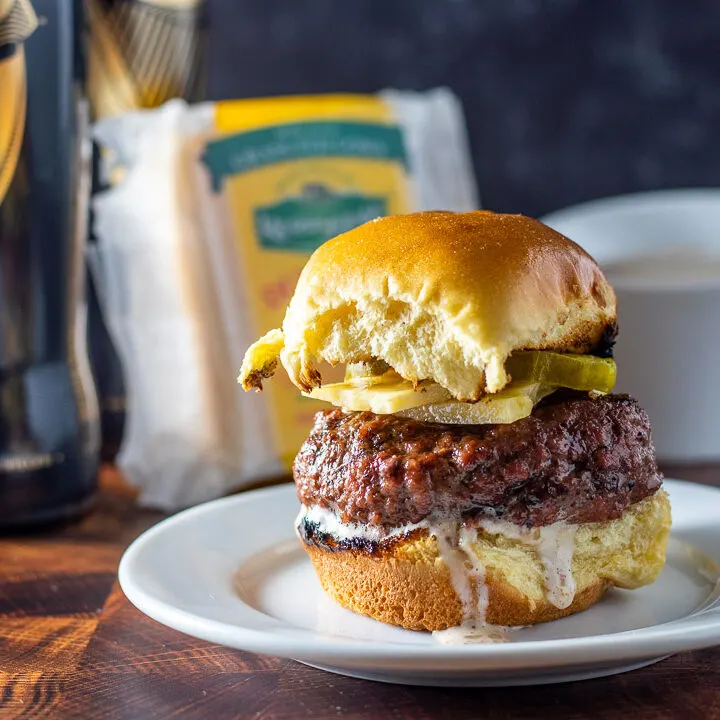 Ultimate Guinness Slider
Why is it the ultimate Guinness slider? Because it's made with Guinness in the meat, a Guinness glaze, and Guinness sauce, of course!
Ingredients
Sliders
2 lbs ground beef
1/2 cup Irish stout beer (such as Guinness)
4 oz sharp Irish cheese (such as Kerrygold Dubliner)
about 24 dill pickle slices ("chips")
about 2 tbsp good quality beef rub
12 brioche slider buns
about 3 tbsp softened butter
Guinness Glaze
3/4 cup brown sugar
1/4 cup honey
3/4 cup Irish stout beer (such as Guinness)
Guinness Spread
1/4 cup heavy whipping cream
1/2 cup mayonnaise
1/4 cup Irish stout beer (such as Guinness)
Instructions
For the glaze, add all ingredients to a small saucepan over medium heat, wisk together, and bring to a boil. Reduce to low heat and maintain a simmer for 20-30 minutes, wisking occasionally, until mixture has thickened and reduced.
If using a charcoal, gas, or pellet grill, preheat to high heat. In a medium bowl, mix together beef and beer. Separate beef mixture into 12 even sections, and roll into small balls. Either by hand, or with a burger press, flatten balls into patties. Make an indentation in each patty with your thumb, and season generously with beef rub on each side.
Using a hand mixer or a stand mixer, wisk together spread ingredients until well-combined and creamy (depending on mixer speed and strength, this may take 5-10 minutes or so, but just beat until you get to the consistency you want - for me, that was slightly fluffy and very smooth).
Place patties on grill, and baste generously with glaze. Cover grill and cook for about 3 minutes per side, basting with glaze again when the patties are flipped, until desired doneness and safe internal temperature is reached.
While patties are grilling, butter the cut side of each slider bun half.
Remove patties from heat, top with cheese, and tent with foil. Place buns, cut side down, on grill for about one minute, or until toasted as desired.
To assemble sliders, generously apply spread to bottom half of bun. Top with slider patty, and then add two pickles on top. Add top half of bun, and serve immediately!
Nutrition Information:
Yield:

12
Serving Size:

1
Amount Per Serving:
Calories:

705
Total Fat:

41g
Saturated Fat:

18g
Trans Fat:

1g
Unsaturated Fat:

19g
Cholesterol:

200mg
Sodium:

630mg
Carbohydrates:

50g
Fiber:

1g
Sugar:

23g
Protein:

30g
Nutrition information isn't always accurate. In this case, the calculator is assuming you will consume ALL of the glaze and ALL of the sauce, which you likely will not!