We have struggled with making good classic sliders at home, but these bacon skillet sliders with homemade thousand island dressing are getting it RIGHT.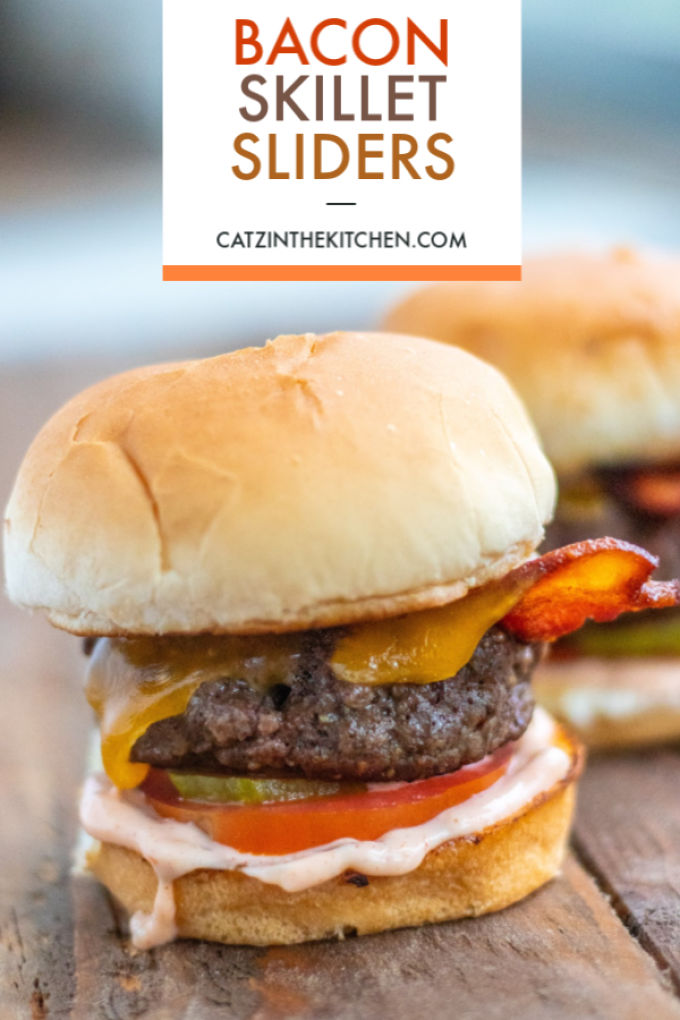 This will probably sound crazy, but we've really struggled with sliders. Not struggled to love them, of course – we LOVE sliders. A little oddly, our local French restaurant makes some of the best I've ever had, and someday, somehow, I'll reverse engineer those bad boys for home cooking. But THAT is exactly what we've struggled with! I always seem to have one of two major problems with sliders. Either the burger patty is totally dry and tasteless, or the slider is so tall and precarious it's both ridiculous looking and virtually impossible to eat. Or it's totally dry and tasteless and tall and precarious and ridiculous looking and virtually impossible to eat…all at the same time. WHY.
I think we do a pretty good job when it comes to classic burgers. And we've done some slider variants successfully, like BLT sliders and sloppy Joe sliders, but this recipe, this very one you're looking at right now…this is our first successful "classic" slider. And, if you'll pardon me saying so myself…it is SO GOOD. It took a few recipe-testing sessions to get these right, but when I took my first bite of this particular version, I looked up at Chels and just said, "Yep." I handed her one to try and distributed some to the kids. The response was universal – MORE PLEASE.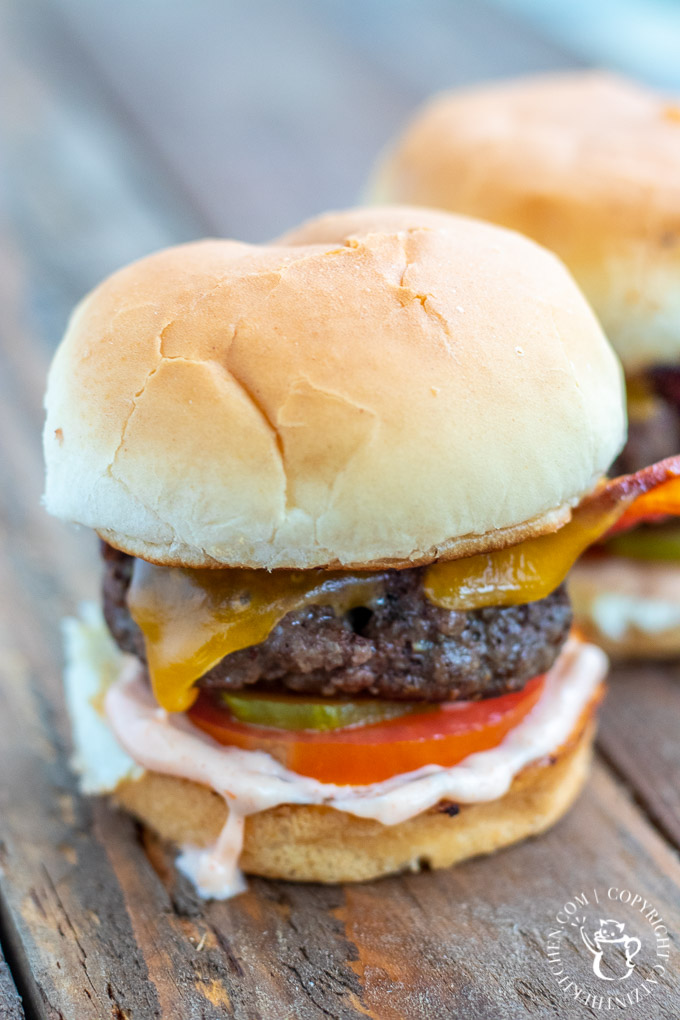 That bit of self-promotion handled, I'll explain what I think it is that makes these little guys so danged tasty. They're not terribly original – bacon, pickles, cheese, tomatoes, and thousand island dressing have all adorned millions of burgers and sliders alike. But there's something about the juicy skillet-fried burger patties and Chels' homemade thousand island dressing that really put it over the top. They're simple…but I crave them. Because these sliders are simple, they're also easy, and easy to make a ton of. One pound of beef will make about eight of them, so the math for doubling and tripling for a crowd is, well…elementary.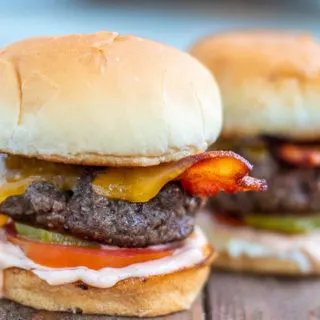 Bacon Skillet Sliders
We have struggled with making good classic sliders at home, but these bacon skillet sliders with homemade thousand island dressing are getting it RIGHT.
Ingredients
Sliders
1/2 lb good quality bacon
1 tbsp unsalted butter
8 slices cheddar cheese
about 16 dill pickle slices
2 Roma tomatoes, thinly sliced
8 slider buns
1 lb 80/20 ground beef
Thousand Island Dressing
1 cup mayonnaise
1/4 minced yellow onion
3-4 tbsp ketchup
2 tbsp sweet pickle relish
1 tsp lemon juice
3/4 tsp sweet paprika
1/4 tsp kosher salt
Instructions
Whisk all thousand island dressing ingredients together in a small bowl and set aside.
Cook the bacon to desired doneness, either in a skillet or in the oven.
While heating a large skillet over medium heat, separate beef into eight equal portions, roll the portions into small balls, and flatten the balls into patties roughly the width of your slider buns.
Melt half the butter in the skillet, and then add four of the patties. As you place the patties into the skillet, gently press down in the center of each one to leave a small depression from your thumb.
Cook patties in skillet about 2-3 minutes per side, flipping once, until the beef has reached a safe internal temperature. As the patties are nearing doneness, top them with cheese and bacon slices (you will probably want to break each bacon slice in half to fit on the slider patties), so that the cheese melts and bacon slightly wraps the patty. Remove the cooked patties to a warm plate, cover with foil, and repeat with the remaining four patties.
While the patties are cooking, if desired, you can butter the slider buns and toast them lightly in the oven under a low broil.
To assemble the sliders, apply the thousand island dressing generously to the bottom half of the bun, then top with tomato slices and pickles. Add the patties, which are already topped with cheese and bacon. Serve immediately!
Nutrition Information:
Yield:

8
Serving Size:

1
Amount Per Serving:
Calories:

602
Total Fat:

45g
Saturated Fat:

14g
Trans Fat:

0g
Unsaturated Fat:

29g
Cholesterol:

84mg
Sodium:

1436mg
Carbohydrates:

25g
Fiber:

2g
Sugar:

10g
Protein:

24g