Savory, sweet, and easy to make, this simple but elegant Ham, Gruyère, & Apple Panini recipe is one you want on your table this weekend.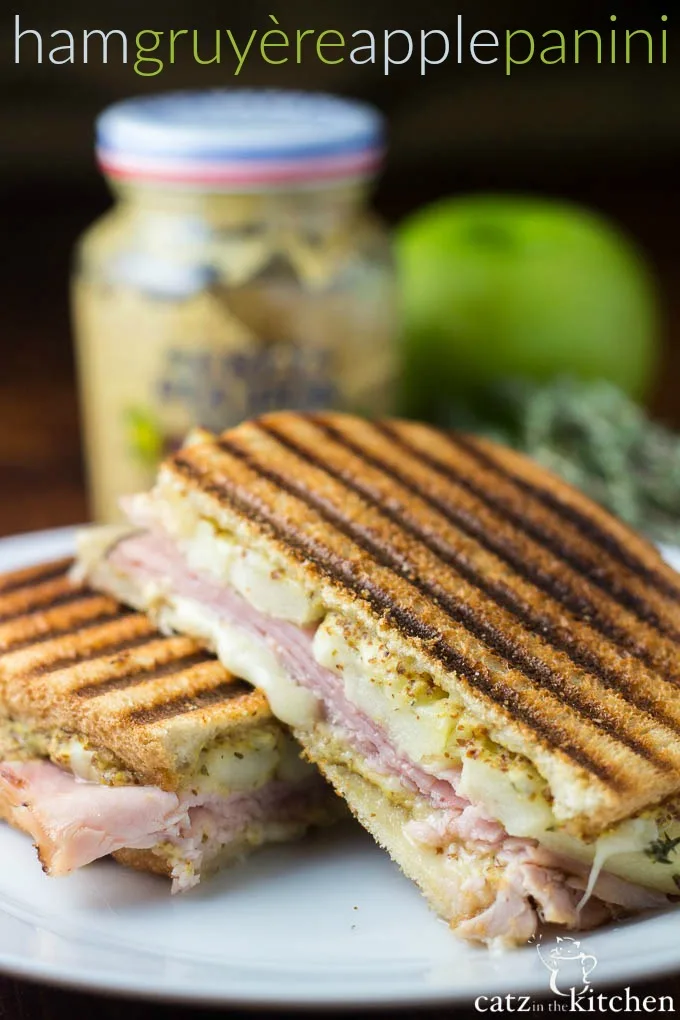 Ever since I heard that Gilmore Girls was coming back for a four part series, I've been pumped. I love that show. I love how quick the dialogue is and the how cute the clothes are. Since the series has been back on Netflix I've watched it twice!
And…I'm currently working on a third! Yes, I enjoy it that much, and the fact that I've been sick means I've been holed up in bed and needing something entertaining enough to watch to distract me from the discomforts of the flu…anybody else with me this season already?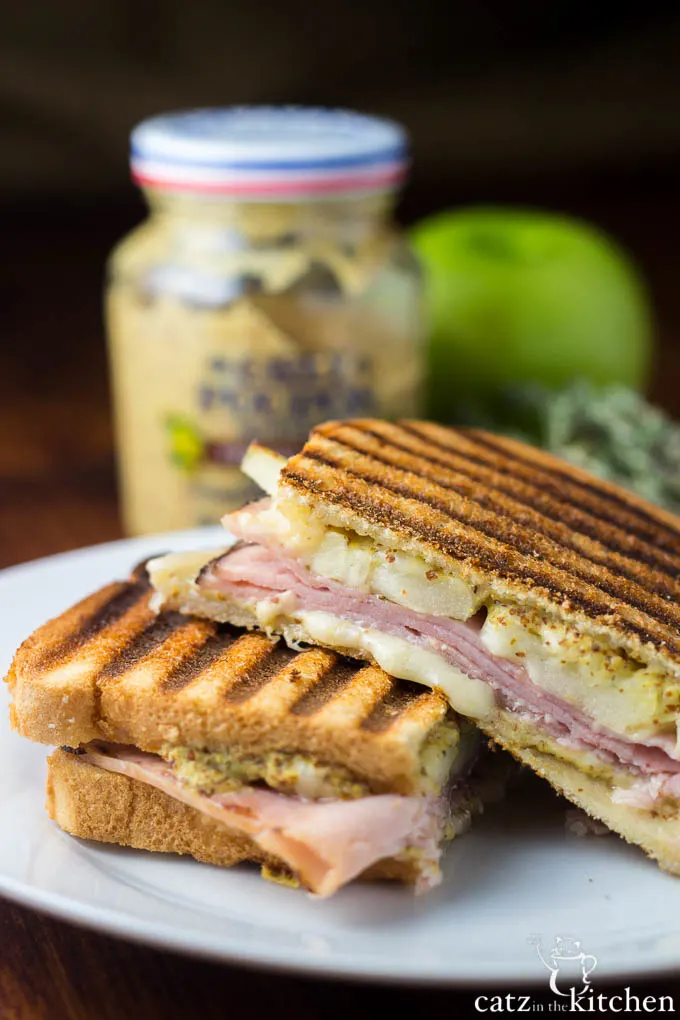 It's this sickness in the house that has prevented me from sharing any more pumpkin recipes with you. But don't you worry your pretty little heads. More pumpkin goodies are coming.
But until then, I've got a delicious panini for you to whip up. On Sundays we usually have some variation of a fried egg sandwich that we accompany with a smoothie, a tradition we picked up from my sister- and brother-in-love. But sometimes, I want to get a little creative, ditch the egg, and go for a full-blown cheesy sandwich.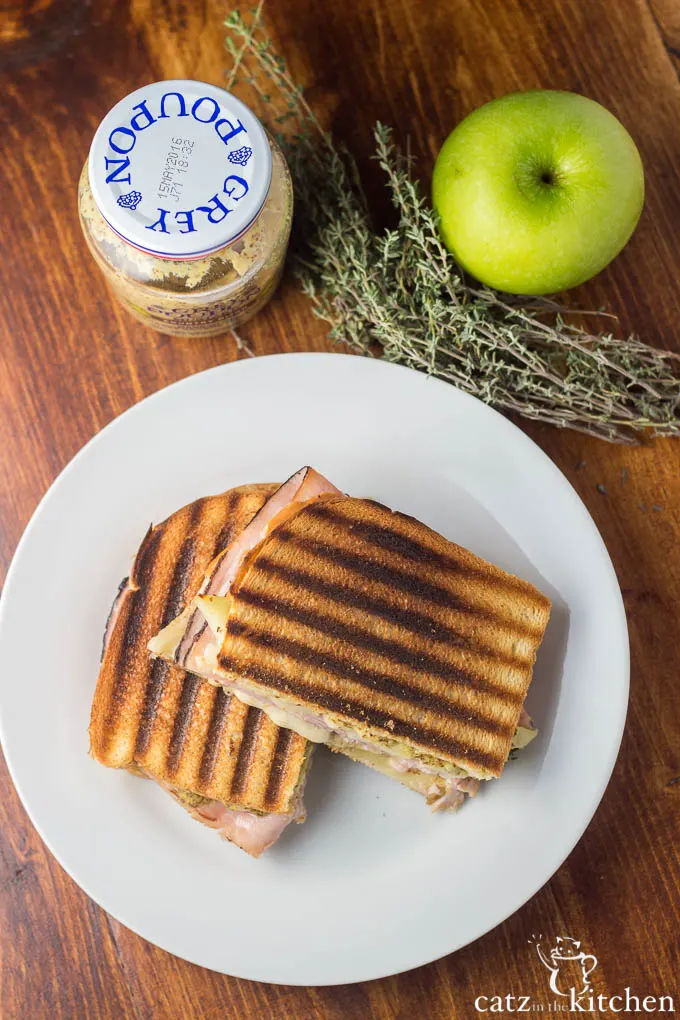 Not only does this Ham, Gruyère, and Apple Panini fit the bill in the cheesy department, but it also has a delicious, can't-get-enough sweet and savory flavor profile that is just out of this world!
While this made for a really relaxing Sunday evening dinner, this panini is also a perfect sandwich for Saturday or Sunday afternoon lunches, too!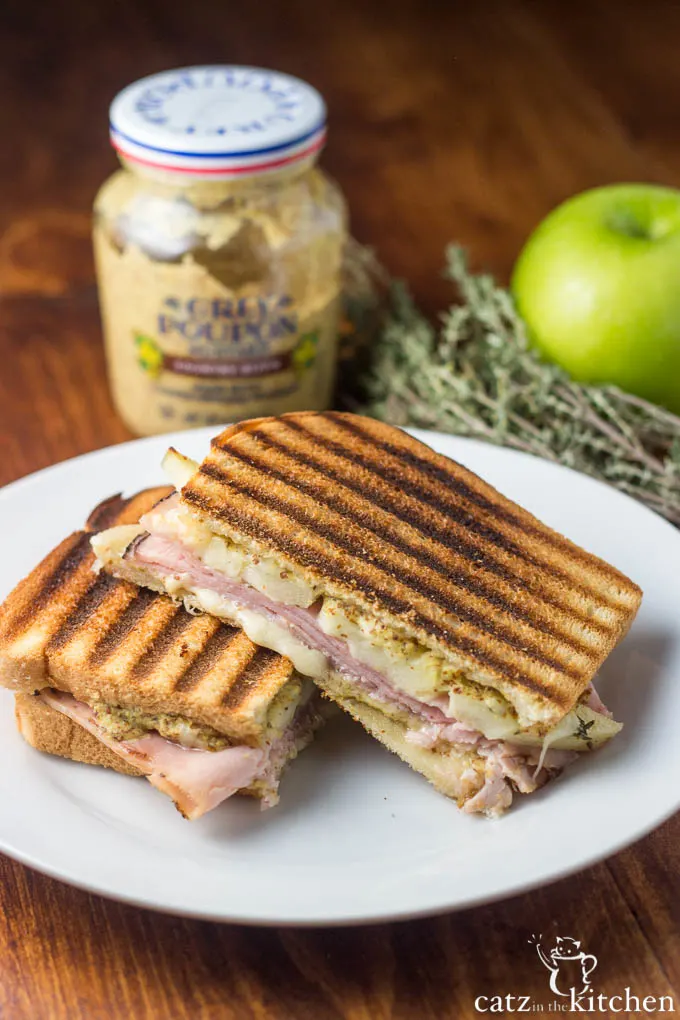 And just throwing this last thought out there, I know a lot of you buy a ham for your Christmas dinner…you could always skip the black forest ham and use leftover ham in place of the black forest – I'll bet that would taste amazing!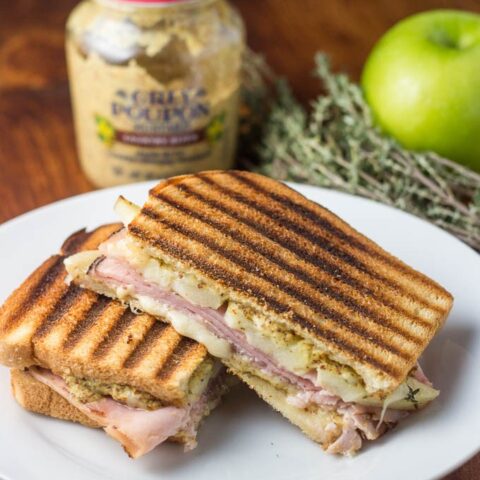 Ham, Gruyère, & Apple Panini
Savory, sweet, and easy to make, this simple but elegant Ham, Gruyère, and Apple Panini recipe is one you want on your table this weekend.
Ingredients
2 tbsp unsalted butter, room temp
2 Granny Smith Apples, peeled, cored, and sliced 1/4 inch thick
1 tbsp fresh thyme leaves, chopped
8 (1/2-inch thick) slices country style white bread
1/2 cup country dijon mustard
2 cups (8 ounces) shredded Gruyere cheese
8 (1 ounce) slices Black Forest Ham
Instructions
In a 12-inch skillet, melt the butter over medium heat. Add the apple slices and thyme. Cooke stirring occasionally, until the apples are slightly soft, about 4 minutes. Cool for 5 minutes.
Preheat a panini press.
Spread each slice of bread with 1 tbsp of mustard. Arrange 1/4 cup of cheese on each of 4 of the bread slices and top each with 2 slices of ham. Divide the apple mixture evenly over the ham, Add the remaining cheese and place the remaining 4 bread slices, mustard side down, on top. Grill until the cheese has melted and the tops are golden and crispy, 5-6 minutes.
Nutrition Information:
Yield:

4
Serving Size:

1
Amount Per Serving:
Calories:

366
Total Fat:

25g
Saturated Fat:

14g
Trans Fat:

0g
Unsaturated Fat:

10g
Cholesterol:

78mg
Sodium:

1366mg
Carbohydrates:

15g
Fiber:

3g
Sugar:

6g
Protein:

21g
Nutrition information isn't always accurate.