Have some Thanksgiving leftovers in the fridge? Turn them into a delicious lunch or dinner in 15 minutes with this Thanksgiving Leftover Panini recipe!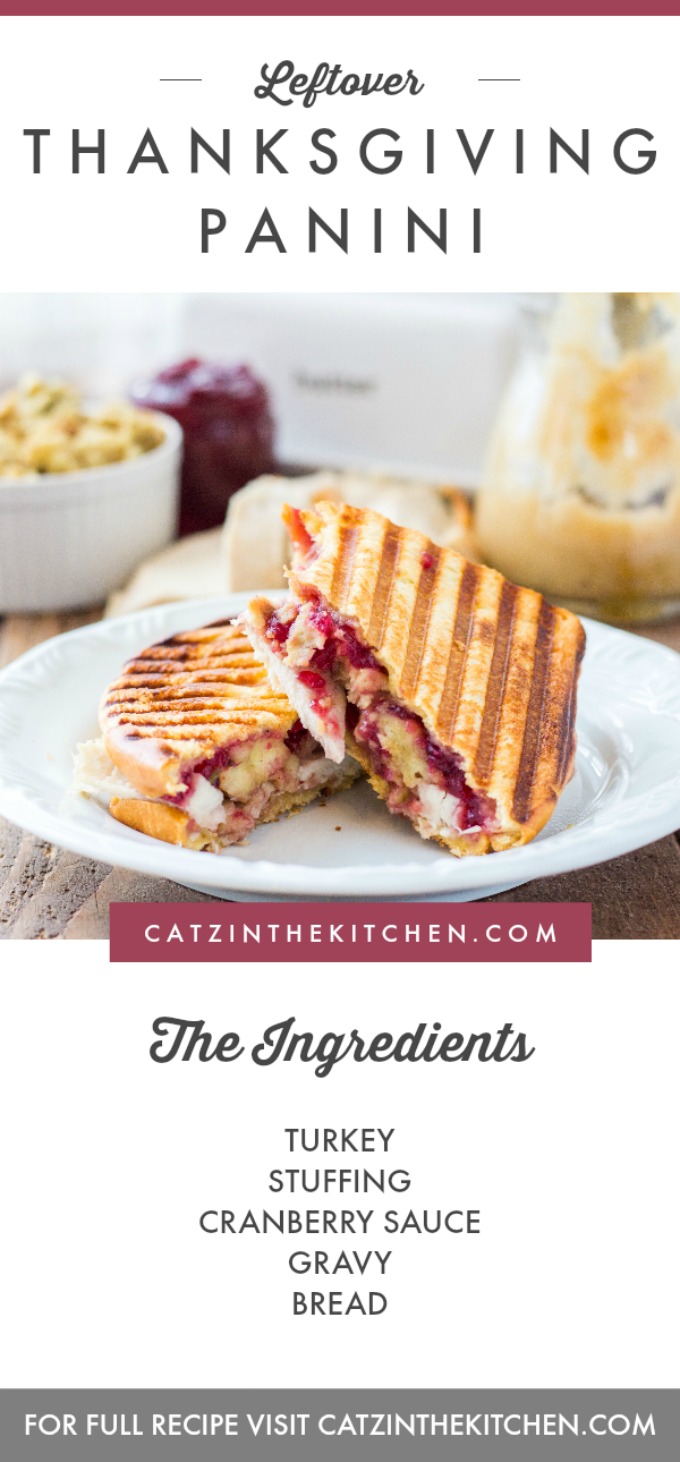 Well, I got this together as quickly as I could. Admittedly, it would have been great for this post to be up immediately after Thanksgiving (I'm looking at you, Black Friday), but to do that, I would have had to either make an entire Thanksgiving dinner ahead of time, photograph it, etc, or make these sandwiches the night of Thanksgiving. And let's be honest – the night of Thanksgiving, after the multiple courses and the pie…no one wants to think about food, let alone make it and photograph it.
So, yeah, that wasn't going to happen.
With any luck, you've still got a fridge full of Thanksgiving leftovers. If for some reason you don't (you were really hungry yesterday, you didn't host this year, etc…), pin for next year and move on!
I have been making these sandwiches for as long as I can remember. In fact, I keep a close eye on the divvying up of the Thanksgiving leftovers to make sure there's at least some stuffing, turkey, cranberry sauce, and gravy making their way to my fridge for this specific purpose. Believe it or not, Chels, who isn't the world's biggest Thanksgiving food fan (*gasp*), actually prefers to eat it in this form! It's a crazy yummy combination. Thanksgiving in one bite.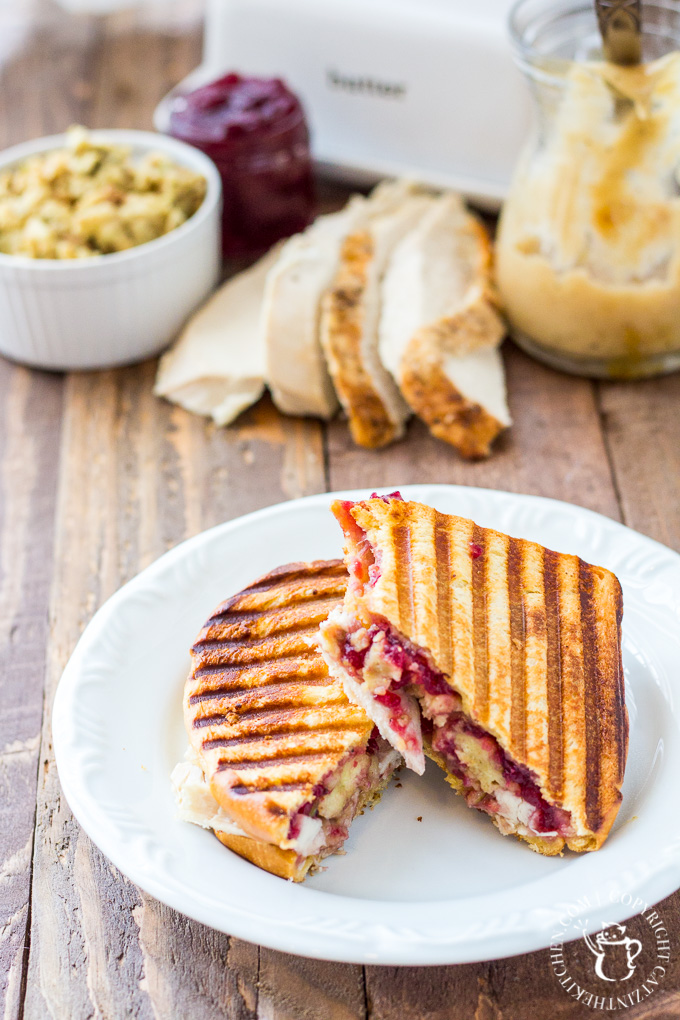 There are a few of things I want to point out about this sandwich:
Use any kind of bread you want (within reason). We used brioche, which was delicious, but we have used Italian and whole wheat in the past.
You don't have to make it into panini (quick review: panini is plural; panino is singular…moving on…). If you don't have a panini grill, you could also toast the sandwich in a toaster oven, or simply warm all of the ingredients separately and toast the bread. You're going to want slightly crunchy, warm bread, though. Veramente importante.
We do use a panini grill. The one we have is a Giada de Laurentiis model that Chels gave me as a gift many moons ago. Sadly, it's no longer for sale, but I would say this Cuisinart model is very similar.
If you don't have any leftover gravy, you can make this sandwich without it. The turkey, stuffing, and cranberries are non-negotiable, and you'll lose a little flavor without the gravy, but it will still be yummy.
Lastly…I noticed last year that Starbucks has this sandwich on their menu now. So…we were eating this before it was cool, yo.
Thanksgiving Leftover Panini
Have some Thanksgiving leftovers in the fridge? Turn them into a delicious lunch or dinner in 15 minutes with this Thanksgiving Leftover Panini recipe!
Ingredients
8 slices of bread (brioche or Italian recommended)
1 cup leftover cranberry sauce
2 cups (about 8 oz) leftover shredded or sliced turkey breast
2 cups leftover stuffing
1/4 cup leftover gravy
butter, for grilling
Instructions
Warm panini grill, if using.
Spread butter lightly on one side of each slice of bread.
Lay bread butter-side-down on hot panini grill, then layer 1/4 of turkey, stuffing, cranberry sauce, and gravy, topped with an additional slice of bread, butter-side-up.
Repeat with remaining bread and ingredients to make three more sandwiches.
Grill for 2-3 minutes, or until bread is lightly browned and ingredients are warm.
Serve immediately, or keep warm in oven.
Nutrition Information:
Yield:

4
Serving Size:

1
Amount Per Serving:
Calories:

518
Total Fat:

18g
Saturated Fat:

5g
Trans Fat:

2g
Unsaturated Fat:

12g
Cholesterol:

16mg
Sodium:

1035mg
Carbohydrates:

79g
Fiber:

3g
Sugar:

28g
Protein:

11g