Simple. Easy. Great leftovers (if there are any). This recipe for cast iron apple pie is one you need to make this autumn.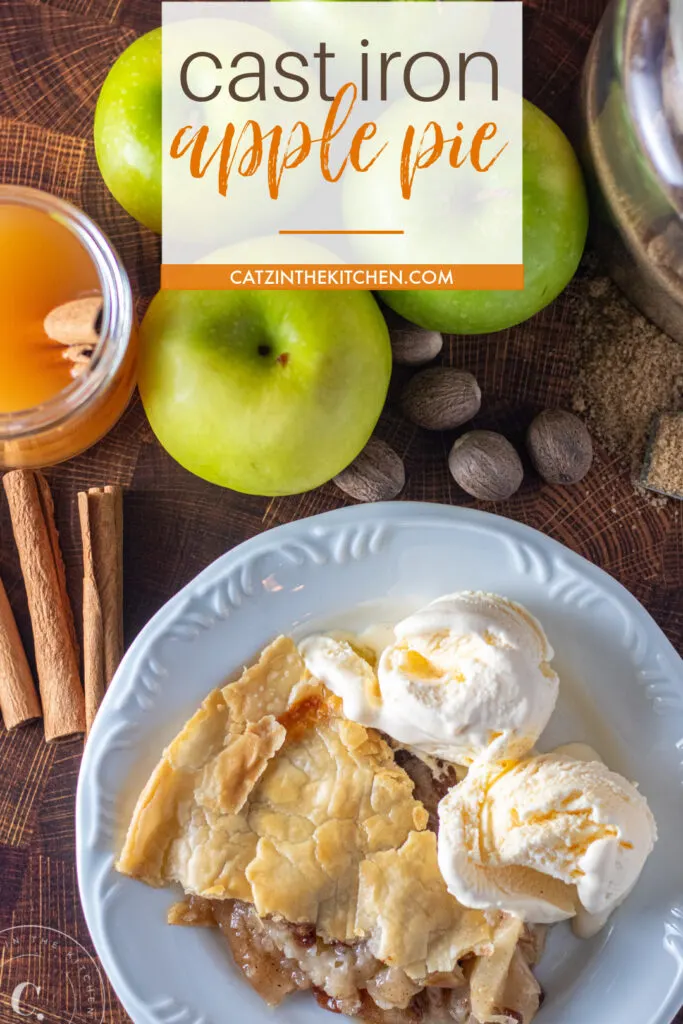 My husband (Josh) sent me the funniest reel the other day. I think, like a lot of couples, we send each other a lot of memes through IG. For the record, for someone who is not on IG much, he sends an awful lot of memes and reels. Like, way more than me! I think there is a reel about that somewhere, come to think of it.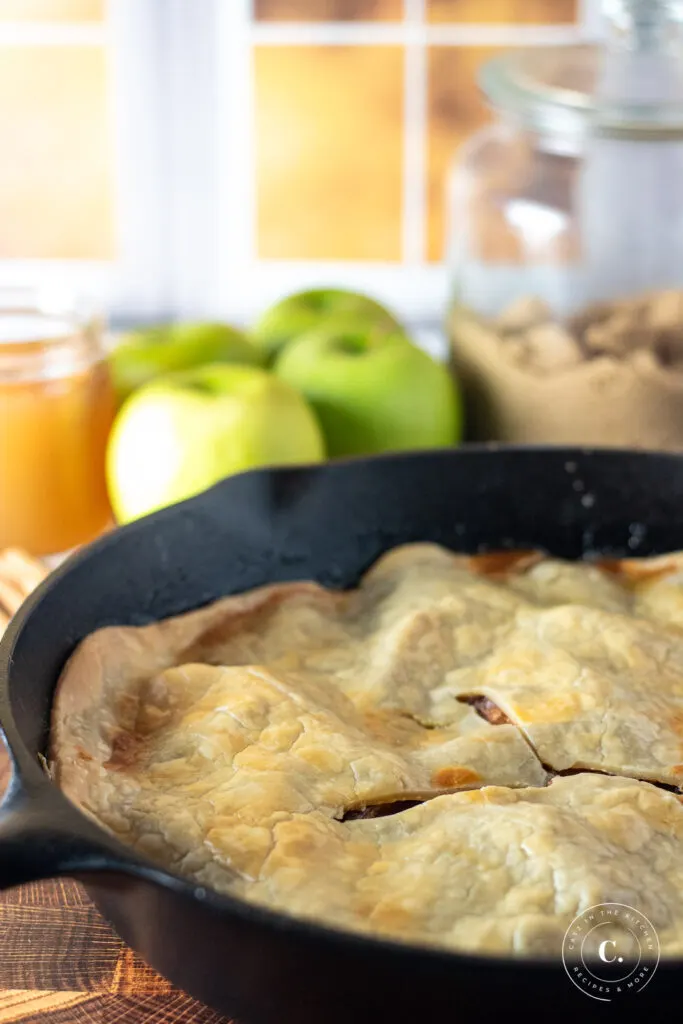 Anyways, the reel he sent me was all about a food blogger and the way they write/publish/share their recipes. They entice you with beautiful pictures and a swanky tagline and then proceed to talk/write for 3-4 paragraphs about something fairly superfluous – like it has nothing to do with the recipe AT ALL! And then you finally get to the end of the 3-4 paragraph story and then you get the recipe! 😆
How many people have experienced this when looking for a recipe? It's like okay, blogger. Just shut up. I came here for the recipe, not a story about you losing your tooth on your 8th birthday on a cookie! 😂 For the record, I have done this many times…and I am doing it right now by telling you about that reel. I apologize…kind of. Maybe I'll just share the reel on my IG page so you guys can all see what I'm talking about and then you can get a laugh out of it!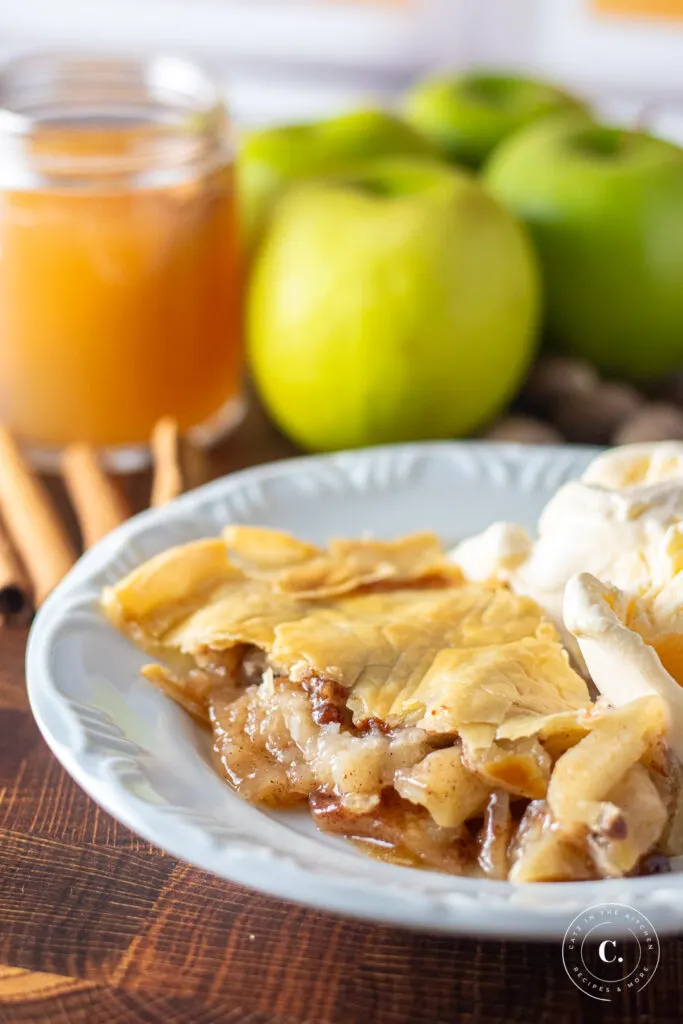 BTW – we have a jump button at the top of each of our blog posts for exactly this reason! You can just click and it will bypass the story that occasionally has nothing to do with the recipe and bring you to the point of why you're actually here. The recipe…so you can see how involved it is.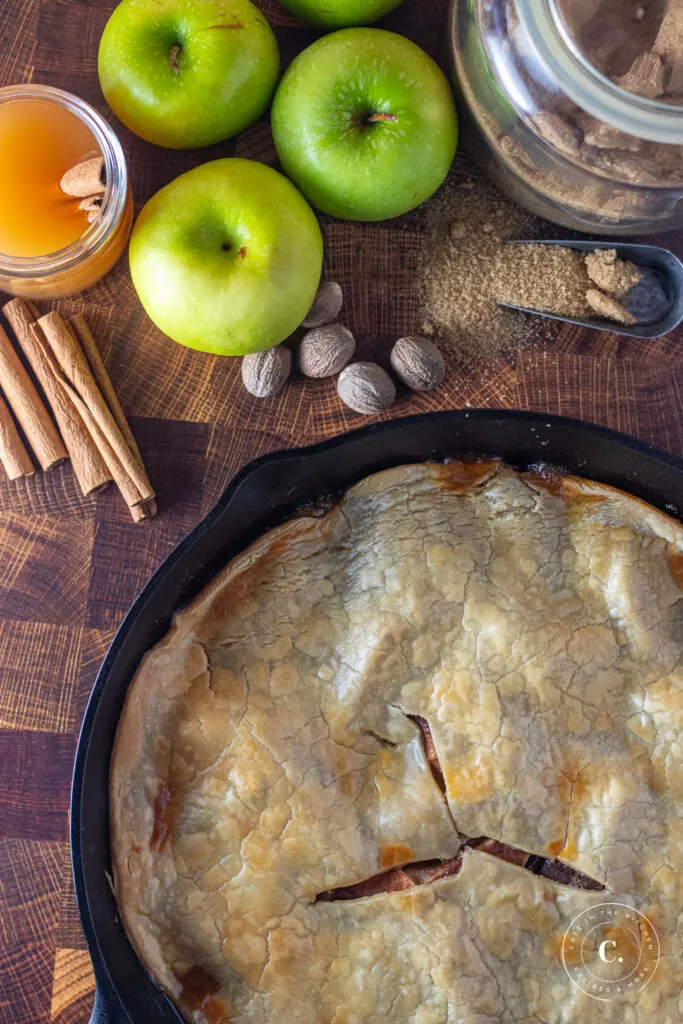 So let me just tell you about this apple pie. It might just be my favorite apple pie ever! EVER! I'm not even joking. It's so stinking easy and simple and perfect. In fact, you're going to love it so much – I'm completely sure of this, that you will never, ever probably, want to make another pie apple recipe again! This one just saves you so so much time!
You don't need to "make" a pie crust – just buy a premade one.
You don't need a pie plate.
There is a ton of added flavor with very simple ingredients.
It's simple enough to throw together while you're waiting for dinner to cook.
No "crimping" pie edges.
Also, let me just say that leftovers (if there are leftovers) are maybe even better than this baby coming directly out of the oven. I don't know why this is. Some things just get better the longer they sit. Wine. Bread Pudding. Boeuf Bourguignon. Anyways, this is just one of those things. It gets better. Just trust me.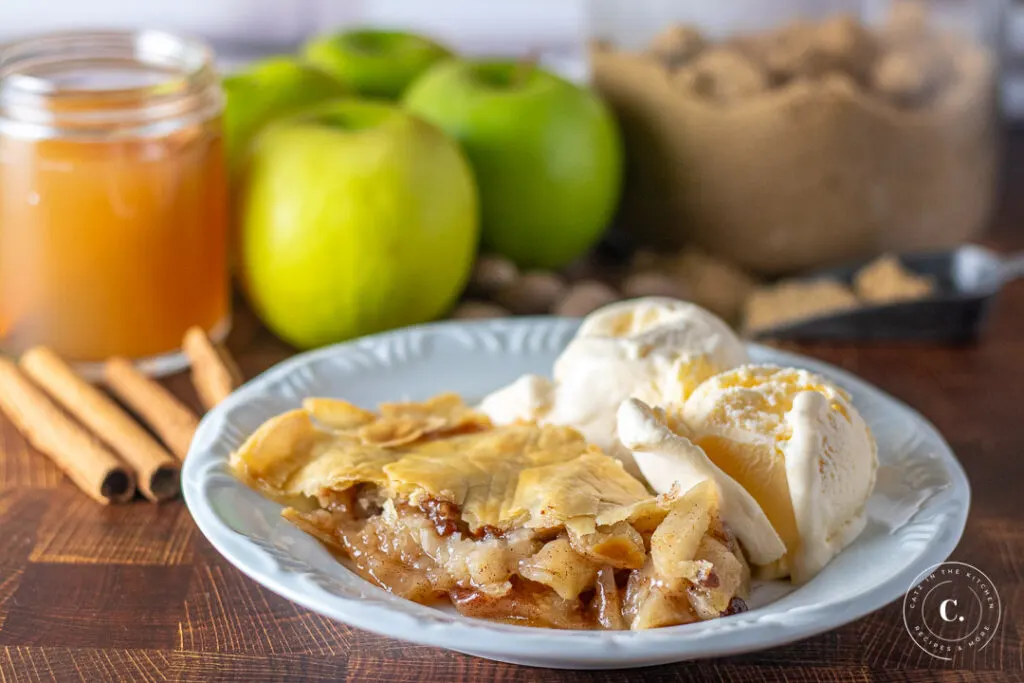 This apple pie is very spice forward – which I love. This pie is also a bit reminicent of an upside down cake without it being a cake. It's like the best parts of an upside down cake and an apple pie got married and this is what you get. You're welcome. Also, serve this with whipped cream or vanilla ice cream. Or both. I'm just saying, you only live once right?
Eat the dessert and if you really want to take this over the top, drizzle the slices with a caramel sauce. Oh…yum!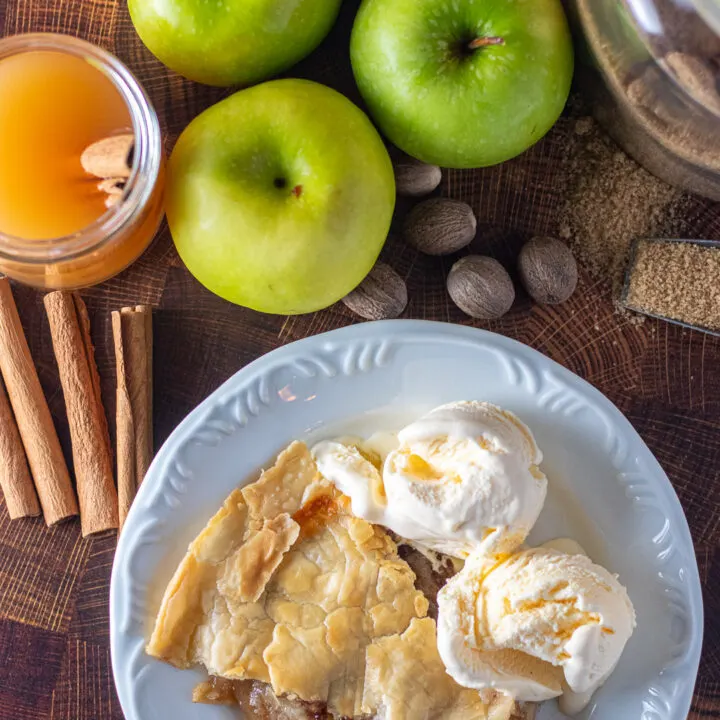 Cast-Iron Apple Pie
Total Time:
1 hour
10 minutes
Simple. Easy. Great leftovers (if there are any). This recipe for cast iron apple pie is one you need to make this autumn.
Ingredients
Pie
1/2 cup unsalted butter
1 cup packed brown sugar
1 (14.1 - oz) pkg. refrigerated, rolled, unbaked pie crusts (2 crusts)
5 Granny Smith Apples, peeled &sliced
1/4 cup apple cider
1/2 cup granulated sugar
2 tsp cinnamon
1 tsp ground nutmeg
1/2 tsp ground cardamom
1/4 tsp ground ginger
2 tsp all purpose flour
1 egg, lightly beaten with 1 tsp water, for egg wash
Apple Cider Whipped Cream
1 cup heavy whipping cream
2-3 tbsp powdered sugar
2 tbsp apple cider
1/2 tsp vanilla extract
Instructions
Preheat oven to 350 degrees f. While heating, put butter in a large (12 inch) cast-iron skillet. Transfer skillet to oven until butter is melted, about 5 minutes. Stir in brown sugar; return to oven and bake until bubbly, about 5 more minutes.
Carefully lay 1 pie crust on top of butter mixture. ( Do not press down.) Arrange apple slices on top. Drizzle with apple cider. Stir together white sugar, cinnamon, nutmeg, cardamom, nutmeg, and flour in a small bowl; sprinkle over apples. Lay remaining pie crust on top of apples; make a few slits in crust. Tuck top crust down to meet the bottom crust along the skillet walls. Brush top with beaten egg and water for added color and shine.
Bake until crust is golden and apples are tender, about 45-50 minutes.
Meanwhile, make the whipped cream. Beat the whipping cream in a large bowl with an electric mixer at high speed until soft peaks form. Sprinke with sugar. Beat until stiff peaks form. Fold in apple cider and vanilla with a spatula. Chill, covered in fridge until the pie is done. Dollop scoops of whipped cream over the warm pie. For more indulgence serve with vanilla ice cream too. To really take this over the top, drizzle a caramel sauce over the top. Enjoy. Refrigerate any leftovers.
Notes
Recipe Adapted from AllRecipes.com
Nutrition Information:
Yield:

8
Serving Size:

1
Amount Per Serving:
Calories:

558
Total Fat:

31g
Saturated Fat:

17g
Trans Fat:

0g
Unsaturated Fat:

12g
Cholesterol:

111mg
Sodium:

152mg
Carbohydrates:

68g
Fiber:

3g
Sugar:

49g
Protein:

4g
Nutrition information isn't always accurate.