This amazing sandwich recipe for apple bacon cheddar Monte Cristos will render you speechless…or begging for more!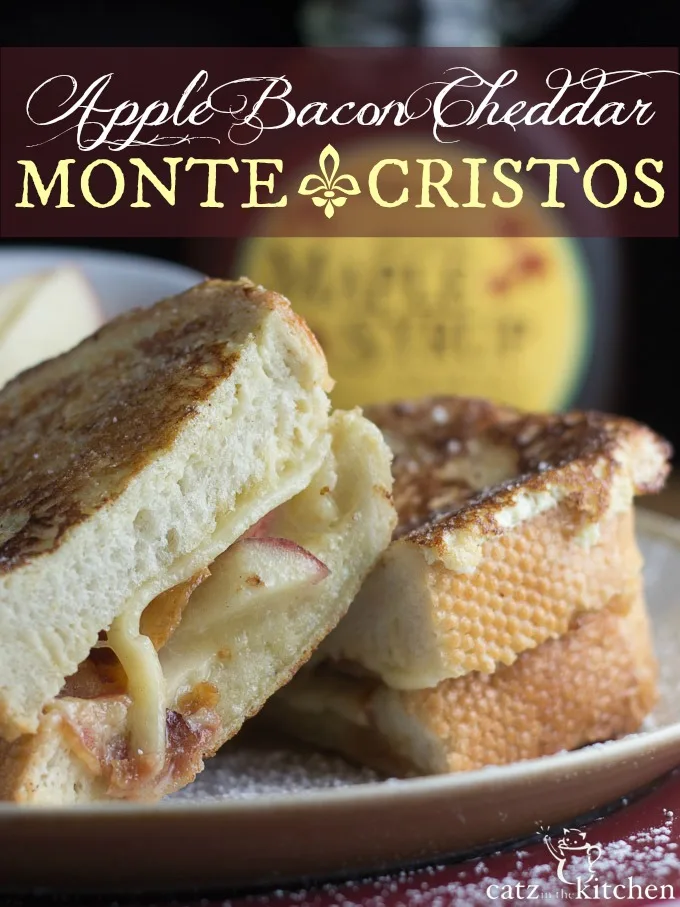 I'm not certain I need to write anything to convince you that it's a good idea to make these sandwiches. Can you call them sandwiches? Does that do them justice? Can we really just sit here and pretend that these drool-inducing pseudo-Parisian tastebud-slaying stacks of pure, unadulterated yum belong to the same family as PB&J and ham and cheese?
No. We cannot.
Thus, we dub thee "Monte Cristo," a much more worthy moniker for such an illustrious plate. Obviously, this is not a completely traditional Monte Cristo, but it's closer than I originally thought. I've had different takes on the Monte Cristo (and its traditional forebear, the Croque Monsieur) over the years, but I really fell for the one I had this past spring (in Disneyland, of all places – Cafe Orleans, for inquiring minds). It was traditional in some ways (ham and cheese, served with jam, etc) and a bit less in others (completely battered and deep fried), but wow. It was off-the-charts insane. I died.
And had myself resuscitated, just so I could have another bite and die again.
I'm working on figuring that recipe out. Clear eyes, full heart, two deep fryers…I'll get it. And when I do, so will you. Be forewarned – you may want to fast for a day or two before consuming that one. Anyway…this is not that recipe. But it is fantastic.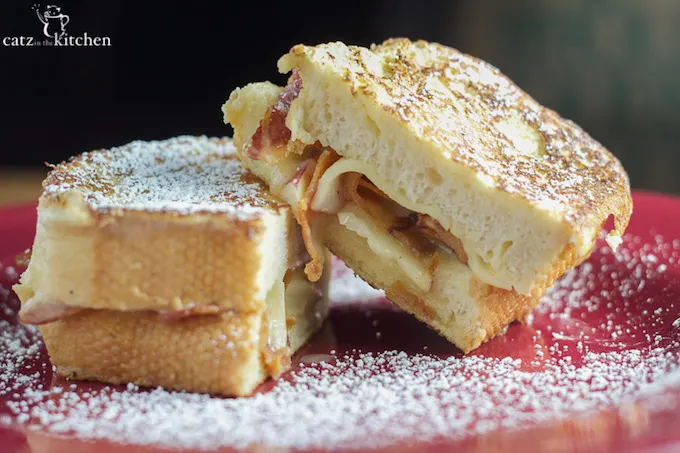 This recipe is a Rachael Ray favorite, and it is beyond mouthwatering. We had some sharp white cheddar in the fridge, some bacon that needed eating, and a still-warm loaf of French bread from our local market bakery, and I thought, hey, why not try this simple meal? The ingredients are pretty amazing – it can't go too far wrong!
Well, not only did it not go wrong, but it elicited some of the strongest positive reactions from my little family that I have ever seen. We were gathered around the coffee table for a casual meal and a favorite Food Network show (probably Cutthroat Kitchen, if I had to guess), and everyone just stopped eating. We all set down our sandwiches and stared at each other for a minute.
SO. GOOD.
The ingredients are failsafe, to be sure (apple, bacon, sharp white Tillamook cheddar, and what is essentially French toast), but drizzling it with real maple syrup and sifting a bit of powdered sugar on top just elevated the yum factor…off the map. Or the chart. Radar? I'm not sure which metaphor I'm supposed to be mixing here. For the record, I dipped mine in blueberry preserves, but that may be a bridge too far for some.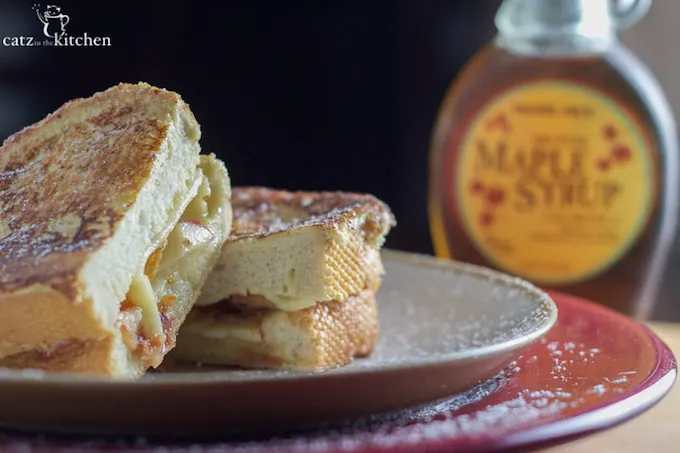 I've said too much. I'm beating a dead…no, I hate that saying. You need to eat this. As in, stop everything you are doing and make it now. Already have dinner made? Throw it out the window and eat this. Okay, don't throw it out the window. Give it to a neighbor. Or to a family less fortunate (if we're going to bring morality into this…). They'll think you're very generous…until they see what you're eating instead.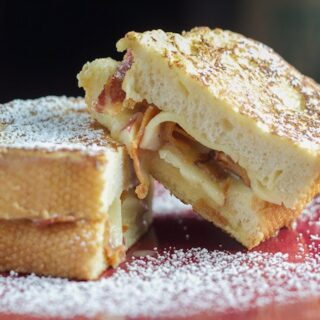 Apple Bacon Cheddar Monte Cristos
These amazing apple bacon cheddar Monte Cristo sandwiches will render you speechless...or begging for more!
Ingredients
1 lb bacon, in slices
1 loaf fresh French bread, sliced into 8 1-inch thick slices
1/2 lb sharp white cheddar cheese (Tillamook, if you can get it!)
2 Gala apples, thinly sliced
3 eggs
1/2 cup milk (thicker is better)
1/4 tsp nutmeg
2 tbsp butter (for greasing the pan)
2 tbsp real maple syrup
1/4 cup powdered sugar
Instructions
Pan fry or bake bacon slices, until just crisp.
Heat griddle to medium heat.
Lay out four slices of the French bread, and top each with apples and half of the cheese.
Beat eggs, milk, and nutmeg together in a medium bowl.
Add bacon to sandwiches and top with remaining cheese and slices of bread. Grease heated griddle with butter.
Dip each sandwich into the egg batter, coating completely, and place directly on griddle. Fry sandwiches until golden with melted cheese.
Serve immediately, cut in half, drizzled with maple syrup and lightly dusted in powdered sugar.
Nutrition Information:
Yield:

4
Serving Size:

1
Amount Per Serving:
Calories:

1302
Total Fat:

72g
Saturated Fat:

30g
Trans Fat:

1g
Unsaturated Fat:

36g
Cholesterol:

326mg
Sodium:

3104mg
Carbohydrates:

92g
Fiber:

5g
Sugar:

28g
Protein:

70g
Nutrition information isn't always accurate.