It's easy, pantry-friendly, flexible, works for breakfast, lunch, or dinner, & makes great leftovers! What's not to love about this chile relleno casserole?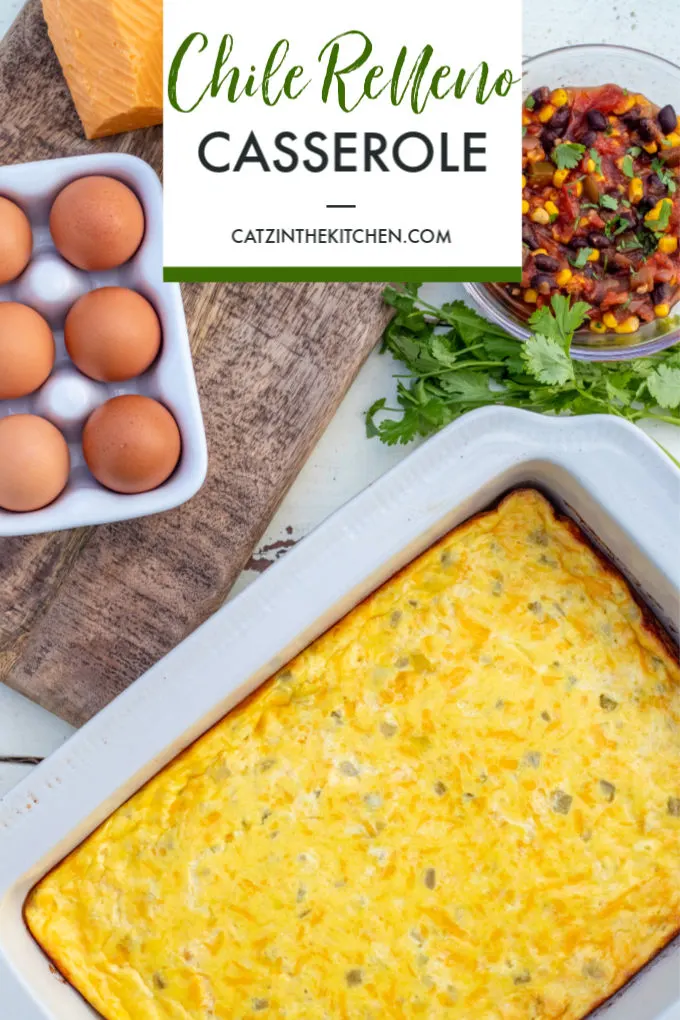 So…as has been said by everyone everywhere, we're in an unprecedented time right now. We are all stuck in our homes and unable to really go anywhere, unless it's our jobs or the grocery store. I know for some of you, you've been thrust into homeschooling in a way that probably seems overwhelming at times and daunting. I hear you on this! I've been homeschooling for 10 years now and still have days when it feels overwhelming and impossible.
But we're all in this together and we can hang in this storm for as long as we need to!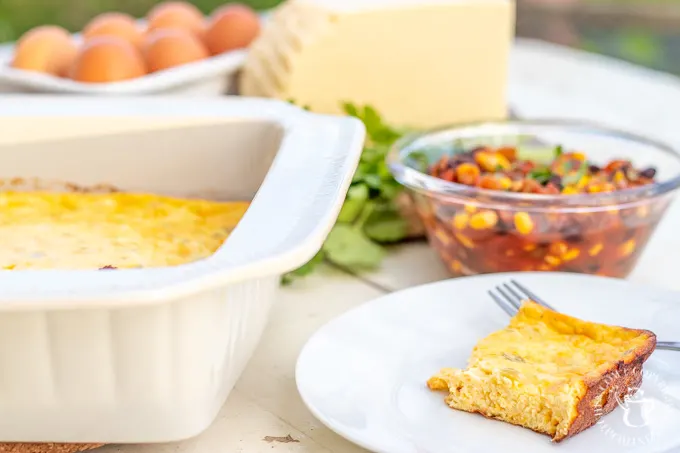 By the way, if you're in the medical field or are one of the first responders giving so selflessly in this time and you're one of my readers (or not), can I just say thank you! Thank you for everything you're sacrificing right now.
I'm going to switch directions and talk about this well-loved recipe. This particular recipe is from one of the first cookbooks I ever received (a wedding gift!), but I have a good friend who's made a very similar one for years, and it is always wonderful.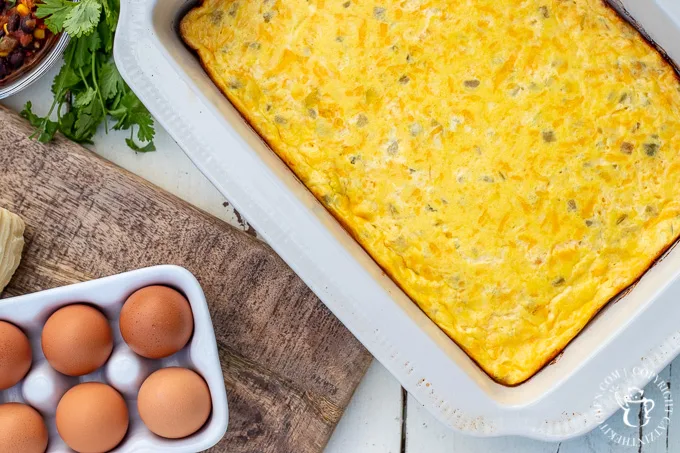 THINGS I LOVE ABOUT THIS DISH
It's the perfect meal for any time of day. I've made this for breakfast or dinner and have eaten leftovers for lunch!
The ingredients are simple and won't break the bank. You probably have most of the ingredients on hand.
You can make it ahead and bake it later when you have time.
Simple enough to bring to someone who needs a meal!
I like to serve this meal with my Mexican Roasted Potatoes or a Mexican style salad. But you could have fresh fruit on the side, too. And for toppings, we keep it simple with salsa or you can follow the simple salsa recipe below for an easy salsa twist.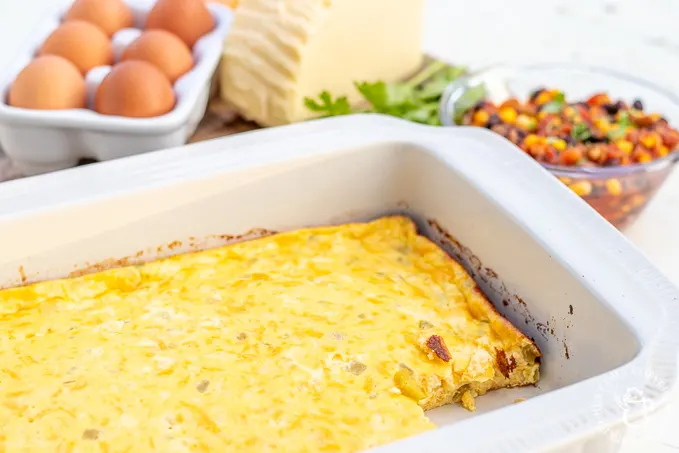 I might mention, that this is a great recipe for a crowd. While this makes a ton of food, it's easy enough to make a little more in another dish (8×8) to make sure everyone has plenty.
FOR A LIGHTER VERSION OF THIS DISH
You can substitute 2 cups of Egg Beaters or liquid egg whites for the eggs.
Instead of using Monterey Jack cheese, use 2 cups of cooked rice.
My favorite option – use reduced-fat sour cream / cheddar cheese!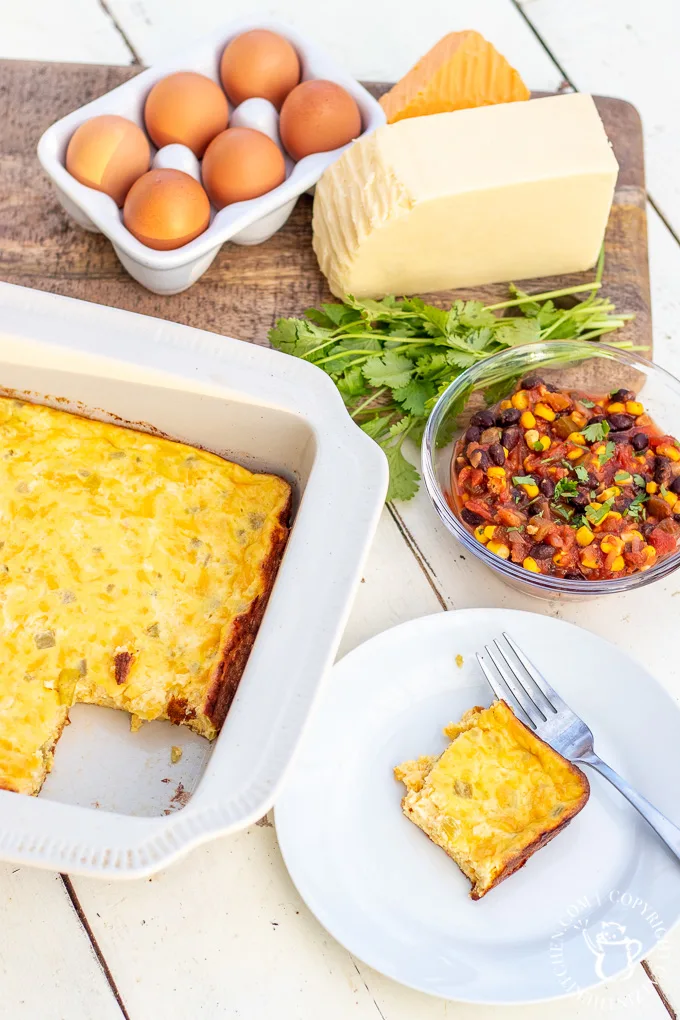 A meal like this offers so many choices – feel free to get creative with any additional mix-ins. You could add black or pinto beans or even cooked chicken or cooked, seasoned meat. It may not be your typical "chile relleno" dish, but if you've got leftovers lying around, I say "use them!"
Let me know the next time you make this dish and if you add anything different to the recipe. I would love to hear how you make it your own!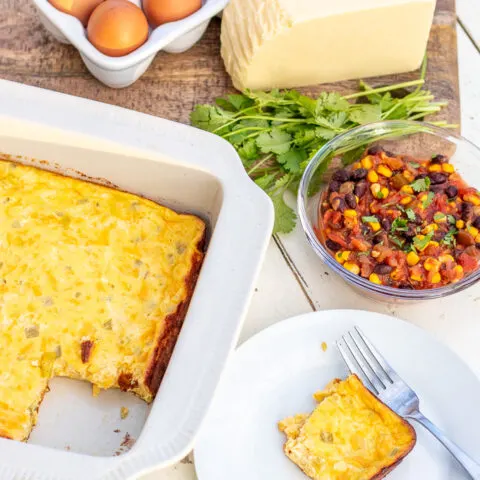 Chile Relleno Casserole
It's easy, pantry-friendly, flexible, works for breakfast, lunch, or dinner, & makes great leftovers! What's not to love about this chile relleno casserole?
Ingredients
8 large eggs
1 cup sour cream
1/4 tsp salt
2 drops Franks hot sauce (I like to add 10-20 drops personally)
2 cups shredded Monterey Jack Cheese
2 cups shredded Cheddar Cheese
2 cans (4 oz) chopped green chilies, undrained
Toppings: Fresh Chopped Cilantro, Sour Cream, and Black Bean and Corn Salsa
Black Bean and Corn Salsa
1 cup Salsa
1/2 cup black beans, rinsed and drained
1/2 cup (thawed) or canned (drained) whole corn kernels
Instructions
Preheat oven to 350 degrees and spray a 9x13 baking dish with nonstick cooking spray.
Beat eggs, sour cream, salt, and pepper sauce in a large bowl with a whisk. Stir in cheeses and chilies. Pour into prepared baking dish.
Bake uncovered for about 45 minutes or until golden brown and set in the center.
While casserole is baking, prepare Black Bean and Corn Salsa. Mix together the salsa, black beans, and corn.
Serve with salsa, sour cream, and chopped cilantro.
Nutrition Information:
Yield:

8
Serving Size:

1
Amount Per Serving:
Calories:

388
Total Fat:

29g
Saturated Fat:

15g
Trans Fat:

1g
Unsaturated Fat:

10g
Cholesterol:

257mg
Sodium:

797mg
Carbohydrates:

10g
Fiber:

2g
Sugar:

4g
Protein:

22g
Nutrition information isn't always accurate.