This easy, zesty little recipe for Mexican Roasted Potatoes is a handy side dish for almost any Latin-style meal – try it with tacos, burritos, and more!

This post is originally from July 2013. The recipe has been reformatted and rephotographed, but it's still as easy and wonderful as ever! The first paragraph, about Josh eating at Taco Bell, is a little humorous now as he's not much of a fast food fan anymore, but the general concept holds true – these potatoes are delicious! Thanks again to Kimi Harris for this easy recipe that has become a family favorite.
I feel like a total oaf for not making these sooner! One of Josh's favorite things to order from Taco Bell are the Crispy Potato Soft Tacos. For the price, they are pretty good. Josh really enjoys them because he likes the flavor of the potatoes in the soft tortilla. Why I haven't diced up potatoes for him in the past is beyond me. It took us going up to Washington for my sister-in-love to make these for us to see what we had been missing out on. Funny enough, Jenn (my sister) said she found the recipe from Grace's guitar teacher's wife's blog. Small world, huh?! Our family has adopted it, and now we make it all the time!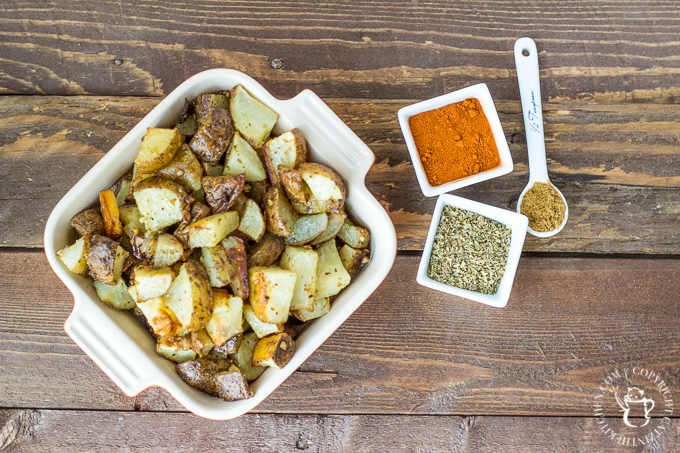 All you need are some potatoes diced up into small chunks. I like to leave the skins on because I'm lazy…and I enjoy the extra nutrients, but if you like to peel your potatoes, go for it!
When all of the potatoes are diced, grab a bowl and start whisking your ingredients together, which consist of olive oil, oregano, cumin, sea salt, pepper, garlic, cayenne pepper, and dijon mustard.
Updated photo note: These are too tasty not to grab a few of before dinner. 9-year-old Edie is stealing a few between photographs!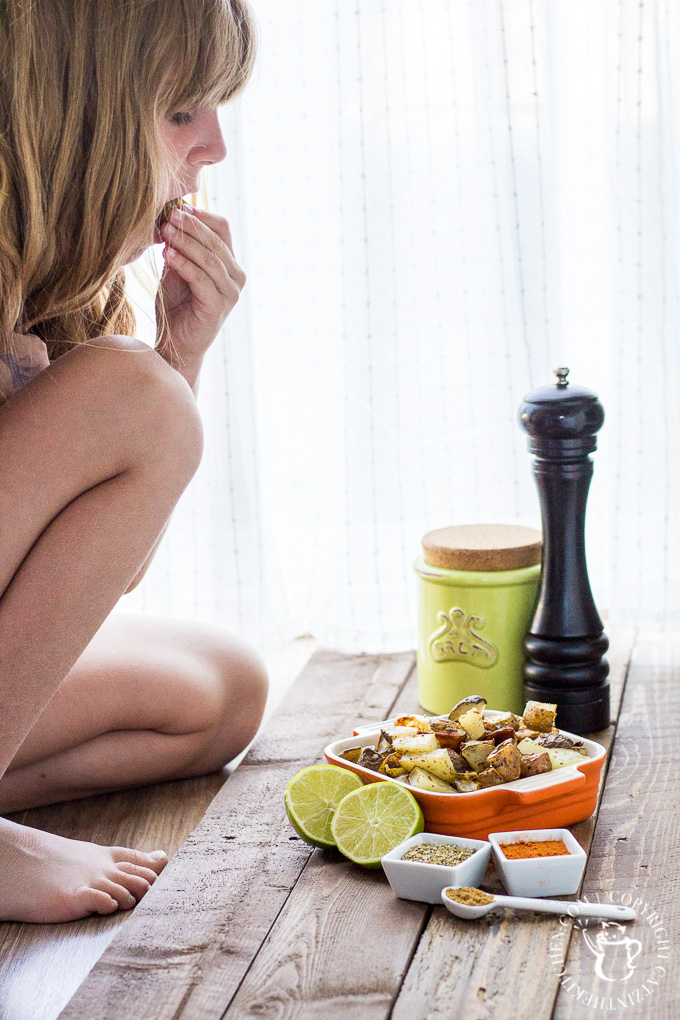 Toss the potatoes with the dressing and you're done for the next 40 minutes while it cooks up in the oven. Easy peasy!
If you're like Josh, then you'll enjoy them piled into your taco with all of the other taco ingredients, but if you are more like me and my girls, then they are equally as good on the side of your plate, too! The only wrong thing here is to not make them at all!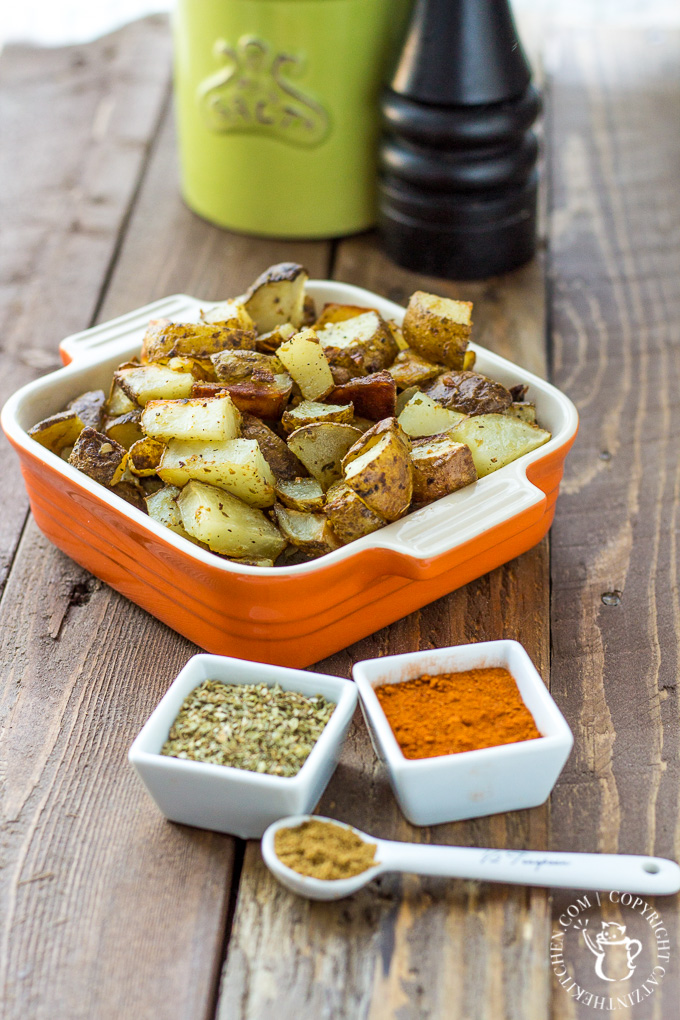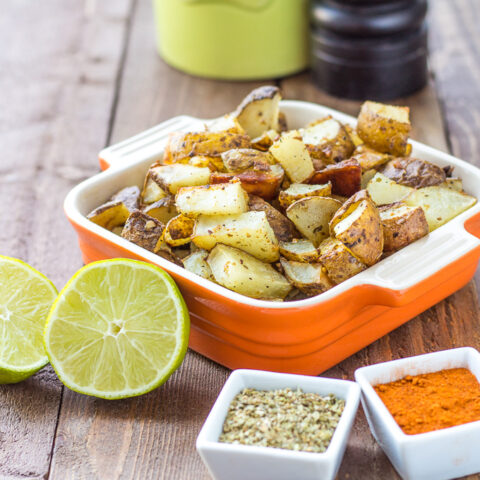 Mexican Roasted Potatoes
This easy, zesty little recipe for Mexican Roasted Potatoes is a handy side dish for almost any Latin-style meal - try it with tacos, burritos, and more!
Ingredients
8 medium russet potatoes, diced into small chunks
1/3 cup extra virgin olive oil
2 tsp dried oregano
1 tsp ground cumin
1/2 tsp sea salt
ground black pepper
3 cloves garlic, minced
1/8 tsp cayenne pepper
1 tbsp dijon mustard
1 lime, juiced
Instructions
Pre-heat oven to 400 degrees. Combine all ingredients in a bowl, except for the potatoes and lime juice and whisk together.
Scatter potato chunks onto a large baking sheet and toss with the dijon mustard dressing. Sprinkle with additional salt and pepper. Roast for 40 minutes, or until potatoes are fork tender and browned on the edges.
Remove from oven, and sprinkle lime juice over the potatoes.
Nutrition Information:
Yield:

8
Serving Size:

1
Amount Per Serving:
Calories:

253
Total Fat:

9g
Saturated Fat:

1g
Trans Fat:

0g
Unsaturated Fat:

8g
Cholesterol:

0mg
Sodium:

221mg
Carbohydrates:

38g
Fiber:

4g
Sugar:

2g
Protein:

5g
Nutrition information isn't always accurate.