This recipe for black bean salsa chicken is a slow cooker staple in our home! It's simple, uses pantry ingredients, and is easy to scale!
This post was originally published back in August of 2013! Almost ten years later, it's still a family favorite, but we've made a few modifications to the recipe to make it even better. In addition to these changes, we've decided to re-shoot the photos and update the recipe card and so on. We hope you enjoy this simple, delightful slow-cooker staple of a recipe!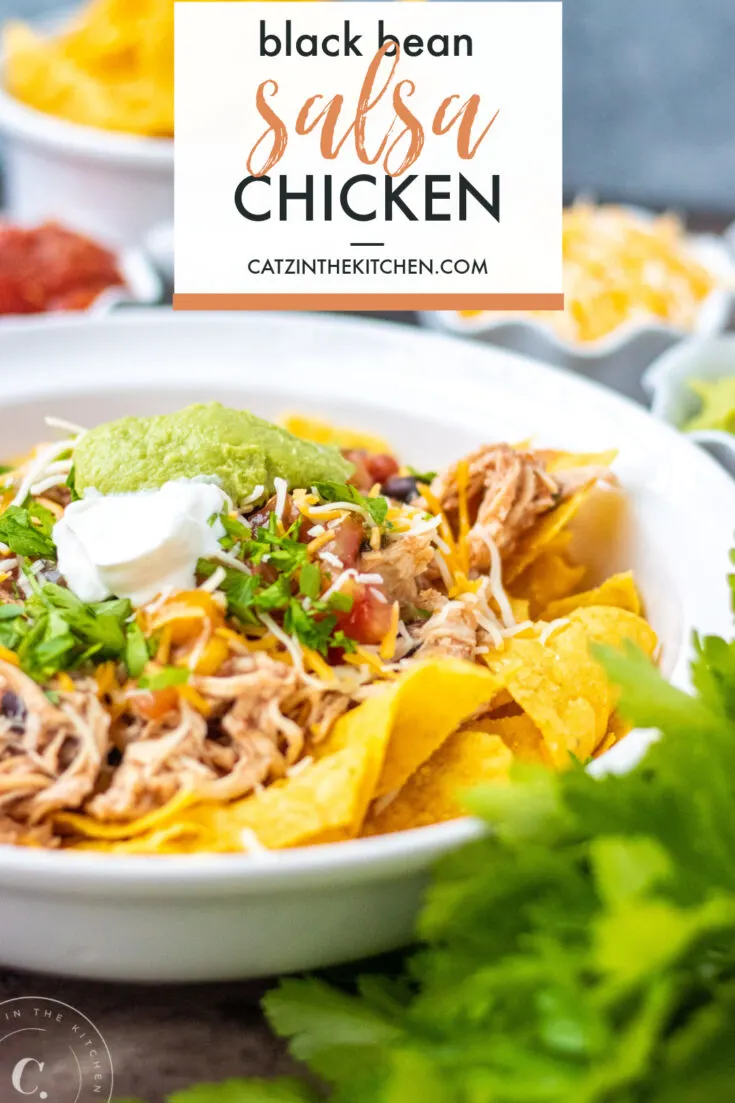 I first met Nancy, I want to say between 3-4 years ago…it could quite possibly be longer than that though. She has become a very dear friend to me and I look up to her in so many ways. She is aspiring to me! She has this incredibly witty personality and huge heart for her friends and family. I wish, I could meet her in person. Yes, that's right…we've never met. Were "Internet" buddies. We met in Myspace in a marriage group. And when I came up with the idea to start my own "marriage group" I started a thread called WFD (What's for Dinner) and normally there is a post for it every day. I quickly found that through that thread, Nancy was an incredible cook and I had much to learn from her, so through the years…I've started collecting recipes from her. And that is where this recipe has come from. This reminds me of our Trainwreck recipe on the blog so you could consider this to be the chicken version of that!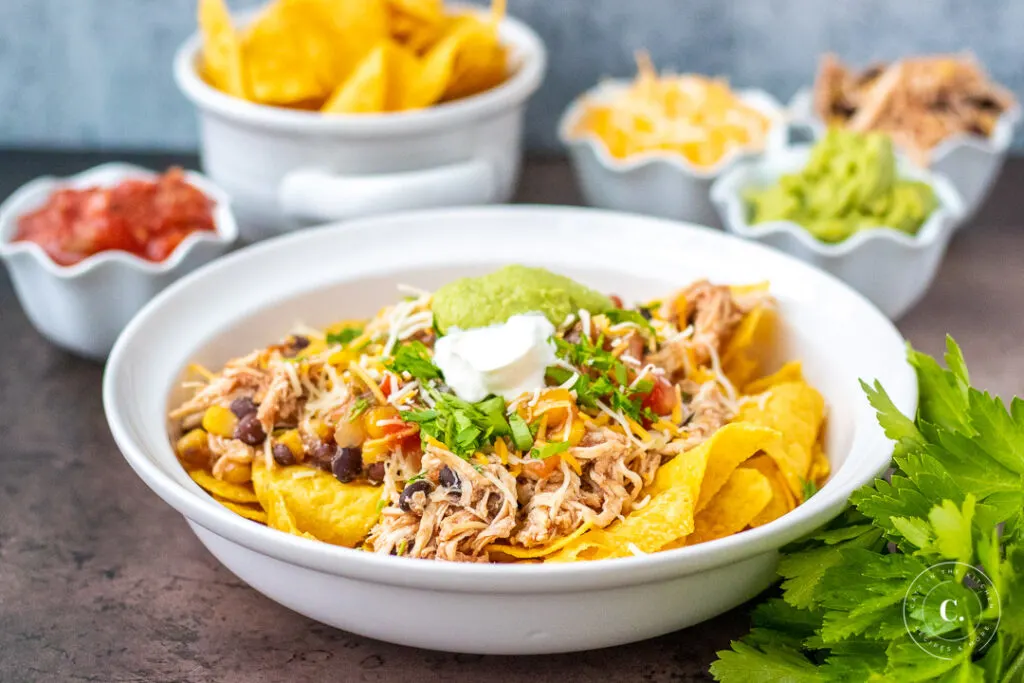 And if you love Trainwreck as much as we do, then this recipe is about to become one of your new favorites for nights when there are sports, unexpected company, doubling, meal ministry, and postpartum because it is probably one of the easiest meals you will ever make. Not only is it a crockpot meal, which duh – automatically means easy to make. But Crockpot meals are some of my favorite meals to throw together because it allows you to serve a whole meal to the family with minimal work, good ingredients, and gives you the gift of time. More time with family. More time with friends. More time to get a nap in or fold that extra load of laundry.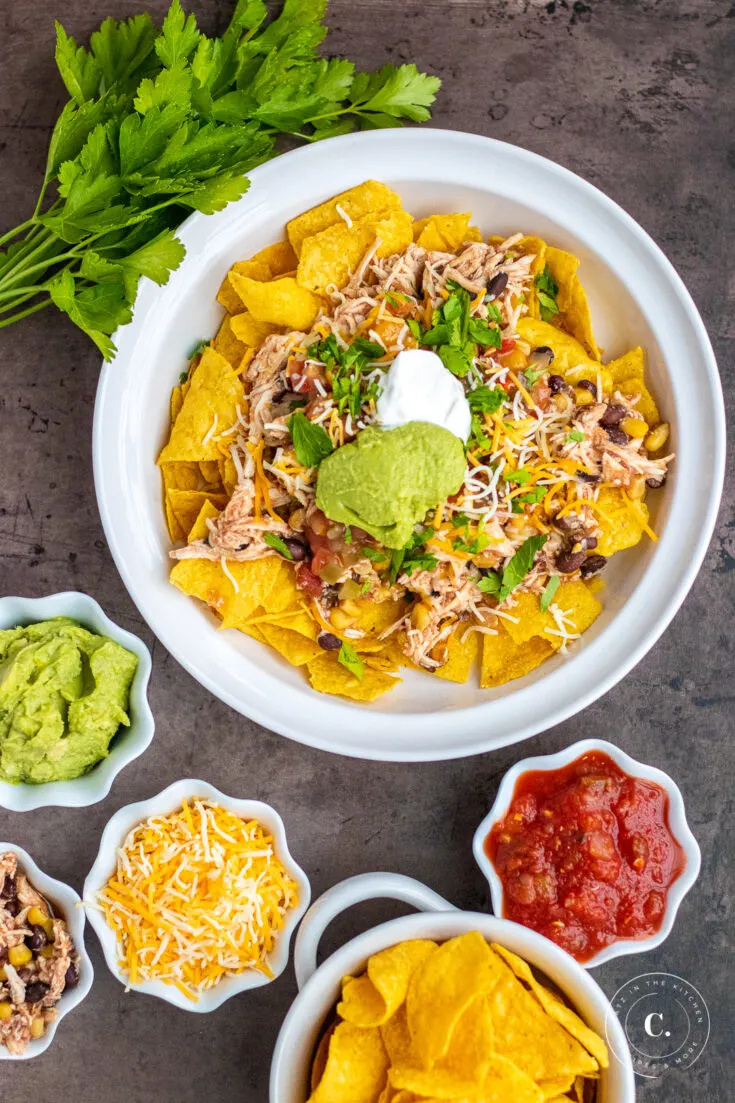 One other idea that is genius and something my brother and wife did this last fall was to bring the ingredients for this meal when you go out of town and are renting a house or something. We go to Sunriver every fall and this past fall, my brother and his wife made this dinner for the whole family. It was simple, easy, and made for a quick dinner when all we wanted to do as a family was play board games. Ingredients are minimal and most places have a crockpot, so the effort level on this meal is like a 1 or a 2 on a scale of 1-10.
I'll be honest, one of my favorite times of year to make this is fall and winter, but also the morning of church is great too because you come home and the house smells amazing even though the ingredients are really simple. You could also add to this recipe – add other kinds of beans, maybe add some diced green chiles. Add Rotel diced tomatoes – which will definitely make this spicier.
I highly recommend Juanitas tortilla chips unless you have dietary restrictions. I just think they hold up really well to all of the ingredients and don't forget the guacamole, sour cream, extra salsa, hot sauce, cilantro, and shredded cheese when you make this. You could even throw on some black olives and it would be so much yum!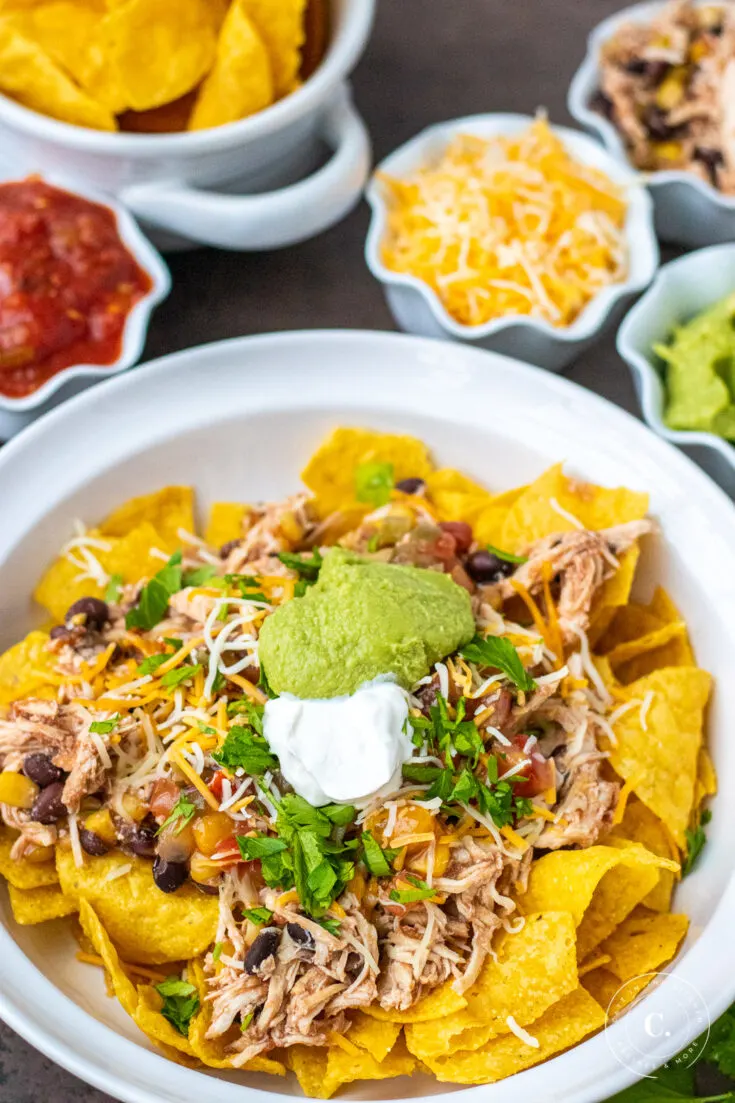 This is definitely one of those perfect "pantry to the rescue" meals that I always have the ingredients on hand for and you should too. Especially on the days when you don't know what to cook. Let me know what you think and what you add to it. Have a great week friends!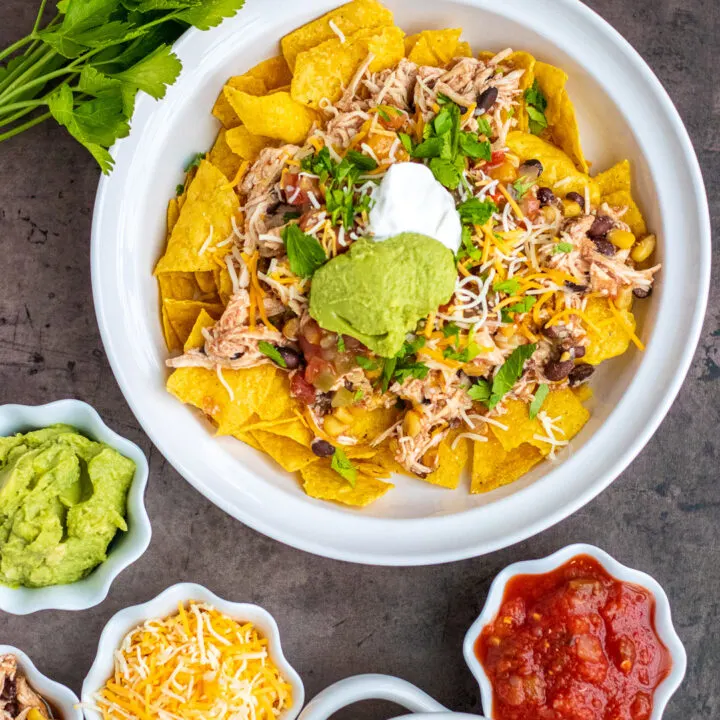 Black Bean Salsa Chicken
This recipe for black bean salsa chicken is a slow cooker staple in our home! It's simple, uses pantry ingredients, and is easy to scale!
Ingredients
1 can of corn (15 oz), drained
1 can of black beans (15 oz), drained
2-3 boneless, skinless chicken breasts
1 (16 oz) jar of salsa
1 bag of Tortilla Chips - We like Juanitas
Shredded Cheese - Cheddar and Monterey Jack, for topping
1/4 cup chopped cilantro, for topping
Guacamole or sliced avocado, for topping
Sour cream, for topping
Taco sauce, for topping
Extra salsa
Instructions
Place half of the corn and half of the black beans in the bottom of your slow-cooker. Place chicken breast on top. Pour remaining black beans and corn over the chicken and top with salsa.
Cook on low for 6-8 hours.
Remove chicken from slow-cooker and shred. Return chicken back to slow cooker and mix together with ingredients.
Place crushed tortilla chips in the bottom of your bowls. With a slotted spoon, spoon chicken and salsa bean mixture on top of the chips.
Arrange toppings on top of chicken mixture.
Nutrition Information:
Yield:

6
Serving Size:

1
Amount Per Serving:
Calories:

447
Total Fat:

20g
Saturated Fat:

5g
Trans Fat:

0g
Unsaturated Fat:

13g
Cholesterol:

66mg
Sodium:

383mg
Carbohydrates:

39g
Fiber:

8g
Sugar:

2g
Protein:

29g
Nutrition information isn't always accurate.