"Trainwreck" crock pot taco salad is simple, inexpensive, easily customizable, and incredibly tasty! It will please your family, or a crowd of almost any size!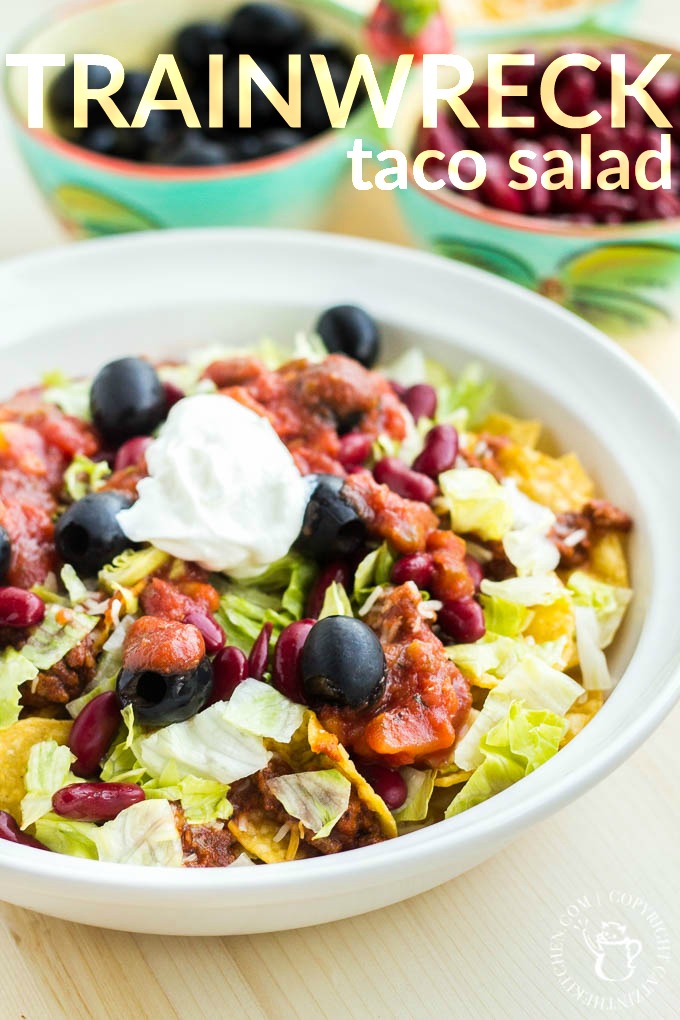 First of all, let's deal with the name of this trainwreck taco salad. Honestly, we don't even refer to this as a taco salad in my family, though that's obviously what it is. We just call it "trainwreck" (…and everyone says, "Mmmmmm…."), but why do we call it that?
I have no idea.
I pondered this often during the hundreds of times I ate this dish as a child. Is it because everything gets all mixed together, creating a hyperbolic "train wreck" of a meal out of the food on your plate? Is it because it would be a comforting and fulfilling meal to serve to survivors of a train wreck (admittedly, I dismissed this one early on…)? It is because (*shudder*) it resembles a train wreck scene when assembled (surely nothing so gory as that!)?
My mother made this almost anytime we had a sizable number of people coming over, as did my grandmother, and as children, my brothers and sisters and I found ourselves looking forward to large gatherings, no matter the attendees, simply because we could pile our plates high with this delectable, customizable, craveable goodness. It's crunchy and cheesy, warm and meaty, while still feeling fresh and smelling incredibly appetizing as it cooks. It's colorful, easy to make ahead of time, and, above all else, oh-so-simple to expand to feed a crowd of almost any size!
Just adjust the amount of meat and sauce in the crock pot, chop more lettuce and tomatoes, shred more cheese, and buy more chips, olives, and beans, and you're in business no matter the number of mouths that need feeding! (Want more crock pot recipes?)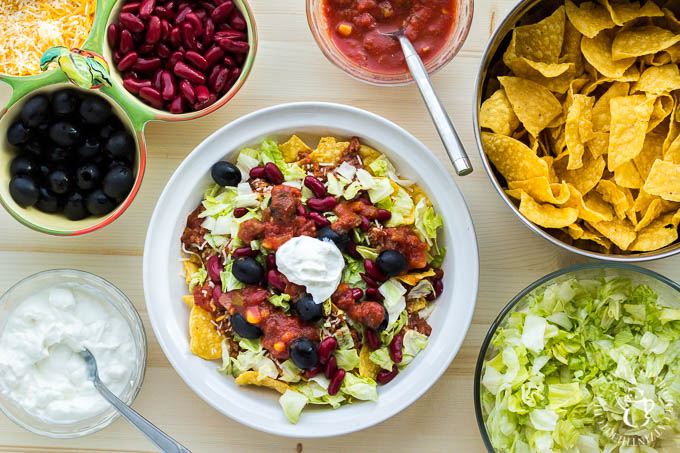 Add on top of all of this, your guests dish themselves up buffet-style, and the meal suddenly becomes low maintenance to serve, too. We typically parse everything out in bowls of myriad sizes, plop a spoon in each, and then position the steaming slow-cooker full of zesty meat and sauce towards the beginning of the line. If your friends and family want seconds, they can just return to the line and add on more of whatever they find themselves lacking. Picky eaters in the mix? They're welcome to grab chips and cheese and move right along.
I think my mom always found that this was the perfect balance of a tasty, warming, filling meal, especially when guests were coming in from out of town and might be weary from traveling, while being simple and predictable to prep and serve, combined with the timing flexibility offered by the slow-cooker.
It's also a bit social, everyone rising from their seats, visiting and catching up as they fill their plates, and filing back to the table to continue their conversations.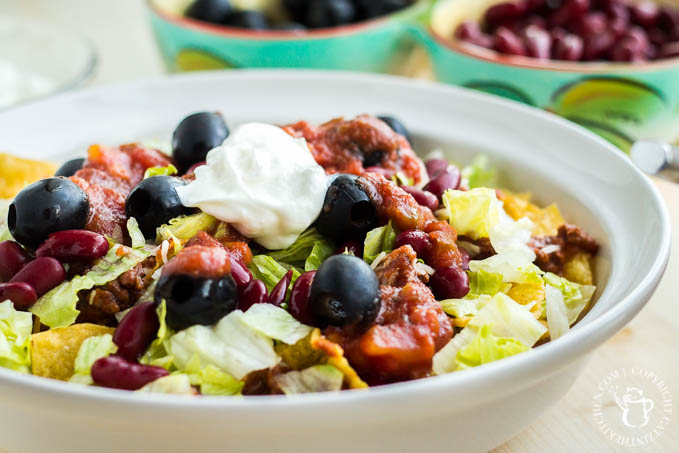 The only bone of contention here? My siblings and I all debate the proper order of toppings! Chips are always first, of course, but after that, everyone has their own opinion. Where does the lettuce go to stay crisp as long as possible? When should one add the cheese to ensure maximum melty goodness? What are the appropriate toppings? Sour cream? Hot sauce? What's the right ratio of kidney beans to olives?
Well, here's my take…and I'm standing by it!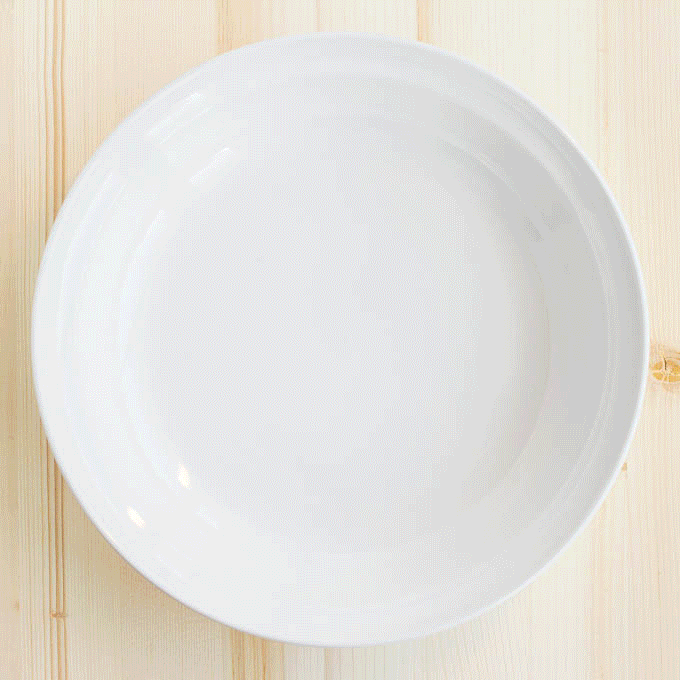 All good fun, of course. We hope you find this to be a handy recipe to have in your repertoire – just as easy to downsize to a quiet weeknight dinner or to expand to a family reunion with cousins galore! If you want to look at additional southwest-style recipes, we've got you covered.
It's simple, inexpensive, easily customizable, and incredibly tasty!
Trainwreck Crock Pot Taco Salad
Total Time:
8 hours
15 minutes
"Trainwreck" crock pot taco salad is simple, inexpensive, easily customizable, and incredibly tasty! It will please your family, or a crowd of almost any size!
Ingredients
Meat Sauce
1 lb ground beef
1 (15 oz) can tomato sauce
1 (15 oz) can stewed or diced tomatoes
1 packet taco seasoning
2 tsp chili powder (adjust to taste)
For Serving (use any or all of the below, or add your own!)
Tortilla Chips
chopped iceberg lettuce
kidney beans
olives
grated cheese (cheddar or a Mexican blend)
sour cream
salsa
hot sauce
Instructions
Brown ground beef in a skillet.
Add tomato sauce, seasonings, and ground beef to slow-cooker.
Set slow-cooker to low heat and allow to simmer all day, if possible.
Prepare other serving ingredients and toppings and place in separate bowls with spoons.
Allow each diner to prepare their own version!
Notes
Handed down through our family by my mother, Lisa Rief, and documented by my sister, Jennifer Rief
Nutrition Information:
Yield:

6
Serving Size:

1
Amount Per Serving:
Calories:

300
Total Fat:

16g
Saturated Fat:

6g
Trans Fat:

1g
Unsaturated Fat:

7g
Cholesterol:

73mg
Sodium:

666mg
Carbohydrates:

13g
Fiber:

4g
Sugar:

3g
Protein:

25g
Nutrition information isn't always accurate.
SaveSave