Simple, easy, but full of flavor and topped with a festive spiced gravy, this slow cooker gingersnap pot roast makes a great holiday dinner!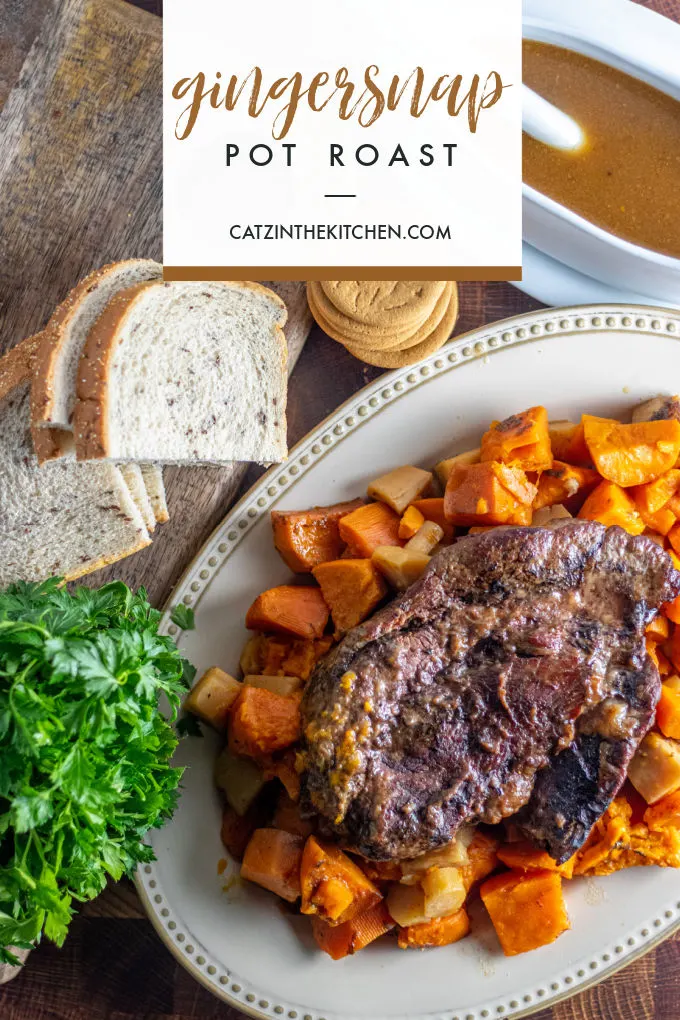 I've been trying to get in the habit lately of throwing something into the slow cooker on Sunday mornings before we leave for church, and every Sunday that I manage to get that done I'm so happy…and then pinching myself on the Sundays I don't.
I want your Christmas evening to be like my Sunday evenings on the days when I do get something in the crockpot. Chill, easy, and delicious.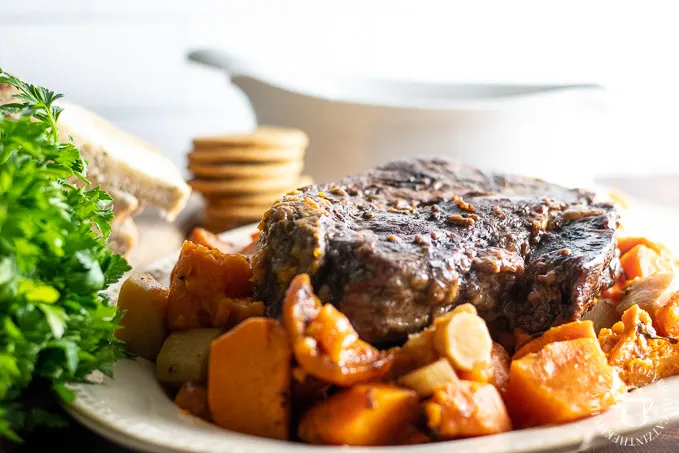 When I was growing up, our family's Christmas celebration – which we actually celebrated on Christmas Eve (also my birthday) – was a big affair. It was as full out as Thanksgiving. After the Christmas Eve festivities, on Christmas Day we opened our stockings, and then went to the movies and I think we ate leftovers. Christmas Day was a chill day – not as exciting.
When I married into Josh's family 17 years ago, Christmas Eve was the chill day – they may or may not be baking cookies, but they weren't celebrating anything until Christmas Day, and even then it was celebrating the whole day and dinner, well, dinner was in the slow cooker!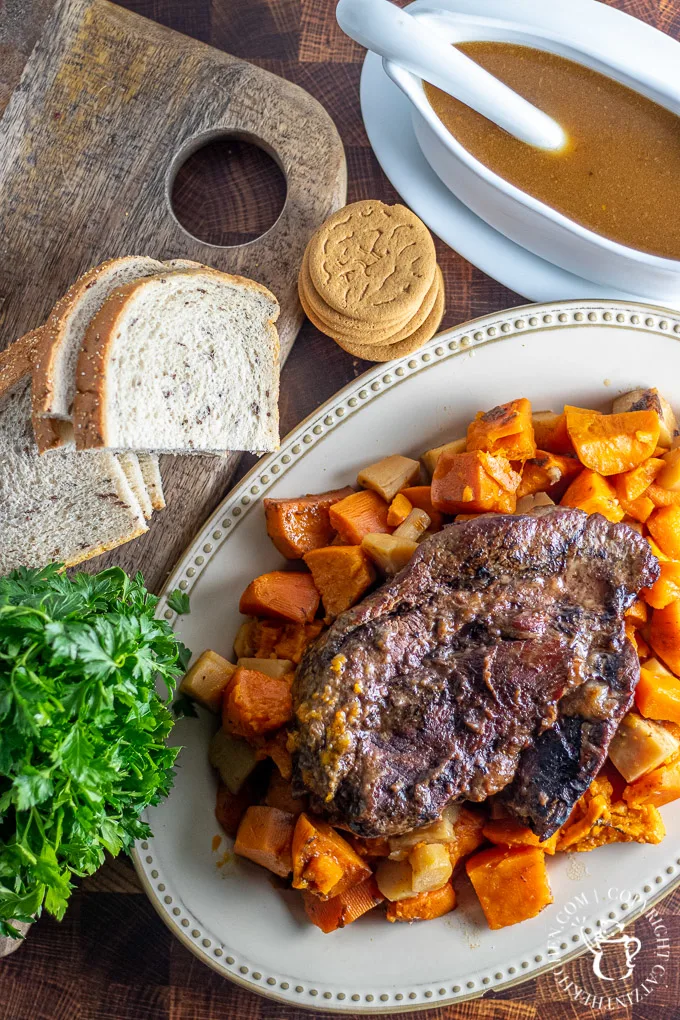 Josh's family typically makes the same thing every Christmas. A roast with rice and green beans…maybe a potato side dish. Super simple, always tasty, and warm and filling. I know ham is the typical "Christmas" protein, but several of Josh's family members suffer from migraines and pork is a migraine-triggering food. So…roast it is, and I'm not mad about it. I love roast!
This Gingersnap Pot Roast may not at first seem super festive, but trust me when I tell you that it is. I think the gravy is the star of the whole show. It takes on and brings out all of the flavors that have been poured over the roast in the slow cooker, and when you drizzle it over the potatoes and vegetables and, of course, the roast itself…it is rather amazing. Spicy…but not in a heat way – you won't be needing a pitcher of water near you for this one. It gets all the flavor from the gingersnaps and, oh my goodness…it is just mouthwatering. One more reason I love this gravy is because all you're doing is draining off the fat – get yourselves one of those fat separators and done. Gravy. No mixing in flour or cornstarch. The liquid is plenty thick on its own and yum! Just yum!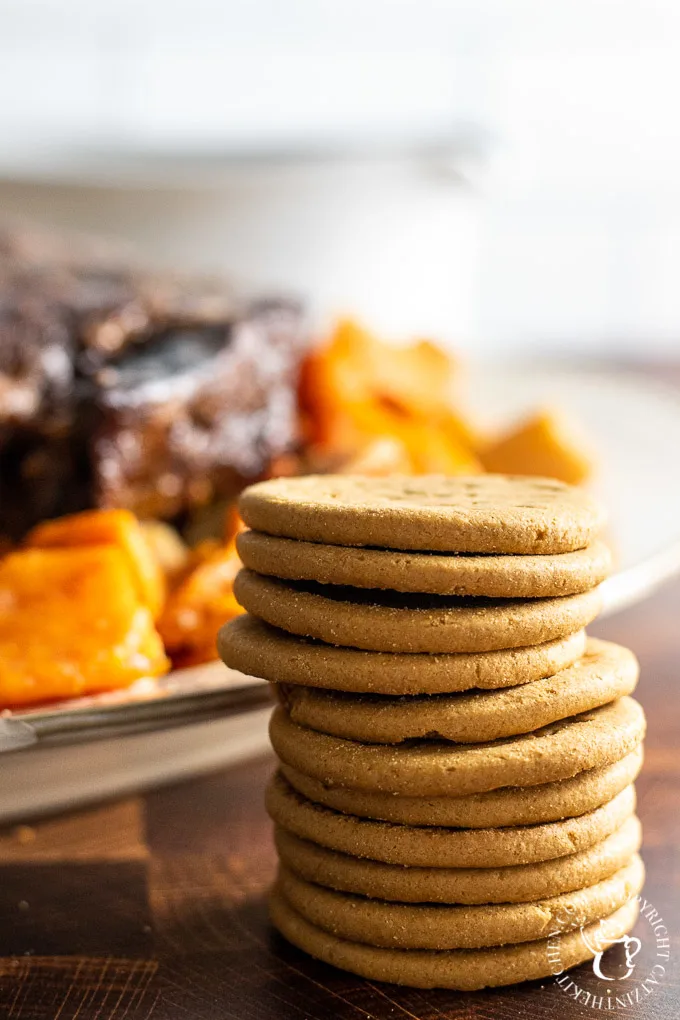 The potatoes and vegetables are tender and perfect and the roast is juicy and literally falling apart.
It's everything you need for dinner on Christmas. You could always swap the parsnips for carrots or even do a combo. I kept it simple with sweet potatoes and parsnips simply because I felt it was too much orange with just carrots and sweet potatoes, but feel free to add in a rutabaga or even turnips if you like. In my opinion, the more the merrier! We kept it simple when we made it because Grace was at work, and the younger kids have smaller appetites. But any root vegetable would be delicious…or any potato for that matter! I'm just very partial to sweet potatoes.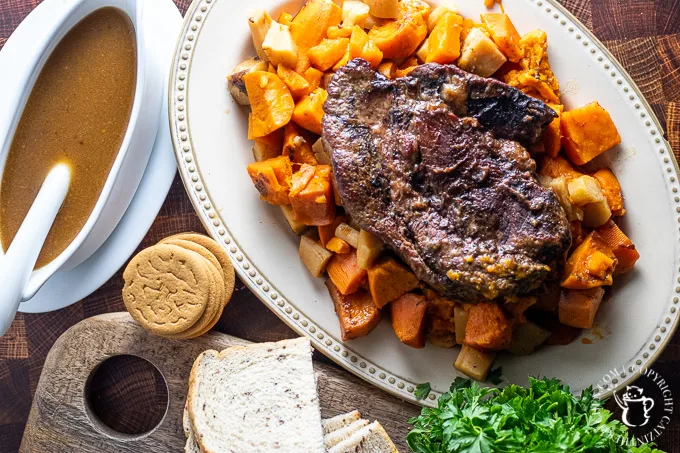 If you're wondering what else you could add to this dish to make it feel like a full meal, might I suggest a salad and some buttered rye bread. Simple and flavorful.
If you decide to give this Gingersnap Pot Roast a try this holiday season, let me know what you think!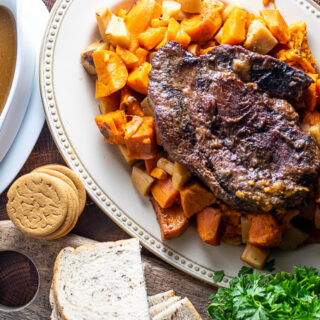 Gingersnap Pot Roast
Total Time:
12 hours
25 minutes
Simple, easy, but full of flavor and topped with a festive spiced gravy, this slow cooker gingersnap pot roast makes a great holiday dinner!
Ingredients
1 beef chuck pot roast (2-2.5 lbs)
1 tbsp vegetable oil
1 cup water
8 gingersnap cookies, crumbled (about 2/3 cup)
2 tbsp red wine vinegar
1 tsp or 1 cube beef bouillon granules
1/8 tsp ground red pepper
3 medium sweet potatoes, peeled and quartered
2 medium parsnips peeled and cut into bite sized chunks
1 bay leaf
Instructions
Trim the fat from the meat. You might need to cut the roast to fit into your slow cooker.
In a large, high-sided skillet or dutch oven, brown roast on all sides in hot oil.
In a small bowl, combine water, gingersnaps, vinegar, bouillon, and red pepper. Place sweet potatoes, parsnips, and bay leaf in slow cooker. Place meat on top of vegetables. Pour the ginger mixture over the meat.
Cover and cook on low heat for 10-12 hours or high heat for 5-6 hours.
Transfer meat and vegetables to a platter. Remove bay leaf. Skim and remove the fat off the gravy. Stir to combine. Ladel over roast and vegetables.
Notes
Recipe Source: Better Homes and Garden Cookbook
Nutrition Information:
Yield:

6
Serving Size:

1
Amount Per Serving:
Calories:

206
Total Fat:

7g
Saturated Fat:

2g
Trans Fat:

0g
Unsaturated Fat:

5g
Cholesterol:

31mg
Sodium:

245mg
Carbohydrates:

25g
Fiber:

3g
Sugar:

7g
Protein:

11g
Nutrition information isn't always accurate.