This "build your own" recipe for Greek Chicken Bowls is simple, healthy, and flexible – use it for lunches, dinners, or even meal ministry!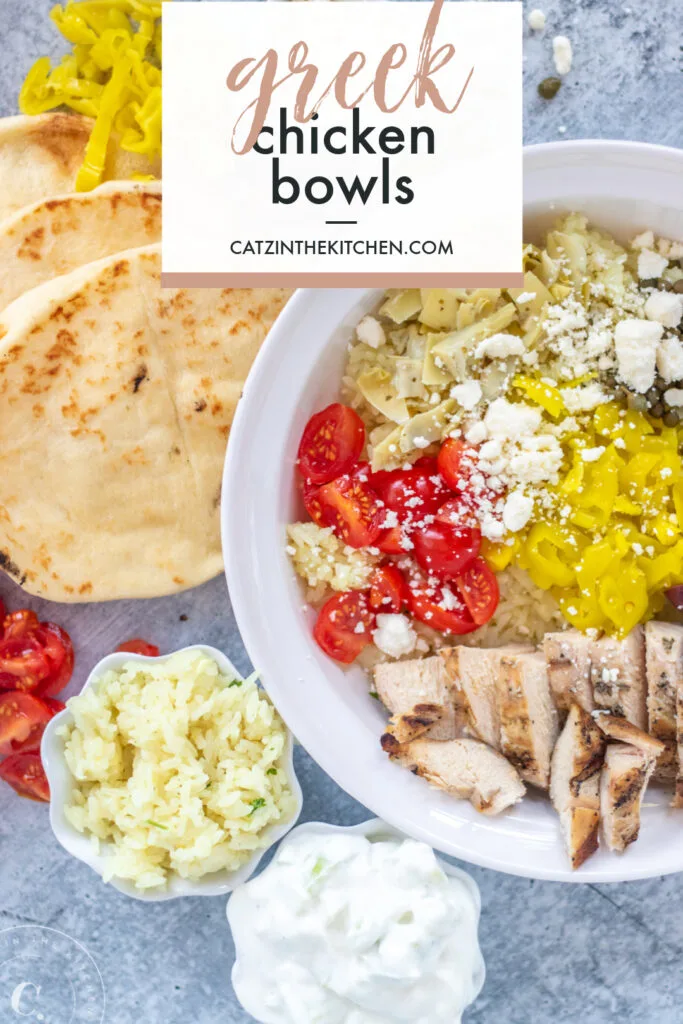 One of the things I craved constantly throughout my pregnancy was Greek food, or at least things that seem like Greek food to me! I wanted artichoke hearts, kalamata olives, capers, and tzatziki sauce. I think I put some sort of Greek meal on the list at least once every 2-3 weeks. I mean, I would have put it on the menu each week, but I thought the family might revolt if I went that far. Although, because I was pregnant, I may have been able to get away with it. Also, this type of food is fantastic, so they really probably would have been pleased! One of the downsides to being on the postpartum side is you can't use the "because I'm pregnant" excuse anymore…or can you…?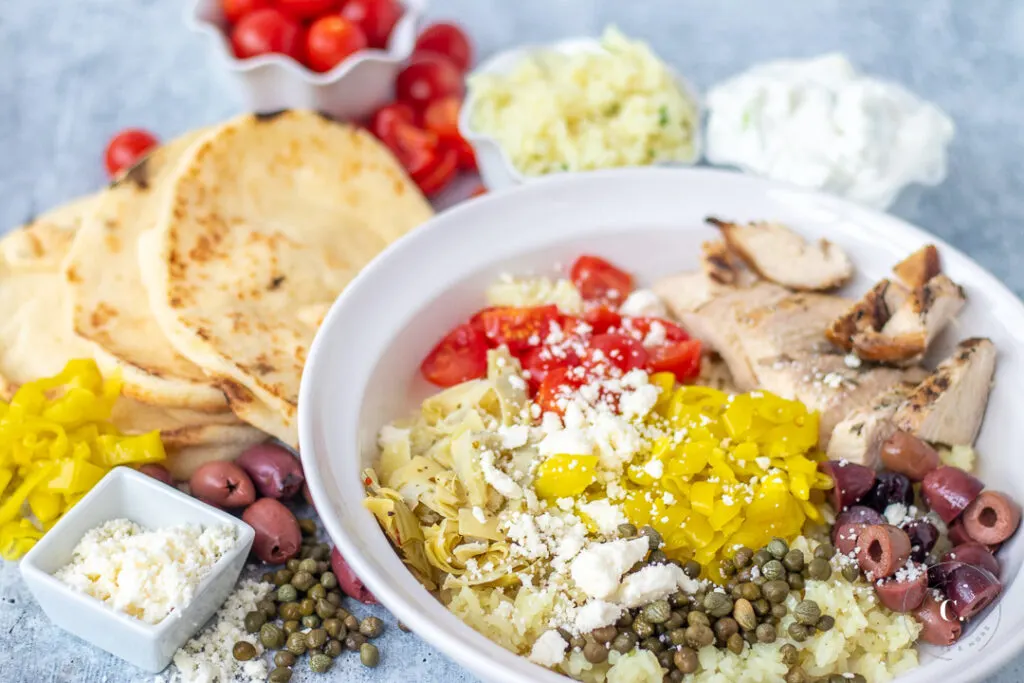 I know there are probably 100 million recipes out there for a Greek Chicken Bowl online. I haven't looked, but I'm assuming that Pinterest holds a hefty amount. However, I came up with this particular recipe after being inspired by a friend. Last year, when I broke both of my wrists (I still can't believe that last summer I spent eight weeks in wrist casts and this summer I birthed a baby – it just goes to show that you have no idea what each day will bring! But I digress…), we were blessed by a beautiful outpouring of support from family and friends who brought us meals or sent us meals from afar. One of the meals that was delivered was a "make your own" rice bowl with "Greek" ingredients. My friend showed up with this gorgeous platter of toppings, grilled seasoned chicken, rice, cookies for dessert, and drinks. It was a smorgasbord of deliciousness! The best part was not only did it taste amazing, but it was healthy, too – which was a plus for me.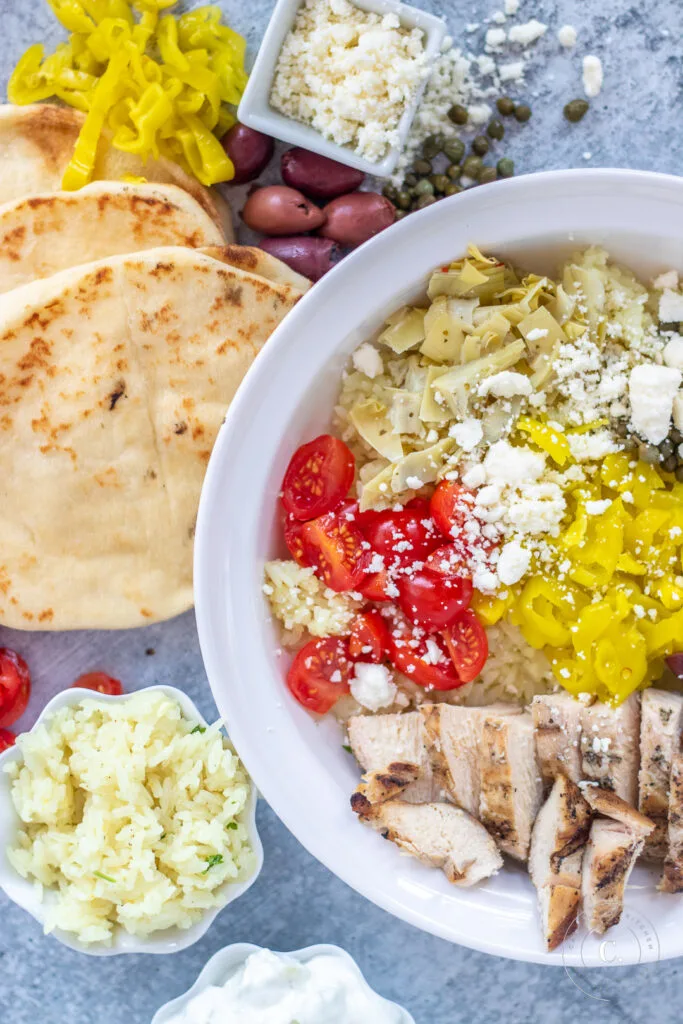 I was so in love with this meal that it became something I began experimenting with myself. Different toppings, seasoned chicken that Josh would grill up for me, and different rice flavors for the base of the bowl. The one thing I cared the most about with this meal was that it had to be easy. If you have made our family's Trainwreck recipe, then you know what I mean when I say this is essentially it as easy as that. A few things to prep ahead of time and then toppings just spread out so everyone can build their own bowl. It's been really cool seeing the kids explore different ingredients and pairings. Eden, for example, has discovered a love for capers and pepperoncinis!
I usually make the tzatziki sauce ahead of time so the flavors have time to marinate and blend, and I make the rice just before serving so it's nice and warm. But feel free to also make these Greek chicken bowls however you like. Swap the rice for cauliflower rice, swap the chicken for seasoned beef or steak, use whatever toppings you prefer.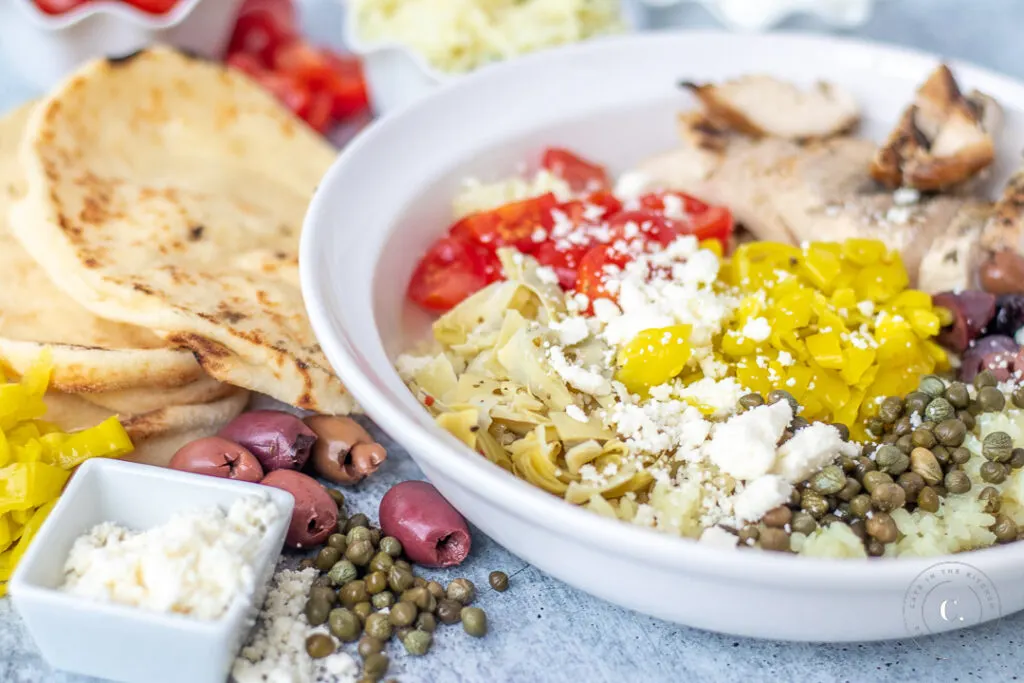 A few additional thoughts. This is a great make ahead meal for lunches to take to work or just something easy to prepare at home. Also, this would be incredibly easy to throw together for meal ministry. Bring to someone who just had a baby or maybe is grieving the passing of a loved one (or recently broke a bone!). Don't forget the paper plates to make clean up easy!
Whether you make this for lunch, dinner, or for someone else, this meal should be in your rotation. Who doesn't love a "build your own" recipe?!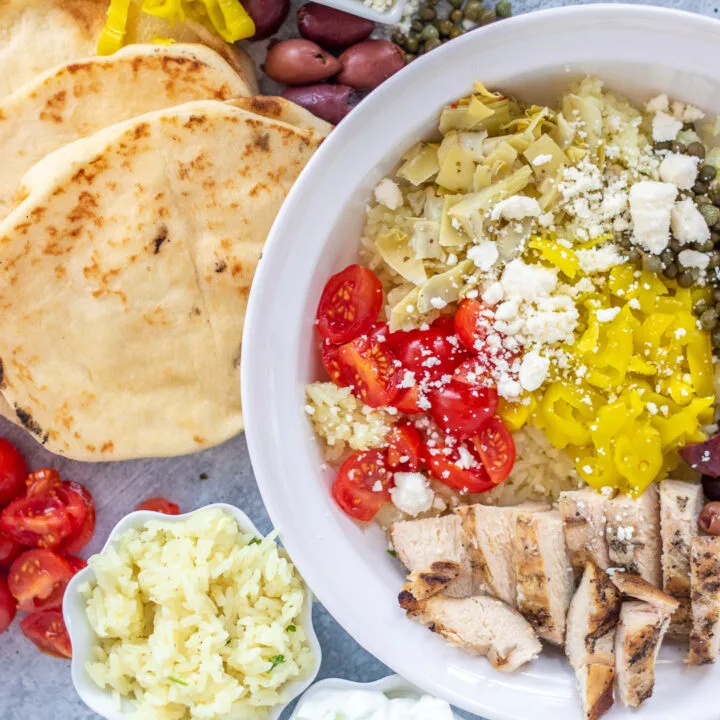 Greek Chicken Bowls
This "build your own" recipe for Greek Chicken Bowls is simple, healthy, and flexible - use it for lunches, dinners, or even meal ministry!
Ingredients
2-3 boneless skinless chicken breast
1.5 tbsp all purpose Greek seasoning (I like the brand Cavender's)
6 oz jar Kalamata olives, sliced
3.5 oz jar Capers, drained
12 oz jar quartered & marinated artichoke hearts, chopped
16 oz jar golden greek pepperoncini slices, drained ( I usually use about half of the jar)
10 oz cherry tomatoes, quartered
6 oz feta cheese, crumbled
Instructions
Preheat grill to high heat. While grill heats up, rub the chicken breasts with greek seasoning. Grill on high for 15 minutes or until cooked all the way through and reaches 165 degrees. Let rest before slicing or chopping into bite sized pieces.
While the chicken cooks, prep your toppings and make rice. Place each topping into its own bowl so everyone can pick and choose their toppings
Serve with Garlic Butter Rice as your base and place toppings and chicken in bowls. Top with Tzatziki sauce.
Nutrition Information:
Yield:

6
Serving Size:

1
Amount Per Serving:
Calories:

385
Total Fat:

23g
Saturated Fat:

8g
Trans Fat:

0g
Unsaturated Fat:

14g
Cholesterol:

83mg
Sodium:

3162mg
Carbohydrates:

20g
Fiber:

6g
Sugar:

6g
Protein:

26g
Nutrition information isn't always accurate.