Egg whites, feta cheese, and cranberries in a turkey burger? You bet! These Mediterranean turkey burgers are lean, tasty, and family-friendly!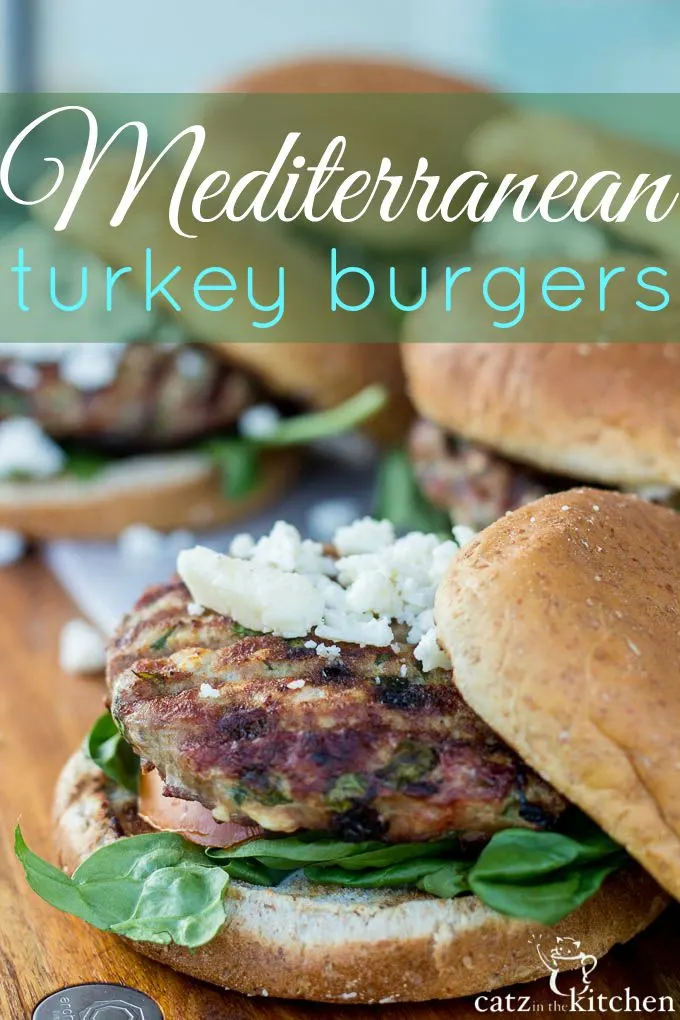 While I'm not the biggest fan of summer, mostly because of the heat and the fact that the sun tends to give me headaches, I do love the food! Give me barbecue chicken, cold pasta salads, saucy ribs, and corn on the cob any day! But my favorite food of summer (and probably the one I associate summer with the most) is the burger.
In my opinion, it's not really summer until you've fired up the grill for that first burger of the season. And in my family, we love them. We'll eat a simple cheeseburger, we'll cover it with strips of bacon, or we'll top it with an egg. It doesn't matter if it's beef, chicken, or turkey – chances are that as long as it isn't smothered in anything spicy or decked out in a colorful array of onions (I'm looking at you red onion), I'll eat it.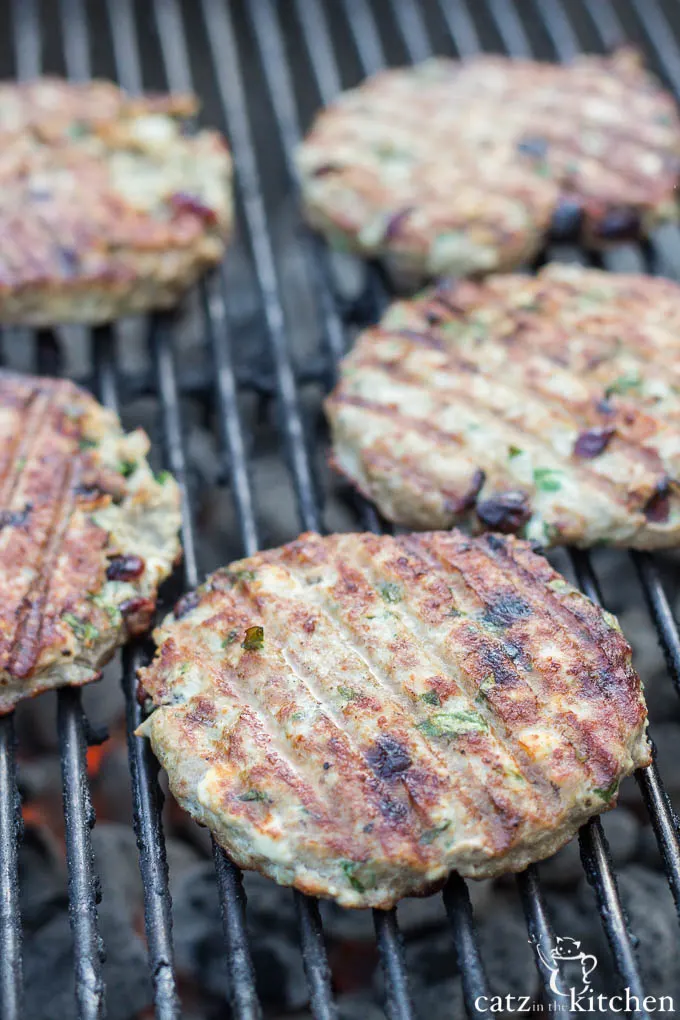 I don't know if it is just me, but sometimes when I really want a burger, I don't necessarily want a heavy beef burger. Don't get me wrong – I will indulge in a huge juicy burger when it sounds delicious (I'm still dreaming about this massive cheeseburger I ate last March when I joined Josh on a business trip to Huntington Beach), but sometimes I want a burger that is a little figure friendly.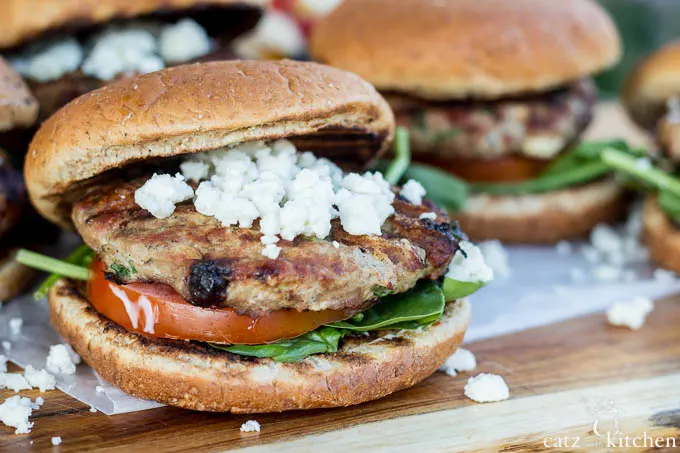 Can there really be such a thing as a figure flattering burger? Why, I'm glad you asked, because the burger I'm sharing with you today is just that.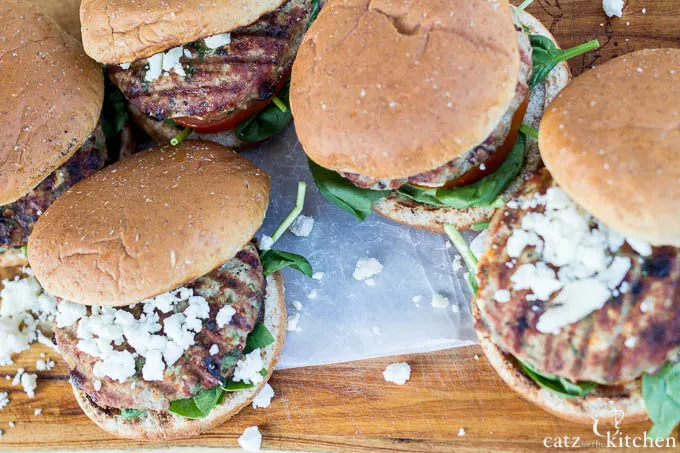 Ground turkey can sometimes have a tendency to be a little dry, but that is not the case with these Mediterranean Turkey Burgers. They are unbelievably moist and jam packed with so much yummy, good-for-you flavor that these burgers are going to knock your socks off.
They sure did mine! We've made these a couple of times now, and every time, the burgers are inhaled and devoured in a matter of minutes.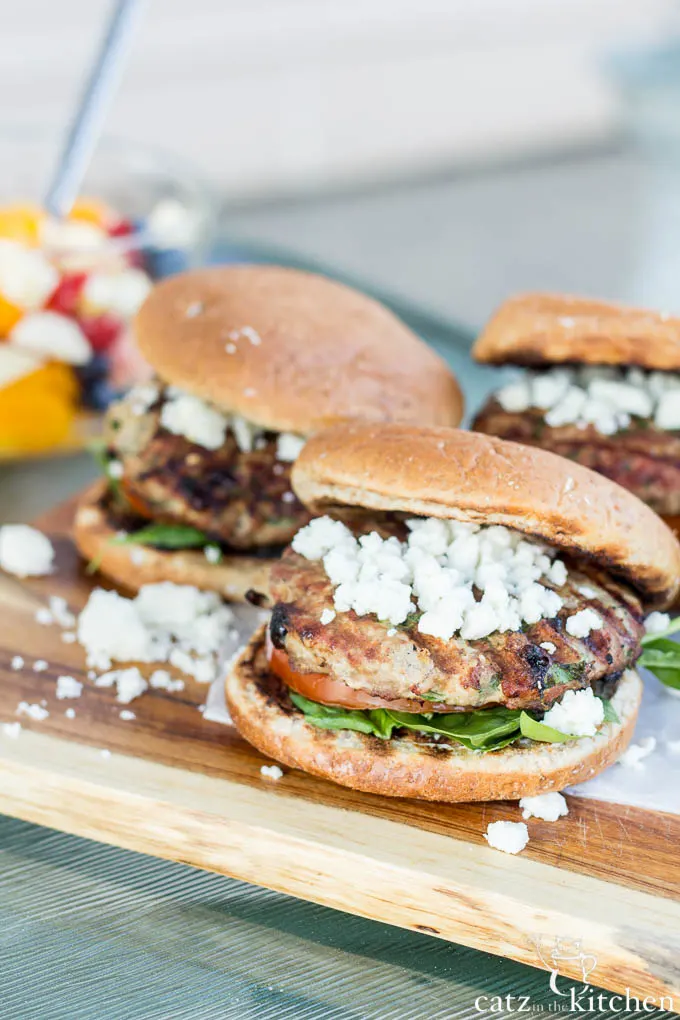 If you are looking for a lighter burger recipe with some delicious Mediterranean flavors, I promise you will love this one.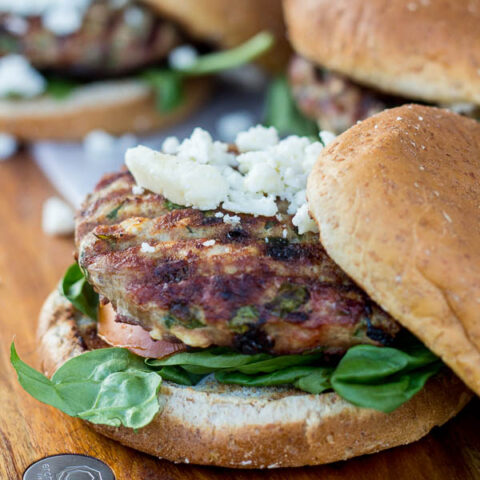 Mediterranean Turkey Burgers
Egg whites, feta cheese, and cranberries in a turkey burger? You bet! These Mediterranean turkey burgers are lean, tasty, and family-friendly!
Ingredients
1 lb. ground turkey
1/2 cup egg whites
3 tbsp extra-virgin olive oil
3 tbsp crumbled fat free feta cheese + more for topping
2 tbsp garlic, minced
1/2 cup dried cranberries
1/4 cup chopped spinach + more for topping
salt and pepper to taste
whole-wheat hamburger buns
1 hot house tomato, sliced
Instructions
In a medium sized bowl, combine ground turkey with cranberries, feta, garlic, chopped spinach, and salt and pepper.
Divide meat mixture into patties (we were able to make 5 good sized patties).
In a small bowl, combine egg whites and olive oil and baste over each patty, front and back.
Grill the patties over medium heat, about 4 minutes on each side. Don't forget to toast the buns!
Spread a tiny amount about 1 tsp of mayo on each bun ) top and bottom and place some spinach leaves on the bottom bun, followed by a tomato slice, the turkey patty, and then a small amount of crumbled feta cheese.
Enjoy right away!
Nutrition Information:
Yield:

6
Serving Size:

1
Amount Per Serving:
Calories:

347
Total Fat:

21g
Saturated Fat:

5g
Trans Fat:

0g
Unsaturated Fat:

14g
Cholesterol:

81mg
Sodium:

231mg
Carbohydrates:

18g
Fiber:

2g
Sugar:

11g
Protein:

24g
Nutrition information isn't always accurate.