Looking for an easy, approachable way to try grilling your own barbecue baby back ribs? Try this simple recipe!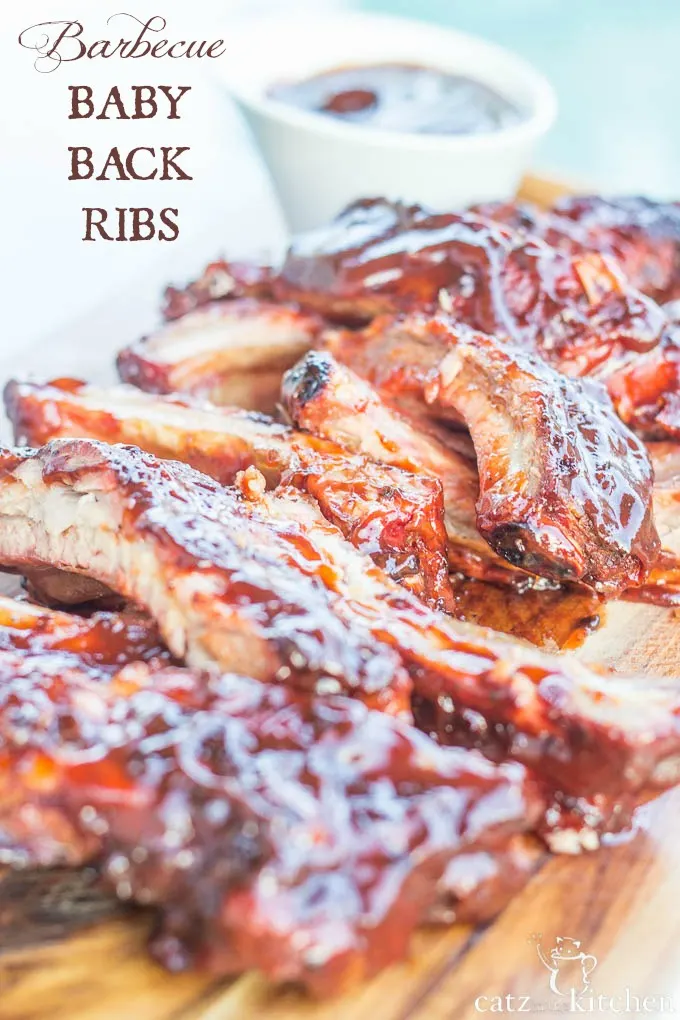 It's hard to explain why we like ribs, right? I mean, let's face it – they're not filling.
Or easy to cook.
Or easy to eat.
Or cheap.
Or fast.
Or really kid-friendly.
Or particularly healthy.
So…why would you want to make or buy or eat or serve such inconvenient food?
Well, that's the easy part isn't it? Good food isn't always convenient. In fact, sometimes, like with ribs, it's just insanely inconvenient.
But it's good. Like, as insanely good as it is insanely inconvenient. And that's it.
So, now that we've got that out of the way, grab all the napkins and let's grill some ribs.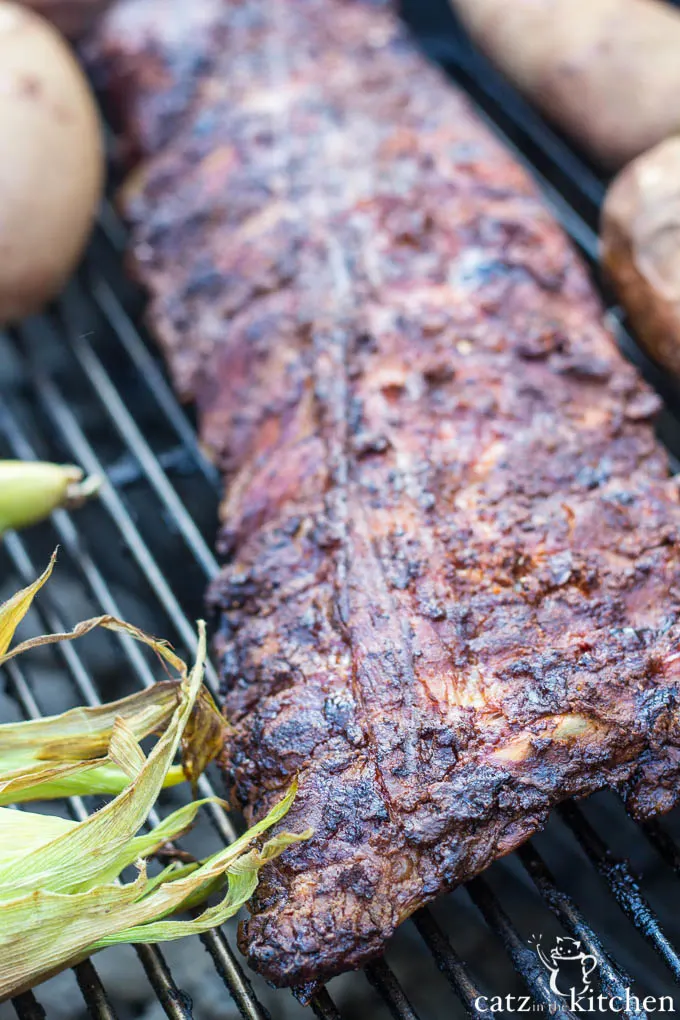 I want to set some context here. I'm not a rib barbecuing expert. I'm not any kind of rib authority. I know my way around the grill, but I'm still very much, even a decade plus in, still learning. So, why am I, non-expert at rib-grilling, offering you advice on how to prepare them? Simply put, I think a lot of people, myself included, find them intimidating, and once I took the plunge and tried it, I found that it's not that scary, actually pretty easy to pull off, and definitely, absolutely worth trying.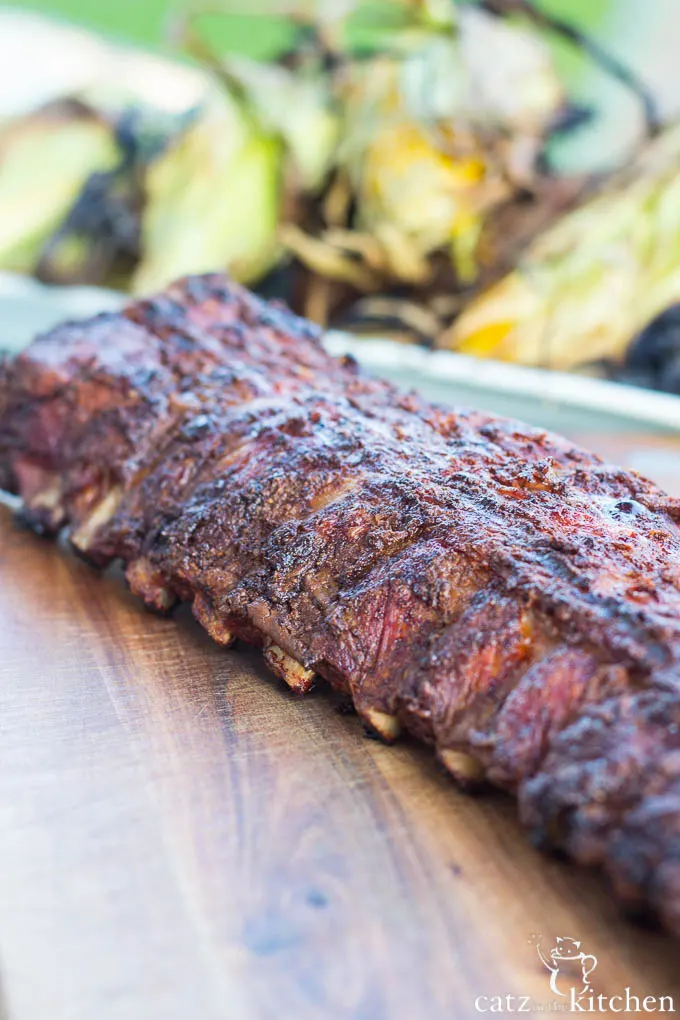 My decision to try ribs happened due to an intersection of two things – my grandpa visiting from Southern California, and ribs being on an insane sale at the grocery store. We wanted to invite my grandpa, who was staying at a hotel close to my parents' place, down for an evening to see our new house and enjoy some good food and company. Initially, I was just planning to grill up some sausages and hotdogs and call it a day. But then we decided to grill corn, and then barbecue chicken, and finally ribs…all in addition to the aforementioned sausages and hotdogs. When I saw the price of the ribs at the store, I knew I couldn't resist – my grandpa loves them (…and I love them), and though I'd never attempted to grill them before, I figured at a great sale price I could afford to see them go up in smoke (maybe quite literally!).
I surfed the internet for a few minutes ahead of time to get a general idea of the thoughts and concepts out there when it came to barbecuing ribs. In summary…there are many. Marinate, baste, slather, mustards, spices, rubs, sauces, remove the membrane, don't remove the membrane, grill, don't grill, oven bake, separate, don't separate, low heat, high heat…and on and on and on. In the end, I just grabbed a few basic ideas (I really like the idea of using deli mustard as a basting sauce) and did what made sense to me based on what I know about spices, pork, and grilling. I did not remove the membrane, used a dijon mustard baste, a simple smoky spice rub, indirect heat, and Sweet Baby Ray's barbecue sauce (translation: you can do this!).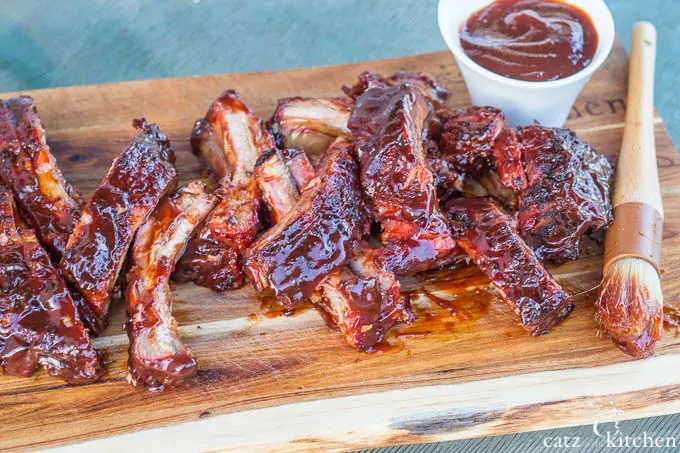 I'm sure there are more adventurous or properly executed rib recipes out there (in fact, I know there are many), but I was delighted with the result of this experiment! It was tasty, pretty easy, and simple to duplicate (I made it again a few weeks later to photograph it, and it was equally yummy). I'll try more recipes in the future, but for now, I offer you my humble take on barbecuing ribs. Try it…you'll like it!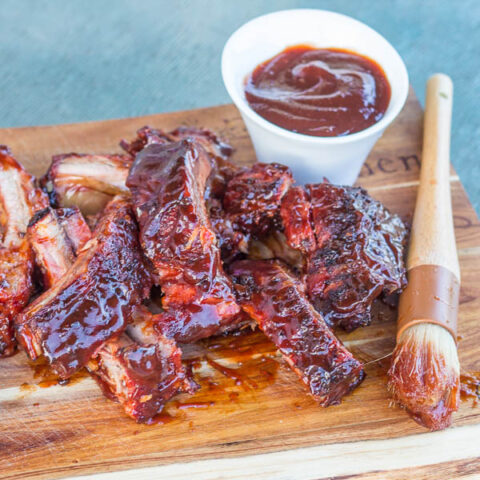 Barbecue Baby Back Ribs
Cook Time:
1 hour
30 minutes
Looking for an easy, approachable way to try grilling your own barbecue baby back ribs? Try this simple recipe!
Ingredients
One rack (about 3-4 pounds) pork loin back ribs
1/3 cup dijon mustard
1 tbsp smoked paprika
1 tbsp kosher salt
2 tsp freshly ground black pepper
1 tsp onion powder
1 bottle (40 oz) Sweet Baby Ray's Original Barbecue Sauce
Instructions
Brush mustard evenly over top surface of rack.
Mix onion powder, pepper, salt, and paprika in a small dish. Rub onto rack, mixing with mustard. Allow rack to sit, refrigerated, for 20-30 minutes while grill is prepared.
Prepare grill for indirect heat (for gas grill, light only one side; for charcoal grill, place coals on only one side), and allow grill to heat to medium heat (300-400 degrees).
Place ribs over indirect heat (unlit side of gas grill or side of charcoal grill without coals), close lid, and allow to cook for 20-30 minutes.
Continue cooking, turning ribs every 20-30 minutes, keeping lid closed. In my experience, cooking completely took between 3 and 4 rotations, depending on heat variations and thickness of rib rack.
When ribs are somewhat blackened, with a thin crust of spices and caramelization built up on the outside, they should be done (the USDA recommends an internal temperature of at least 145 degrees, but measuring the internal temperature of ribs is challenging!).
Allow rack to rest for about 5 minutes, then separate by firmly cutting between the ribs with a sharp knife. Baste generously with barbecue sauce and serve immediately.