Have some blueberries around the the house this summer? This farmhouse blueberry pie is a classic, simple, and approachable way to use them up!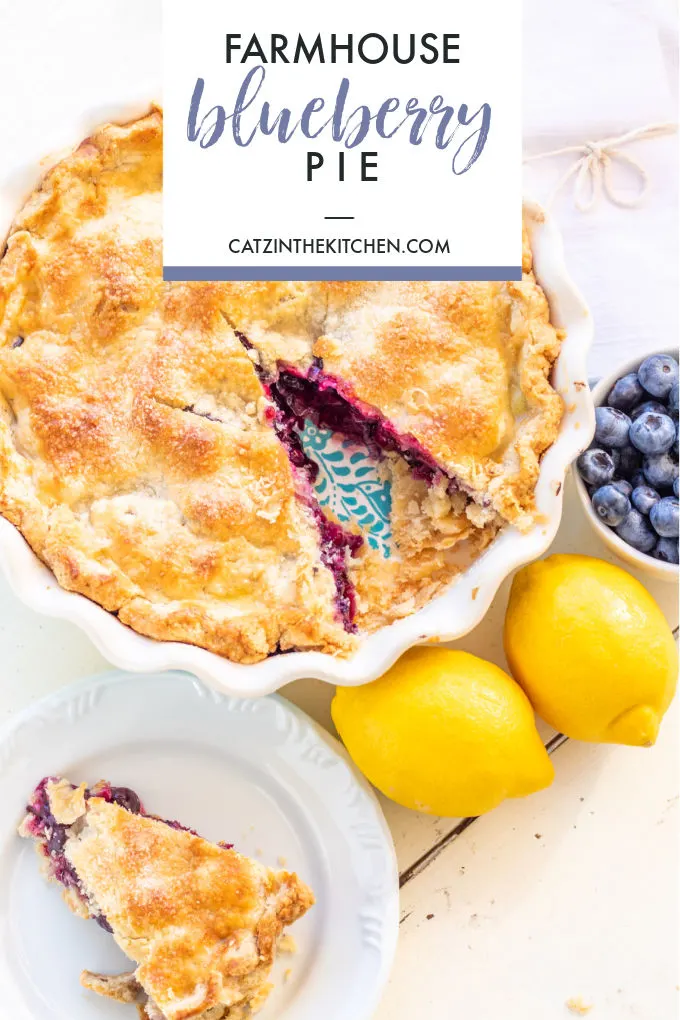 First, let's make one thing clear – the reason I'm calling this a farmhouse blueberry pie is not because I have a farmhouse. I don't. Like a lot of inspired, wistful folks in the long, wide wake of Fixer Upper, I'm doing my darnedest to make my cookie cutter subdivision home as farmhouse-y as I can, despite my lack of acreage! I have a square of a backyard and, people, I can't even have chickens because HOAs. (And, no, I'm not actually complaining – I'm fully aware that we are blessed to have a place of our own and little patch of grass for the kids to play on! Just trying to be funny!) But that doesn't deter me in the least because even though I don't live on a farm or have goats and chickens, horses and cows, I do have blueberry plants, and this year they gave us a ton of blueberries! A bounty of blueberries that the kids and I spent time cultivating!
See…cultivating…blueberry plants…bounties…these are farmhouse-y words I'm throwing around and it works for this recipe! Plus, it's a blueberry pie and when I think of pie, I think of farms, because as a kid, I'd see scenes in cartoons or movies where someone would take a pie out of the oven and set it out on a windowsill to cool and in the background there would be a tree and a bird singing in the tree and a fence with corn stalks swaying in the breeze.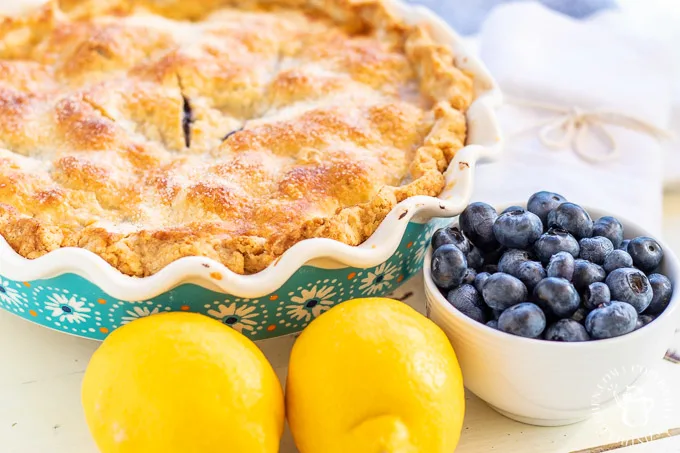 So, I'm just going to go ahead and call this a farmhouse blueberry pie, okay?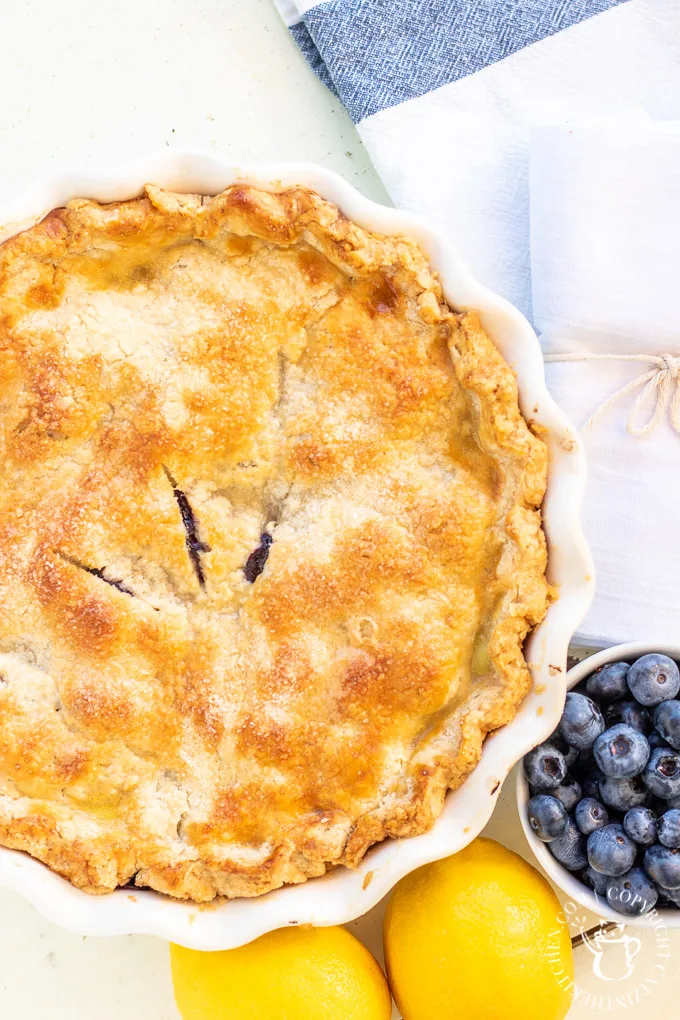 Just so you know, though, I don't like blueberries. (*gasp*) I should say, I don't like fresh or raw (or however you want to phrase it) blueberries. If I'm going to eat blueberries, they have to be cooked down. It's just a prerequisite of mine! With that being said, I've never had (let alone made) a blueberry pie before and I don't know how that's possible. I mean, like, pie…I'm not crazy in love with pie (Editor's Note: I am!), it would never be the first dessert I order off of a menu (Editor's Note: it would be for me!), but still, blueberry pie just seems like such a classic pie, don't you think?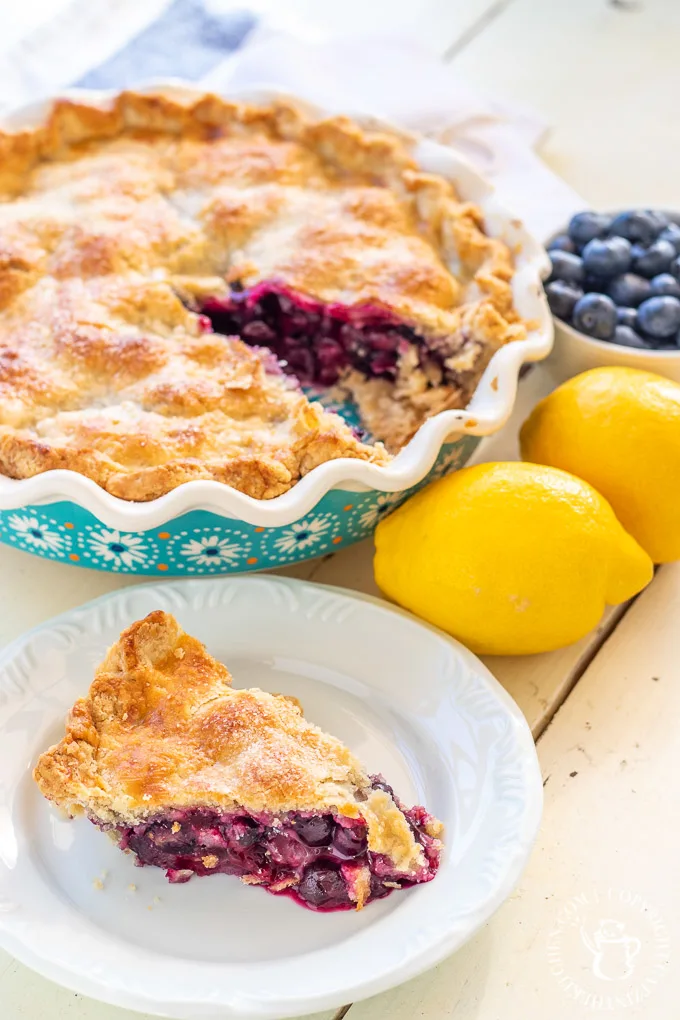 Well, this blueberry pie tastes like a classic, too! It's got amazing flavor for such simple ingredients. I think it's because the ingredients are so simple that you have this sweet and tart flavor in every bite. The blueberries don't cook down all the way, so they retain their shape, which also means they don't make the pie crust gummy because it's not sitting in all of the juice liquid.
Simply stated, this blueberry pie tastes just how I'd want a blueberry pie to taste. The only thing I would considering adding – and this is optional – is one tablespoon of liqueur with the berry filling which really just deepens and enhances the flavor. The liqueur you're supposed to use is Cassis – which I didn't have any of. It's basically a cordial, but I did have a bottle of Razzmatazz, used that instead, and loved it. It's only a tablespoon of liqueur, so if you don't have it or don't feel comfortable using it, don't even worry about it. You will still have an extremely delicious blueberry pie.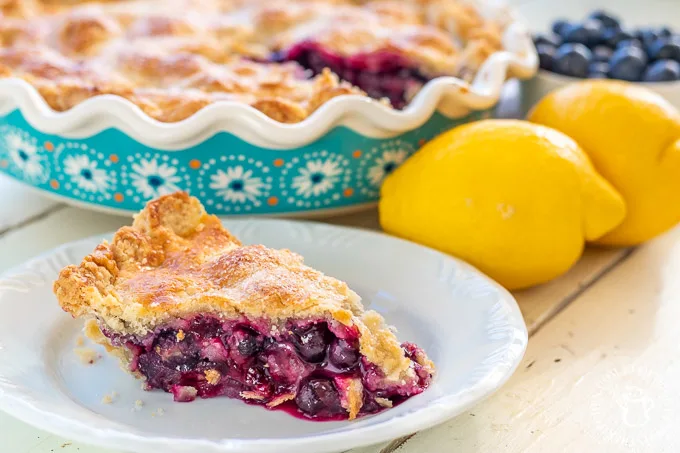 If you've got blueberry plants like us, or maybe you bought a ton from the farmer's market or the store, or perhaps you even went blueberry picking, use up some of those blueberries to make this pie!
I have a feeling that this farmhouse blueberry pie is going to be made every summer, as soon as my blueberry plants begin yielding all of their fresh, ripe blueberries…even though I'm not the world's biggest blueberry fan. But in pie form…yum!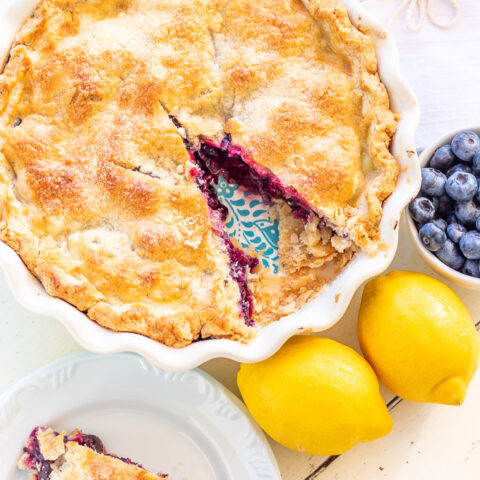 Farmhouse Blueberry Pie
Total Time:
1 hour
20 minutes
Have some blueberries around the the house this summer? This farmhouse blueberry pie is a classic, simple, and approachable way to use them up!
Ingredients
Pie Crust (yields 2 pie crusts)
3 cups all purpose flour
1 tsp salt
1 1/2 cups vegetable shortening
1 egg
5 tbsp cold water
1 tbsp distilled white vinegar
Blueberry Filling
4 cups (20 ounces) fresh blueberries, washed and dried
1/2 cup sugar, plus extra for sprinkling
1/2 cup all-purpose flour
1 tsp grated lemon zest
1/4 cup freshly squeezed lemon juice
1 tbsp Cassis or Razzmatazz liqueur (Optional)1 egg beaten with 1 tbsp milk - for pie crust
Instructions
For the pie crust: combine the flour and salt in a large bowl. Add in the shortening. Using a pastry cutter, gradually work the shortening into the flour until the mixture resembles tiny pubbles - about 3-4 minutes.
Lightly beat the egg with a fork, then add it to the mixture. Add in the cold water and vinegar. Stir the mixture together until its just combined, then remove half the dough from the bowl.
Place the dough in a large ziploc bag and slightly flatten with a rolling pin, then seal the bag and repeat with the other half of dough. Place the plastic bags in the freezer for 15-20 minutes.
Remove the bag from the freezer and place the dough of one of the bags on a lightly floured surface. With a rolling pin, begin rolling the dough from the center outward. If the bottom sticks to the bottom of the counter, use a spatula to loosen and sprinkle with flour. Gently lift the pie crust to wrap it around the rolling pin to transfer it to a 9-inch pie plate. Using your hand, lightly form the crust so that it fits the pan and overlap the edges. Trim or tuck and fold the excess dough, using your fingers, crimp the edges of the dough on the pie plate.
For the pie filling: Preheat oven to 400 degrees. Line a sheet pan with parchment paper. Mix the blueberries, 1/2 cup of sugar, the flour, lemon zest, lemon juice, and liqueur in a large bowl. Spoon the blueberry mixture into the pie shell, scraping the bowl with a rubber spatula, making sure you get all the juices.
Repeat the process with the remaining pie dough and carefully lay the second crust on top, easing, not stretching the dough. Cut excess dough at the edge of the plate. Press the edges together to crimp.
Brush the top of the pie with the milk/egg wash mixture and cut three slits for steam to escape and sprinkle the top of the pie with sugar.
Place pie on the prepared sheet pan and bake in the middle of the oven for 45-50 minutes, until the filling is very bubbly and the crust is nicely browned. Allow to cool and serve warm or at room temperature.
Nutrition Information:
Yield:

8
Serving Size:

1
Amount Per Serving:
Calories:

706
Total Fat:

45g
Saturated Fat:

18g
Trans Fat:

0g
Unsaturated Fat:

25g
Cholesterol:

52mg
Sodium:

397mg
Carbohydrates:

66g
Fiber:

2g
Sugar:

14g
Protein:

8g
Nutrition information isn't always accurate.