Meals don't get much more kid-friendly than chicken drumsticks. This easy, flavorful recipe for honey mustard drumsticks adds some pizzaz!
When I was younger and still living at home, my parents didn't grill much unless it was fish – which was always cooked beautifully. My mom did however make this really delish chicken dish that involved wings and those baby drumettes that would get baked in a soy sauce marinade that I could never get enough of. I always went for the drumettes over the wings. And if I ever found myself at a backyard barbecue and there happened to bbq chicken there, I was always reaching for the drumsticks!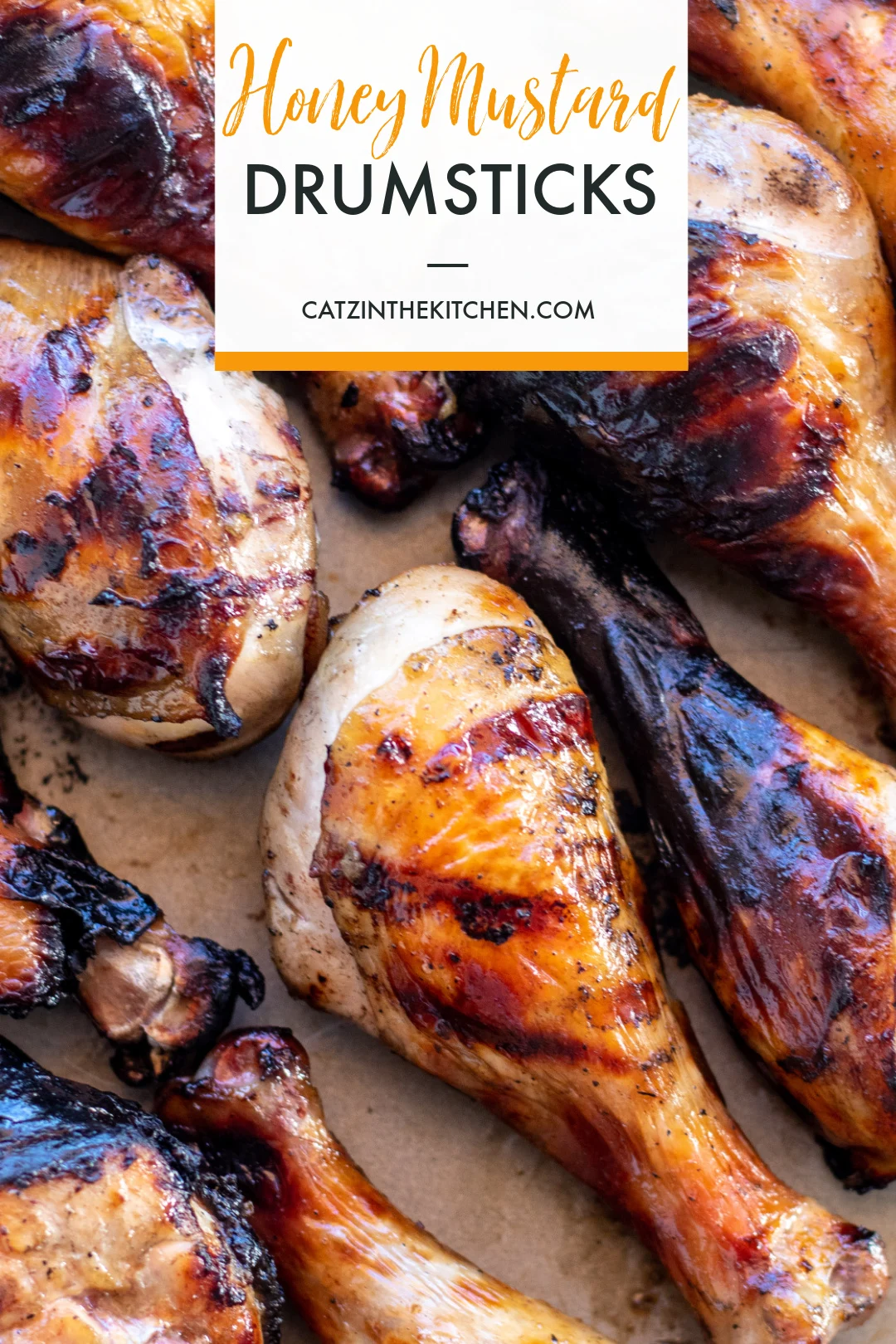 When I think of summer, the top foods that kind of always stand out in my mind are: burgers, popsicles & ice cream, and chicken drumsticks. I think most people like grilled bbq chicken drumsticks – which are great, but I love playing with the flavor profile because they can really hold themselves up to big flavor profiles – it's a bone-in meat that is usually pretty juicy and tender, not to mention one of those most affordable cuts of a chicken.
I think kids also naturally find drumsticks fun to eat because you get to eat them with your hands…and they're usually saucy…and kids like that kind of thing.
Drumsticks are the win/win protein for parents and kids alike. I know that when I tell my kids we're grilling drumsticks they get excited! I will even just buy a big pack of drumsticks during the cooler months to bake in the oven (a different recipe for a different time) and there are rarely any leftovers. Like I said, drumsticks are versatile and always a welcome main entree.
So, let's talk about these honey mustard drumsticks. I've said it before and I'll say it again. Honey mustard is one of my favorite flavor profiles. You get the sweet from the honey, but then you get that strong bold flavor from the mustard – and for this recipe I prefer to use dijon.
One thing I did use in this recipe, which may seem odd, is fresh garlic and garlic powder. The first few times I made this and just used the fresh garlic it always felt like it was missing something extra. I could have used onion powder – but that can get overpowering in a hurry. I could have even used smoked paprika, which would have been equally as good. But I opted to go with garlic powder. There is just an infusion of flavor in the way the powder is prepared that is hard to beat. To this day, opening a jar of garlic powder and taking a big whiff is one of my favorite cooking aromas. And it really does add that extra spice I was looking for without detracting from the flavor of the honey mustard!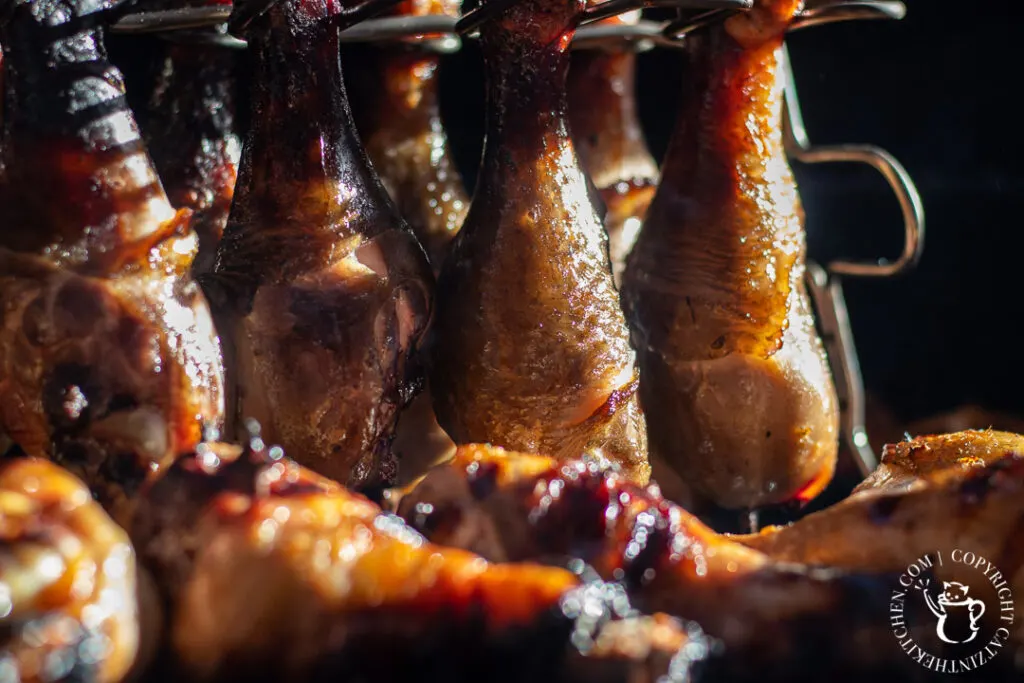 You could use garlic salt instead, but then I would not add the sea salt to the recipe. I'd leave it out entirely. If you don't have fresh garlic – WHY NOT? – you could just use 1 tsp of garlic powder instead of the fresh garlic.
I will say, when you make this and if you do happen to have leftovers, they reheat beautifully. We threw them on a foil lined pan and warmed them up at 350 for about 15-20 minutes and they were just as tasty as the first time!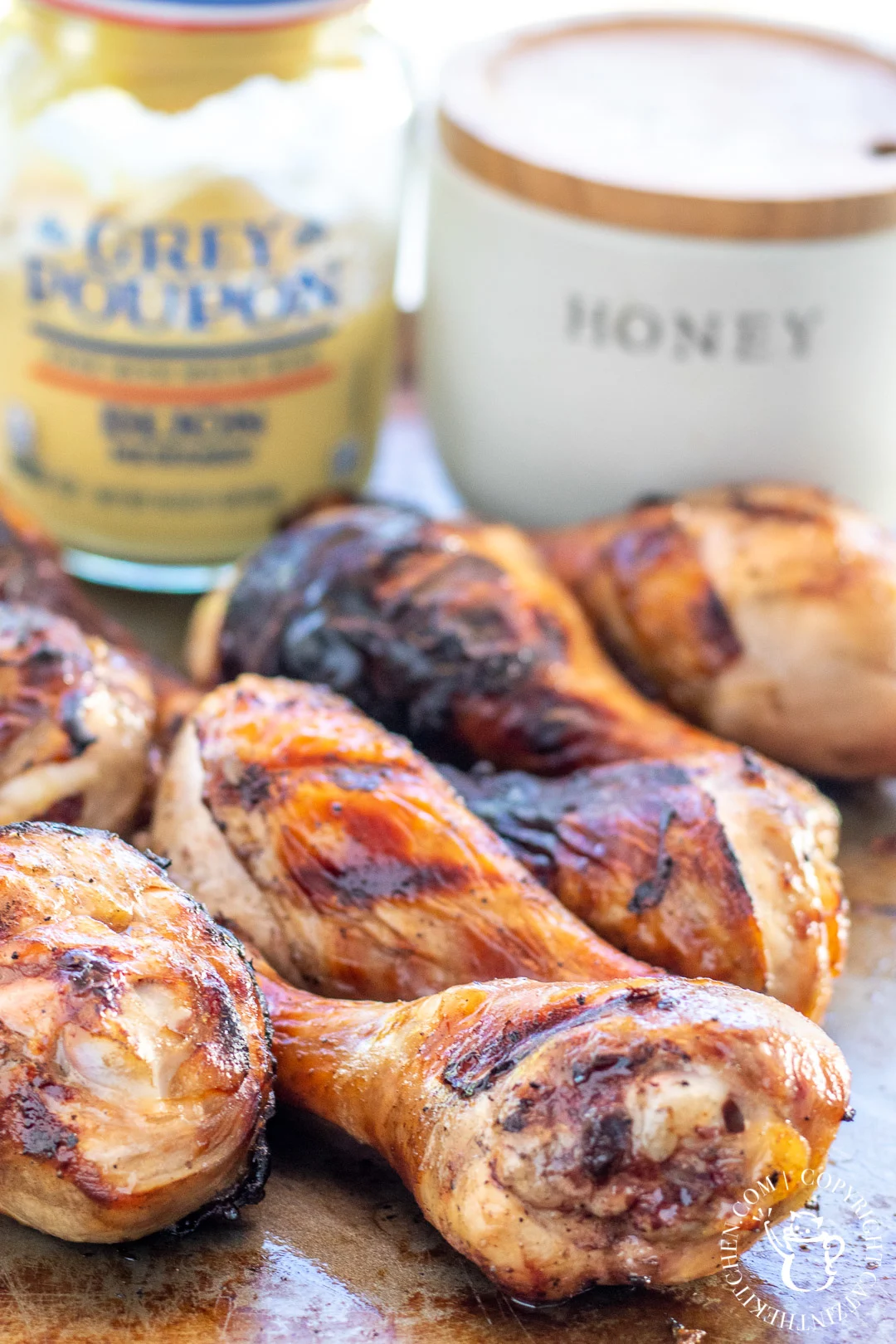 It's grilling season, so whatcha waiting for? Check your pantry and see what you got on hand, grab a container of drumsticks and get grilling.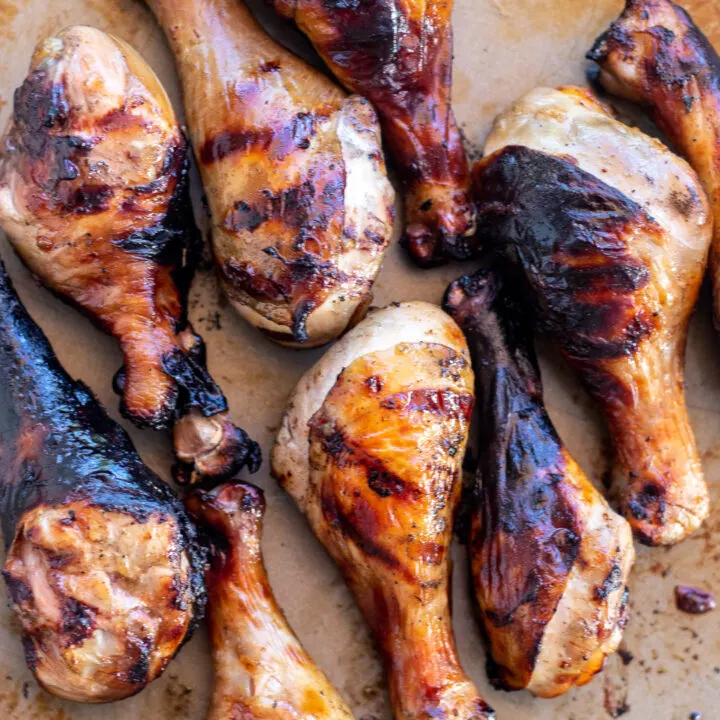 Honey Mustard Drumsticks
Prep Time:
4 hours
10 minutes
Total Time:
4 hours
30 minutes
Meals don't get much more kid-friendly than chicken drumsticks. This easy, flavorful recipe for honey mustard drumsticks adds some pizzaz!
Ingredients
12-14 bone-in chicken drumsticks
4 cloves garlic, minced or grated
1/4 cup dijon mustard
2 tbsp extra-virgin olive oil
1/2 cup honey
2 tbsp soy sauce
1/2 tsp garlic powder
1/2 tsp sea salt
Freshly ground pepper to taste
1 lemon, zested and juiced
Instructions
In a small bowl, combine garlic, mustard, honey, oil, soy sauce, salt and pepper, garlic powder, lemon juice + zest. Reserve 1/4 cup to baste - I store my extra sauce in a little mason jar.
Place chicken drumsticks in a ziploc bag. Pour in marinade and marinate for 4-6 hours in the fridge.
Heat grill to medium-high heat and grill for 15-20 minutes, turning chicken every 3-4 and basting with reserved marinade occasionally. Check internal temperature of chicken - you're looking for 185 degrees on drumsticks. Serve immediately.
Nutrition Information:
Yield:

6
Serving Size:

1
Amount Per Serving:
Calories:

531
Total Fat:

24g
Saturated Fat:

6g
Trans Fat:

0g
Unsaturated Fat:

16g
Cholesterol:

270mg
Sodium:

967mg
Carbohydrates:

25g
Fiber:

1g
Sugar:

23g
Protein:

52g
Nutrition information isn't always accurate.