Bobby Flay put his spin on an otherwise traditional burger by adding grilled onions, horseradish mustard, and two cheeses – the double cheddar burger!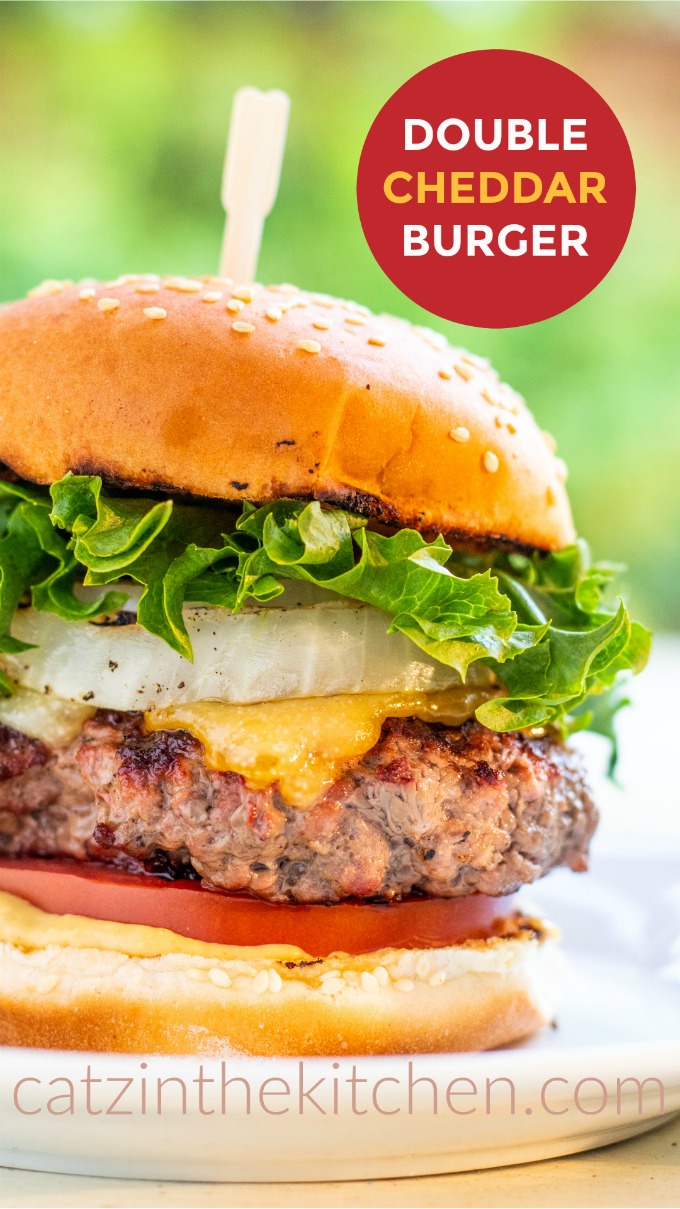 It's the end of grilling season. It's sad, I know, but it's true. Well, at least, the end of outdoor grilling season. I mean, here in the Pacific Northwest. You folks down in the Southwest can basically do whatever you want all year long. And maybe not quite the end, as we have a tendency to get a spell of decent weather in late September or early October.
So, maybe grilling season isn't quite over yet, depending on the weather and where you are. (And, hey, if you're down with grilling indoors, maybe grilling season doesn't ever have to end!) But, by and large, the last week of September is laid out before us, the advent of October will bring ALL the ways to cook with pumpkin, and fewer and fewer backyard barbecues.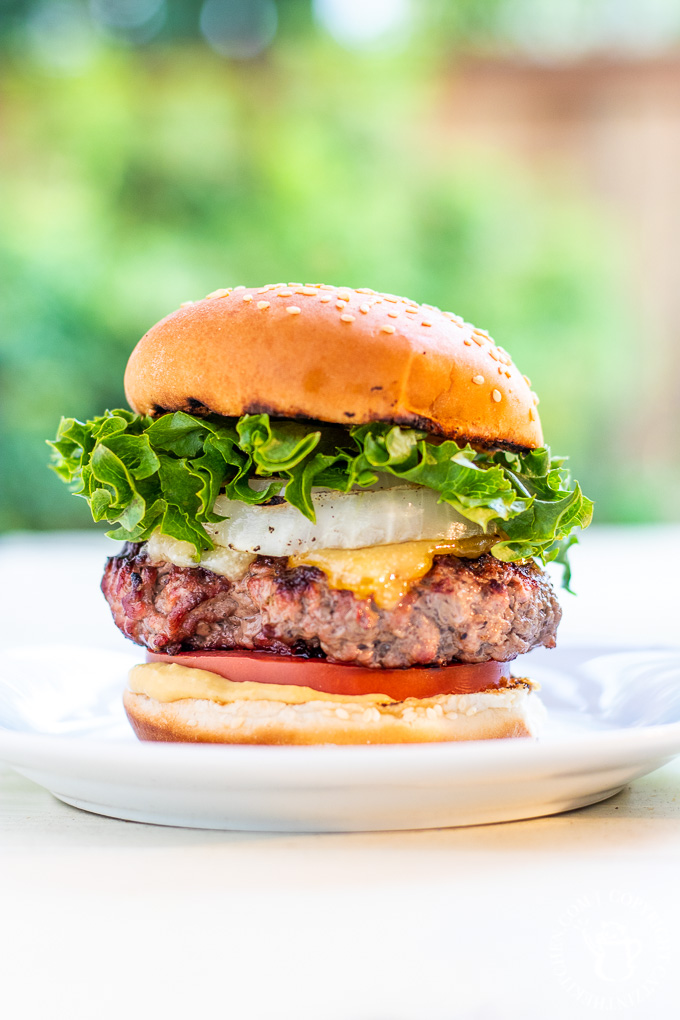 All of this is to say…grill while you still can. We just shared a fun "end of summer" recipe for blackberry lemonade ice cream for similar reasons – while we certainly have made homemade ice cream in December, it just isn't one of those things you usually do on a regular basis between October and April.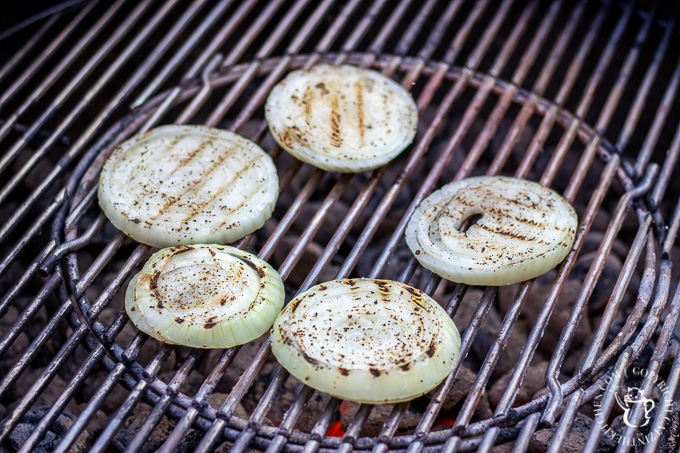 So…in the interest of making the most of the remaining grilling days, may we humbly suggest a simple, classic but mouthwateringly tasty double cheddar burger? This particular recipe comes from Bobby Flay's Mesa Grill cookbook. We picked it up after visiting his Mesa Grill restaurant in Las Vegas earlier this year, as we had to find his amazing recipe for chilaquiles (we found it, tried it…it was just as good as we remembered…definitely need to blog that at some point). But this recipe caught our eye for different reasons. It's pretty basic, as far as burgers go, and it has these incredible smoky grilled onions on it. But the showstopper here is the horseradish mustard, which Bobby describes as "bracing". Maybe this is weird, but we're big mustard fans around here (you can typically find upwards of three…or five…varieties in the fridge and/or pantry at any given point in time), and the idea of upping mustard's characteristic punch with horseradish sounded brilliant. So we tried it. And topping everything off with two kinds of cheddar? I mean, really, how can you go wrong?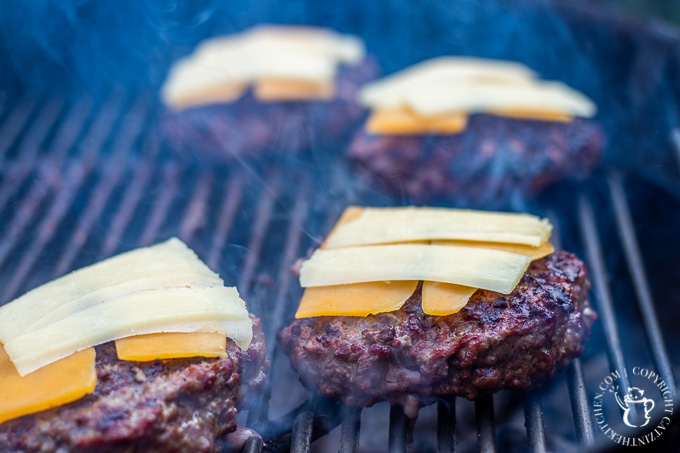 It is brilliant! And it is bracing. No other way to put it. That horseradish mustard punches you in the mouth with every bite, in the best possible way. We just used regular horseradish out of the bottle, and it tasted great. Even one-year-old Ruby, who I assumed would be put off by the strong flavor, took a little nibble and let out a long "mmmmmmm".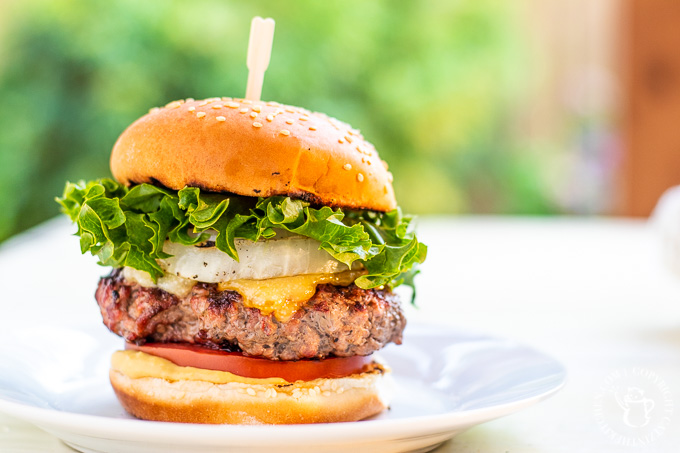 So, if you've got a few good grilling days left, take your plans and put a little Bobby Flay spin on them with this decidedly flavor-forward double cheddar burger. And brace yourself!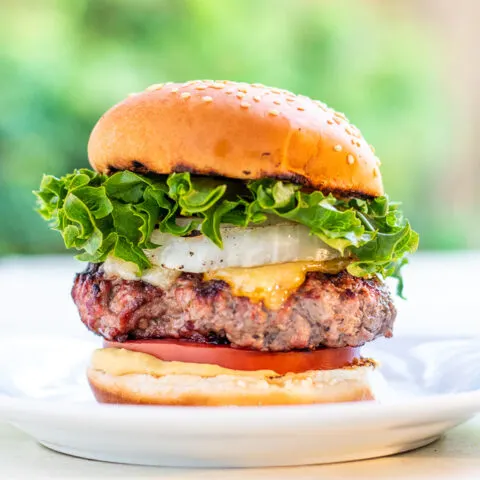 Double Cheddar Burger
Bobby Flay put his spin on an otherwise traditional burger by adding grilled onions, horseradish mustard, and two cheeses - the double cheddar burger!
Ingredients
1/4 cup Dijon mustard
1 tbsp horseradish
1 large onion, sliced crosswise into thick slices
2 tbsp canola oil
2 lbs ground beef (80/20)
4 slices sharp cheddar cheese
4 slices white cheddar cheese
1 large tomato, sliced into 4 thick slices
4 large leaves of lettuce, preferably green leaf
4 large burger buns
Instructions
Preheat a grill for high heat.
While the grill is preheating, whisk together the horseradish and mustard in a small bowl.
Brush the onion slices on both sides with the oil and season with salt and pepper to taste.
Grill the onion until lightly browned, about 3-4 minutes.
Form the beef into four patties, preferably using a burger press, but by hand if needed. Season the patties with salt and pepper to taste.
Grill the patties to desired doneness (about 3-4 minutes per side for medium, but this will vary with thickness).
Put a slice of each type of cheese on top of the patties (two slices per patty), close the grill lid and grill for about one minute more, to melt the cheese.
If desired, grill buns until lightly toasted.
Spread a generous spoonful of horseradish on the bottom bun, then top with tomato, burger, onion, and lettuce.
Place top bun on and serve immediately.
Nutrition Information:
Yield:

4
Serving Size:

1
Amount Per Serving:
Calories:

1051
Total Fat:

66g
Saturated Fat:

25g
Trans Fat:

2g
Unsaturated Fat:

32g
Cholesterol:

252mg
Sodium:

1188mg
Carbohydrates:

32g
Fiber:

3g
Sugar:

7g
Protein:

79g
Nutrition information isn't always accurate.