This is one of those recipes that you crave as soon as the aroma begins to fill the house! You've got to try this Cheesy Honey Mustard Chicken!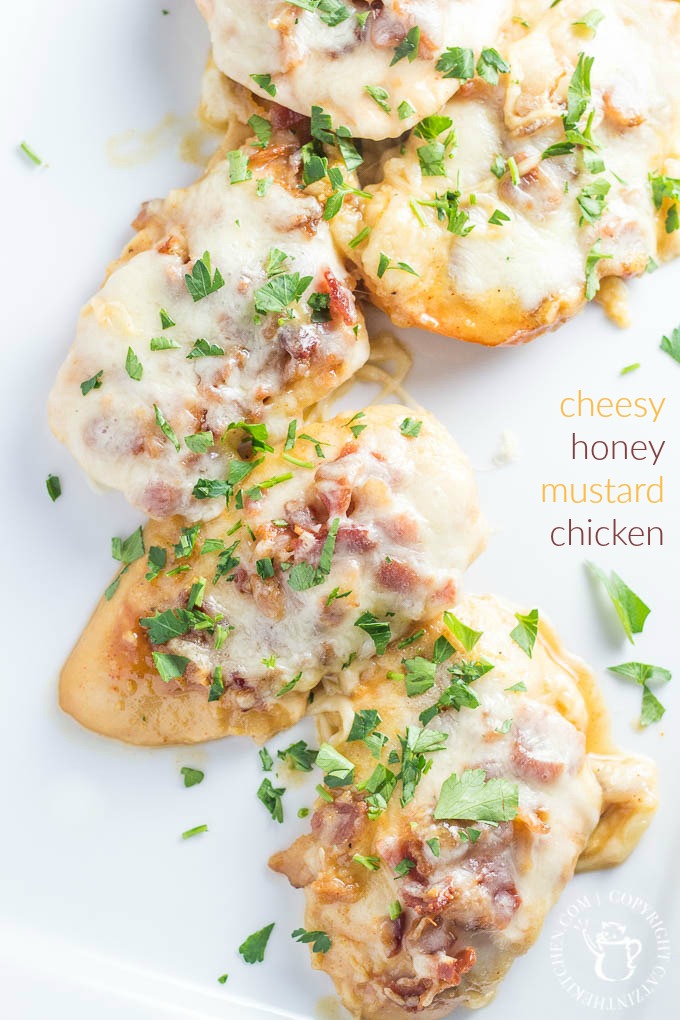 You know when you go and have dinner at someone's house and it is just so so good and you must have the recipe?
You do?
Good, because that is exactly how I felt about this dinner at a birthday party several months ago.
We walked into my mother-in-love's house and were immediately greeted by this delicious winner, winner, chicken dinner aroma and a huge pan of hasselback potatoes. At this point, I can't even remember which family member's birthday it was. All I remember is this chicken. Not the present we got them and not even the birthday cake…and you guys know how much I love cake!
But this chicken…it made a lasting impression, and not only on me, but on my husband and my three kids too. I remember on the way home one of my kids asking "Did you get the recipe, mom?"
Um, yes. Yes, I did! You better believe I did!
I mean, we've got chicken, which is a perfect protein and one most people enjoy eating regularly.
But, let's face it, chicken is basically a blank canvas.
So, you smother it in a perfectly simple honey mustard sauce (also, I'm in love with honey mustard anything). Then it gets baked so the chicken really soaks in all that delicious flavor. But then we really dress up this chicken dish with crispy bacon and melted mozzarella cheese!
Are you hungry for dinner yet? I know I am!
Now, you can really simplify this dinner and use bacon bits, but I just love bacon everything (I have no sense of moderation when it comes to bacon), and so I recommend cooking up a few slices while the chicken is baking and crumbling it on top when you add the mozzarella cheese.
Look, when bacon and cheese are involved, and then you add in honey and mustard to boot, you dinner isn't going too far wrong, am I right?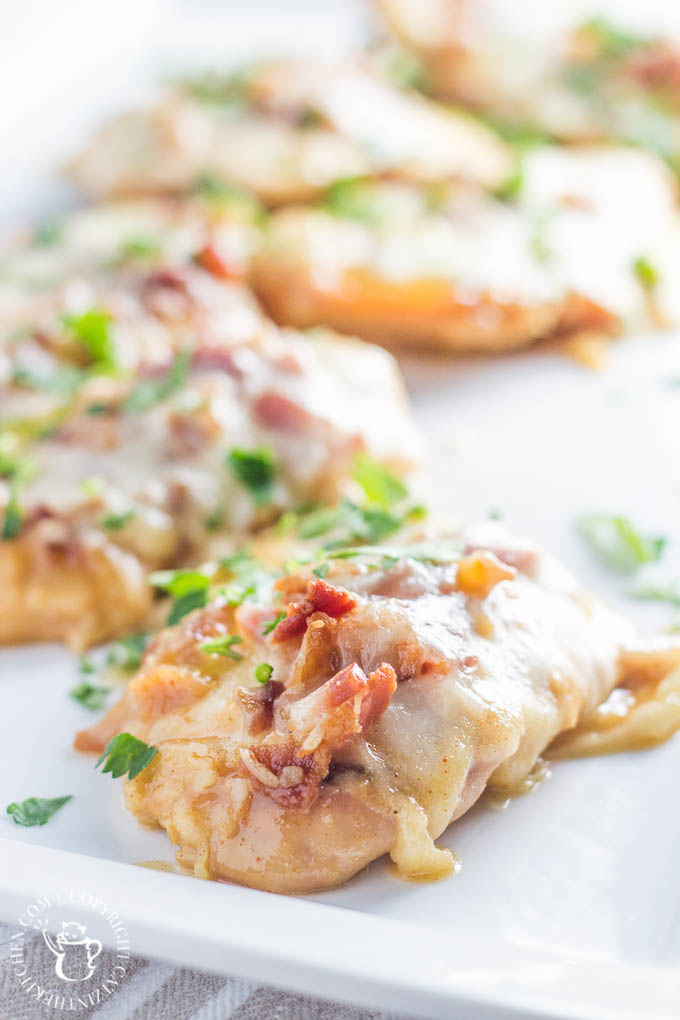 Cheesy Honey Mustard Chicken
This is one of those recipes that you crave as soon as the aroma begins to fill the house! You've got to try this Cheesy Honey Mustard Chicken!
Ingredients
4 boneless, skinless chicken breast ( you could also use chicken tenders)
Salt and pepper
1/2 cup honey
1/4 cup agave
1/2 cup dijon mustard
1 tsp smoked paprika
5-6 tablespoons cooked crumbled bacon
1/2 cup mozzarella cheese
Instructions
Pre-heat oven to 375*
Salt and pepper both side of chicken before placing in a 9x13 baking dish.
In a medium bowl, whisk together the honey, agave, dijon mustard, and paprika. Pour over chicken and bake for 20-30 minutes or until juices run clear.
Remove baking dish from oven and top with crumbled bacon and top with mozzarella cheese and return to oven for 5-10 minutes until cheese is melted and begins to brown.
Nutrition Information:
Yield:

4
Serving Size:

1
Amount Per Serving:
Calories:

467
Total Fat:

11g
Saturated Fat:

4g
Trans Fat:

0g
Unsaturated Fat:

6g
Cholesterol:

120mg
Sodium:

1190mg
Carbohydrates:

48g
Fiber:

2g
Sugar:

45g
Protein:

44g
Nutrition information isn't always accurate.