This easy recipe for Mediterranean Grilled Honey Mustard Chicken is simple and smoky, with hints of spice and sweetness. Make ahead and throw on the grill!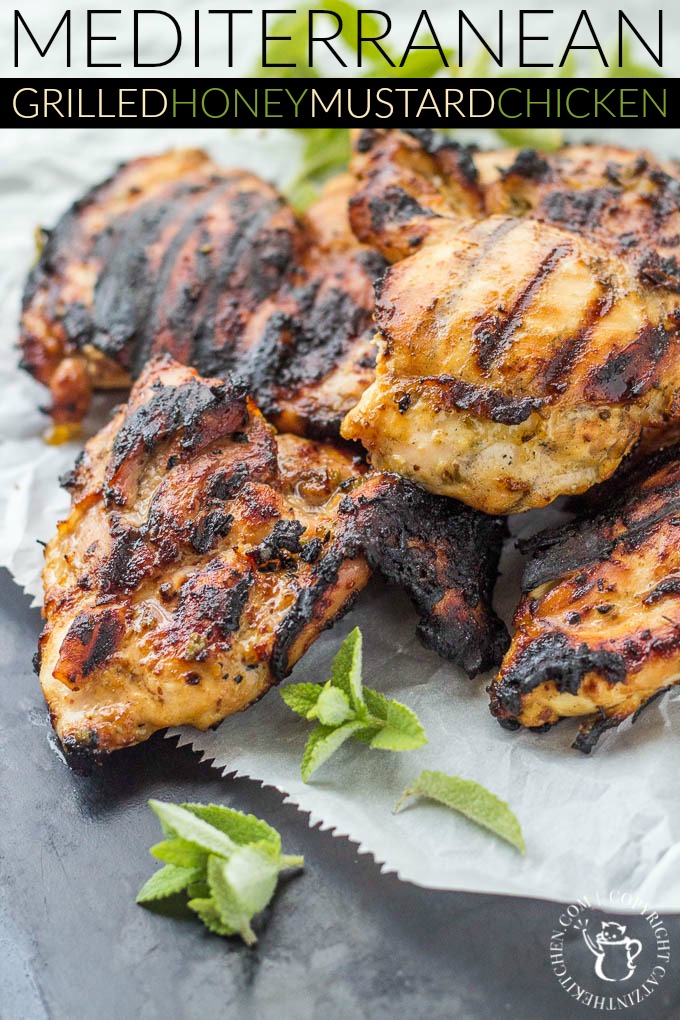 Are you a night owl? Because I'm not. Oh, don't get me wrong, I used to be. I used to be able to stay up all hours of the night and read, watch television, journal, scrapbook, shop online and anything else I wanted to do.
It is not like that today. You guys, I'm tired! (By the way, "I'm tired" is the theme of my week, it seems…). By the time Josh and I get the kids in bed – which we aim to do about 8:30 every night, I am (we are) just beat.
Oftentimes, Josh and I stay downstairs, sit on the couch, and throw on an old episode of The West Wing, which we've seen 90 gajillion times and work on blog stuff.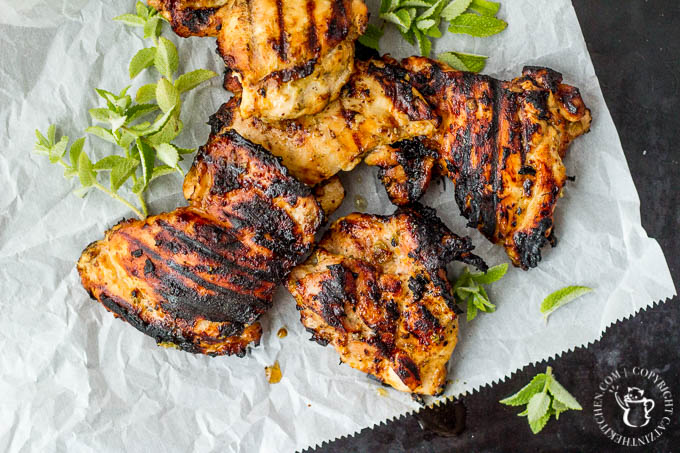 I should probably lay out a typical pre-published blog post night for you, just so you have an idea of what it really looks like. Tonight, we're sitting on the couch watching President Bartlet try and get his first veto passed (season 3, for any aficionados out there). I've got my super old cat slippers on (I need a new pair – there's a hole starting to form on the bottom of one slipper) with a blanket (it's not cold – I'm just nuts and like to wear blankets in the summer) and my computer in my lap. Josh is next to me, with his computer in his lap, furiously deleting and re-editing my writing because I guess I've gone on a comma kick over the last few posts and I just add, commas, anytime, and, anywhere! (See what I just did there?)
You know what, though, we love this. We LOVE working on our little blog at night while streaming reruns. Sometimes, we just really bring our A-game and we've got posts scheduled in advance, but lately, that hasn't been happening. Some of that is my fault. I write a lot of the posts here and usually, Josh is just waiting on me. But, we've been tired and some things have just been getting moved till later.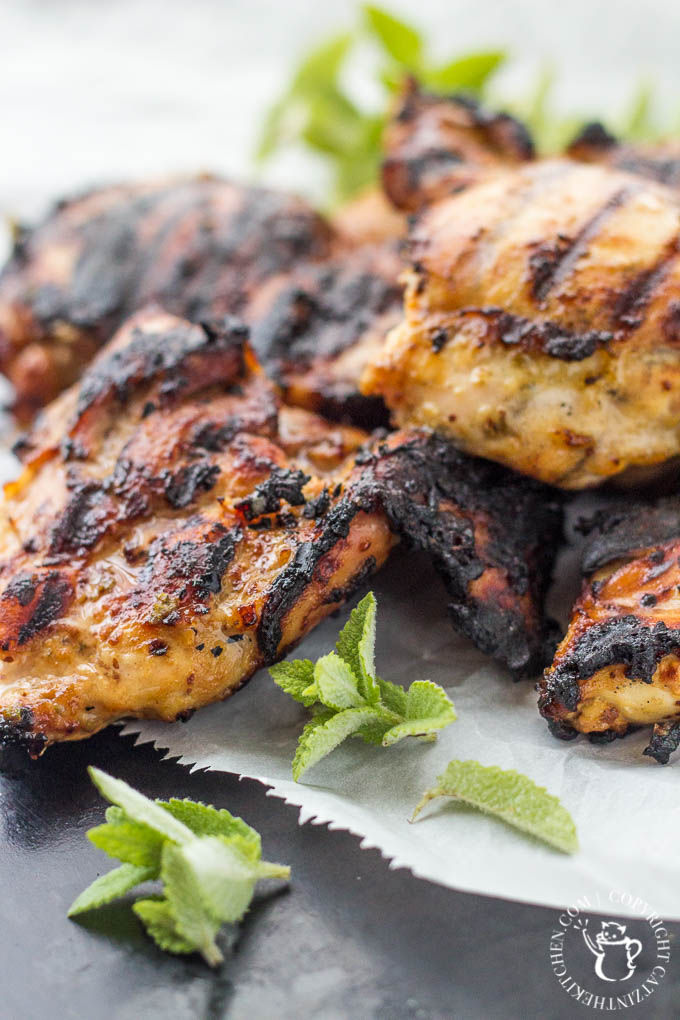 Sometimes, being tired works to our advantage because a few weeks ago I was laying in bed, waiting for Josh to finish picking out his clothes for work the next day when flavorspiration hit! (That's a word, right?) I was thinking about food and grilling when I got the idea for this grilled chicken recipe, and I just got really excited about it. I started jotting down ingredients for it and suddenly I was just AWAKE! In fact, from there I wrote out three more recipe ideas – none of which I've had the chance to try and make yet. Soon.
The moral of the story is sometimes inspiration hits when you least expect it. I'm so glad it did because this is truly a winner winner chicken dinner. Is it truly mediterranean? Only a true mediterranean could say, I suppose, but the spices say "mediterranean" to me, so that's what I'm going with. All three of my kids cleaned their plates and I didn't have to ask my son to hurry up or put another bite on his fork. #score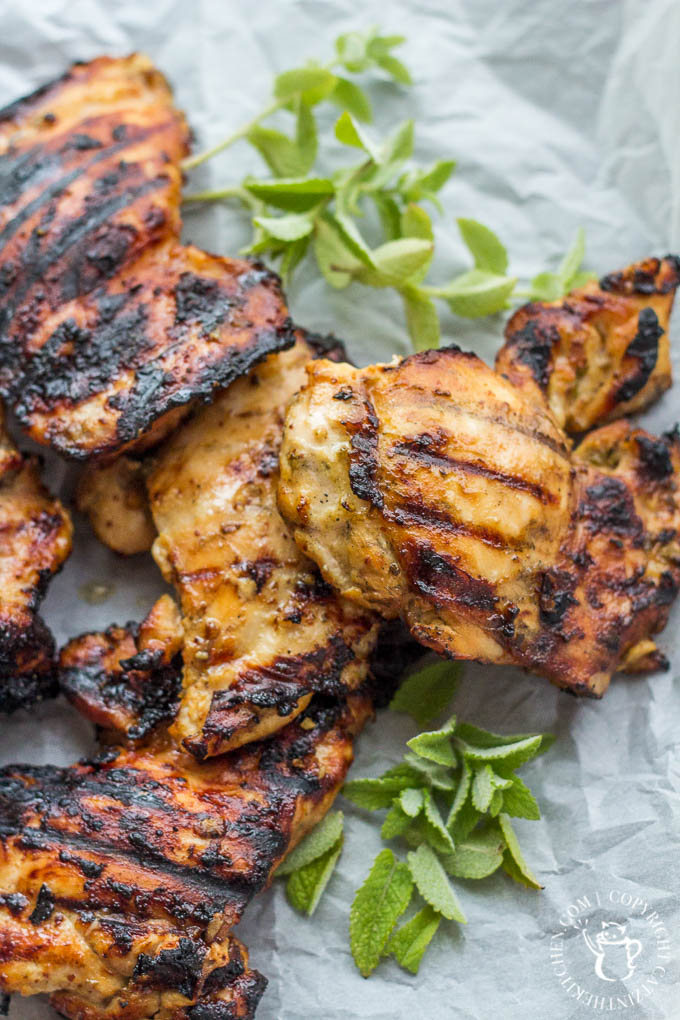 Also this dinner couldn't be any easier. You just marinate the chicken earlier in the day and throw it on the grill at dinner time. I served creamy parmesan orzo and some roasted some vegetables on the side and it was the simplest dinner ever!
You'll definitely taste the honey mustard on the chicken, but then you get some smokiness from the smoked paprika and Worcestershire sauce. You could definitely sub out chicken breast for the thighs if you wanted too, but I find the chicken thighs to have more flavor and not get as dried out.
This is a summer dinner that I can guarantee you will want to make all season long…and your kids will all be part of the clean plate club!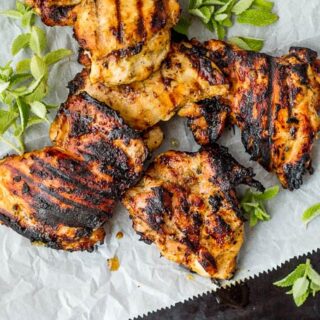 Mediterranean Grilled Honey Mustard Chicken
This easy recipe for Mediterranean Grilled Honey Mustard Chicken is simple and smoky, with hints of spice and sweetness. Make ahead and throw on the grill!
Ingredients
4-6 boneless, skinless chicken thighs
1/3 cup country mustard Grey Poupon ( you could use regular dijon too)
1/4 cup honey
3 tbsp plain greek yogurt
1 tsp Worcestershire sauce
1 tsp smoked paprika
3 cloves garlic, minced
1 tsp dried oregano
1/2 tsp sea salt
Freshly ground pepper to taste
3 tbsp fresh mint leaves, chopped
Instructions
In a medium bowl, whisk together all of the ingredients, except the chicken.
Place chicken in a ziplock bag and pour honey mustard dressing over the chicken, turning to coat. Refrigerate the chicken for at least 3 hours or all day.
Pre-heat grill to medium-high direct heat and grill the chicken for about 4-5 minutes per side, until a safe internal temperature is reached. Remove from heat and rest for 3 minutes before serving.
Notes
Cooking time doesn't reflect marinating time.
Nutrition Information:
Yield:

6
Serving Size:

1
Amount Per Serving:
Calories:

246
Total Fat:

9g
Saturated Fat:

3g
Trans Fat:

0g
Unsaturated Fat:

6g
Cholesterol:

137mg
Sodium:

580mg
Carbohydrates:

14g
Fiber:

1g
Sugar:

12g
Protein:

29g
Nutrition information isn't always accurate.