Lucky enough to find some beautiful fresh salmon on sale? This roasted glazed honey mustard salmon is an easy, extremely tasty way to bake it up!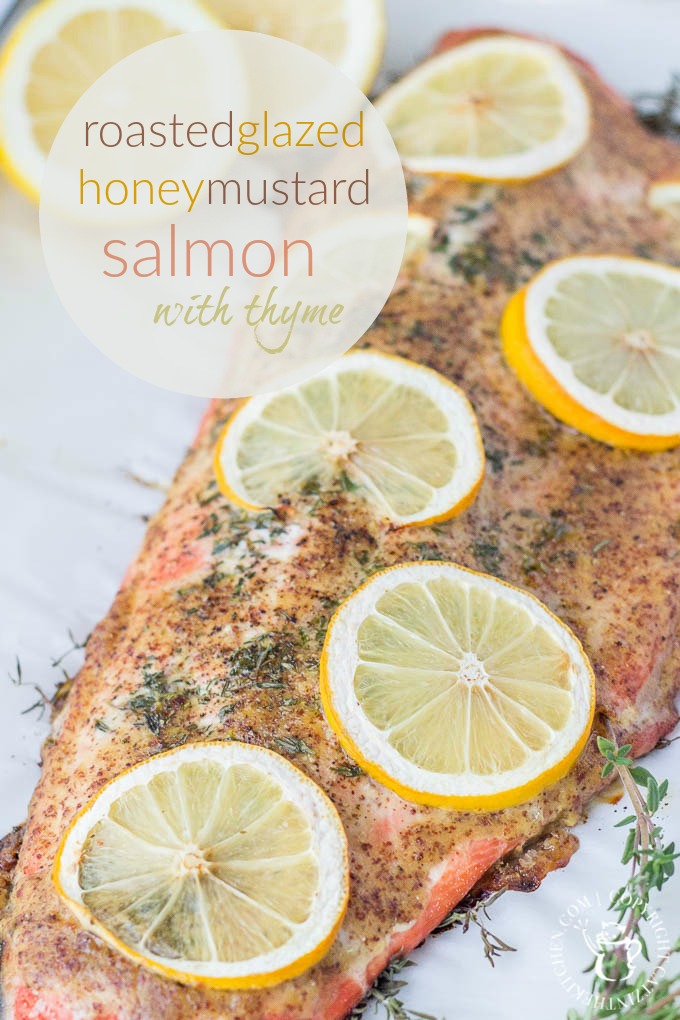 I'm not brainy enough to calculate the price of inflation from when I was a kid till now, but I'm pretty sure decent seafood has always been on the spendy side.
#Ihatethat
I grew up eating fresh seafood nearly every week as a kid. My parents teetered closer to the vegetarian side rather than the carnivorous side. Basically, we didn't eat beef, unless you count a McDonald's hamburger once and awhile. I'm sure there's a fancy name for people who don't eat a lot of pork or beef, but I'm going with vegetarian-ish (vegetarian-lite?).
We had the added benefit of a grandfather who was something of a commercial fisherman. Every year, he and his buddies would sail to Alaska for a few months and catch fresh tuna to be canned – and let me tell you, you think the stuff from Costco is good? Okay, it is, but the tuna my grandpa caught was unbelievable!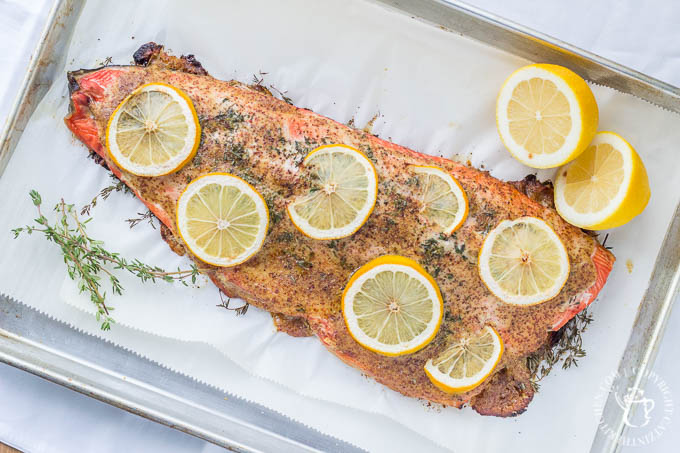 (In Costco's defense we've all said that their tuna is as close to what grandpa caught as it gets.)
As a kid, I took a lot of things for granted, but my parents always making sure we had some kind of seafood on the table almost weekly was not one of them. It's because of them that I LOVE it. Sadly, I can't eat shrimp anymore, though – it was a food aversion (one I blame Josh for – remind one of us to share the shrimp bruschetta story with you sometime) that I never quite overcame. Avocado is another one – so all of the avocado toast you see out there in the blogosphere? Yeah, this girl can't get on any of it without feeling sick.
So, I grew up catching rainbow trout, eating fried shrimp, and watching my dad fix the best halibut (yes, they bought the good stuff) fish and chips you could make at home. (I highly recommend The Wayfarer in Cannon Beach, Oregon for halibut fish and chips if you ever get the opportunity.)
I guess what I'm saying is, because I grew up eating fresh fish, I can be a bit picky about it now as an adult. I recognize that it may be a flaw…but there you go. If I'm going to spend the money on seafood as an adult, it better be good stuff.
So, what makes some fish better than others? There are a ton of factors, but one difference is fresh verses farm-raised. Yes, in a lot of cases these days you'll hear people say farm-raised eggs or grass-fed beef, in which case it's a good thing (being allowed to eat grass and other natural-to-the-animal foods), not brought to you by a commercial industry jacked up on hormones and stored up in tiny spaces, etc.
Not quite the same for fish. A lot of times you will see a sign in the meat and seafood section of your store that says,"Farm-Raised." In a nutshell, what this means is generally the fish are lower in omega-3 fats (possibly by 50% verses "wild caught") and they might be being fed fish pellets, could be engineered with a gmo, which may result in causing the fish to have a duller color, etc, etc.
In essence, if you're looking for fish at the store, look for wild-caught if you can. Obviously, just choosing fish in the first place is a huge step in the right direction, and we have eaten some excellent farm-raised fish, but my preference is wild-caught. Fewer questions, less variability, and generally better taste! Recently, my grocery store had fresh wild-caught Coho salmon on sale for $8.99 lb and you better believe I bought two pounds of that baby up! I don't buy a lot of salmon because it can be hard to find it on sale and I think fresh tastes better than previously frozen (which you'll sometimes see on the label at the seafood counter as well).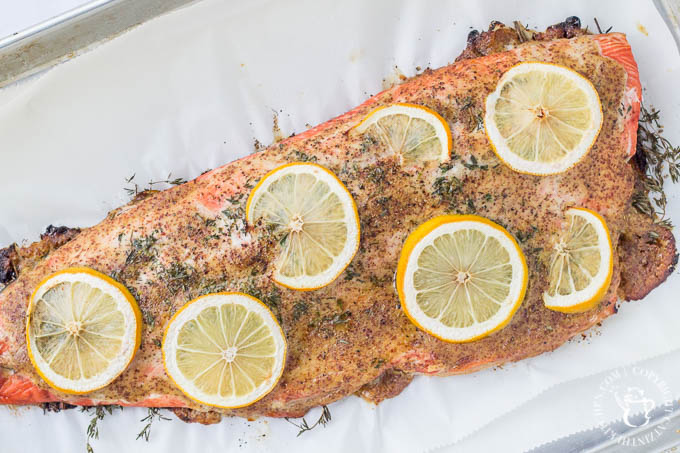 This salmon was so good and color was so bright and it baked up so perfectly in the oven, much like our broiled rosemary salmon did! I love the honey mustard glaze on top of the fish – it's a bit on the spicy side due to the country Dijon!
While I love salmon that's been grilled, I can't beat the ease of the oven during the colder months, especially when it has lemon slices and fresh thyme that seem to brighten the flavor and the mood up a bit.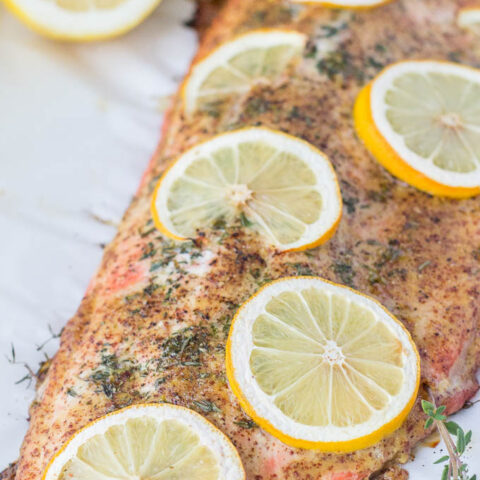 Roasted Glazed Honey Mustard Salmon with Thyme
Lucky enough to find some beautiful fresh salmon on sale? This roasted glazed honey mustard salmon is an easy, extremely tasty way to bake it up!
Ingredients
10 thyme sprigs
1 (2-3 lb) skin-on salmon fillet ( I used Coho)
1/4 cup country Dijon mustard
2 tbsp honey
1 tsp white wine vinegar
2 tsp fresh thyme leaves
1 tsp kosher salt
1/2 tsp freshly ground pepper
1 lemon, thinly sliced
Instructions
Pre-heat oven to 450 degrees. Line a baking sheet with parchment paper. Arrange thyme sprigs in a long row on parchment. Place salmon, skin side down, on top of the thyme.
Combine mustard, honey, and vinegar in a bowl and brush the mixture evenly over the top of the salmon. Sprinkle salmon with thyme leaves, salt and pepper. Arrange lemon slices over salmon.
Bake salmon at 450 degrees in center of oven for 20-26 minutes or until desired doneness.
This can be served hot or at room temperature.
Nutrition Information:
Yield:

8
Serving Size:

1
Amount Per Serving:
Calories:

84
Total Fat:

4g
Saturated Fat:

1g
Trans Fat:

0g
Unsaturated Fat:

3g
Cholesterol:

18mg
Sodium:

511mg
Carbohydrates:

6g
Fiber:

1g
Sugar:

5g
Protein:

7g
Nutrition information isn't always accurate.