Avoid the fast food drive thru with this buttery, flakey, and crispy fish sandwich. You'll be surprised at how much healthier and better tasting this is and you'll be wanting to make this at copycat version all the time.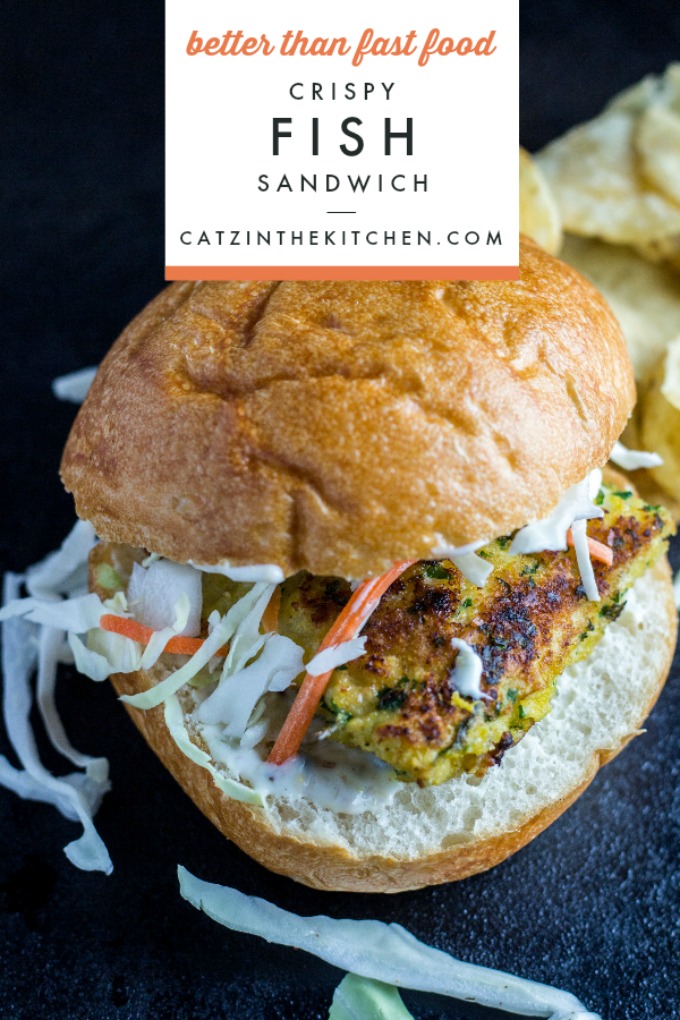 This post originally appeared on Catz in July 2014. The recipe and the photos have since been updated, and this crispy fish sandwich remains a "better-than-fast-food" favorite for our family!
At the end of June, our family joined a million other members of our family in Sekiu, Washington to celebrate my husband's grandfather's (warmly known as Grampy) 90th birthday and 50 years of ministry! It was a seven hour drive but felt longer because we have little ones in the car…also no A/C! There are only so many places to eat on the road where you can stop for a few minutes so you aren't losing driving time. Those places are known as fast food joints.
Fast food and I do not get along. I've pretty much cut my family off of going through drive-thru's with a couple of exceptions. For those who have a Burgerville in your area, I make allowances for that chain as well as Chick Fil A, and, of course, in the summer we have to get a soft serve ice cream (because I can't say,"no" to soft serve). (Recently, I've had to admit that McDonald's breakfast remains pretty tasty as well…)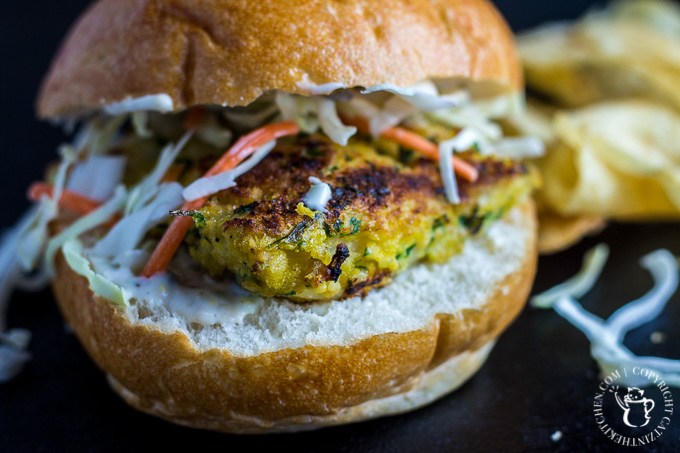 It's not that I think that fast food is evil, but I've learned that with some advance planning, we can avoid it most times by making sacked lunches to go. But let's face it – fast food doesn't have too many redeeming qualities – it's expensively cheap (meaning it adds up fast because the prices are so low you generally buy more than you need) and it's just not good for you, generally speaking.
On this particular road trip we had already stopped at Burger King for lunch on our way out of town (someone didn't plan that packed lunch very well). But come dinner time, we ended up in the last biggish town that was closest to Forks and Sekiu, Washington and so we stopped at Mcdonalds. After glancing at the menu, I didn't know if I could stomach more fast food. Josh suggested I try the Filet-O-Fish sandwich. So I did. It was better than a burger. I don't know what kind of fish it was. If only they used high-quality fish from an online fishmonger. It was, however, a nice change from a burger or an overpriced salad.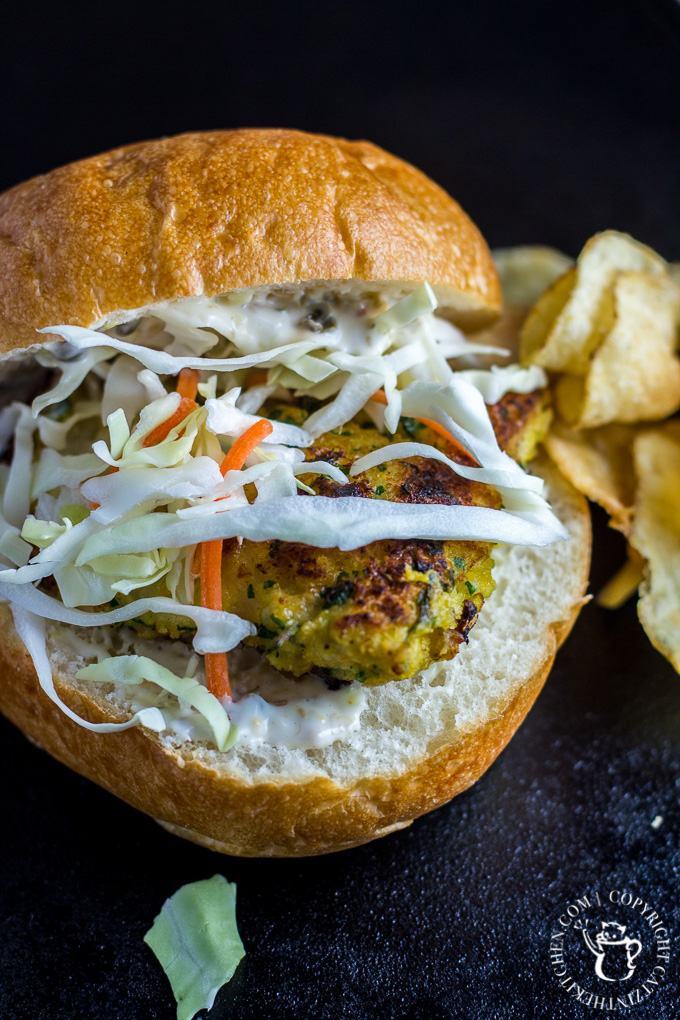 Fast forward a few weeks later and I'm craving burgers/sandwiches but not necessarily a beef burger. Enter this homemade version of a fish sandwich and we've got a winner! This was so good that even Christian, who is 19 months old, ate it. Even my 5 1/2 year old who rarely goes back from seconds, got seconds! It is just a really delicious, easy, flavorful sandwich.
And the fish? I used cod. We've all heard of that one and it is one of my favorite, more budget-friendly fishies to buy. You could always use tilapia, rock fish, or if you're feeling really fancy, halibut!
If you are looking for a new sandwich/burger type meal to try and like fish, I would point you into the direction of this recipe. You'll be quite surprised at how good it is. Bonus points for it being an easy meal to serve up! Serve this up on your next meatless Monday!
Crispy Fish Sandwich
Avoid the fast food drive thru with this buttery, flakey, and crispy fish sandwich. You'll be surprised at how much healthier and better tasting this is and you'll be wanting to make this at copycat version all the time.
Ingredients
12 Ritz crackers
2 garlic cloves minced
1/4 cup fresh parsley, finely chopped
1/2 tsp freshly ground pepper
2 large ggs
1 pound cod filets, cut into 4 equal sections
2 TB extra-virgin olive oil
4 Kaizer rolls
2 cups pre-made coleslaw mix, without dressing
lemon wedges for serving
1/2 tsp salt
Tartar Sauce
1/2 cup mayo – I used light
2 tbsp medium-large dill picked, finely chopped (about 2 pickles)
1 tbsp white wine vinegar
1 tbsp capers
1 tsp course ground mustard
1 tbsp freshly squeezed lemon
Pinch of paprika
Pinch of Kosher salt
Freshly ground pepper
Instructions
In the bowl of a food processor, add crackers, parsley, garlic, salt and pepper and pulse until smooth. Pour the crumbs into a wide, shallow bowl. In another shallow bowl, lightly beat the eggs. Place the two bowls side by side for when you coat your fish.
Dip both sides of your fish into egg mixture, carefully shaking off the excess egg and then move the fish into the crumb mixture, coating each side of the fish. Transfer the fish to a plate and repeat with the other 3 filets of fish.
While the fish is cooking, prepare the tartar sauce. Place ingredients in a food processor or handi-chopper, fitted with a steel blade and pulse a few times. Just until the pickles are finely chopped and the sauce is mixed, but not pureed. Set aside in the fridge until needed.
Heat one tablespoon of oil into a large skillet and turn the heat to medium-high heat. Add two of the filets and cook until the undersides are gold and crispy, about 3-4 minutes. Flip the filets and cook on the other side for an additional 3 minutes. Transfer the filets to a plate and tent with foil to keep warm.
Reduce the heat a little, add the other tablespoon of oil to the pan and cook the remaining two filets of fish just like you did the first time.
Lay your sliced bread on it's backs and smear some of the tarter sauce on each side of the bun and place the filets on each bottom bun. Top with a couple of tablespoons of coleslaw and place the top buns on each sandwich. Serve with chips or fries.
Nutrition Information:
Yield:

4
Serving Size:

1
Amount Per Serving:
Calories:

725
Total Fat:

49g
Saturated Fat:

8g
Trans Fat:

0g
Unsaturated Fat:

39g
Cholesterol:

85mg
Sodium:

1184mg
Carbohydrates:

40g
Fiber:

4g
Sugar:

16g
Protein:

31g
Nutrition information isn't always accurate.
SaveSave