Creamy, elegant, and absolutely wonderful, this recipe for homemade pistachio ice cream will be lucky to make it to the freezer before it's gone!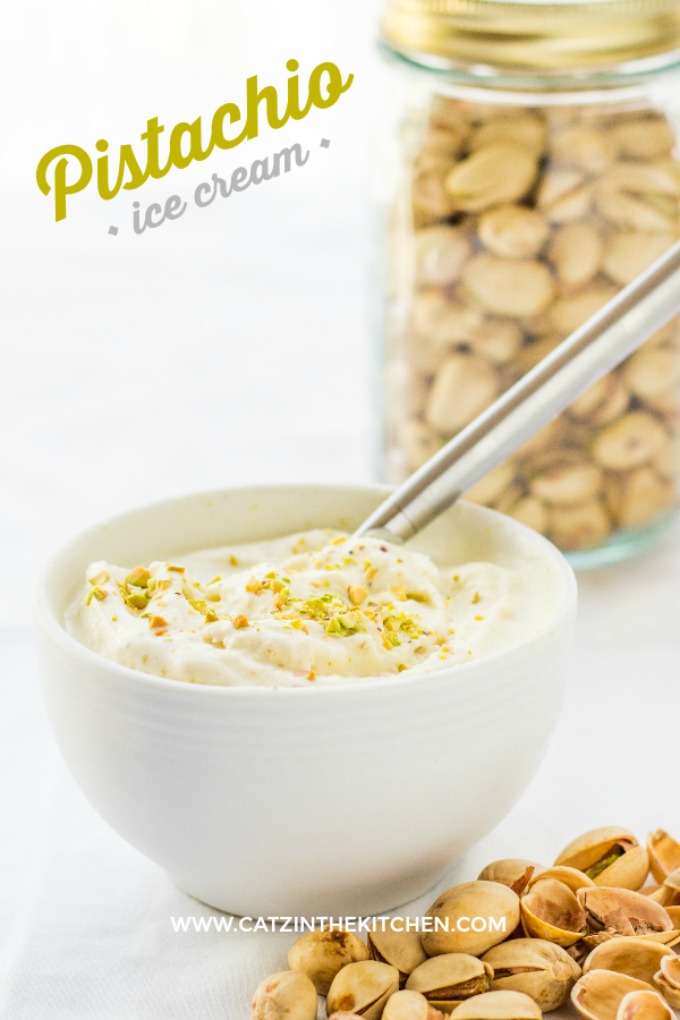 We love ice cream over here at Catz. We don't all love it in the same way. Chels, for example, just loves it, in all it's wonderful forms, though she admittedly has better self-control than the rest of us. I love it, mostly, in milkshakes and malts. Or with brownies. Also on pie. And with chocolate lava cake. Did I mention malts? I did. I should stop.
The kids like it, too (um, duh – they're kids). They love ice cream sandwiches and sundaes and sprinkles and cones. We all love frozen yogurt, especially from those crazy little places where the fro-yo literally spews from spigots in the wall and you buy it by the pound. There's an inventor somewhere who needs a medal or a knighthood or something for that idea.
One thing we haven't done a lot of, though, is make it ourselves. We have some big local creameries (I'm looking at you, Tillamook and Umpqua) that consistently churn out (ha, ha) amazing stuff, and some smaller niche shops that do unbelievable work (heard of Salt & Straw?), so it's not like necessity is driving the invention here. Really, really good ice cream is not hard to get your hands on these days.
However…
Ice cream makers are fun, require just a bit of creativity, and add a fascinating element of anticipation to the whole experience. And maybe that's the key – it becomes an experience. For us, the whole family gets involved, and once the custard mixture gets poured into the machine, no one goes very far. Every three or four minutes somebody's peering down through the top of the machine, watching the custard churn through the revolving paddles, resisting (usually unsuccessfully) the urge to dip a spoon in and see how it's coming. It smells good. It looks good.
It is good.
It really is. Somehow, fresh from the machine, your amateurish attempts at highbrow creamery work are downright heavenly, and the leftovers never make it to the freezer (Reminds me of owning a bread maker – so practical! Will save us so much money! Sure, if everyone wasn't attracted to the kitchen by the enchanting smell, subsequently devouring the loaf before it ever cools off, let alone makes it into the cupboard…).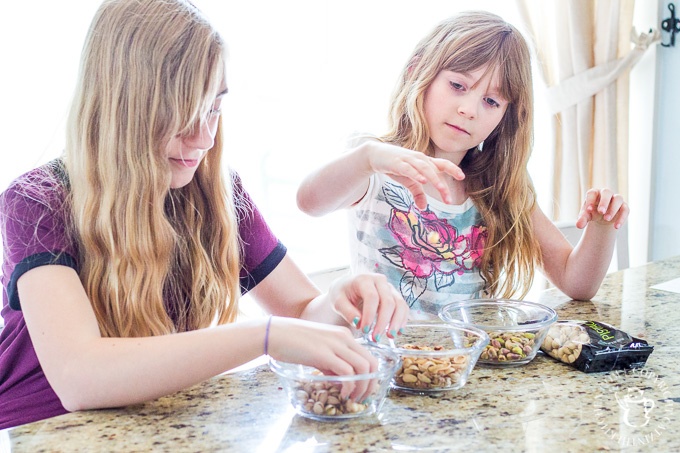 This particular ice cream recipe – excuse me, experience – happens to also involve shelling pistachios, of course. I could not find any shelled, unsalted pistachios to save my life, so I recruited Gracie and Edie to get crackin'. Literally. They did an amazing job, and I think they enjoyed it. You can see their three-bowl system here – one for unshelled nuts, one for shells, and one for shelled nuts. Wonderful brand pistachios are our go-to for any recipe that calls for this amazing little nut – they're easy to find, usually pretty reasonable, and the quality is excellent.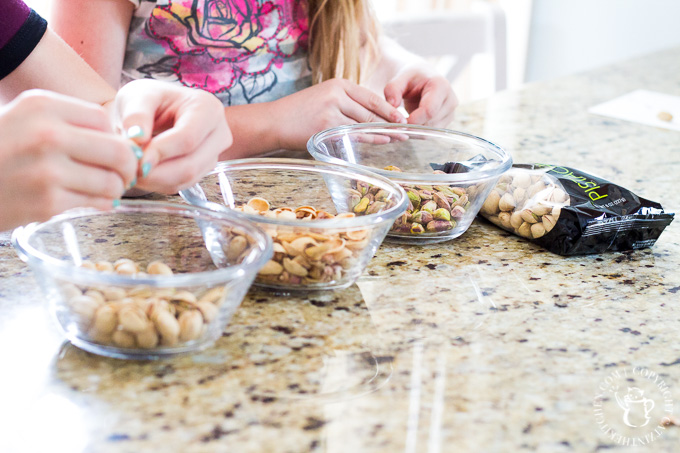 Besides being outrageously yummy, pistachios hold a special place in my heart for two reasons. The first one is the silly one – Old Spaghetti Factory is a longtime family favorite (hello, mizithra with browned butter!), and a traditional go-to for large gatherings. Everyone knows what comes at the end of an Old Spaghetti Factory pasta extravaganza…spumoni ice cream! (If you're one of those people over the age of three who orders sherbet instead, for non-dietary reasons…I'm sorry, but there may not be hope for you.) Chocolate, strawberry (or is it cherry?), and, of course, pistachio ice cream. I grew up on this stuff. It swims in my bloodstream.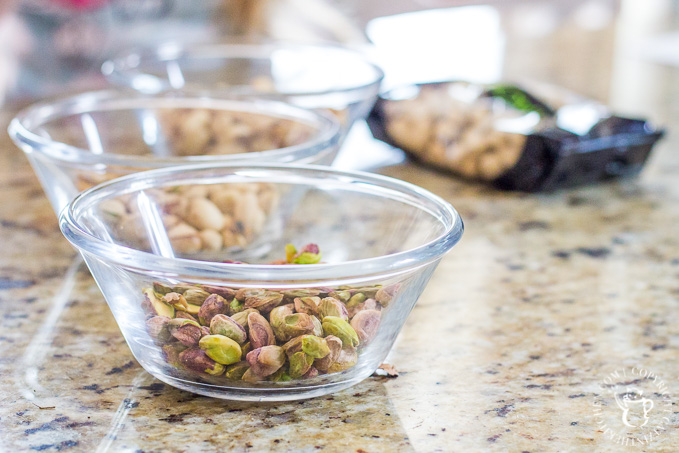 The second reason is more sentimental. My great-grandmother, who lived to be 100 and passed away when I was in my teens, always kept a bowl of pistachios (alongside a nutcracker) on her counter. Back then, visiting her was about the only time I ever ate this scrumptious little nut, and the taste of pistachios still brings back fond memories of summers at her beautiful California home.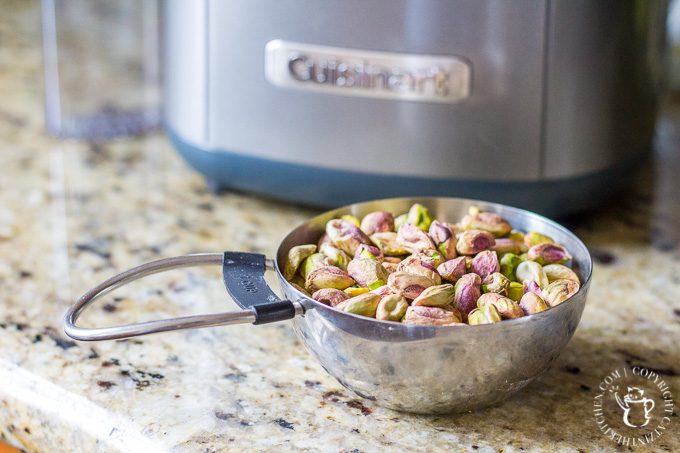 Okay, we've talked pistachios and we've talked ice cream. There's obviously only one thing left to do, and that's join them together in a blissful union of creamy goodness. And that, of course, is what brings us together today.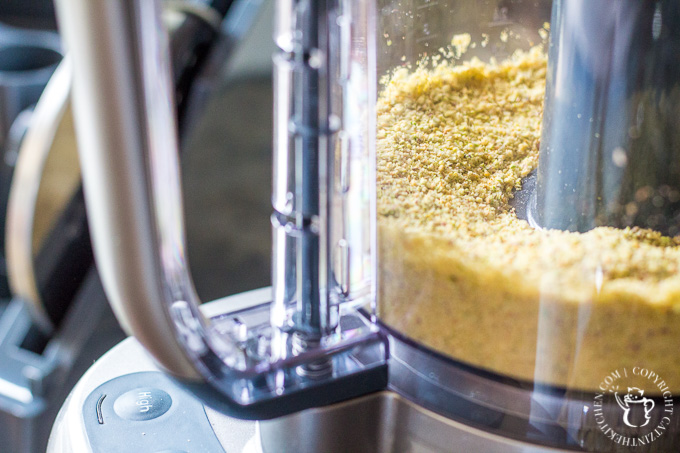 So, get out your food processor and your ice cream maker and get crackin' (again, literally), because this recipe does just that. Pistachio ice cream is a classic for a reason – it's creamy and cool, while also being slightly unusual and thoroughly elegant. Sure, between cracking the nuts, cooking the custard, straining the mixture, and cooling and mixing the ice cream, it's a little involved. But, wow, is it worth it. Make this a family project some warm summer afternoon – get everybody involved. Then, when the ice cream maker has finally finished its churning…everybody gets to enjoy the reward.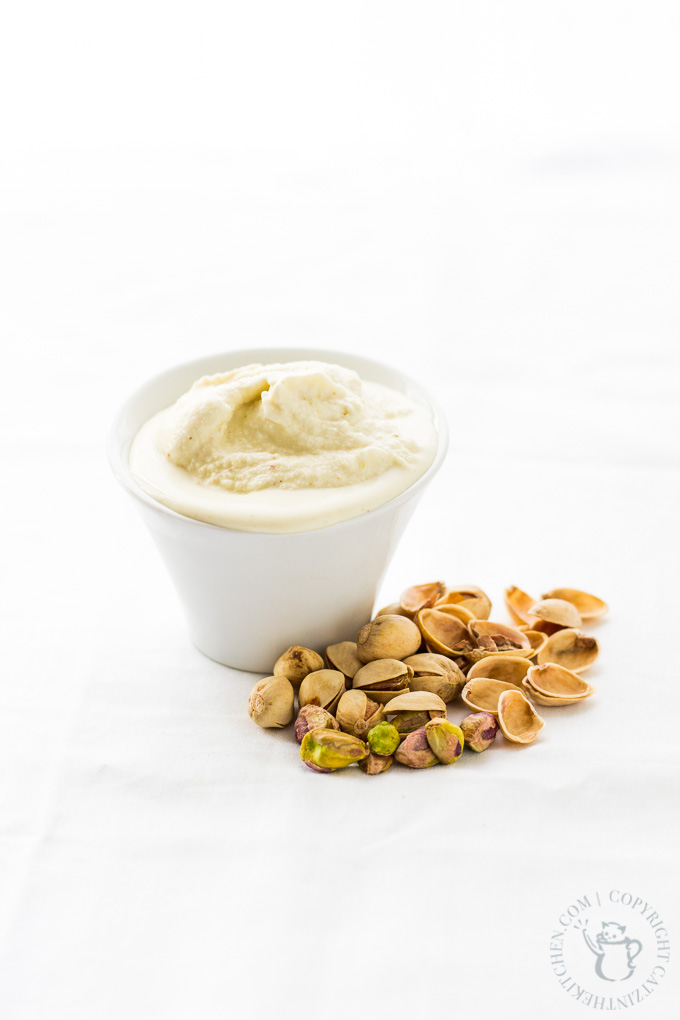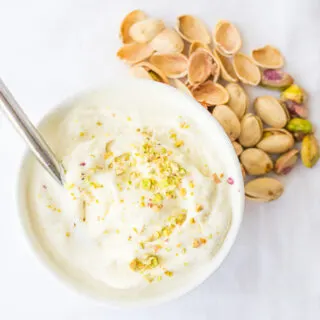 Homemade Pistachio Ice Cream
Inactive Time:
2 hours
35 minutes
Creamy, elegant, and absolutely wonderful, this recipe for homemade pistachio ice cream will be lucky to make it to the freezer before it's gone!
Ingredients
1 3/4 cup unsalted pistachios, shelled (about one 16 oz bag with shells)
3/4 cup sugar
2 cups milk (preferably whole, 2% can be used, but not nonfat)
1/2 tsp almond extract
4 egg yolks
1 cup heavy whipping cream
Instructions
Grind one cup pistachios and 1/4 cup sugar in food processor to a fine powdery consistency.
Combine ground pistachio mixture and milk in a large saucepan and bring to a boil.
Remove mixture from heat and stir in almond extract.
In a medium bowl, whisk remaining sugar and egg yolks together. Slowly whisk in pistachio mixture, and then return the entire mixture to the saucepan.
Cook on low for about 10 minutes without boiling, stirring constantly, or until custard mixture thickens.
Strain into a large bowl (this step may be challenging, depending on how finely you were able to grind the pistachios - if you have trouble, try using a bowl or a spoon to press the liquid down through the strainer).
Chill for about 2 hours.
Stir whipping cream into custard, and start ice cream maker. Pour custard mixture into ice cream maker bowl, and prepare according to manufacture's directions (usually about 25-35 minutes, or until desired consistency is reached).
Scoop into bowls and freeze any remaining ice cream in a covered container.
Chop remaining pistachios and sprinkle over scooped ice cream in bowls, if desired.
Nutrition Information:
Yield:

7
Serving Size:

1/2 cup
Amount Per Serving:
Calories:

441
Total Fat:

30g
Saturated Fat:

11g
Trans Fat:

0g
Unsaturated Fat:

17g
Cholesterol:

149mg
Sodium:

182mg
Carbohydrates:

35g
Fiber:

3g
Sugar:

25g
Protein:

11g