Ice cream cake is usually a store-bought extravagance, but with this simple, elegant recipe for brownie ice cream cake, you can make it yourself!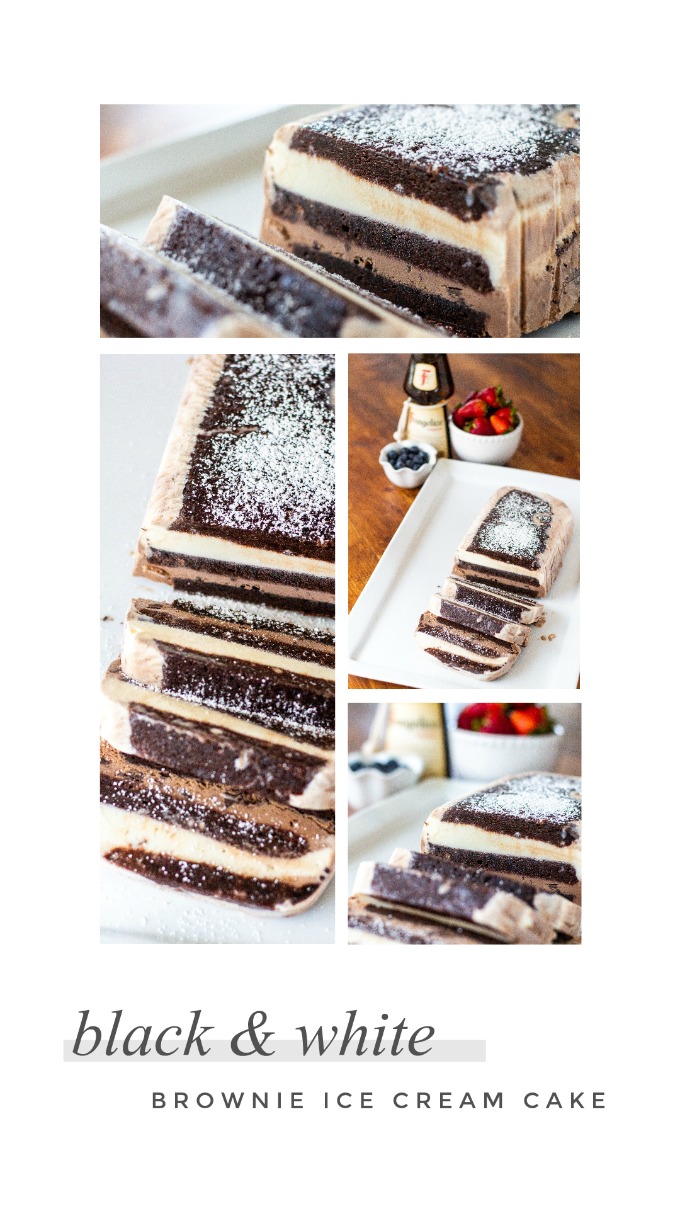 I remember the first time (and I believe the only time) I had an ice cream cake. My brother wanted it one year for his birthday and I feel like it came from Dairy Queen. Is there is any other place to get an ice cream cake?
I loved it so much you would have thought it was my birthday cake. Haha, but my brother enjoyed it a lot from what I can remember…he's got a thing for ice cream. But then something sad happened. We never bought another ice cream cake. Like ever!
Maybe it's because they are kind of expensive. I mean let's face it, for how much you pay, it's never going to be the size of a Costco cake! The realist in me sees that it's kind of a ripoff.
Which is why I think it's important to be able to make your own ice cream cake. But I know what you're thinking. It seems hard and intimidating and that is true. It does seem like it would be hard and intimidating.
But here's the other thing…it's not!
This Black and White Brownie Ice Cream Cake has a bit of an adult flair to it, I'm not going to lie. It's got the layer of brownie in it, which makes it rich. But it also has some hazelnut liqueur (Frangelico) in it. Of course, you could always leave that out – it is one of those ingredients that can be pricey – and the liqueur also cooks out, leaving only its beautiful, silky flavor.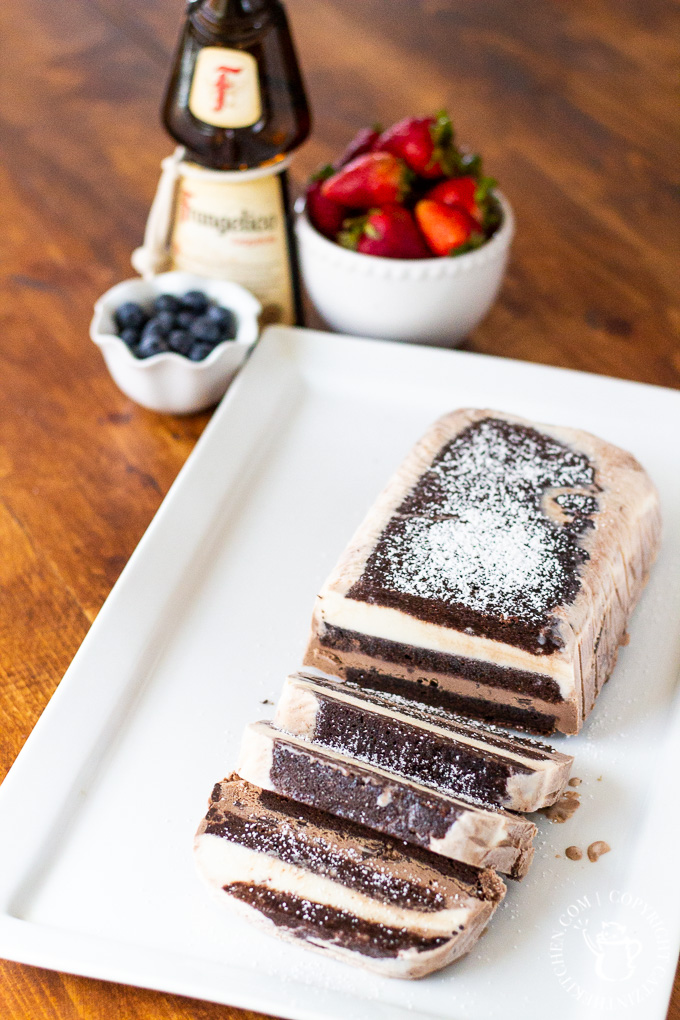 So, you can totally skip it. But we didn't and it made the cake taste as fancy as it looks. I mean, in all seriousness, this really does look and taste like the kind of dessert that could cost you $$ at a restaurant.
Just saying!
I picture this dessert being made for a gathering or party, baby shower, bridal shower, or birthday party – even a holiday party. This is a dessert that is made to be shared with people you love. Otherwise it may be just too much ice cream cake for your little family. I mean, we had leftovers when we made it, but everyone LOVED it!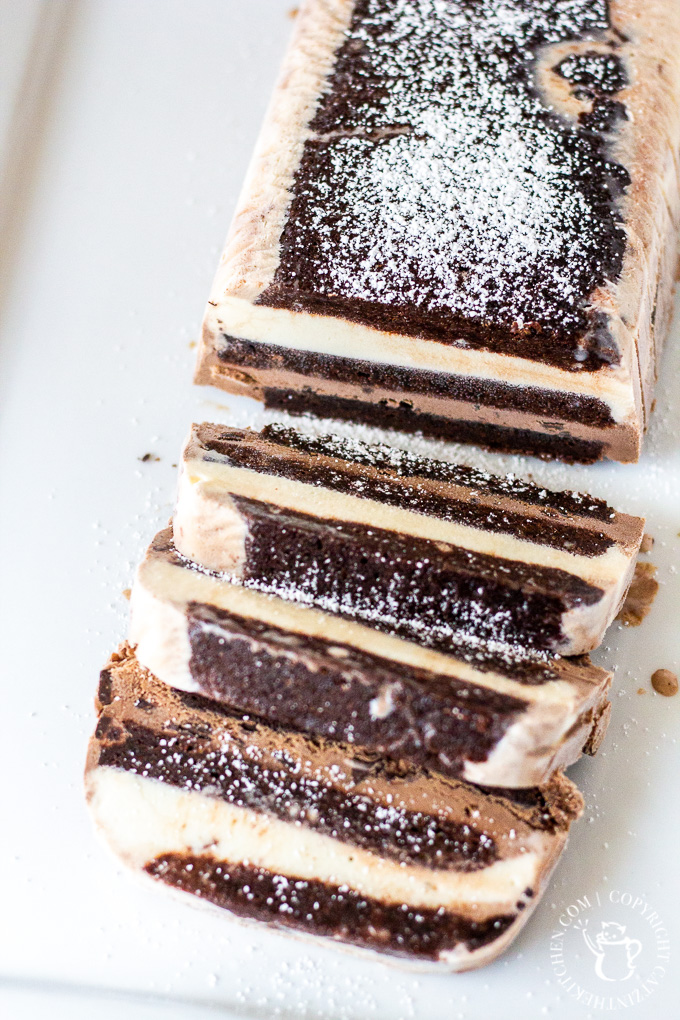 The most important part of this recipe I would say is that when you go to spread the layers of ice cream over the brownie slices, just try and do it as evenly as you can because that will help give you those nice pretty layers when you go to slice into it.
If you're looking to try something a little bit different than your typical ice cream cake, give this one a whirl. Get the kids involved in whipping up the brownie batter and let them measure out the ingredients! While this seems like an adult dessert, it can be incredibly kid forward by omitting the liqueur and letting the kids help.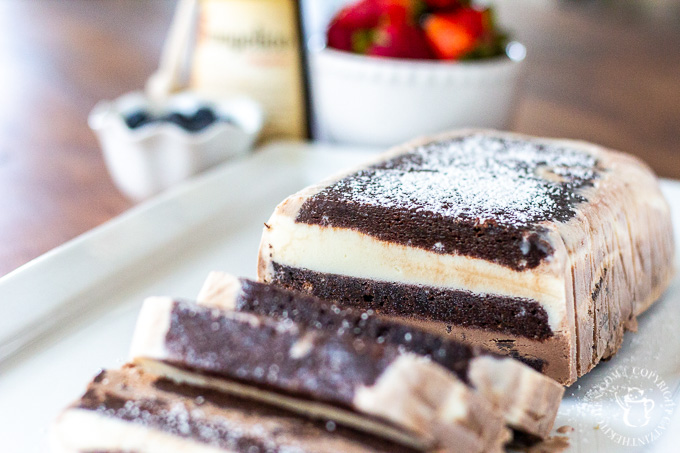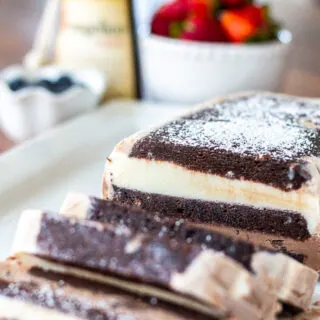 Black and White Brownie Ice Cream Cake
Inactive Time:
4 hours
30 minutes
Total Time:
5 hours
30 minutes
Ice cream cake is usually a store-bought extravagance, but with this simple, elegant recipe for brownie ice cream cake, you can make it yourself!
Ingredients
1 (18.2 - ounce) box dark chocolate fudge brownie mix - I used chocolate fudge by Duncan Hines
2 large eggs, at room temp
1/3 cup hazelnut liqueur , like Frangelico
1/3 cup vegetable oil
1/2 tsp almond extract
1 pint vanilla ice cream
1 pint chocolate - chocolate chip ice cream ( I found Haggen Daz carried this flavor)
1 tbsp powdered sugar
Instructions
Preheat oven to 350 degrees F.
Line a rimmed 12 x 8 1/2 quarter sheet pan with parchment paper that's been sprayed with nonstick cooking spray and set aside.
In a large bowl, combine the brownie mix, egg, liqueur, oil, and almond extract together with a rubber spatula. Spread the mixture evenly into the prepared pan and bake for 18-20 minutes, or just until the brownies are set. . Allow the brownies to cool in the pan for 10 minutes before removing the brownie layer from the pan and cooling on a wire rack.
Line a 5 x 9 - inch loaf pan with a piece of parchment paper that overhangs each long side by about 2 inches. Remove the pints of ice cream from the freezer and allow to soften for 10 minutes.
Cut the cooled brownie sheet into 3 equal 9-inch long rectangles. Place one of the brownie layers on the bottom of the loaf pan. Scoop the softened vanilla ice cream onto the brownie and spread it evenly with a small spatula, offset spatula, or back of a spoon. Place another brownie layer on top of the vanilla ice cream and press down gently. Scoop the softened chocolate ice cream onto that brownie layer, spreading the ice cream evenly again. Place the last brownie rectangle on top and press firmly.
Wrap the loaf pan tightly in plastic wrap and freeze for at least 5 hours or overnight.
To unmold (which can be the trickiest part) run a thin knife along the edges of the two short sides of the loaf pan to loosen the cake and turn it upside down onto a chilled platter or plate. Peel the parchment paper off and dust with powdered sugar.
Slice the cake and serve.
Notes
Total time includes as least 5 hours for freezing the cake, prior to serving.
Nutrition Information:
Yield:

8
Serving Size:

1
Amount Per Serving:
Calories:

546
Total Fat:

35g
Saturated Fat:

14g
Trans Fat:

0g
Unsaturated Fat:

19g
Cholesterol:

87mg
Sodium:

121mg
Carbohydrates:

48g
Fiber:

2g
Sugar:

39g
Protein:

8g
Nutrition information isn't always accurate.