This "holiday season" feels insanely short. I think it has to do with the number of weekends. Thanksgiving is, of course, on a Thursday, so that weekend doesn't count (and Black Friday blows up into Saturday and Sunday anyway). So, we end up with, what, three weekends? That seems like a crazy short amount of time to shop, celebrate, get together with family, and see the Christmas sights! Is it always like this? It can't be!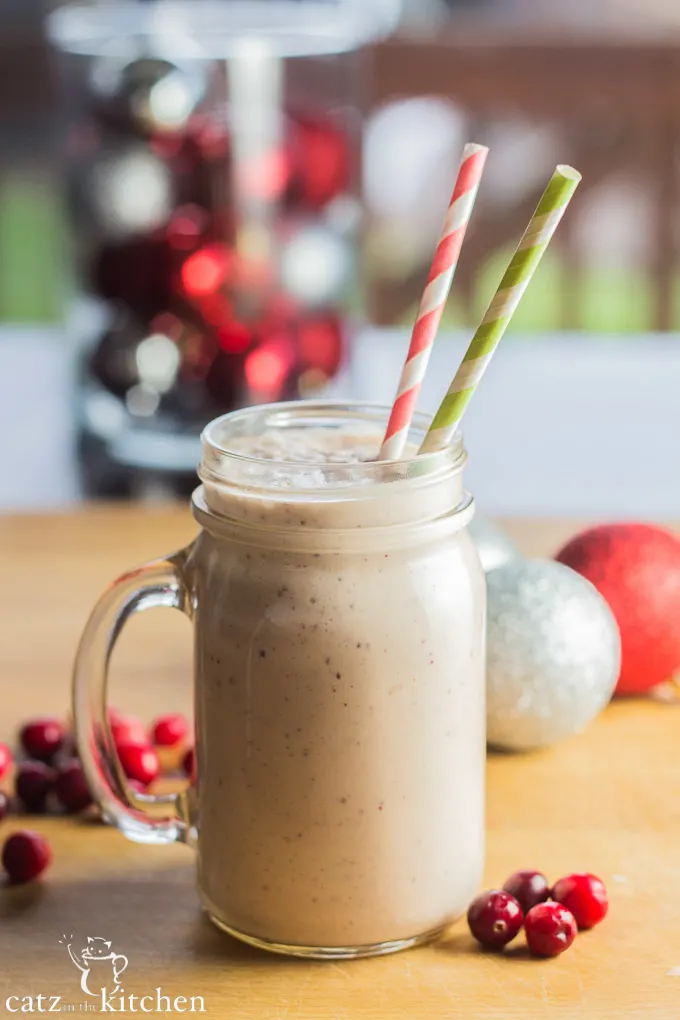 Our season may be even shorter than most, due to the addition of a smattering of birthdays. My brother-in-law Travis is the second week of December, little Christian (our soon-to-be two year old) is the third week, and Chels is Christmas Eve! Follow that up with my father-in-law in the fourth week, and you've got a real roller coaster ride of celebrations right on through the end of the month. My grandmother, who passed away this past August, was born on Christmas Day, so we're used to celebrating a couple of special days on that day (Jesus didn't mind sharing, I'm sure…). It will be strange not to wish her a happy birthday this year in the midst of the festivities! :(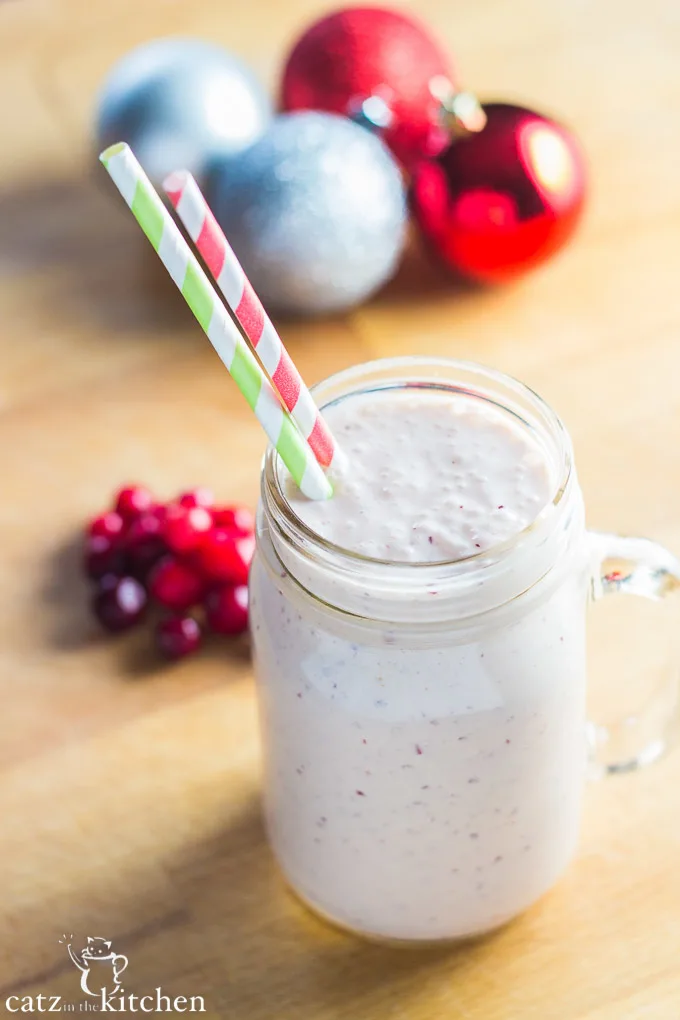 Well, let's talk about these smoothies, shall we? We got twin great ideas last week from community managers of brands we enjoy and use a lot – Williams-Sonoma and Chobani. Williams-Sonoma was hosting a smoothie week and encouraging bloggers to create unusual treats, while Chobani was trying to encourage some creativity with #MadeWithChobani. We love shopping at Williams-Sonoma, and we use Chobani in a wide variety of sauces and recipes, so we didn't need much encouragement to participate in either of these fun ideas.
As anyone who reads Catz with any regularity knows, we make a lot of smoothies during the summer for our fried egg sandwiches and smoothies night on Sunday evenings! We picked up that little gem of an idea from my sister Jennifer and her aforementioned husband, Travis. Chels keeps cranberries and egg nog around the house all throughout the holiday season, and I didn't see any reason why those two ingredients shouldn't get together in a Christmas smoothie!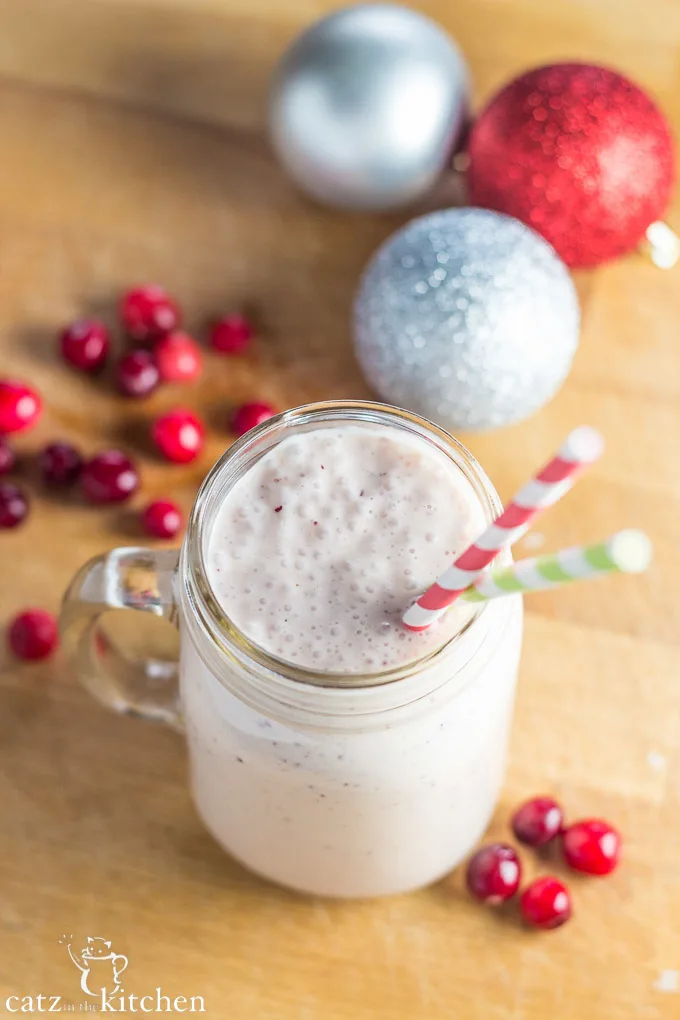 As made, this isn't exactly a "lite" recipe, but you can easily slim it down with low-fat egg nog, low-fat ice cream, and a low-calorie Greek yogurt, like Chobani's Simply 100 – I'm guessing that would about cut it in half! Regardless, though, this wintertime treat was incredibly easy to make, full of fun tart and sweet flavors, and very popular with the kids! Gracie, Edie, and Christian slurped the whole blender-full down in a matter of minutes! Enjoy!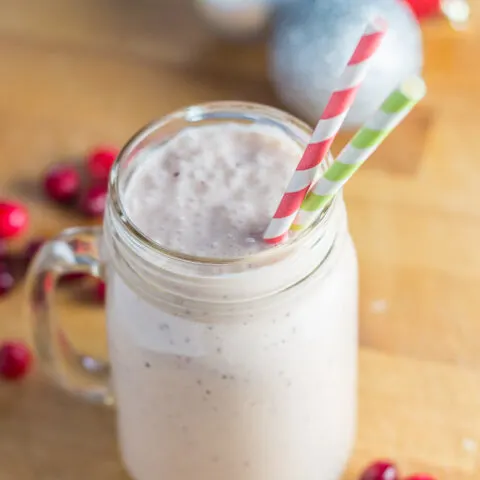 Cranberry Egg Nog Smoothies
Sweet and tart, this recipe for cranberry egg nog smoothies is a fun and festive holiday treat, especially for the kiddos!
Ingredients
1 banana
1/2 cup cranberries, washed
1 cup Greek yogurt
3/4 cup vanilla ice cream
1 cup egg nog
1/4 tsp nutmeg
Instructions
Add all ingredients to blender and puree or blend on high until smooth.
Serve immediately!
Nutrition Information:
Yield:

2
Serving Size:

1
Amount Per Serving:
Calories:

347
Total Fat:

12g
Saturated Fat:

7g
Trans Fat:

0g
Unsaturated Fat:

4g
Cholesterol:

102mg
Sodium:

150mg
Carbohydrates:

43g
Fiber:

3g
Sugar:

33g
Protein:

20g
Nutrition information isn't always accurate.