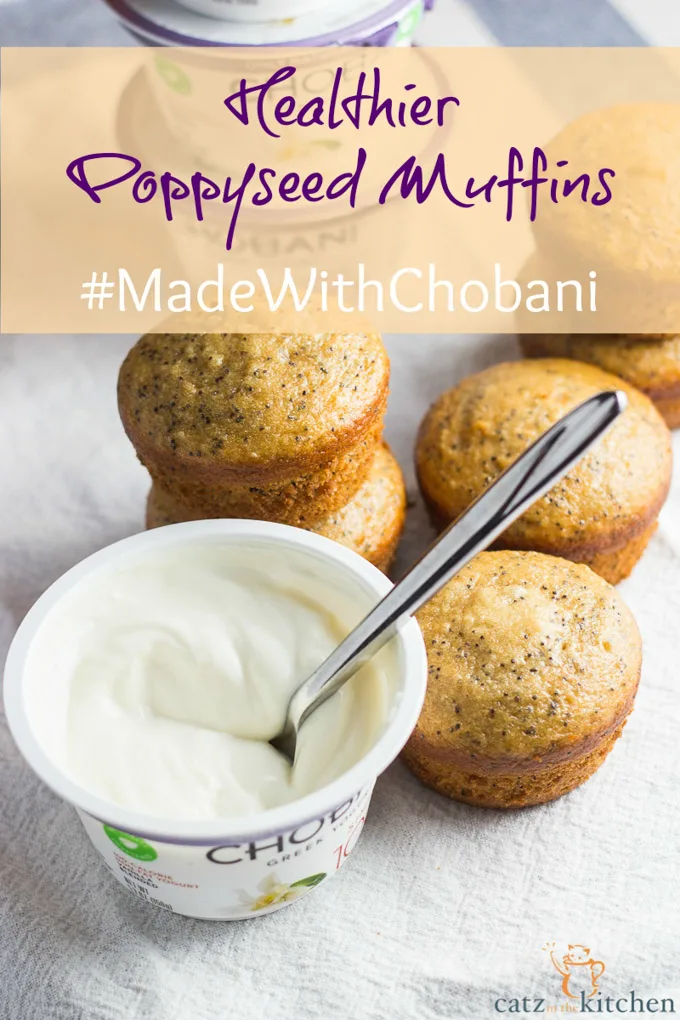 On rare occasions growing up, I would sometimes have Fridays off from school. That meant I could either sleep in (a favorite pastime of mine) or pull myself up out of bed and join my mom on her Friday morning grocery shopping trips. If I joined her grocery shopping, I knew I would undoubtedly get a treat from the bakery section. I would always choose a poppyseed muffin to enjoy once we got home from the grocery store.
A few weeks ago I was inspired by Chobani to create an unique and healthy recipe using their Greek yogurt. I don't know how unique a poppyseed muffin is, but I do know that a healthy version of a poppyseed muffin can be rather difficult to come by.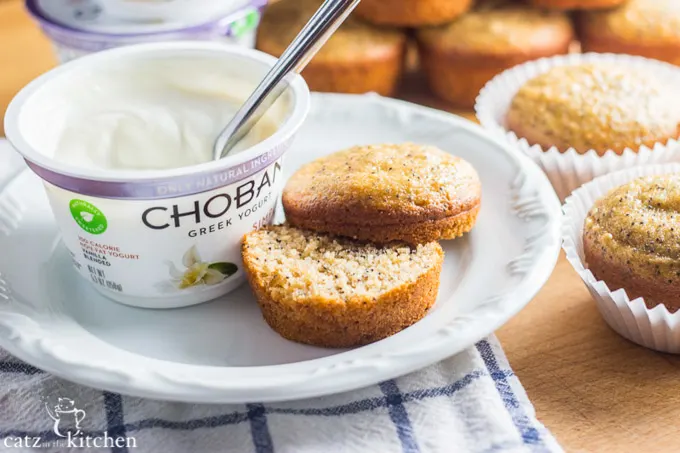 I had so much fun creating this recipe, even though it took me three tries to get it right. That ended up being a good homeschooling lesson for Grace because she saw me not getting defeated by a batch of muffins. I was determined to get it right no matter how long it took me.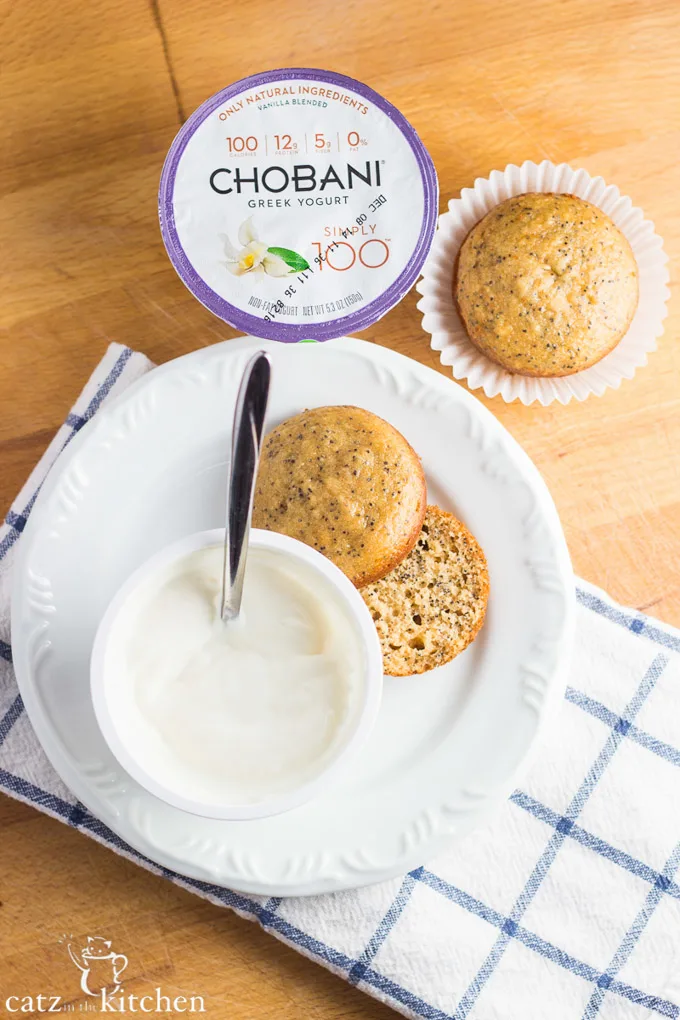 It's a good thing I have eager kids who like to eat reject muffins. I ended up with a total of 36 muffins that needed to be eaten and they were more than happy to oblige. "Mommy, can we have a snack?" "Sure, go have a muffin." "Mom, Christian's hungry again." "Okay, go get him a muffin to snack on."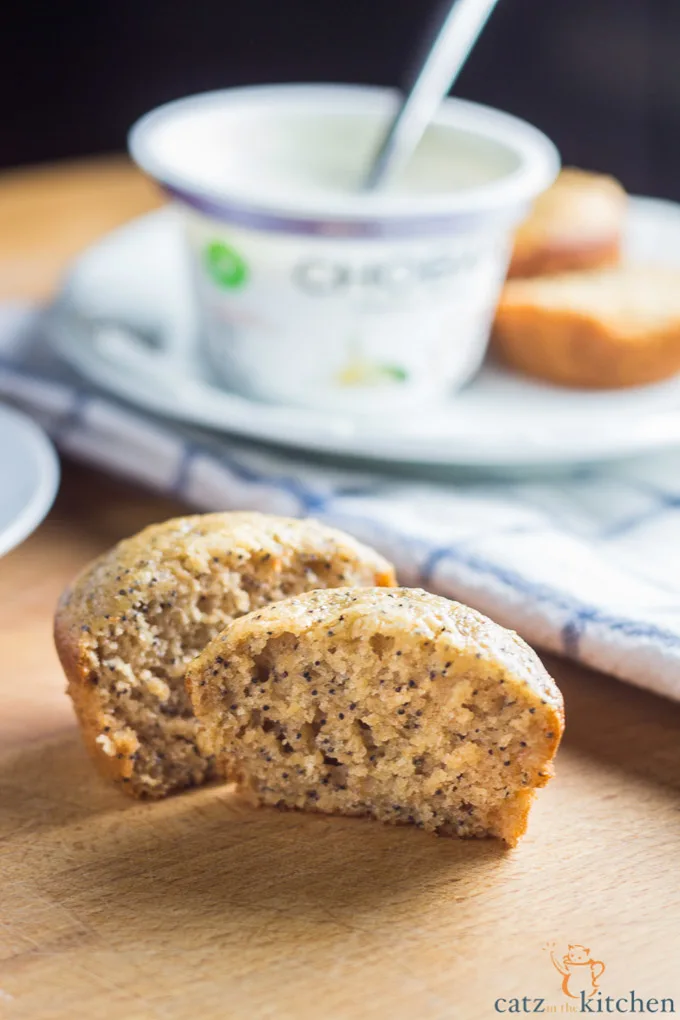 Thank goodness my kids aren't getting drug tested because I have a feeling they would fail that particular test. HA!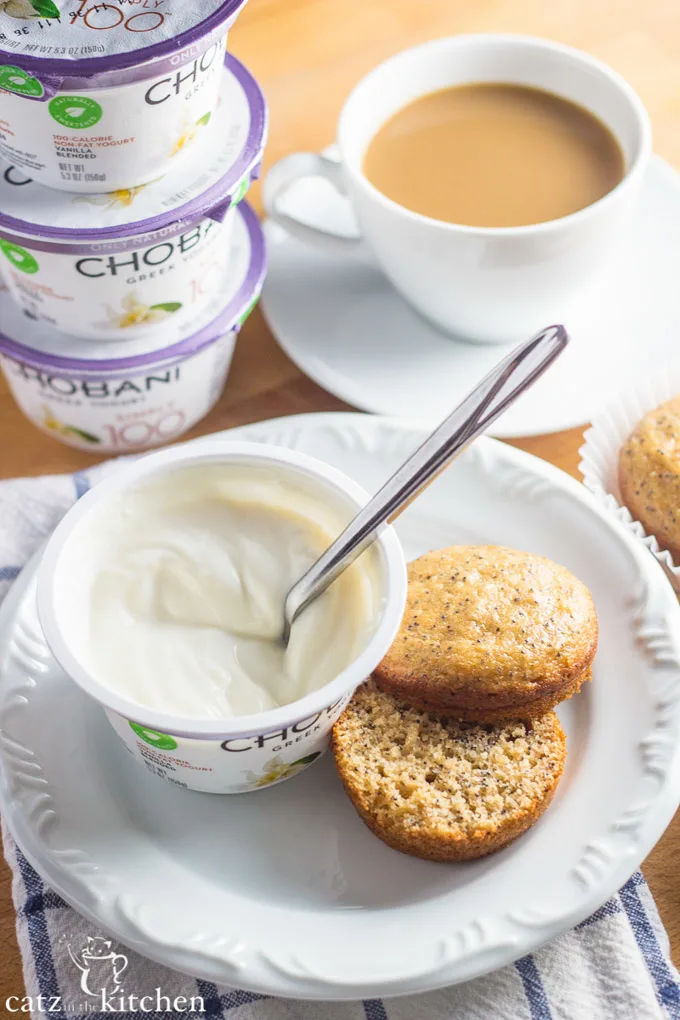 What I truly love about these healthier poppyseed muffins is that they don't taste healthy. They still have all the great flavors and components that go into a classic poppyseed muffin – minus the guilt! How about you? Do you have any recipes that you have made even better with Greek yogurt? What have you #MadeWithChobani?
I received no compensation or gifts from Chobani for writing this post – just a suggestion and encouragement to participate in #MadeWithChobani. We enjoy and regularly use Chobani products when we cook with Greek yogurt – which is often!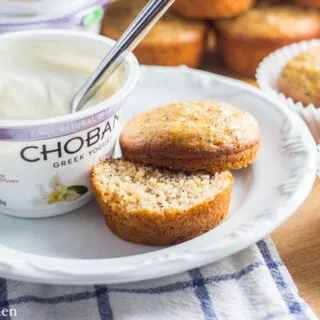 Healthier Poppyseed Muffins
This recipe for healthy poppyseed muffins has everything you love about the classic - perfect muffin top, almond flavoring, & a nice helping of poppyseeds!
Ingredients
1 1/2 cups all-purpose flour
1/2 cup whole wheat flour
1/2 tsp salt
3/4 tsp baking soda
1/4 cup sugar
1/2 cup Chobani Simply 100 vanilla Greek yogurt
1/2 cup agave nectar
1/3 cup applesauce
1/4 cup skim milk
1 egg
2 tsp almond extract
2 tbsp poppyseeds
Instructions
Pre-heat oven to 375 degrees and spray and 12 whole muffin pan with non-stick spray.
In a large bowl whisk together yogurt, agave nectar, applesauce, skim milk, and egg. Set aside.
In a medium bowl, combine flours, salt, and baking soda. Pour the dry mixture into the wet mixture and using a wooden spoon gently stir until just combined. Add poppyseeds and stir just until evenly mixed through.
Fill muffin cups about 1/2 way full and bake for 15-18 minutes. Cool completely on wire rack. Store in an air-tight container. Will keep for 3-4 days.
Nutrition Information:
Yield:

12
Serving Size:

1
Amount Per Serving:
Calories:

139
Total Fat:

1g
Saturated Fat:

0g
Trans Fat:

0g
Unsaturated Fat:

0g
Cholesterol:

16mg
Sodium:

188mg
Carbohydrates:

29g
Fiber:

1g
Sugar:

12g
Protein:

4g
Nutrition information isn't always accurate.