These Morning Glory Muffins are an easy, make-ahead breakfast snack. Full of pecans, apples, pineapple, raisins & finished with cinnamon, you'll crave!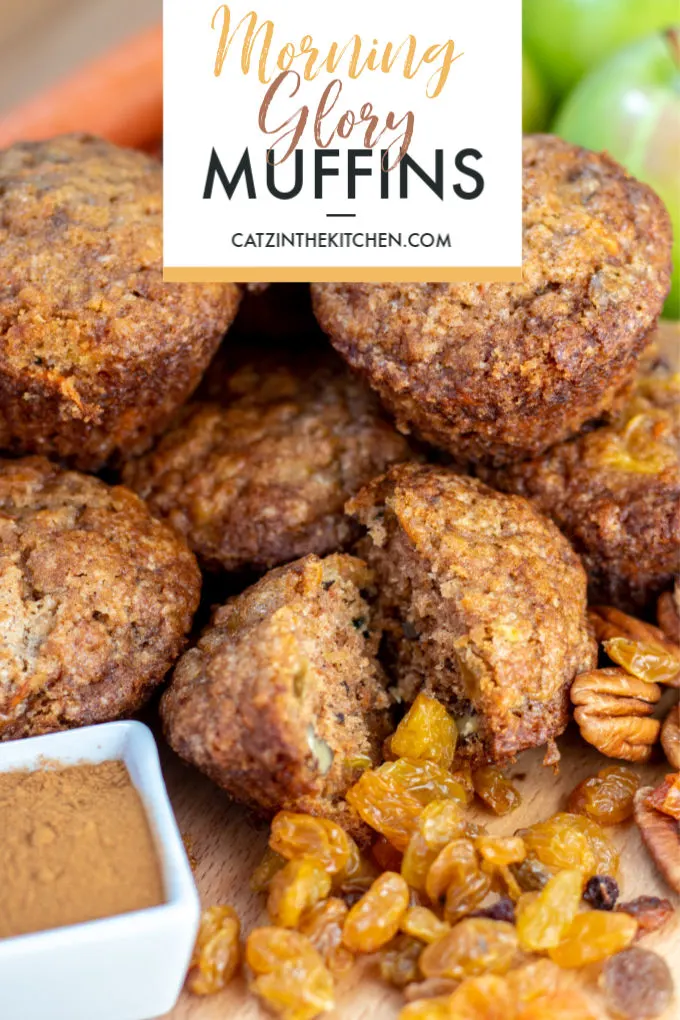 Hey, everyone! I'm back! I know it's been a little while since I've written for the blog – a lot of that has been because I've been busy with school, getting my driving hours in, and spending time with my family and friends (well, less so with friends the last couple of months, but, still…). But after I made this muffin recipe a couple times, my mom suggested it would make a great post…and I could get a little writing practice in while I was at it. So that's what I'm doing!
These muffins have become a staple in our family. Excuse the reference, but my parents call them "crack" muffins, so you can imagine they are somewhat…addictive. They never survive more than a couple of days, no matter how many we make. They are pretty kid friendly with all the raisins, apples, and carrots. Seems pretty kid-safe to me. Maybe not the coconut… just don't tell them it's there (See, I'll be a great mom…). And don't even get me started on my favorite fruit in the entire universe. Pineapple. I was so surprised to see pineapple in this recipe, and yet, so pleased! It truly is the "secret ingredient". It adds moisture, flavor, and it makes me very, very happy. So, win/win right? I think the addition of pineapple is what sets these muffins apart from the rest. But, that's my opinion. You'll have to try them for yourself and find out.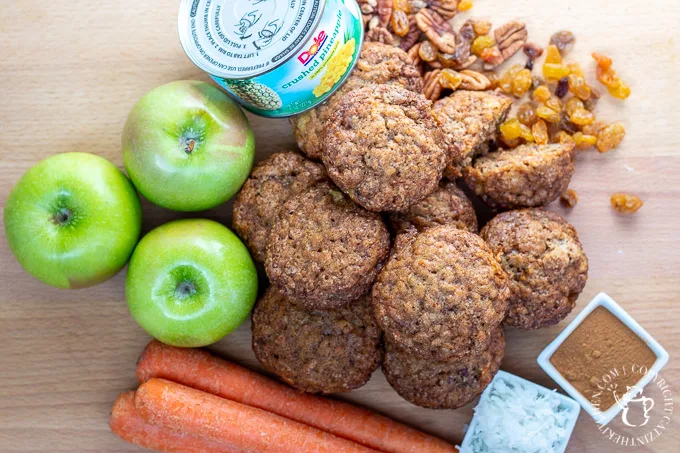 As I said earlier, ever since I turned 15 and got my driving permit, I've been trying to get the 100 hours that I need. And, right now, I'm only at 52. I've got a ways to go. It's a little hard to get hours in given the current situation and lack of places to drive! I'm not driving to school, youth group, Awana, and church, or really anything anymore! But I'm still keeping in touch with my friends, and even making a few new ones, thanks to my online Zoom classes. And while all the stress, worry, and exhaustion is getting to everyone, it has helped all of us to slow down. Maybe more than we would like, but for me personally, it's allowed me to spend more time video chatting, texting and calling my friends, whereas before, I was always "too busy." Which, if you think about it, is an excuse we use a lot. Sometimes "too busy" can mean "I have something I'd much rather be doing right now." I know I'm guilty of that. We tend to put off whatever we consider to be secondary, and put it on the back burner. That could be Bible study, journaling, checking in with a friend, or even just sitting down and talking over an "at home" cup of coffee (or tea!).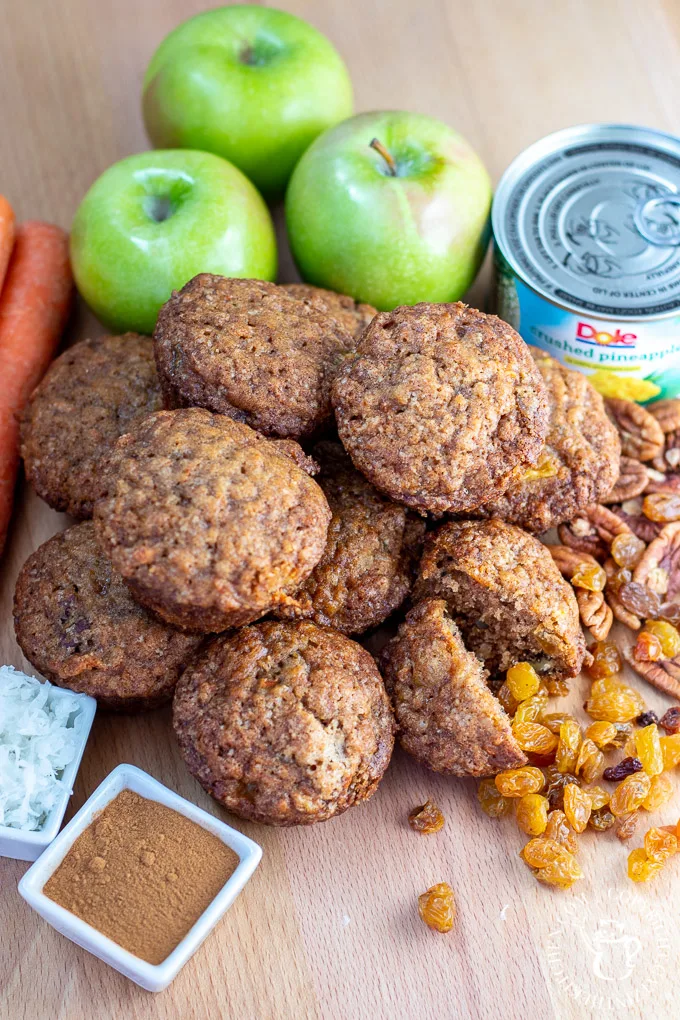 One thing I have absolutely loved during this time is "10 o'clock coffee." It doesn't happen every morning, but if me, my mom, and my dad are free, then we all sit down in the living room with a cup of coffee and chat. It is so nice. We discuss plans for the day, how our mornings went, what's for dinner . . . etc. And to bring that rabbit trail back to the purpose of this post…if I made the muffins that week, we are typically eating those as well! So if I may make a suggestion, make these muffins on a Sunday or Monday, and then in the morning, have your own "morning coffee/tea/muffin chat" with your family.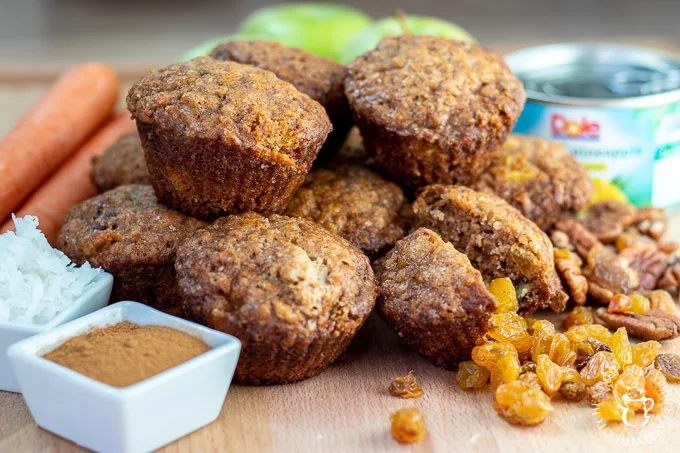 I hope everyone is doing well, and staying safe. Have a good week!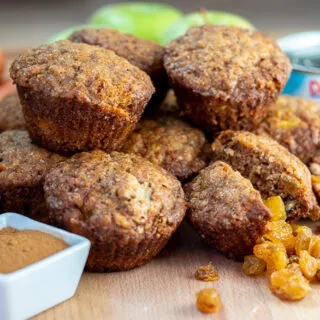 Morning Glory Muffins
These Morning Glory Muffins are an easy, make-ahead breakfast snack. Full of pecans, apples, pineapple, raisins & finished with cinnamon, you'll crave!
Ingredients
1 cup vegetable oil
3 eggs
2 tsp vanilla extract
2 cups grated carrot
1 Granny Smith apple unpeeled, and grated
1 (8oz) can crushed pineapple, drained
1/2 cup chopped pecans
1/2 cup golden raisins
1/2 cup sweetened shredded coconut
2 1/4 cup flour
1 1/4 cup sugar
1 tbsp cinnamon
2 tsp baking soda
1 tsp kosher salt
Instructions
Preheat oven to 350 degrees.
Line muffin tins with cooking spray or muffin tins.
In large bowl, mix eggs, oil, and vanilla. Then add carrots, apple, pineapple, pecans, coconut, and raisins, stir.
In meduim size bowl, whisk together flour, baking soda, cinnamon, salt, and sugar.
Add dry ingredients to the wet, and mix until just combined.
Scoop batter into muffin tins until about 3/4 the way full.
Bake for 25-30 minutes, or until toothpick comes out clean.
Let sit and cool.
Nutrition Information:
Yield:

20
Serving Size:

1
Amount Per Serving:
Calories:

216
Total Fat:

14g
Saturated Fat:

2g
Trans Fat:

0g
Unsaturated Fat:

12g
Cholesterol:

28mg
Sodium:

267mg
Carbohydrates:

20g
Fiber:

2g
Sugar:

6g
Protein:

3g