These are the best bran muffins we know how to make! Our family has found this recipe to not just be healthy, but also actually craveable!
First, a disclaimer about what we mean when we say "the best" here at Catz. We don't mean the best in the world, or any other geographically defined space, or the objectively best, or the best in a particular category of that item. We just mean the best that we, personally, have tried or experienced. We've tagged a few recipes with "the best" over the years – cheesy scrambled eggs, macaroni salad, snickerdoodle cookies, breakfast quesadillas, rolled sugar cookies, and even oatmeal cookies – and in each case, we aren't trying to set ourselves up as the globe's preeminent experts on, say, breakfast quesadillas (though what a delight that position could be!), but rather, hey, if you want our opinion on the best one of these that we've tried…here it is.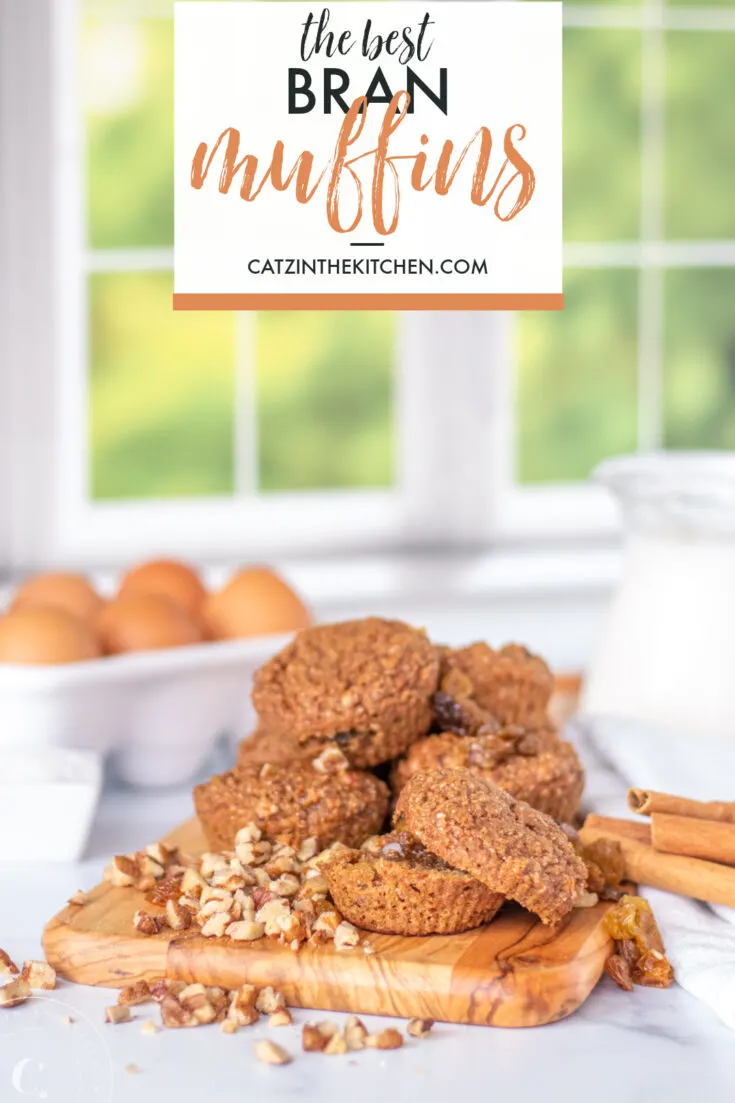 That out of the way, why are these bran muffins the best bran muffins we've tried? Well, for starters, it's a recipe we've been working on for awhile. Chels wrote it down in one of her notebooks when she found out she was pregnant last fall, looking for something that would help support her sensitive digestive system during pregnancy and postpartum. I took her notes and went through several batches of muffins, making small adjustments, and getting taste test feedback from Chels and the rest of the family. Once we got through the third iteration, we had settled on the recipe we're sharing with you here, and from our perspective…they're pretty great.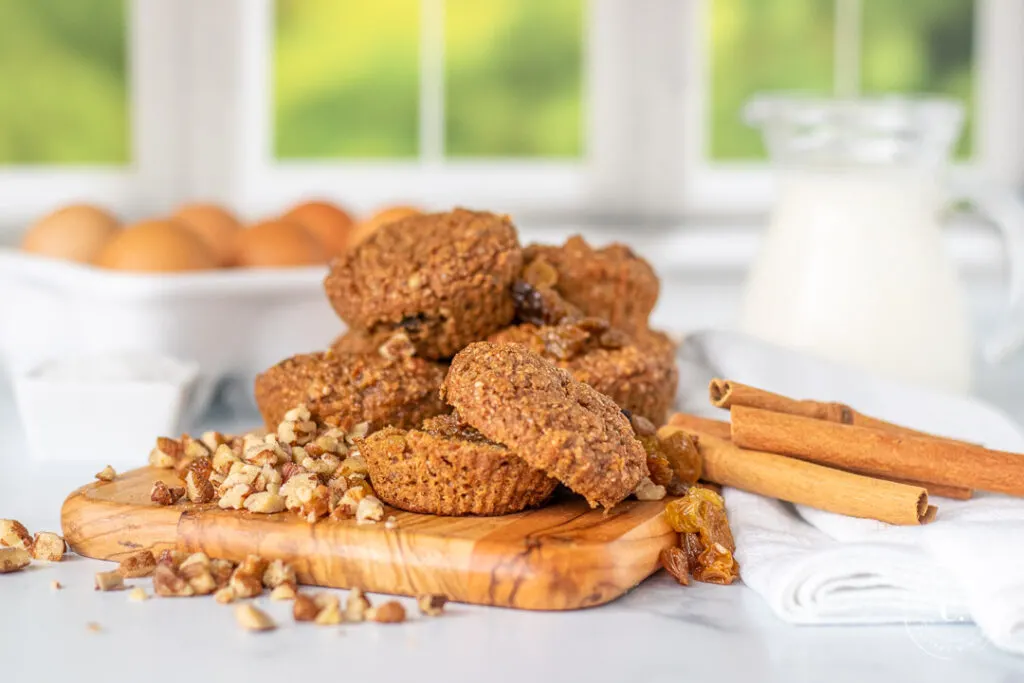 Let's break that down – what makes a bran muffin pretty great (or the best) to our family?
First, they need to possess a combination of ingredients that are generally healthy and focused on digestive health and regularity. We have a couple of family members who have struggled in that area over the years, and certainly, as is the case for so many, it can become a real challenge during prenatal and postpartum. Good quality bran muffins aren't a magic wand for that issue, of course, but they can help!
Second, they need to be tasty! Bran muffins can be dense, they can be dry, they can be chunky or just really "in your face" with the bran and the molasses. Sometimes they're also just really bland! While obviously food preferences are an intensely personal and subjective realm, I will say that these are the only muffins (of any stripe, not just bran) that I have actually found myself craving! Chels eats one every morning and doesn't tire of them, so that says something, too.
Third, they have to deal with Chels' weird issue with raisins. She hates them. With a passion. But, magically, not golden raisins. It's just the normal ones that receive her ire. While I personally enjoy raisins regardless of variety, in this case I chopped the golden raisins up to further reduce the offensiveness of the "raisiney" texture to Chels' palette. Honestly, weird issues with raisins aside, the much smaller pieces of both raisins and pecans really help to deliver a more pleasing, less chunky texture in the final product.
Lastly, they needed to be an approachable size. For some reason, bran muffins tend to be massive. Like…the size of a bell pepper. (Is that weird? It was all I could think of.) I don't know why that is, but if you're going to eat one on the daily, that's just ridiculous. We wanted something small and snackable. Not mini muffin snackable (did I have a muffin, or was it just my imagination?), but reasonable. Not muffinzilla.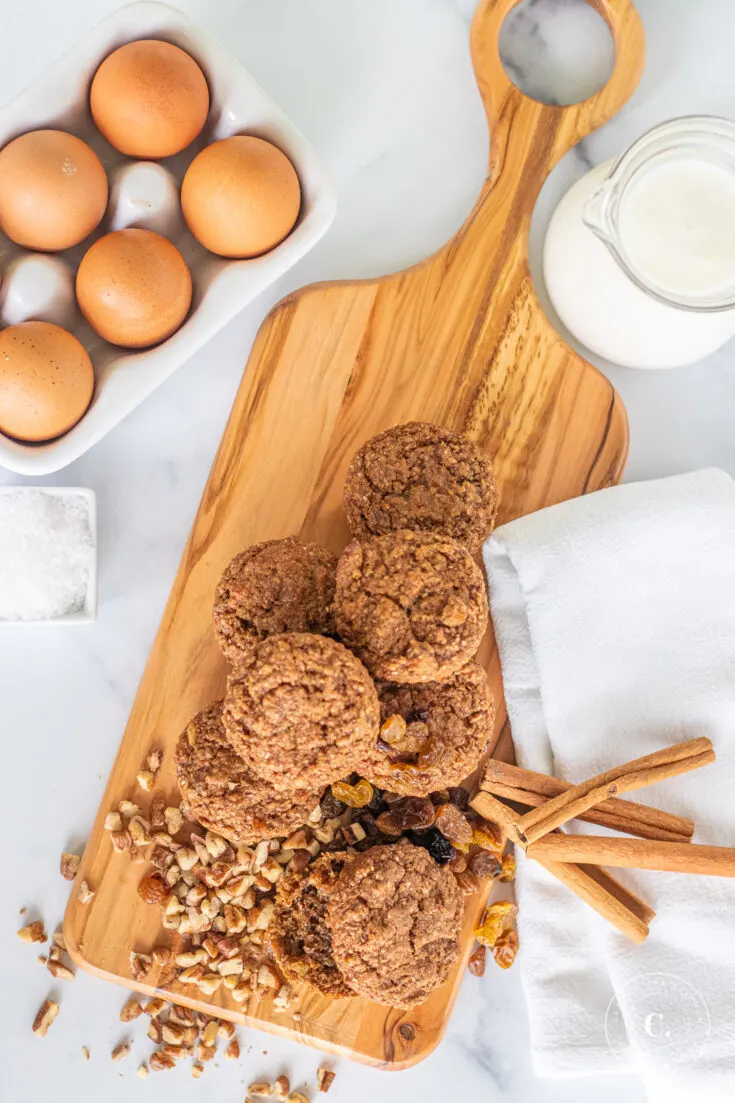 But, making these "the best" bran muffins for our family isn't limited to the ingredients and the baking – there are a couple of additional tips we've settled on!
Before eating, warm them up in the microwave, and add some coconut oil (our preference) or butter. If they're frozen, about 30 seconds. If thawed, 20 seconds should do the trick. After removing from the microwave, cut the muffin in half, add the coconut oil or butter, and then put the halves back together so the oil melts and soaks into the muffin.
If you're making a big batch (like this recipe), freeze the majority of the muffins in a ziplock freezer bag. These ingredients don't keep, and your 20+ muffins will go bad in a couple of days, so just keep a few out for eating right away and freeze the rest. You can remove from the freezer whenever you like one or two at a time, and pop them in the microwave as mentioned above. They will last much longer this way (several weeks at least, in our experience).
Use silicone muffin liners when baking these bran muffins. Bran muffin batter is messy and sticky, and doesn't play super nicely with normal muffins liners. You can certainly just grease your tins as well, but if you have them, we'd recommend using silicone muffin liners for minimum mess and quick clean up. (We use these.)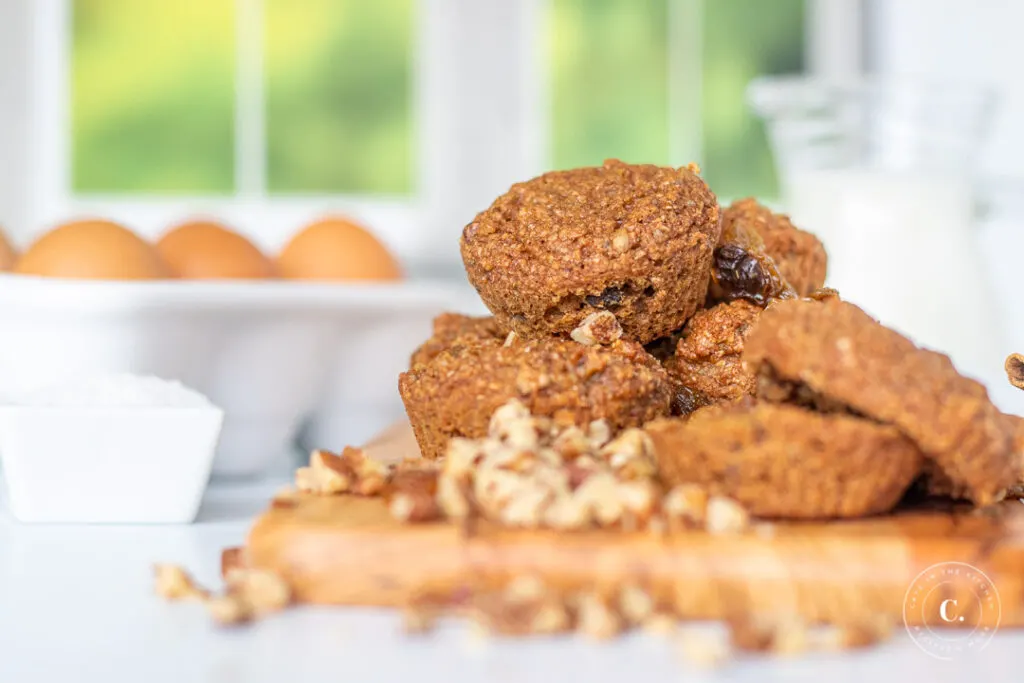 Not everyone loves bran muffins – we know that. But we hope that for some of you, this recipe might be able to change your minds! If not, for those of you who already know, love, and perhaps even rely on bran muffins as part of your regular diet…give these a try. We love them (so much that we call them "the best"…as I may have mentioned…), and we think you will, too.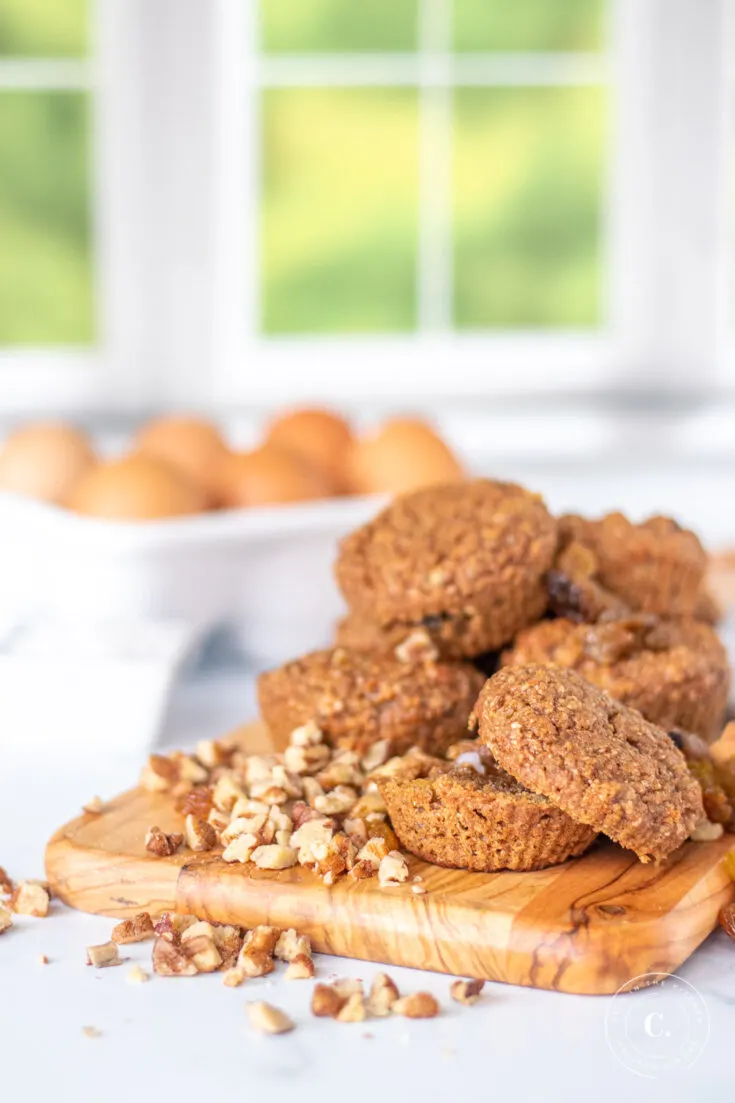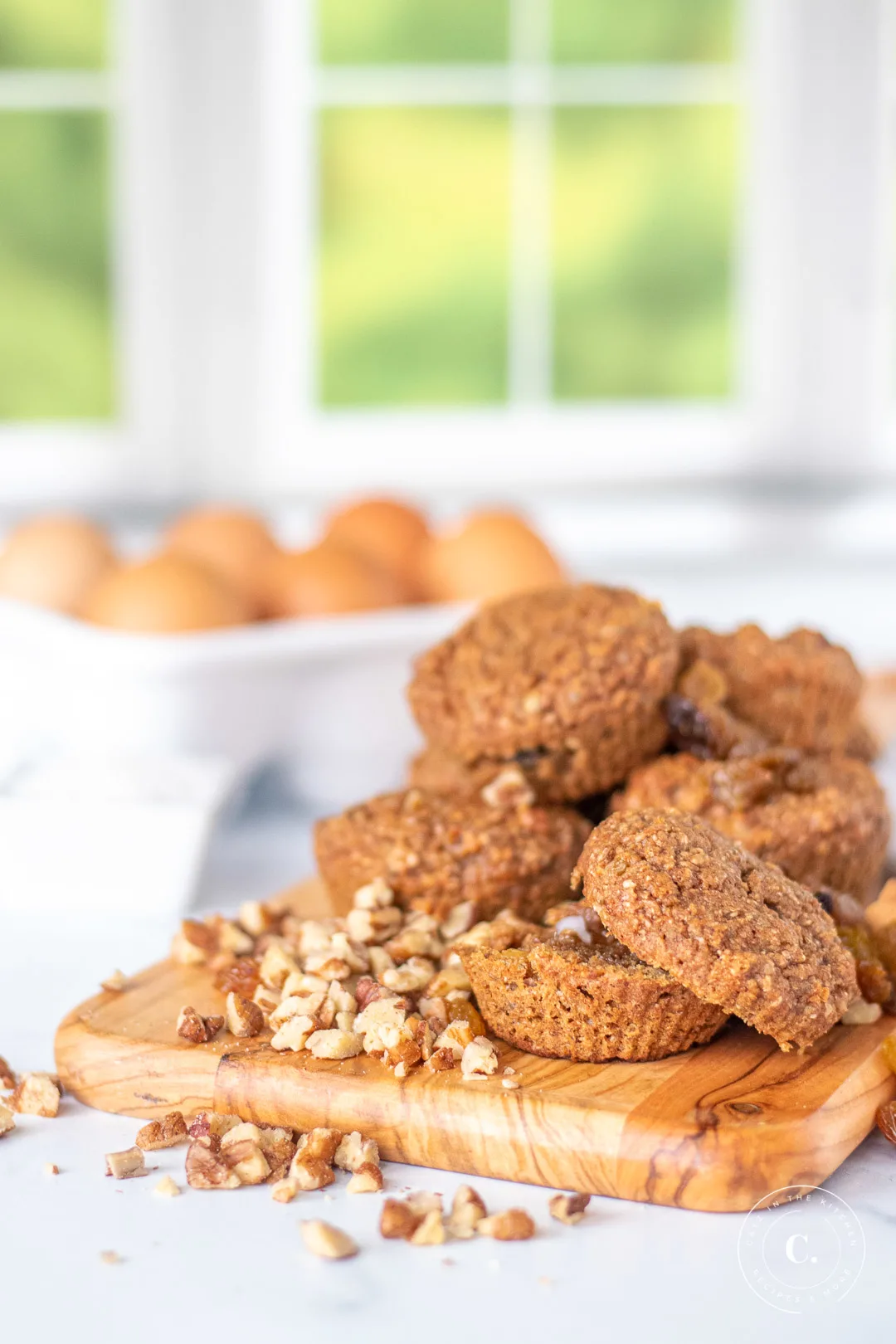 The Best Bran Muffins
These are the best bran muffins we know how to make! Our family has found this recipe to not just be healthy, but also actually craveable!
Ingredients
2 tbsp chia seeds
1/2 cup chopped golden raisins
1/2 cup chopped pecans
1 tsp vanilla extract
1 tsp ground cinnamon
1 cup applesauce
1/2 tsp sea salt
1 egg
1 egg white
1 cup buttermilk
1 cup whole wheat flour
1 1/2 cup wheat bran
1 tsp baking powder
1 tsp baking soda
1/2 cup brown sugar
2 tbsp molasses
Instructions
Preheat oven to 375 degrees. Grease a muffin pan or line with muffin liners.
In a bowl, very gently stir together wheat bran and buttermilk and let sit for 10 minutes.
Meanwhile, in a medium bowl, whisk together flour, salt, cinnamon, baking powder, and baking soda.
In another large bowl, whisk together applesauce and brown sugar. Add molasses, vanilla, egg, and egg white, whisking to combine. Stir in the bran mixture, along with the chia seeds, pecans, and raisins. Lastly, add the dry ingredients and stir until just combined.
Divide batter evenly in muffin tin or tins (we use this scoop, which is about 1.5 tbsp) and bake for 15-20 minutes, or until a toothpick comes out clean.
Allow to cool slightly, and then move to wire rack to cool completely before storing or freezing.
Nutrition Information:
Yield:

24
Serving Size:

1
Amount Per Serving:
Calories:

90
Total Fat:

3g
Saturated Fat:

0g
Trans Fat:

0g
Unsaturated Fat:

2g
Cholesterol:

8mg
Sodium:

148mg
Carbohydrates:

17g
Fiber:

3g
Sugar:

9g
Protein:

2g
Nutrition information isn't always accurate.