Oregon berries brighten up the inside of these yummy, easy strawberry almond streusel muffins, while streusel & glaze topping adds texture and sweetness!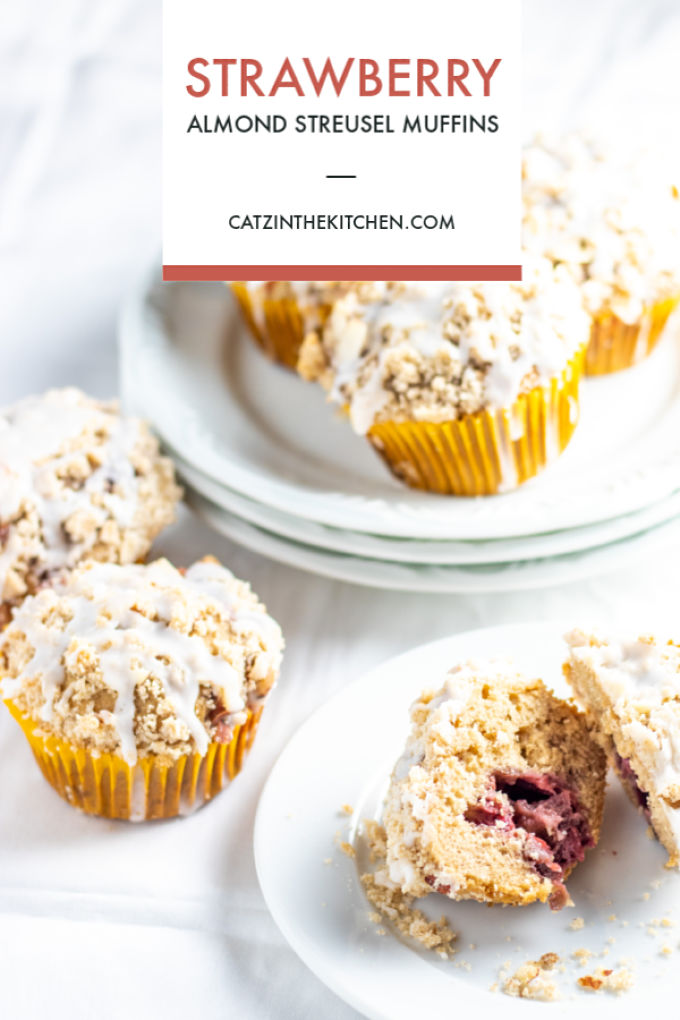 The summer completely got away from us this year and we never made it – not even once! – to our favorite local berry farm. It's a highlight for our kids, but with the heat of the summer + baby, we just never made it over there. This is, however, one of the reasons why I like to keep a reserve of frozen berries in our freezer at all times. If I'm in the mood to make a smoothie, a berry syrup, or even bake up something…I have a stash.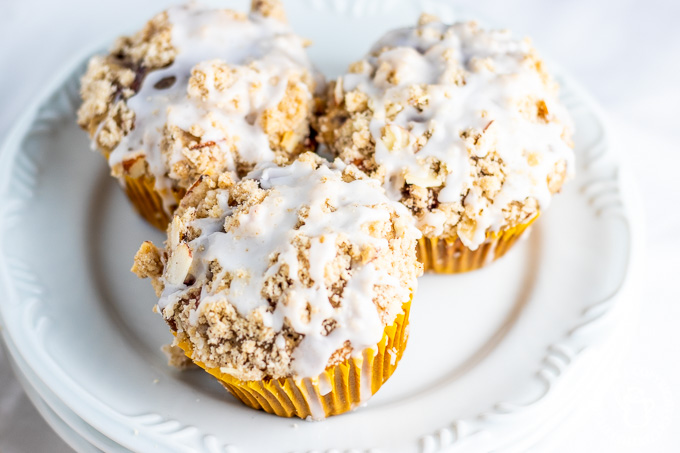 Strawberries have a extra special place within the already very special place in my heart for berries in general. Christian has a strawberry plant in a pot on our back deck and every spring he anxiously waits for the green leaves to to show up again and waters and inspects his plant daily for the "first strawberry of the season." This year, his little plant produced a ton of strawberries, but it's still just one plat, so not enough for actual freezing or really even baking. Just enough to snack on, which works for Christian!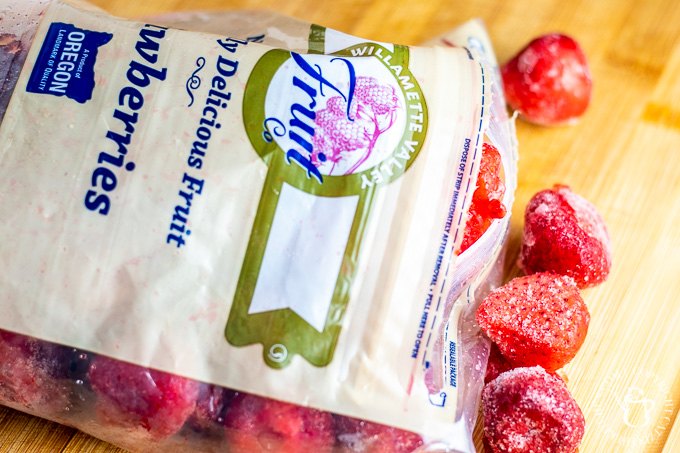 Given our deep and abiding love of these local little red beauties, we were excited when the Oregon Strawberry Commission reached out to us about creating a recipe using strawberries! Oregon Strawberries are grown on family farms and only picked when they are at their peak of ripeness, giving them their exceptional flavor, not to mention that beautiful, rich red color.
This is not a sponsored post, and the opinions and recipe are my own, however, the Oregon Strawberry Commission does help out with the cost of ingredients for creating the recipe.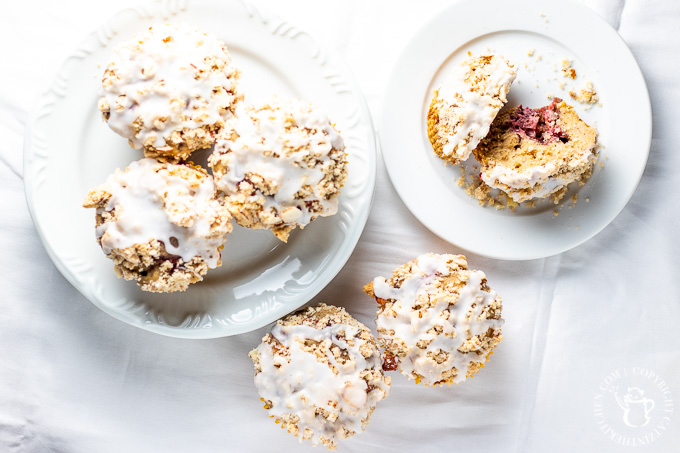 As a consumer and berry lover having a season where I've dropped the ball and been unable to make it to a berry farm to hand pick my own berries, it helps to know I can turn to any one of the local farms that have already harvested their strawberries. Within 24 hours of being picked, 90% of the strawberry harvest is frozen to ensure color, taste, nutritional value…and year-round availability at my local supermarket!
With "freshly frozen" strawberries at my disposal, I knew I wanted to bake something up with them, and I also know my family has a soft spot for freshly-baked muffins.
My kids love muffins, including little Ruby who has recently become a big fan. Josh loves anything with a streusel topping and glaze on top would be the perfect thing to brighten up a typical rainy Oregon day. The strawberry muffins themselves are simple enough – you probably already have all the ingredients on hand, except for maybe the strawberries, which aren't hard to find during the off season. Frozen berries are your friend if you can't find fresh!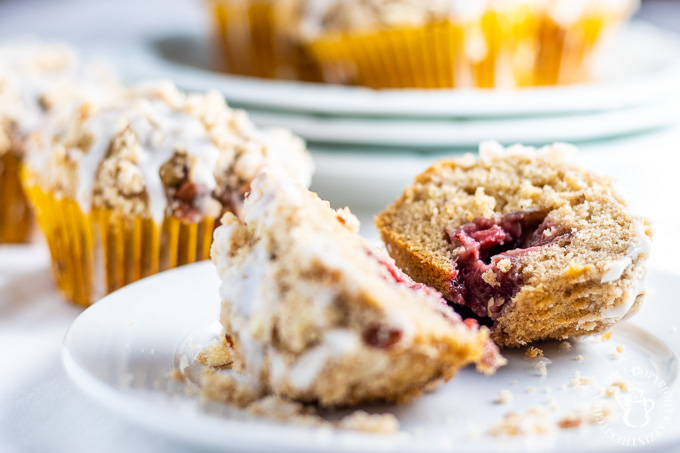 These muffins are sweet, thanks to the Oregon strawberries and have lots of almond flavor due to almond extract, sliced almonds, and almond milk – so I hope you're a strawberry almond lover! Combinations don't get much more classic than that! If you are looking for a sweet recipe to make for an after school snack, a quick breakfast, or perhaps you want to brighten someone's day with some baked goods, make these.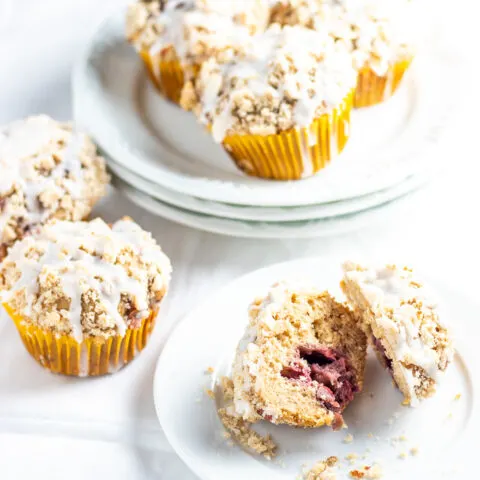 Strawberry Almond Streusel Muffins
Oregon berries brighten up the inside of these yummy, easy strawberry almond streusel muffins, while streusel & glaze topping adds texture and sweetness!
Ingredients
Streusel Topping
1/4 cup brown sugar
2 tsp sugar
1 cup all purpose flour
1/2 tsp ground cinnamon
1/4 cup butter, softened
1/2 cup sliced almonds
Wet Ingredients
1 stick (1/2 cup butter), softened
2/3 cup brown sugar
1/4 cup sugar
2 eggs
1 tsp almond extract
1 1/2 cup diced strawberries
Dry Ingredients
2 cups all-purpose flour
1 1/2 tsp baking soda
1 tsp cinnamon
1/2 tsp salt
1/2 cup almond milk
Glaze
1 1/2 cups powdered sugar
2-3 TBSP almond milk
1/4 tsp almond extract
Instructions
Preheat oven to 425 degrees. Line a 12 cup muffin pan with paper liners. Set aside.
In a small bowl, combine all of the streusel ingredients, except the almonds and combine using a pastry blender until almost combined. When the topping begins to form, add in the almonds until ingredients are crumbly. Set aside.
In a large mixing bowl combine butter and sugars using an electric mixer or stand mixer until butter and sugar are creamed together. Add eggs and almond extract until combined. Don't add strawberries yet.
In a medium bowl, whisk together the flour, baking soda, cinnamon, and salt. Alternating add half of the dry ingredients to the wet batter and mix, then add half of the milk and mix. Add the remaining dry ingredients, mix, and then again the rest of the milk until everything is just combined.
Using a spatula, gently fold in the strawberries into the batter.
Using an ice cream scoop or a large spoon, fill muffin cups 2/3 of the way full. Place muffin tin on a baking sheet and place in the oven for 5 minutes. After 5 minutes of baking, drop the oven temperature down to 350 degrees and remove the muffin pan from the oven and carefully spoon the strudel over the muffins. Bake for an additional 15-20 minutes, until strudel is lightly browned and muffins come out clean with a toothpick is inserted in the middle. Place muffins on a wire rack and allow to cool.
When muffins are cooled set the wire rack on a baking sheet covered in foil and place muffin pan on top of the wire rack, prepare the glaze and drizzle over the top of the muffins.
Notes
I used frozen Oregon strawberries in this post. I lightly defrosted them under water in a strainer before dicing them while still semi-frozen and adding them to the batter. Feel free to use fresh if they are available to you.
Nutrition Information:
Yield:

12
Serving Size:

1
Amount Per Serving:
Calories:

325
Total Fat:

7g
Saturated Fat:

3g
Trans Fat:

0g
Unsaturated Fat:

4g
Cholesterol:

41mg
Sodium:

302mg
Carbohydrates:

60g
Fiber:

2g
Sugar:

34g
Protein:

6g
Nutrition information isn't always accurate.