This yummy recipe for peanut butter & chocolate oat muffins is a great healthy snack, and can be easily adapted to be gluten-free or paleo!
Hello, back to school time! Did I just write that? Say it isn't so. In some ways, 2021 has felt longer than 2020. Is that just my opinion or do you feel the same way?
My kids are always hungry. Please tell me that this isn't just my kids. I never used to have this problem. When Grace and Eden were younger and it was just the two of them, they ate their 3 meals a day and maybe a snack to hold them over till dinner was ready. Christian and Ruby are always snacky which has totally rubbed off on the other kids! That's one of the reasons why I think it is important to have healthy snack meals on hand instead of just, you know…chips.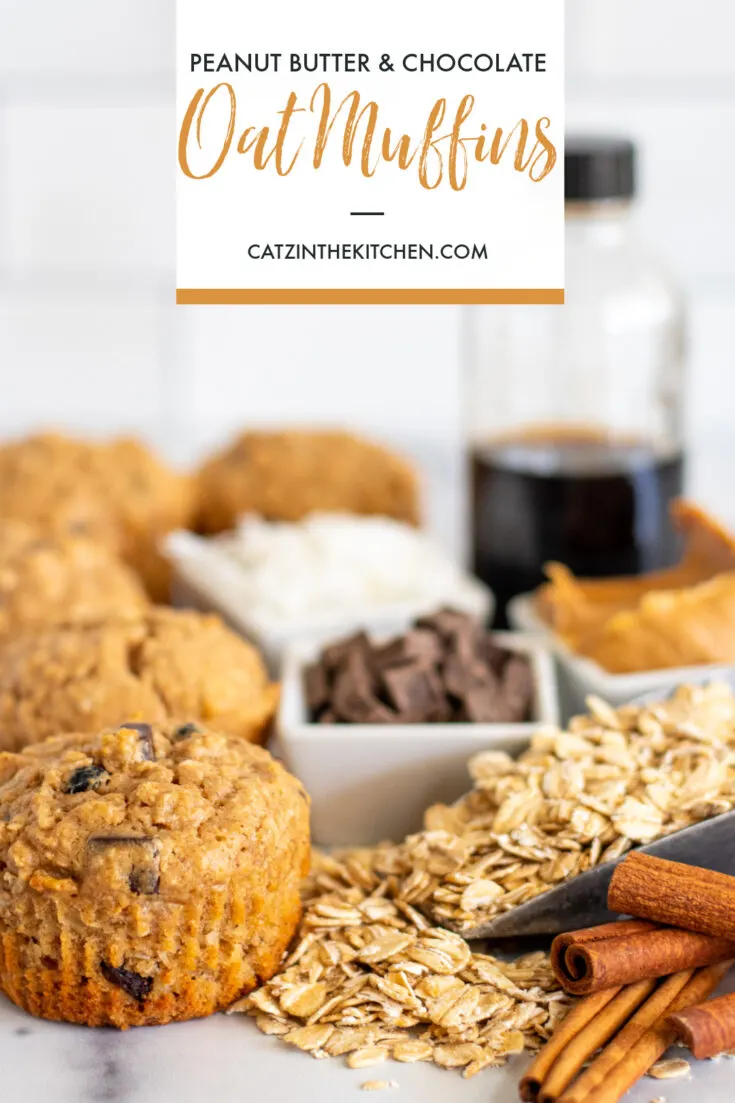 I mean, we all like chips. I don't buy them a ton – they're more of an occasional summer treat or vacation snack. The rest of the time I just try to keep granola bars and lots of fruit on hand.
Some muffins I feel lean towards breakfast territory, but I almost always feel like muffins are just the perfect snack. They've got a little starch – so a bit more filling. They usually taste sweet – ranging from dessert sweet or like these Peanut Butter & Chocolate Oat Muffins which are a little healthier and don't have much added sugar.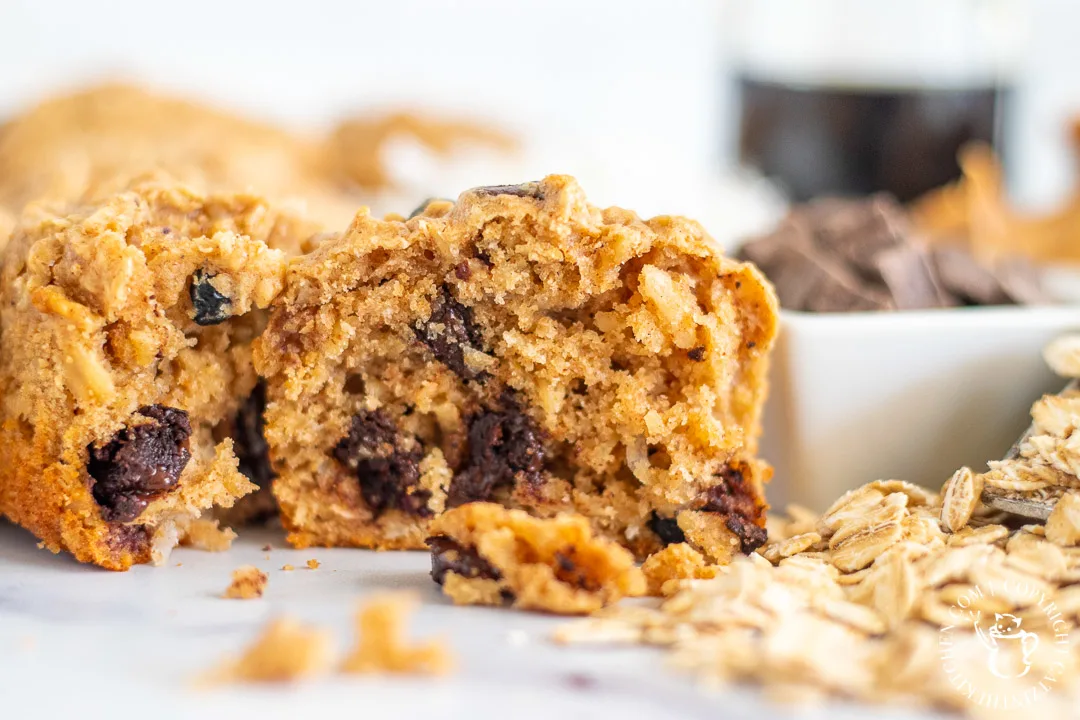 I say not much added sugar because there is :
maple syrup – please don't use the sugary imitation flavor stuff
dried berries – I used dried blueberries
unsweetened shredded coconut
A lot of these ingredients for me are staple ingredients, but I mean if you really want to make these muffins and you've only got chocolate chips instead of dark chocolate or Jif peanut butter instead of something natural, please don't let that stop you from making them. One of the reasons I share recipes like this is because I think they appeal to everyone and that they can be adapted to whatever you've got on hand.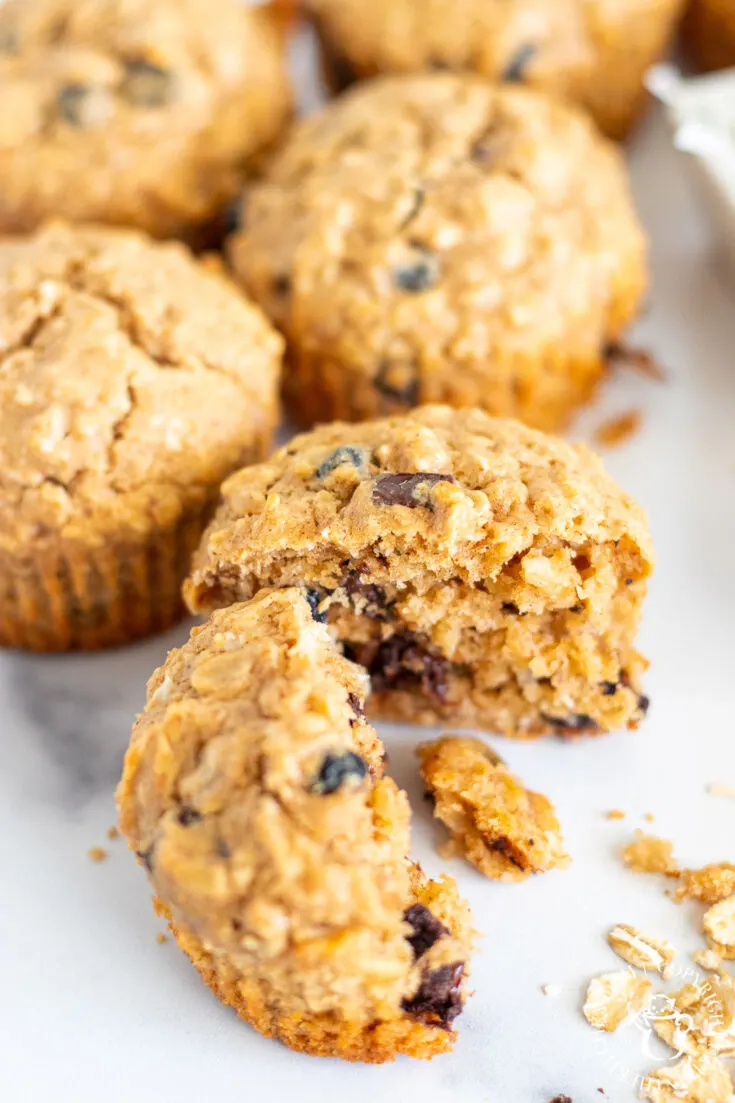 I know how hard it can be for a lot of families with allergy intolerances to find recipes that everyone in their family can eat and this recipe can be adapted with a quick swap of ingredients to be gluten-free or paleo.
Making this recipe gluten-free is really just about using a gluten-free flour, and checking to make sure the rest of your ingredients are naturally gluten-free varieties or brands. The paleo conversion would involve more substitutions, but you're still really just looking at subbing the flour, the milk, peanut butter, and baking powder for paleo versions (say, almond flour, almond milk, almond butter, and arrowroot powder), and then just ensuring you're comfortable with the brands / varieties you have on hand for the rest of the ingredients, all of which should be readily available in paleo-friendly forms (for example, dairy-free dark chocolate or cacao nibs).
Even with the adjustments you would need to make, these muffins will be gobbled up in no time, I'm sure.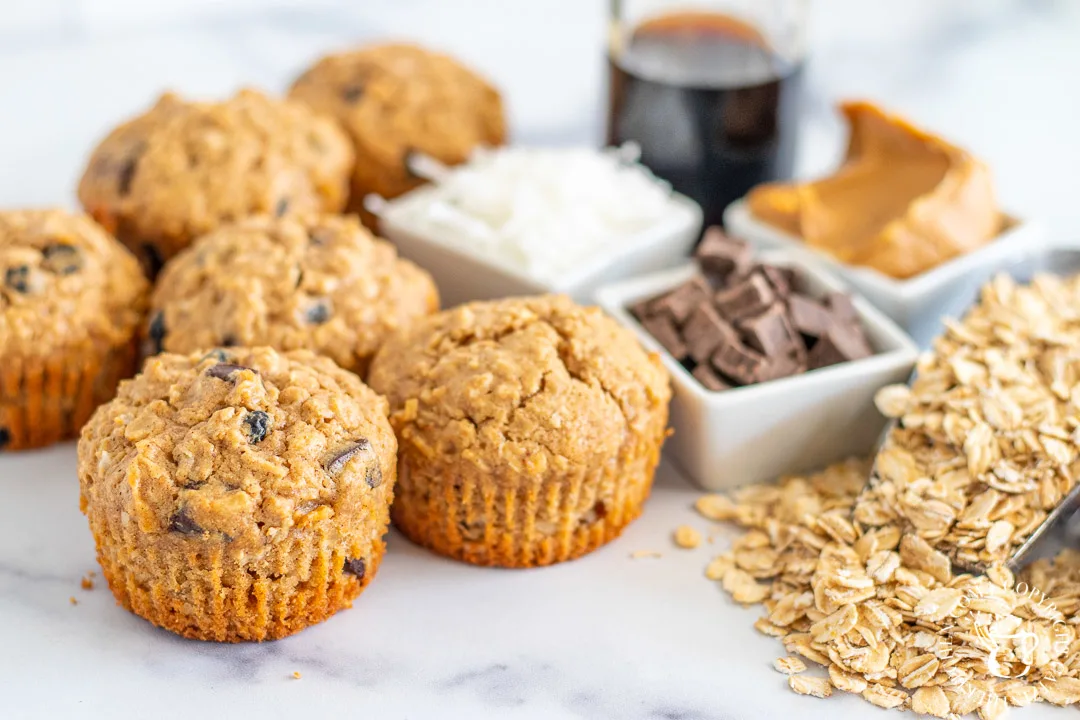 Feel free to include the kids in making these muffins too. It would be a great homeschooling class or something fun to do with your kid who's headed outside the home for school this year. But these muffins aren't just good for kids, they're also great for us adults because they have oats in them and oats can help manage your cholesterol (if that's something you need to keep an eye on!).
That's a win win for everyone, don't you think?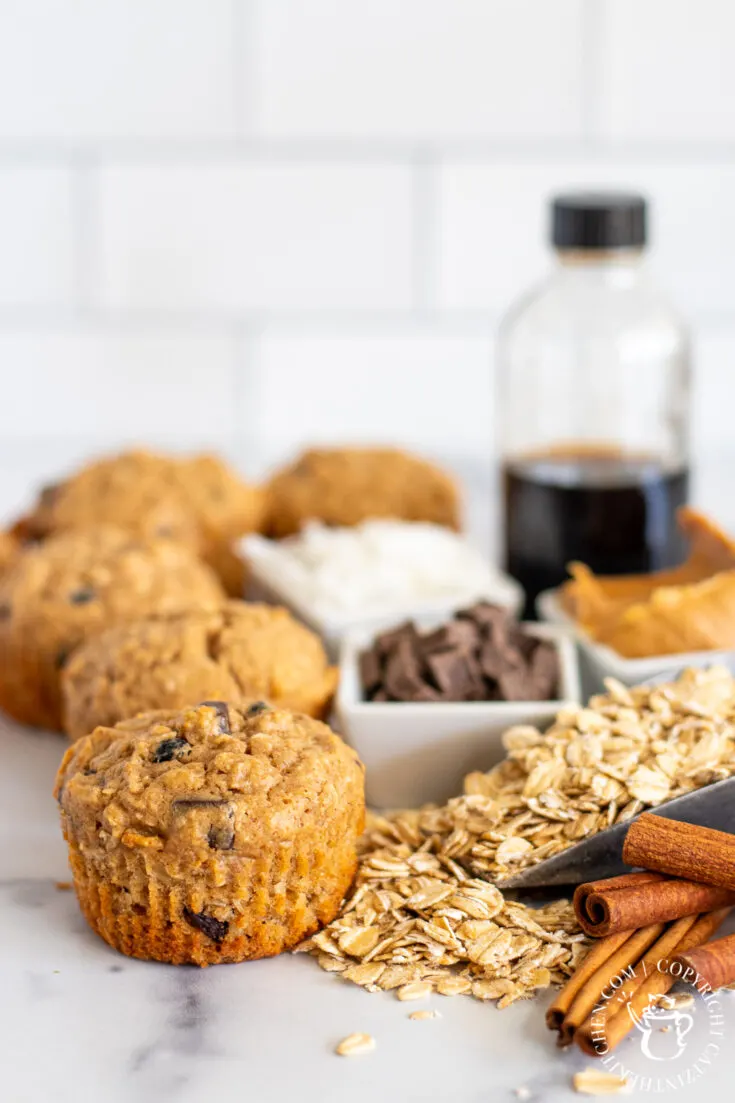 I would love to hear about how you adapted this recipe for your family. If you leave a comment below, that will help other readers, too. I want to hear how you guys liked them!
Happy Muffin making!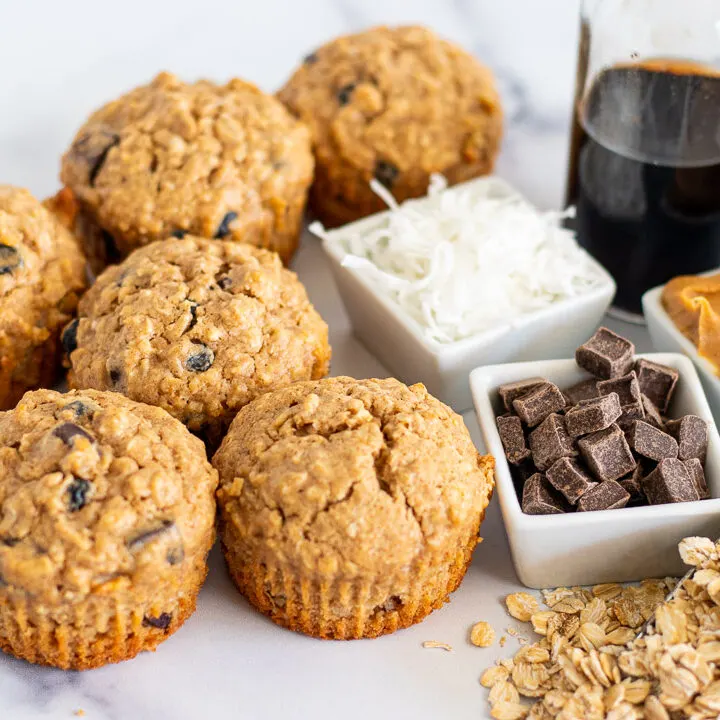 Peanut Butter & Chocolate Oat Muffins
This yummy recipe for peanut butter & chocolate oat muffins is a great healthy snack, and can be easily adapted to be gluten-free or paleo!
Ingredients
1 1/2 cups rolled oats
1 cup milk
1 cup all purpose flour
2 tsp baking powder
1 tsp ground cinnamon
1/2 tsp kosher salt
1/2 cup coconut oil, melted and slightly cooled
1/2 cup creamy unsweetened peanut butter
2 tsp pure vanilla extract
2 large eggs
1/2 cup pure maple syrup
3/4 cup dried blueberries
3/4 cup dark chocolate chunks
3/4 cup unsweetened shredded coconut
Instructions
Preheat oven to 400 degrees. Line your muffin pans with liners. In a medium bowl, combine the oats and milk and let soak for 20 minutes. While the oats are soaking melt the coconut oil.
In a separate bowl from oats, whisk together flour, baking powder, cinnamon, and salt. In a large bowl - Kitchen Aid mixing bowl with paddle attachment, beat together the cooled coconut oil. peanut butter, eggs, vanilla, and syrup until smooth. Add the oat mixture and the flour mixture, beat to combine. Gently fold in the dried blueberries, coconut, and chocolate. Using an ice cream scoop, scoop the batter into prepared muffin tin and fill till about two-thirds of the way full.
Bake until a toothpick inserted in the middle of the muffin comes out clean, about 22-25 minutes. Let muffins cool in pan briefly and then transfer to a wire rack to cool the rest of the day.
Notes
Swaps you can make (also see notes in body of post):
Rolled oats for GF oats, regular milk for almond milk, swap out half the flour for whole wheat flour, coconut oil for unsalted butter, peanut butter for almond butter, dried blueberries, for raisins or cherries.
As always, we are not experts in food substitions to support various allergies or diets, and make no guarantees to that effect. While we try to give ideas that will help and make it easier, please ensure you are taking all appropriate precautions when it comes to your own allergies, sensitivities, and dietary needs.
Recipe source: Adapted from Food Network Magazine
Nutrition Information:
Yield:

20
Serving Size:

1
Amount Per Serving:
Calories:

241
Total Fat:

15g
Saturated Fat:

9g
Trans Fat:

0g
Unsaturated Fat:

5g
Cholesterol:

20mg
Sodium:

122mg
Carbohydrates:

23g
Fiber:

3g
Sugar:

11g
Protein:

5g
Nutrition information isn't always accurate.