This simple recipe for chocolate muffins makes a great snack for the kiddos, a side for brunch, or an afternoon pick-me-up with your coffee!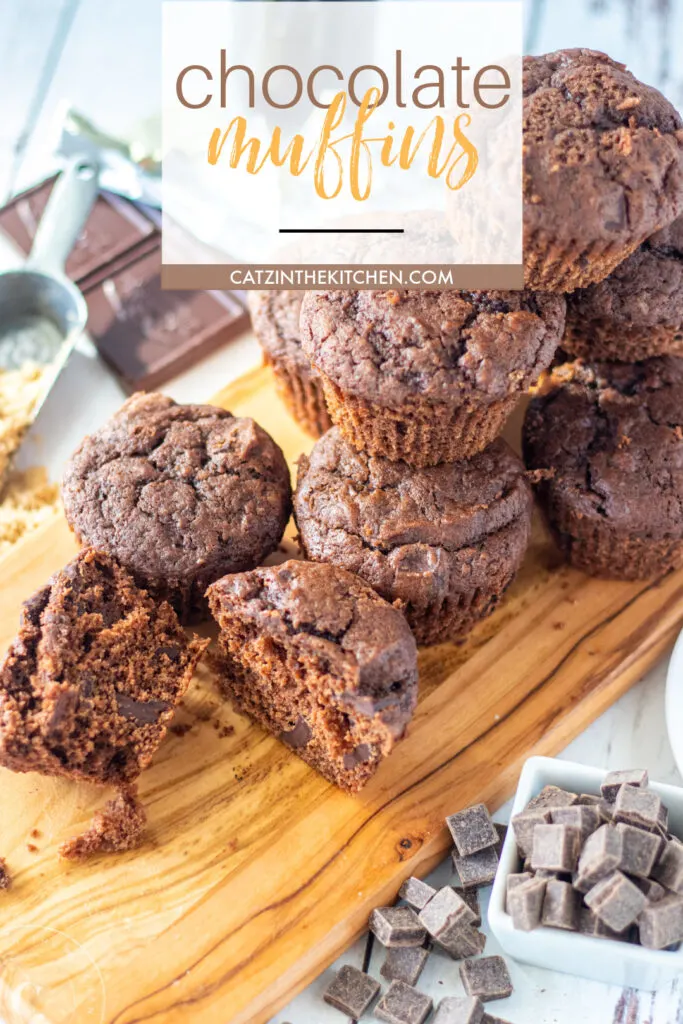 I absolutely adore having a great baked good around for snacks for my family. Whether it's banana bread, power balls, or even just a dang good cookie, kids just always seem to want a snack and I like to give them something other than processed, store-bought food whenever possible. My favorite snack to give to them is probably a homemade muffin with a side of fruit. Some of our favorite muffins to make are these peanut butter & chocolate oat muffins or these morning glory muffins.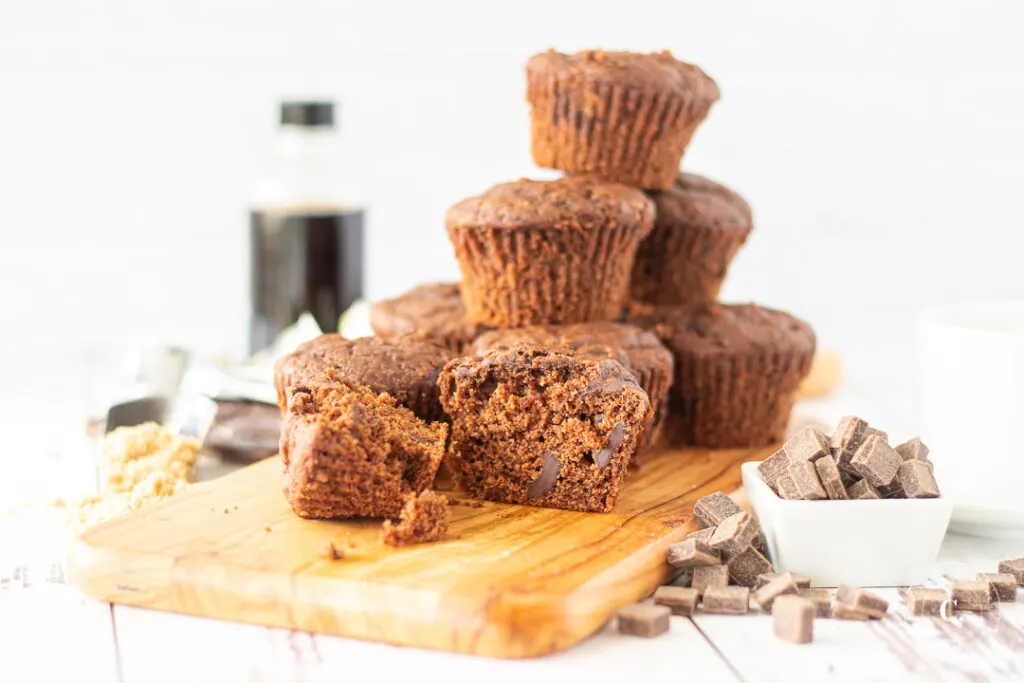 Yes, the muffins in this recipe have chocolate in them, but don't confuse them with a dessert cupcake. If you want a chocolate cupcake, I've got these devil's food cupcakes for ya! These chocolate muffins have good quality chocolate in them which isn't quite as sweet as a candy bar, and pantry ingredients that will have you whipping these up in no time!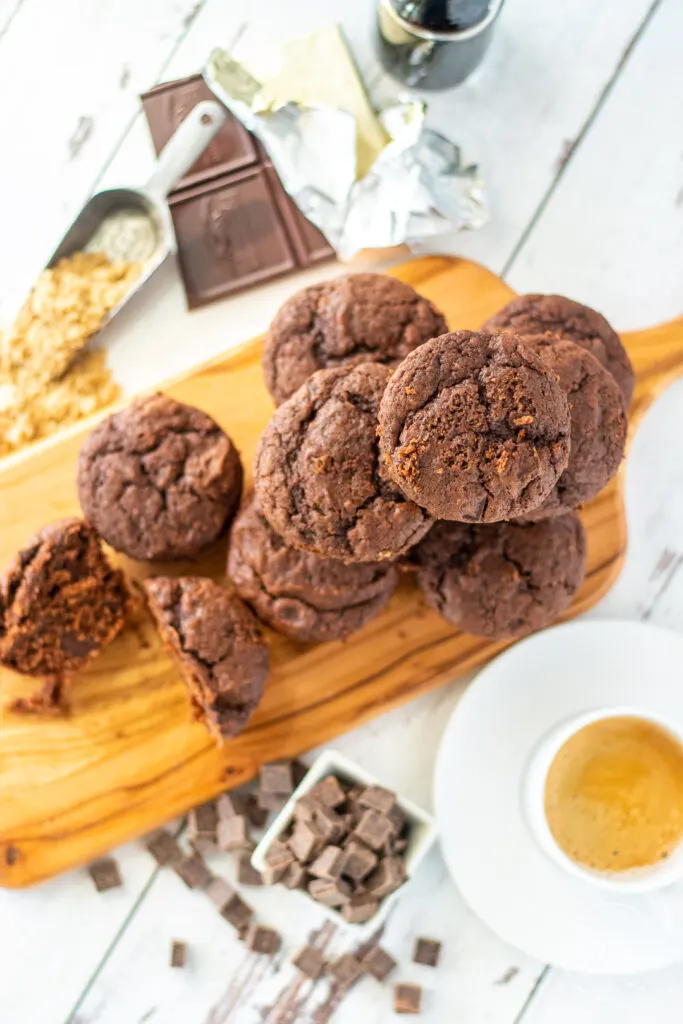 Of course, these chocolate muffins aren't just great for kids. They're great for us adults, too. Imagine a batch on the kitchen counter to go with your Saturday morning brunch or with a hot cup of coffee on a Tuesday afternoon…just a few thoughts. These are even a great snack to bring if you're making a meal for someone. They feel indulgent due to the chocolate, but they aren't quite so bad for you as maybe something you would buy from the store. (Although, when you're in a pinch you do you – I've been known to pickup store-bought muffins, too!)
A couple of things to keep in mind…I love a good pantry ingredient, right? I like to keep different kinds of chocolate on hand so that I can make treats like this whenever I want: semi-sweet, unsweetened chocolate, bittersweet chocolate, and chocolate chips, to name a few. Don't be alarmed if you see a gray coating on the outside of the chocolate bar. That is called bloom and it will disappear once either melted down or baked with, and the chocolate is still completely safe to use.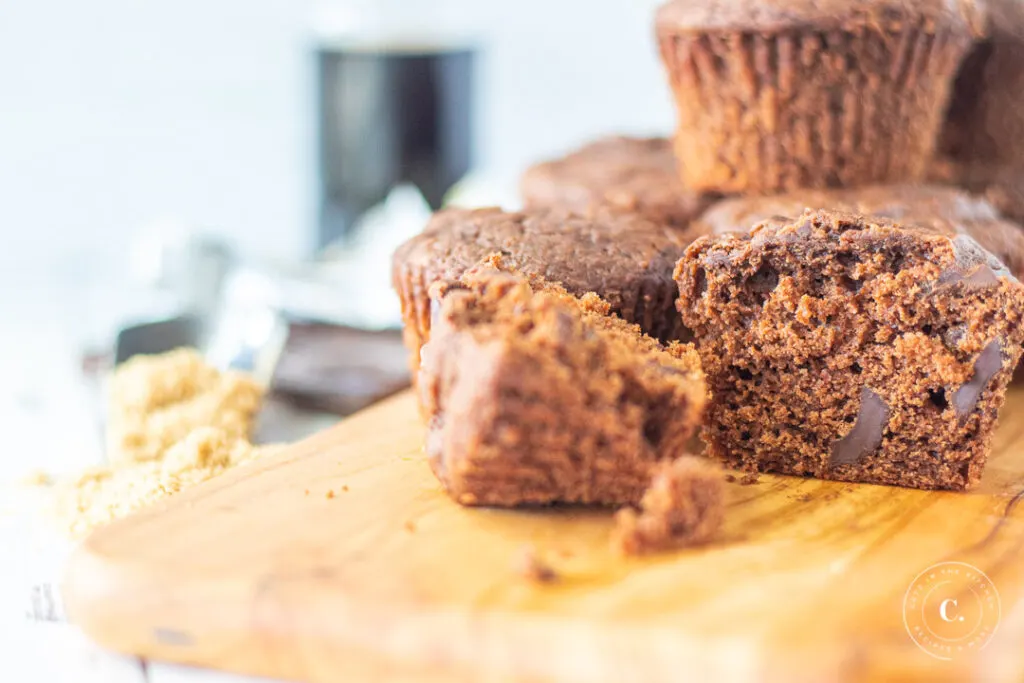 Another ingredient I feel strongly that everyone should get in the habit of buying and keeping in their fridge is buttermilk. This recipe calls for buttermilk, but there are a ton of other things you can use buttermilk for: our bran muffins, waffles, pancakes, doughnuts, pot pie, and biscuits.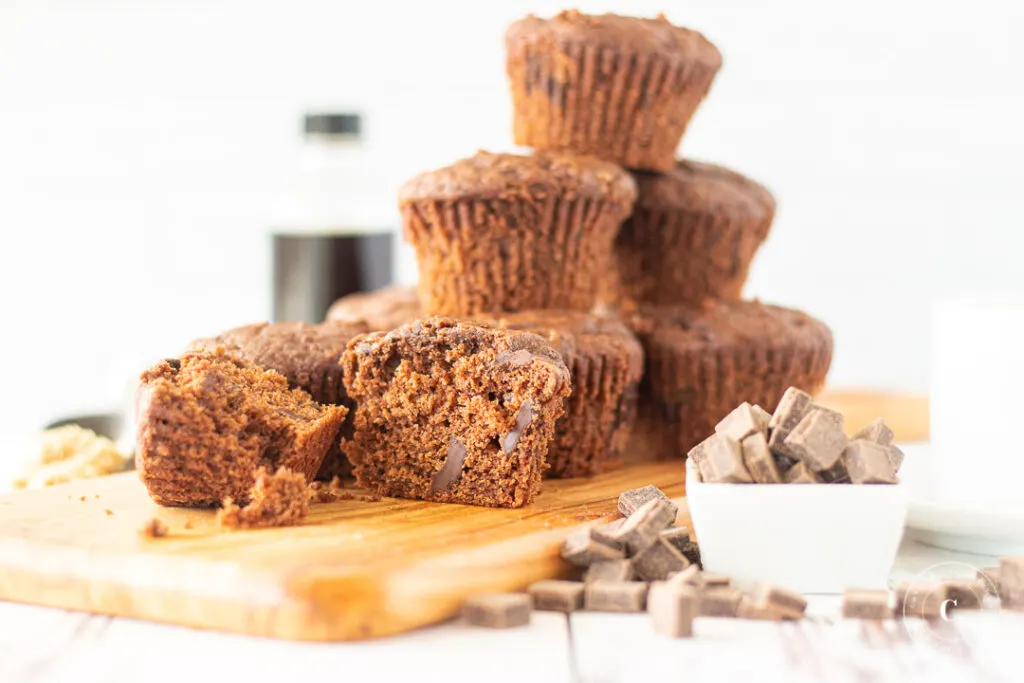 While I'm writing this blog post, it's hailing outside and there is nothing more that I would like than one of these chocolate muffins and a cup of coffee to go with this weather. It feels like the most perfect pick-me up! If that's not reason enough to go bake up a batch of these muffins, then I don't know what is!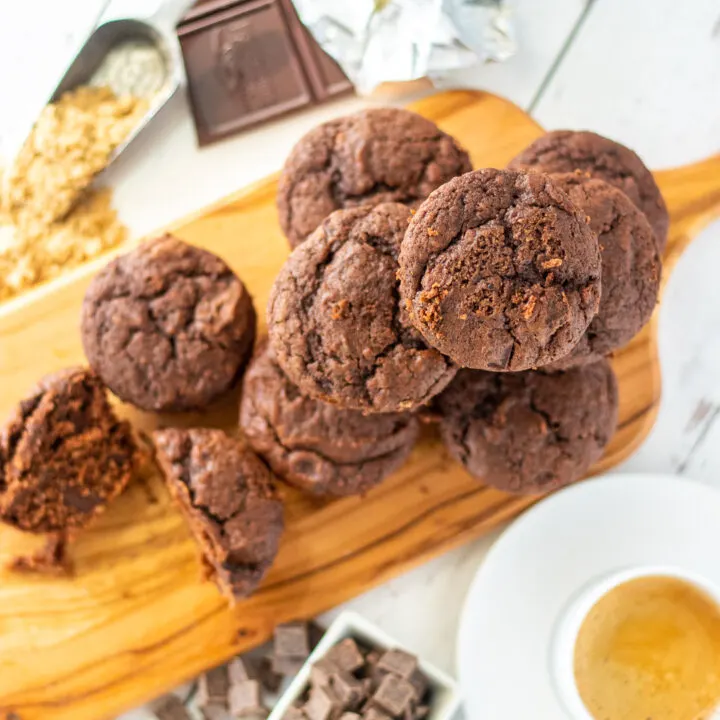 Chocolate Muffins
This simple recipe for chocolate muffins makes a great snack for the kiddos, a side for brunch, or an afternoon pick-me-up with your coffee!
Ingredients
6 ounces semisweet chocolate, chopped
1 stick unsalted butter, cubed
2 cups all-purpose flour
2 tsp baking powder
1/2 tsp baking soda
1/4 tsp fine sea salt
2 large eggs
3/4 cup (packed) brown sugar
2/3 cup buttermilk
1 tsp pure vanilla extract
1 cup chocolate chunks or chips
Instructions
Preheat oven to 350 degrees. Line a 12 cup muffin pan with liners. Melt the semisweet chocolate and the butter ingredients together in a double boiler and stir until smooth. Let cool slightly.
Sift together the flour, baking powder, baking soda, and salt. Set aside.
In a large bowl, whisk together the eggs and sugar until smooth, then whisk in the buttermilk and vanilla. Drizzle in the melted chocolate mixture, whisking constantly until smooth. Add the sifted flour mixture and stir with a wooden spoon until just combined; don't overmix. Stir in the chocolate chunks or chips.
Divide the batter between the muffin liners. Bake on a middle rack for 18-20 minutes or until a tester comes out clean when poked into the middle of a muffin. Cool on a wire rack before serving.
Nutrition Information:
Yield:

12
Serving Size:

1
Amount Per Serving:
Calories:

319
Total Fat:

18g
Saturated Fat:

10g
Trans Fat:

0g
Unsaturated Fat:

6g
Cholesterol:

55mg
Sodium:

246mg
Carbohydrates:

36g
Fiber:

2g
Sugar:

16g
Protein:

6g
Nutrition information isn't always accurate.