And now for something completely different… Yes, these are grapefruit buttermilk donuts, and yes, they will make you and your tastebuds dream of spring. Enjoy!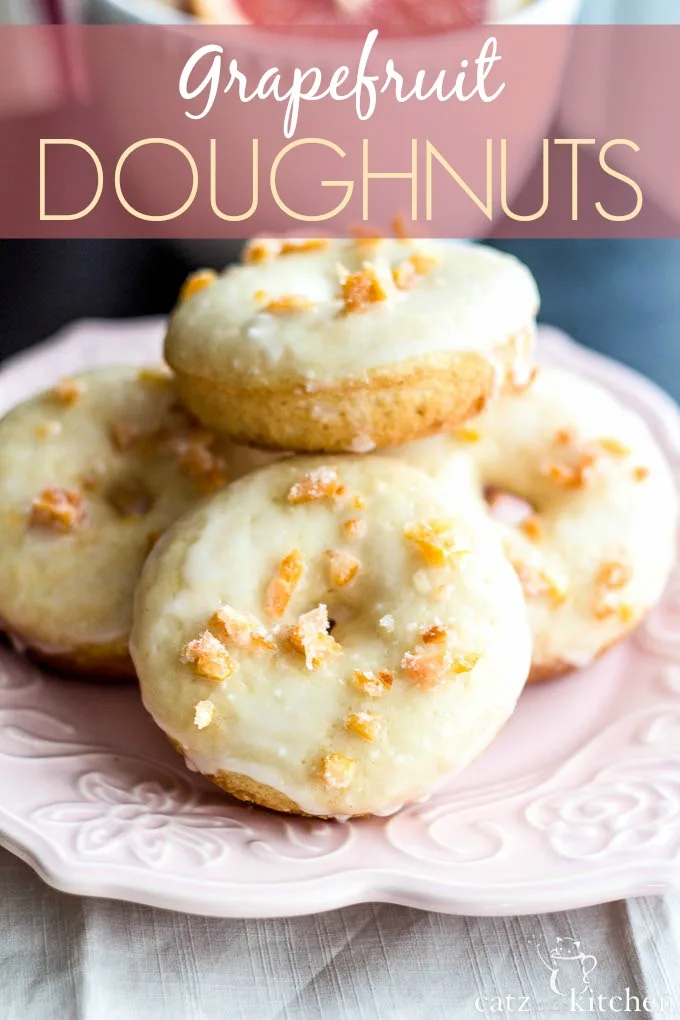 I feel like I've had a lot of dinner flops lately in the kitchen. On average, I'm making one-two new recipes a week. Sometimes I make them with the hopes that I can turn them into a post for Catz and other times, it's just something to feed my family for dinner. But, I feel like I've had A LOT of flops. It's probably only been like three or four recipes that didn't turn out, but ugh, I hate it! And I get snobby about it too. If it doesn't turn out, or the flavor is just to one-note, I simply won't eat it. I push my plate or bowl aside and look for something else. That's kind of terrible right?
Sometimes, you get a recipe that you know could be good and somehow you missed a step or the recipe ingredients need to be rethought, rethunked, rethinked? Anyways, the ingredients need to be polished up a bit. And when a recipe like that goes haywire, you know in the back of your head that you can salvage it and probably make it better. But then there are times when you find a recipe…say on Pinterest and the picture looks amazing. Delicious! You could practically like the screen-kind of good and then you make it, following the instructions to a T and it is bad, bad bad! And worst part about it, you have no idea how to improve it! So between those two types…I've had a few bad recipes. Life of a foodblogger, eh?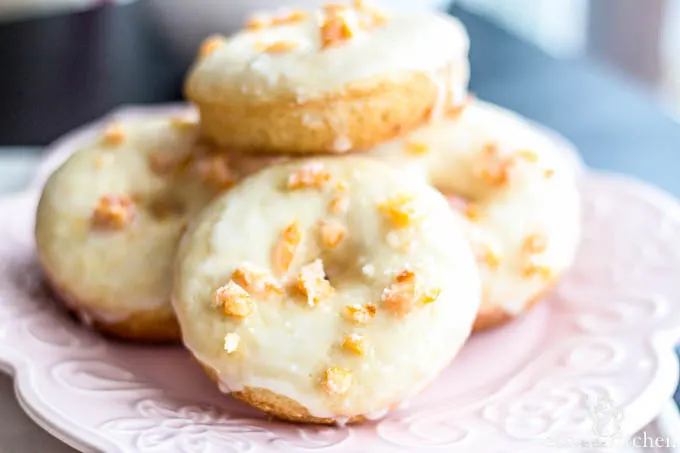 Thankfully, these doughnuts are not lacking in any area. The recipe is easy to follow. And the flavor?? WOW! I made these doughnuts back when we had a ton of snow dumped on us and I had so many doughnuts I ended up sharing with our neighbors and my parents who came by one afternoon. They are bright and cheery and make me wish spring was here, and I love winter, so that's saying something.
If you're in a winter funk and you need some cheering up, you should get yourself into the kitchen and whip these up!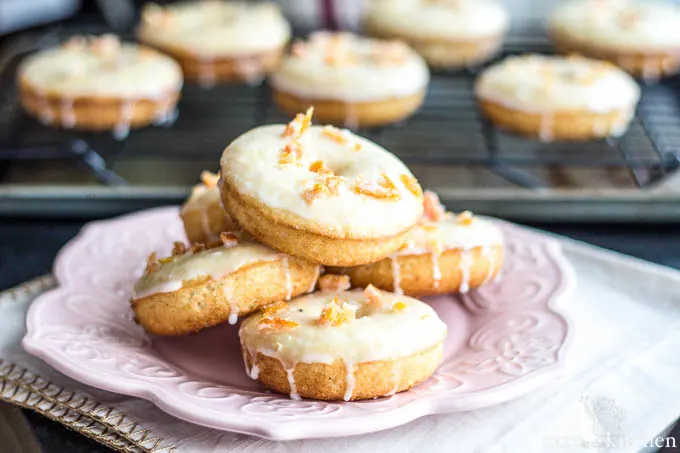 Grapefruit Buttermilk Doughnuts with Candied Zest
And now for something completely different... Yes, these are grapefruit buttermilk donuts, and yes, they will make you and your tastebuds dream of spring. Enjoy!
Ingredients
2 cups all purpose flour
2 cups sugar
2 tsp baking powder
1 tsp ground ginger
1/2 tsp salt
1 1/4 cups buttermilk
1 egg, lightly beaten
2 tbsp canola oil
1 tsp vanilla
2 grapefruits
1 cup powdered sugar
Instructions
Collect the zest from one grapefruit. Cut four two-inch long strips of the zest from the second grapefruit, and slice them thinly. Collect three tablespoons of juice from either or both of the grapefruits.
Use non stick cooking spray to coat two six-cavity donut pans.
Preheat oven to 350 degrees.
In a large bowl, combine flour, 1 1/2 cups sugar, baking powder, ginger, and salt, and mix well.
In a small bowl, combine buttermilk, egg, canola oil, vanilla, and the zest of one grapefruit, and whisk until combined.
Add the wet ingredients to the dry and stir.
Spoon batter into pans, filling each cavity to a bit over 3/4 full.
Bake for 25-30 minutes. Allow to cool in pan for five minutes before turning donuts out on a wire rack to cool completely.
In a small bowl, whisk powdered sugar and grapefruit juice until smooth, then set aside.
In a small saucepan, combine strips of zest, 3 tablespoons sugar, and 3 tablespoons water, and bring to a boil.
Reduce heat to a low flame, and simmer until sugar has dissolved. Strain.
Toss zest immediately in remaining unused sugar until coated.
Transfer to cutting board and chop.
Dip the top of each donut carefully in the glaze, then place on a wire rack glaze side up, allowing the excess to drip off. Sprinkle immediately with chopped zest.
Nutrition Information:
Yield:

12
Serving Size:

1
Amount Per Serving:
Calories:

296
Total Fat:

3g
Saturated Fat:

0g
Trans Fat:

0g
Unsaturated Fat:

3g
Cholesterol:

17mg
Sodium:

234mg
Carbohydrates:

64g
Fiber:

1g
Sugar:

46g
Protein:

4g
Nutrition information isn't always accurate.