Have some leftover holiday ham in the fridge? This buttermilk biscuit ham pot pie is a great way to use it up – besides being warm, homey, & tasty, too!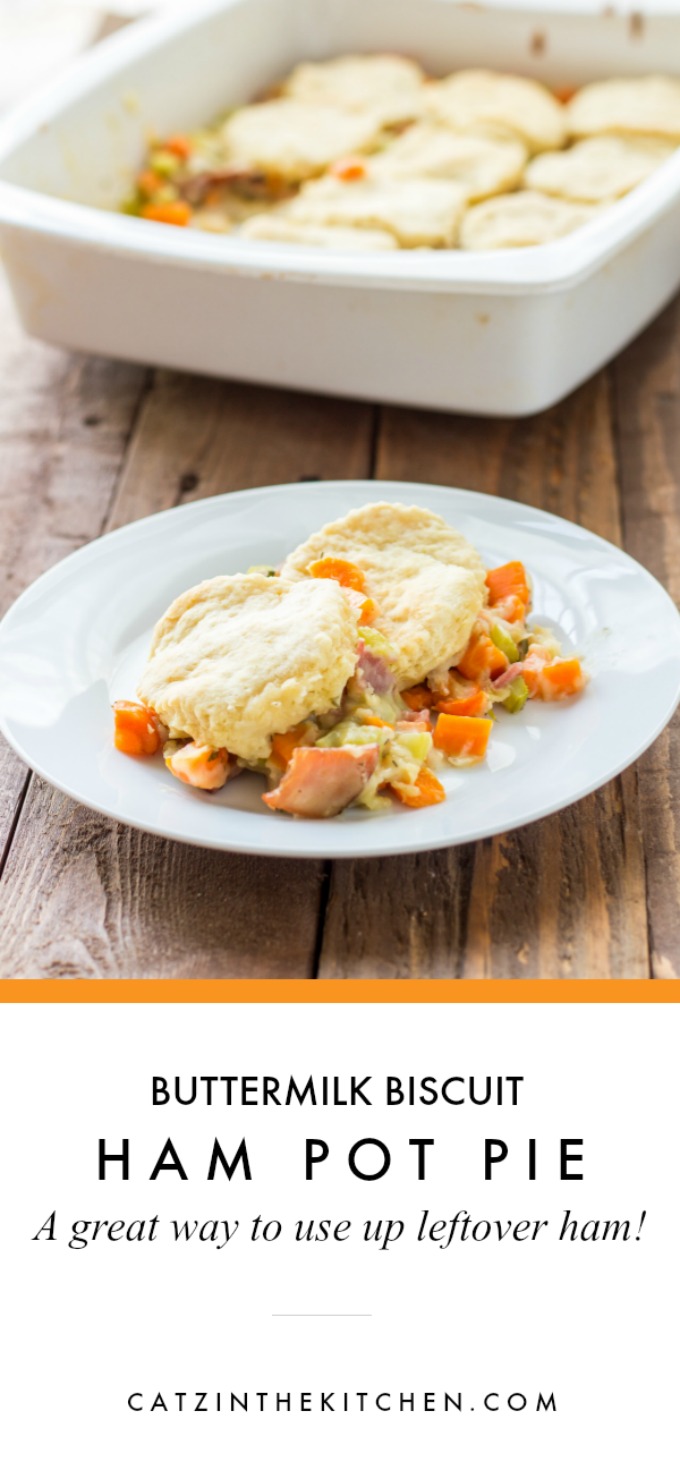 Okay, for a slight change, it's me (Grace) writing this post. I have been thinking of writing up one of the recipes I make for quite awhile. Why, might you ask, would I suddenly write this particular post? Well, I actually am the only person who has made this recipe (In my family, obviously, not in the whole world…).
I have made this buttermilk biscuit ham pot pie…three times, I believe. The first time, I made it for my family and my uncle. He had come over for dinner and I was especially nervous to be making something new, without help, and not just for immediate family. The kitchen was a disaster! In my dad's words, "It looked like a bomb went off." I'm pretty sure that's what he would say, anyway.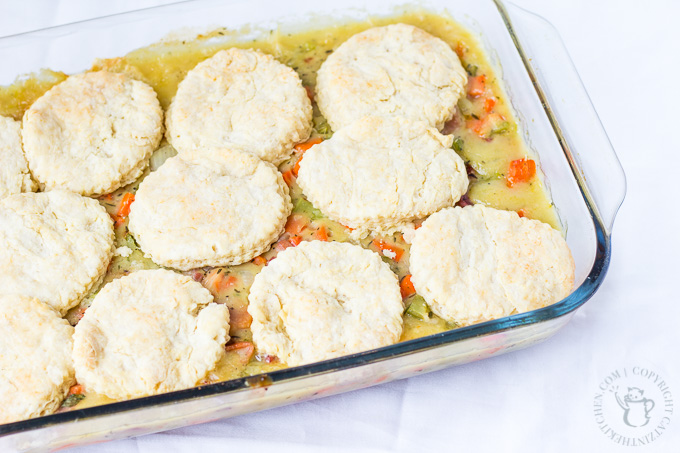 I had food all over my apron, dishes all over the kitchen, and, yes, I did burn a couple of things. Not exactly a pretty sight. Once it was in the oven, my dad did come in and do all the dishes! I was very grateful for that! I did not, however, allow anyone to help with dinner! Daddy offered several times, but I wanted to make it by myself.
Sadly, I didn't make enough biscuits to put on top the first time. Aside from that, however, it was a very successful dinner. I was very pleased, and I think everyone else was, too!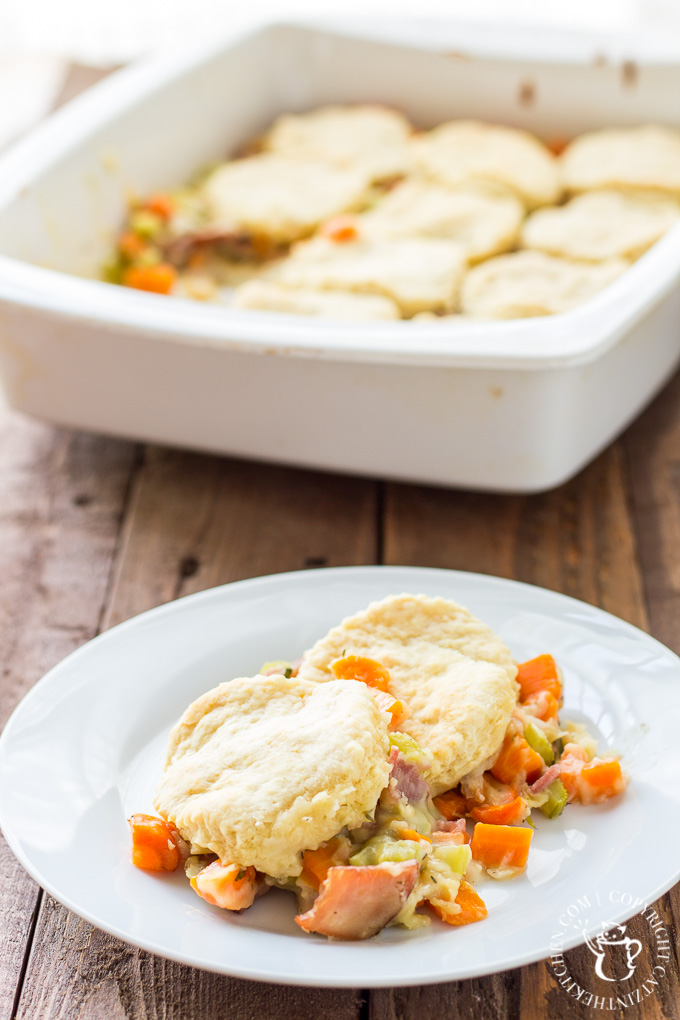 The next time I made it, I made plenty of biscuits, and did not make as much of a mess. Live and learn, right? And ham pot pie in the pictures? Yep, I made that! 13-year-old me. Not only is that pretty satisfying personally, but I would love to think another kid or teen might be encouraged to get in the kitchen, too. Let's face it – no matter what your career aspirations, we're all going to need to eat!
This is actually a pretty simple recipe. It has several layers of flavor, and the biscuits on the top are homemade and included in the recipe. I would recommend rolling out the dough several times to get the maximum number of biscuits (Hey, our family likes bread!). You want just enough to cover the top, but not so many that it becomes a cake.
I hope you guys enjoy it as much as we did! Merry early Christmas!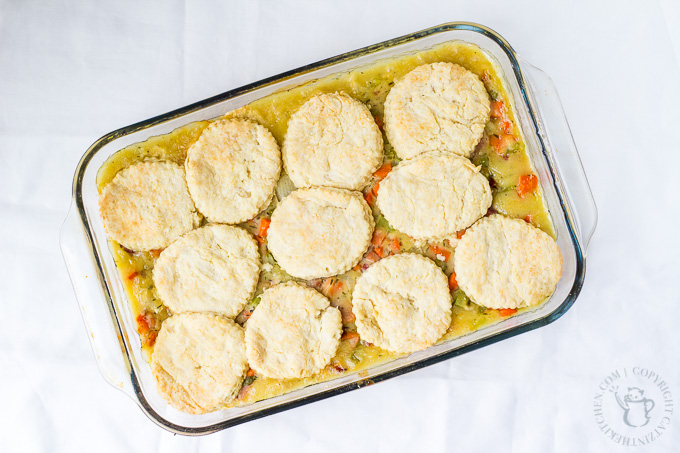 Buttermilk Biscuit Ham Pot Pie
Total Time:
1 hour
10 minutes
Have some leftover holiday ham in the fridge? This buttermilk biscuit ham pot pie is a great way to use it up - besides being warm, homey, & tasty, too!
Ingredients
Filling
5 celery ribs, diced
1 medium onion, diced
4 medium carrots, diced
2 tbsp extra virgin olive oil
1/4 cup unsalted butter, cubed
1/2 cup flour
1 carton (32 oz) chicken broth
1 tsp dried thyme
2 cups cooked ham
1 tbsp chopped fresh tarragon
1/4 tsp salt
1/4 tsp pepper
Biscuits
2 cups flour
1 tbsp baking powder
1/2 tsp kosher salt
2/3 cup unsalted butter, cubed
3/4 cup buttermilk
Instructions
Preheat the oven to 425. Grease a 9x13 baking dish and set aside.
Mix the celery, onion, and carrots in the oil. Put in and spread out on a cookie sheet and place it in the oven for 20-25 minutes. Give it a stir every few minutes, when slightly brown take it out and cool.
Take the oven temperature down to 350. While you are waiting, get out a large saucepan.
Melt the butter and then add the flour, whisking until smooth. Then whisk in the chicken broth. (You may not need it all) sprinkle in the thyme.
Bring it to a boil, and stir without ceasing; lower the heat and simmer, about 10 minutes.
Add all the browned vegetables, ham, tarragon, salt and pepper, cook until it is all heated through. Pour the filling into the prepared baking dish.
For the biscuits, put the flour, baking powder, salt, and baking powder in a food processor. Add the butter and pulse. The butter should look like peas.
Put it in a medium sized bowl and add buttermilk. Use your hands or a wooden spoon, to stir it until the flour is incorporated.
Flour a surface, and put the dough on it. Knead the dough a few times. (10 should be enough.) Roll out the dough into as much of a rectangle you can manage. Cut into whatever shapes you want. You may have to repeat this process a few times to get enough biscuits. Lay the biscuits out over the filling, overlapping a little bit. Bake in the oven for 25-30 minutes, or until golden brown. Let cool for about 10 minutes before being served.
Nutrition Information:
Yield:

8
Serving Size:

1
Amount Per Serving:
Calories:

446
Total Fat:

27g
Saturated Fat:

14g
Trans Fat:

0g
Unsaturated Fat:

11g
Cholesterol:

79mg
Sodium:

854mg
Carbohydrates:

37g
Fiber:

2g
Sugar:

4g
Protein:

14g
Nutrition information isn't always accurate.