This tropical chicken kabobs recipe with a pineapple honey dipping sauce is a perfect way to enjoy gathering around your grill this summer!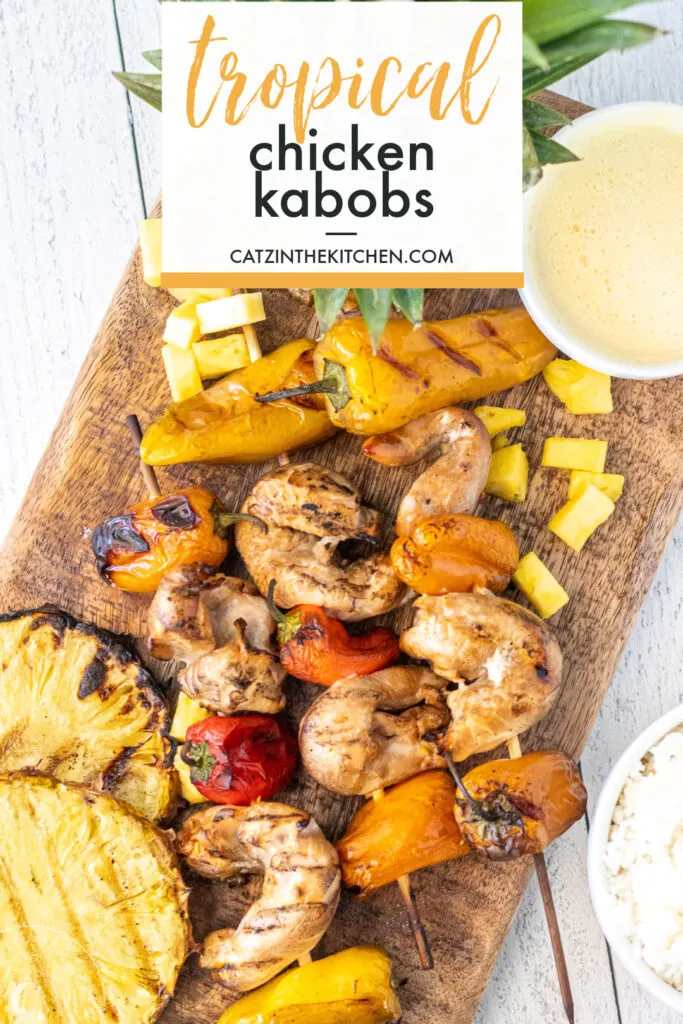 Our family loves an easy summer skewer / kebab / kabob recipe! Call them what you like, but they're easy to love – generally a simple marinade and some combination of protein and vegetables, or even fruit! Thread the ingredients on a skewer, throw that skewer on the grill, and a few minutes later you've got dinner. Our kids think they're fun to eat, Chels and I think you can develop some terrific flavors as the ingredients get a little smoky and caramelized, and food on kabobs has a tendency to be easy on the eyes to boot!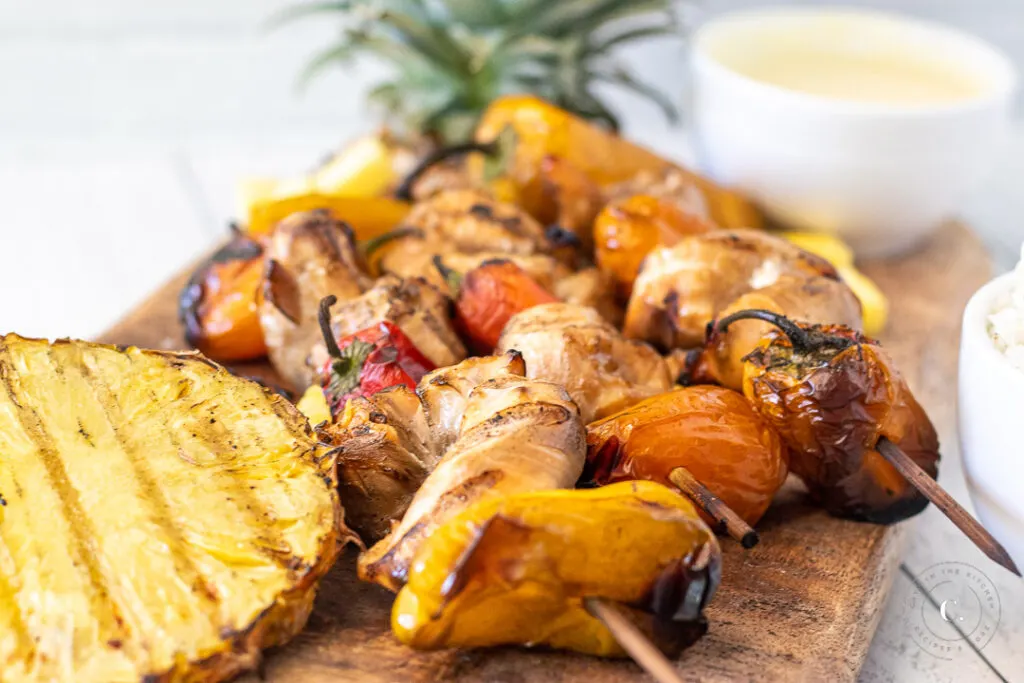 These BBQ Chicken Skewers are one of our all-time family favorites, introduced to us by Grace when she was only about 10 years old, cooking through a kids' cookbook of hers and Eden's. More recently, we blogged these Curry Ginger Chicken Kabobs, which are just a total flavor explosion. Today's recipe falls somewhere in-between, I would say – a little more sophisticated than the simple, summery goodness of the BBQ chicken recipe, but sweeter and sunnier than the slightly more exotic curry ginger take. We love this recipe for tropical chicken kabobs…and we think your family will, too.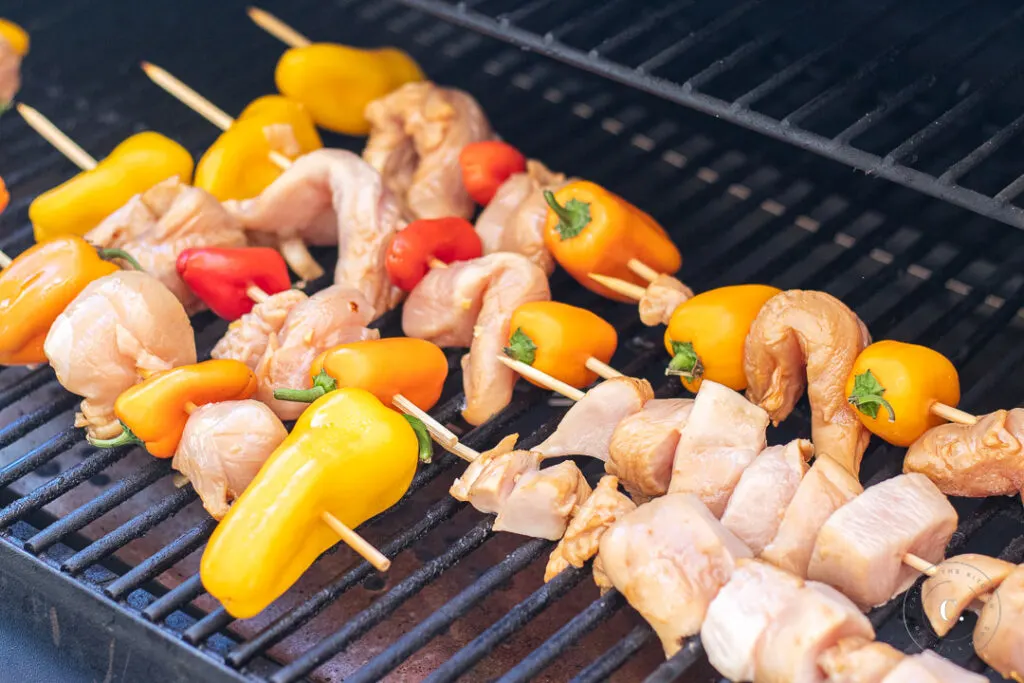 I grilled this on my Traeger, but you absolutely don't need one for this recipe – you can literally grill kabobs on pretty much anything, up to and including a grate thrown over an open fire! You want things to get just a little scorched, with some nice smoky grill marks showing up on the chicken and the peppers. Precision is not the name of the game here. Just make sure your chicken is cooked to a safe temperature, and you're in business.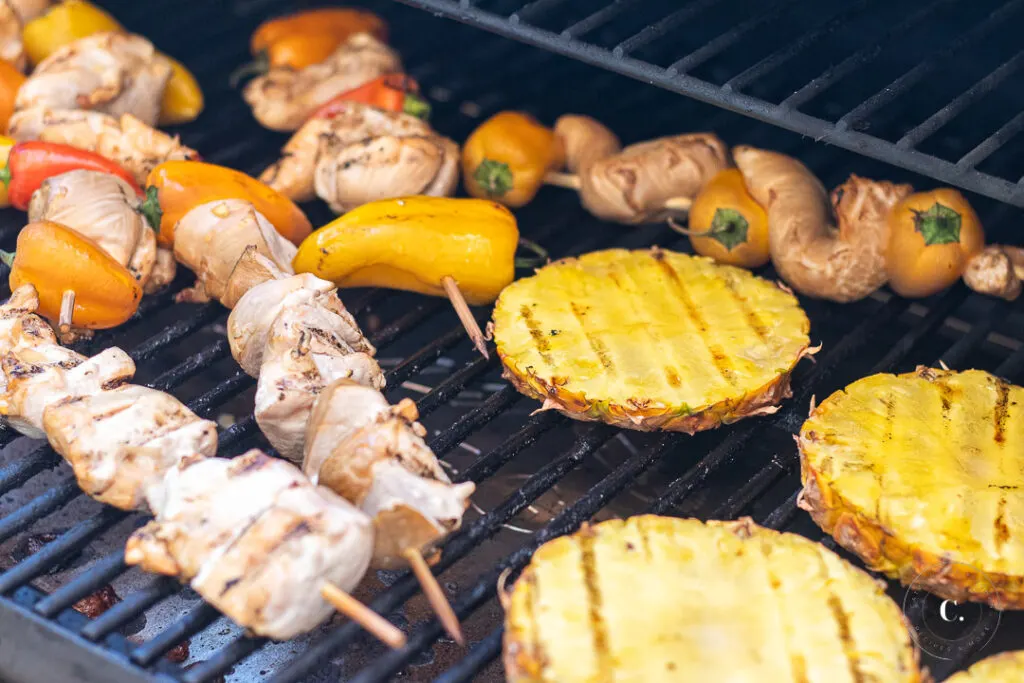 The marinade is both simple and very forgiving. Too often we go to make a recipe for dinner, only to realize that we had to start the marinade the night before! I know, shame on us for not reading the recipe more closely ahead of time, but you would not believe how often this happens! Not with this recipe. If you remember to prep it a couple hours ahead of time, great, but if all you have is 30 minutes, that will work just fine – you'll still develop some remarkable flavor on the chicken in that time.
We chose to accent the chicken on the skewers with mini sweet peppers, which have become almost a staple ingredient in our home during the summer months (you'll find them in our Chipless Nacho recipe, as well as this Mini Stuffed Peppers recipe from a few years back). These sweet little treats are incredibly easy to find – most supermarkets carry them, and I've even seen them in Target! You could also use bell pepper here, and even pineapple chunks, if you felt so inclined.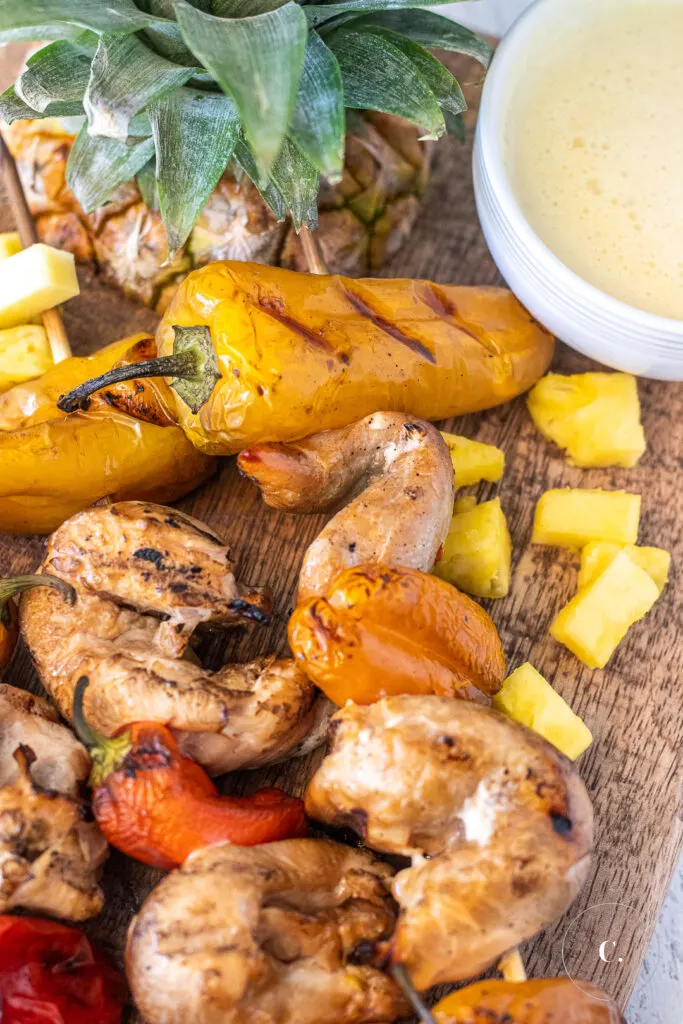 Alongside the kabobs, we grilled up some pineapple slices brushed in coconut oil, and whipped up a quick honey pineapple yogurt sauce for dipping. While you could certainly just throw some rice in the rice cooker and serve your kabobs over that (and we did serve them over rice as well), the grilled pineapple and the dipping sauce really dial up the "tropical" taste and feel of this meal.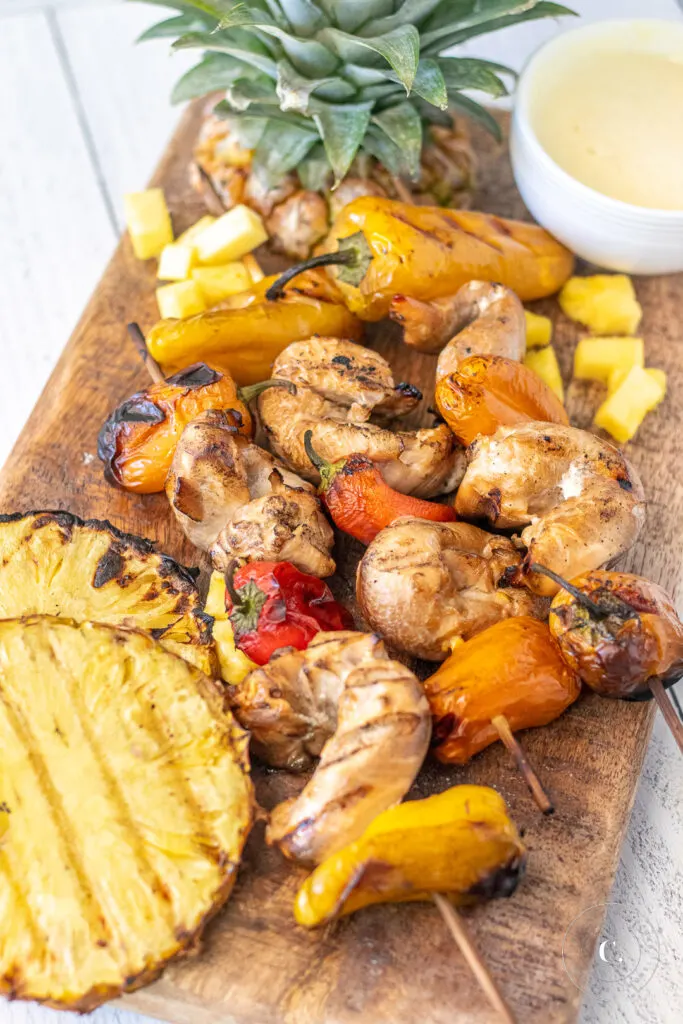 That's it! Go throw this simple marinade together, fire up the grill, and enjoy this delectable bite of summer before the warm months are over and we're all pumpkin and soups and stews again! Okay, those things are great, too, but until fall is actually here, I'll be soaking up whatever remaining sun I can get over a plate of these tropical chicken kabobs…
Tropical Chicken Kabobs
This tropical chicken kabobs recipe with a pineapple honey dipping sauce is a perfect way to enjoy gathering around your grill this summer!
Ingredients
Kabobs
2 lbs chicken tenders (chicken breast or thighs would work, too, cut into strips or chunks for threading)
32 oz bag mini sweet peppers
1 cup pineapple juice
1/2 cup brown sugar
1/3 cup low-sodium soy sauce
2 tbsp sesame oil
2 cloves garlic, minced
1 tbsp fresh ginger, grated
1/4 tsp crushed red pepper
1/4 tsp salt
Dipping Sauce
1/2 cup pineapple chunks
1/4 cup plain greek yogurt
2 tbsp honey
Instructions
Combine pineapple juice, brown sugar, soy sauce, sesame oil, garlic, ginger, and red pepper in a small bowl and whisk until sugar is dissolved.
Place chicken in a large ziploc bag, add marinade mixture, seal bag, set bag in medium bowl (in case of leaks), and place in refrigerator for at least 30 min, and up to 2 hours.
If using wooden skewers, soak in water for 30 min prior to threading chicken and peppers (you'll most likely need 6-10).
When ready to grill, preheat to medium high (about 375 degrees). Thread chicken and peppers onto skewers and sprinkle with salt.
Grill skewers for 5-7 minutes per side, or until juices run clear and a safe internal temperature is reached.
While chicken is grilling, use a blender to combine dipping sauce ingredients until smooth.
Serve immedaitely, on or off of skewers, with dipping sauce on the side. If desired, serve with grilled pineapple or white rice.
Nutrition Information:
Yield:

6
Serving Size:

1
Amount Per Serving:
Calories:

674
Total Fat:

30g
Saturated Fat:

5g
Trans Fat:

0g
Unsaturated Fat:

22g
Cholesterol:

70mg
Sodium:

1827mg
Carbohydrates:

69g
Fiber:

5g
Sugar:

35g
Protein:

33g
Nutrition information isn't always accurate.