These curry ginger chicken kabobs are perfect for summer – healthy, fresh, & smokey! If your family loves skewers, give this recipe a whirl!
What do you call food on a stick? Shish kebabs? Kabobs? Kebabs? Skewers? The census on IG the other day was most people (who responded) call them kabobs. But there were a few who messaged me and said they grew up calling them shish-kebabs.
We're going to go with kabobs today. But if you refer to them as skewers or shish-kabobs/kebabs in your home, go on with your bad self!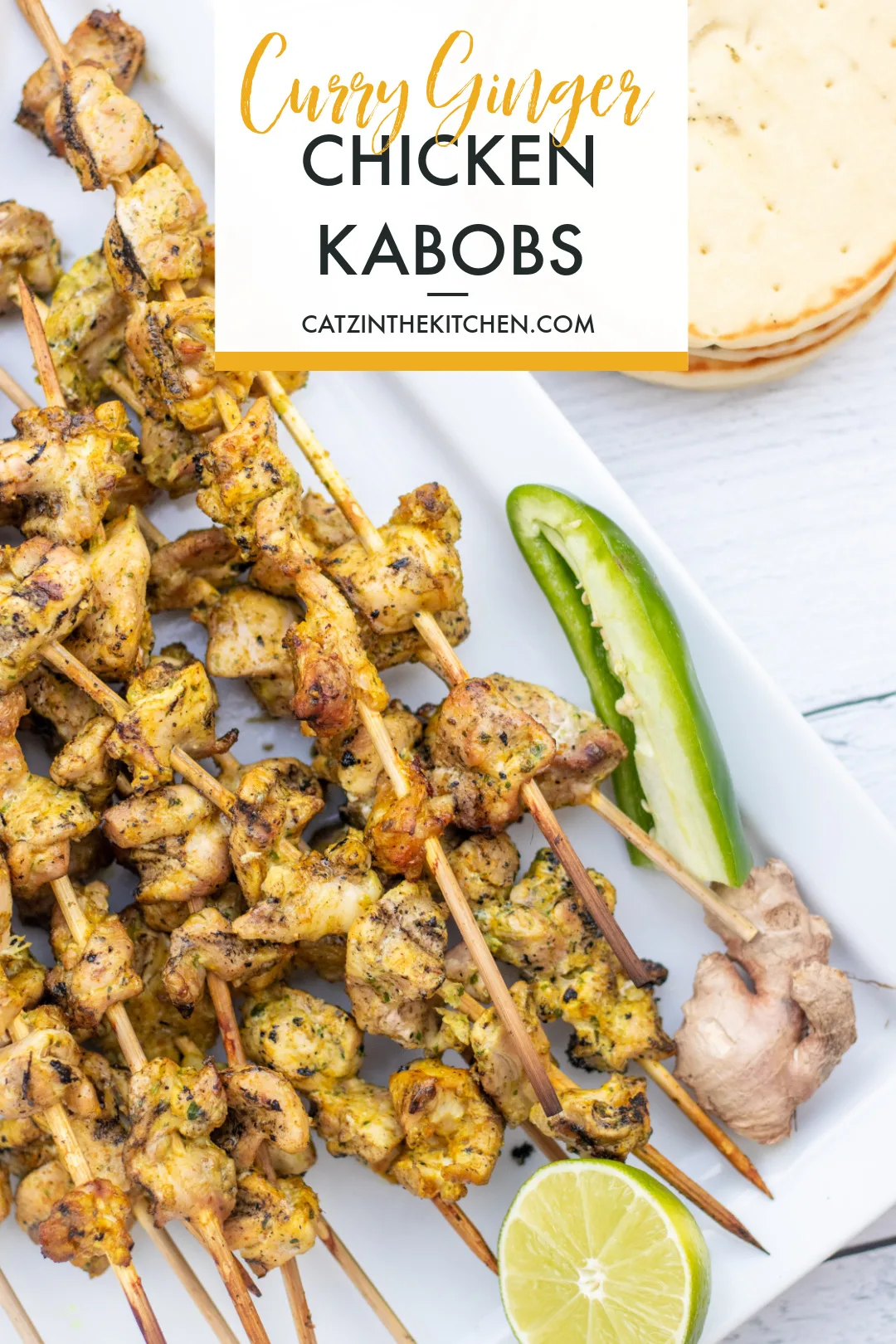 Today, I'm serving you up these flavorful and easy (despite using the blender to make a sauce) curry ginger chicken kabobs. This is a family-friendly, kid-friendly recipe. My kids are ordinary, everyday kids with normal tastebuds, just like most kids. While I have worked hard to cultivate a certain appreciation for foods and flavors, there are still some things my kids don't like. Eden doesn't like cilantro (which is in this recipe – but it's in the sauce). Grace doesn't like avocados. Christian doesn't like parsley, and Ruby doesn't like mustard. I don't like red onions, and Josh doesn't care for mushrooms very much. We all have our things. And that's okay. One of the things I really like doing is using the ingredients we don't like very much and trying to cook them different ways so that maybe I can crack the code. I did this with Brussels sprouts because Josh didn't enjoy them, and now he likes them a lot, when prepared in specific ways.
So this recipe has cilantro, curry, and ginger in it. Three ingredients that your family may not like or may not be accustomed to enjoying. But I think this recipe would be a great way to ease them into it because all of those ingredients are in the sauce.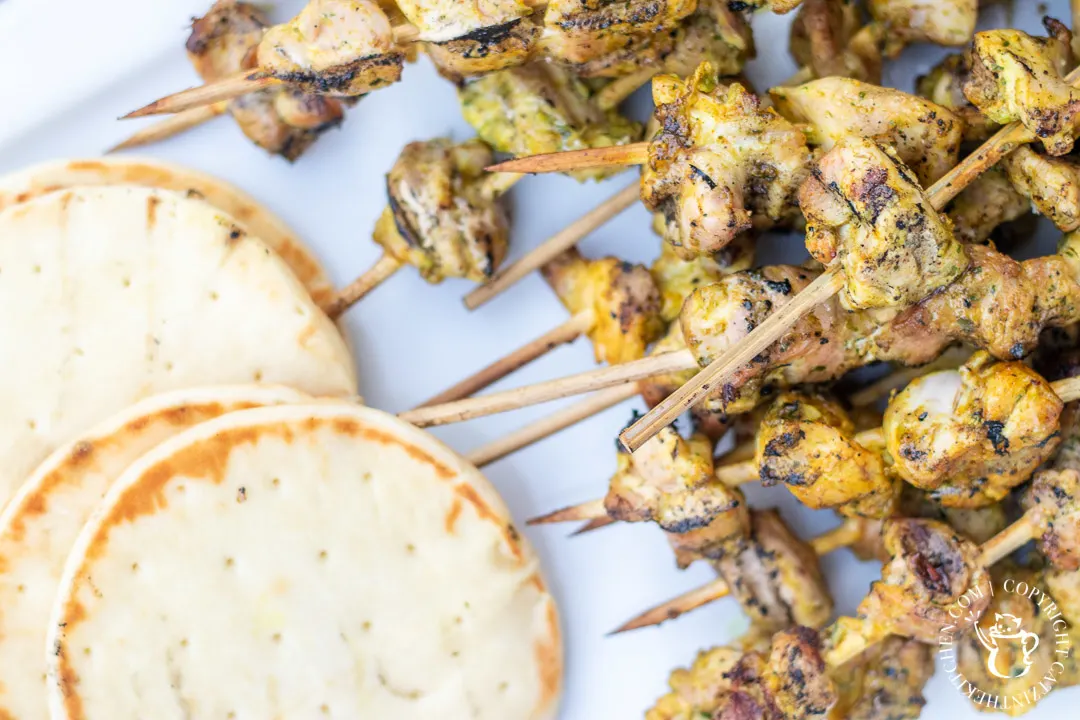 The sauce has a base of yogurt – you can use any plain yogurt you like (I've used greek and regular in this recipe). Sour cream would be another option, but it would also make the sauce a bit thicker. In a pinch, it would work. Cilantro, fresh ginger, lime juice, salt and pepper, and…half a jalapeño pepper that is seeded with the ribs removed all get blended together. If you wanted more heat, a serrano would work. BUT, if your kids are anything like mine, spicy is the enemy. A jalapeño pepper can pack quite the punch for the kiddos, but if you remove the seeds and ribs, it actually becomes a pretty mild pepper. Plus, I just didn't tell my kids that I put it in the sauce and they were none the wiser. In fact, they loved the sauce.
Recipe Prep is pretty minimal here. The sauce items basically get a rough chop before being blended. I'd say the most time consuming part of this whole dinner is the cutting of the chicken and threading the skewers (uh, kebobs). But put on some music and send the kids outside and you'll be surprised how fast it can move along when you're undisturbed. One thing to note, if you're using wooden skewers, make sure you soak them for at least 30 minutes before using. I like to just throw a bunch in a 9×13 pan and cover them with water. Whatever doesn't get used, I place in a tall cup to dry out so I can use them again. I also make sure that I keep one hand clean of chicken so I don't cross-contaminate my work space.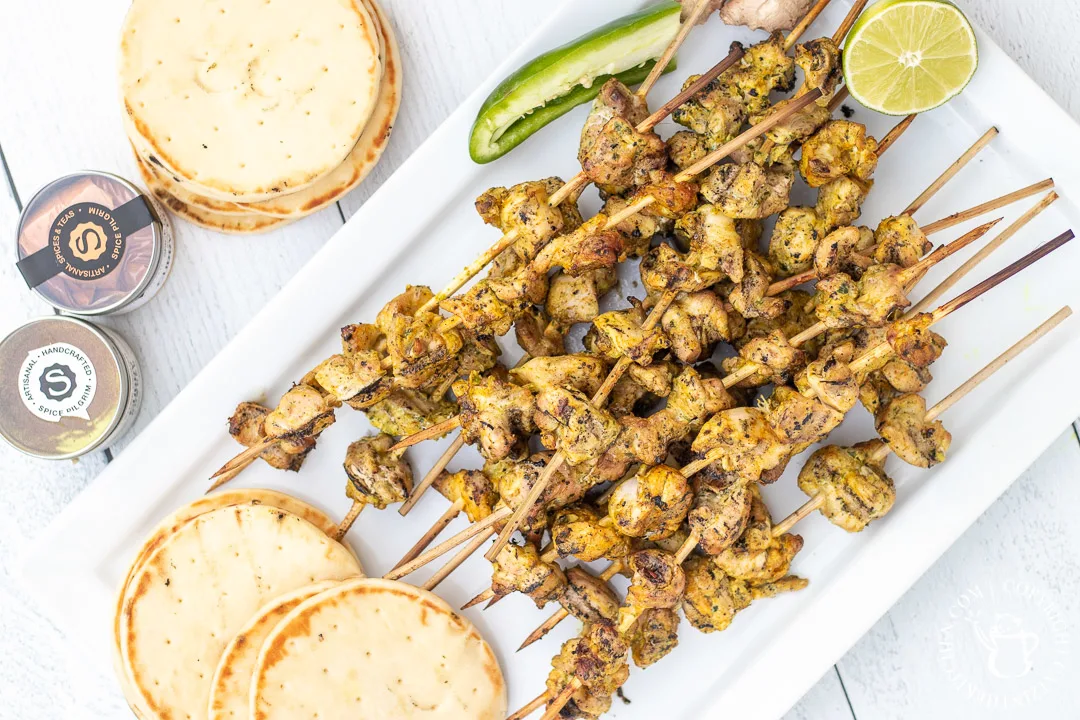 With any meal that has flavors that are a bit more middle-eastern, I like to serve naan on the plate. It makes the whole meal feel a bit more authentic, it tastes great, and the kids (and Josh!) love it. My favorite brands are Stonefire or Atorias. Look for those at the store. I like the ingredients, flavor, and they grill up real nice, too.
Now, you can decide what else you want to serve on the side. I have a coconut rice (recipe coming soon) that is really simple and pairs well with this meal, and any veggie that can be grilled is also great. Green beans, corn on the cob, even a salad would work. My kids don't always like to eat salad, which is why I opt to have a veggie that can be grilled instead.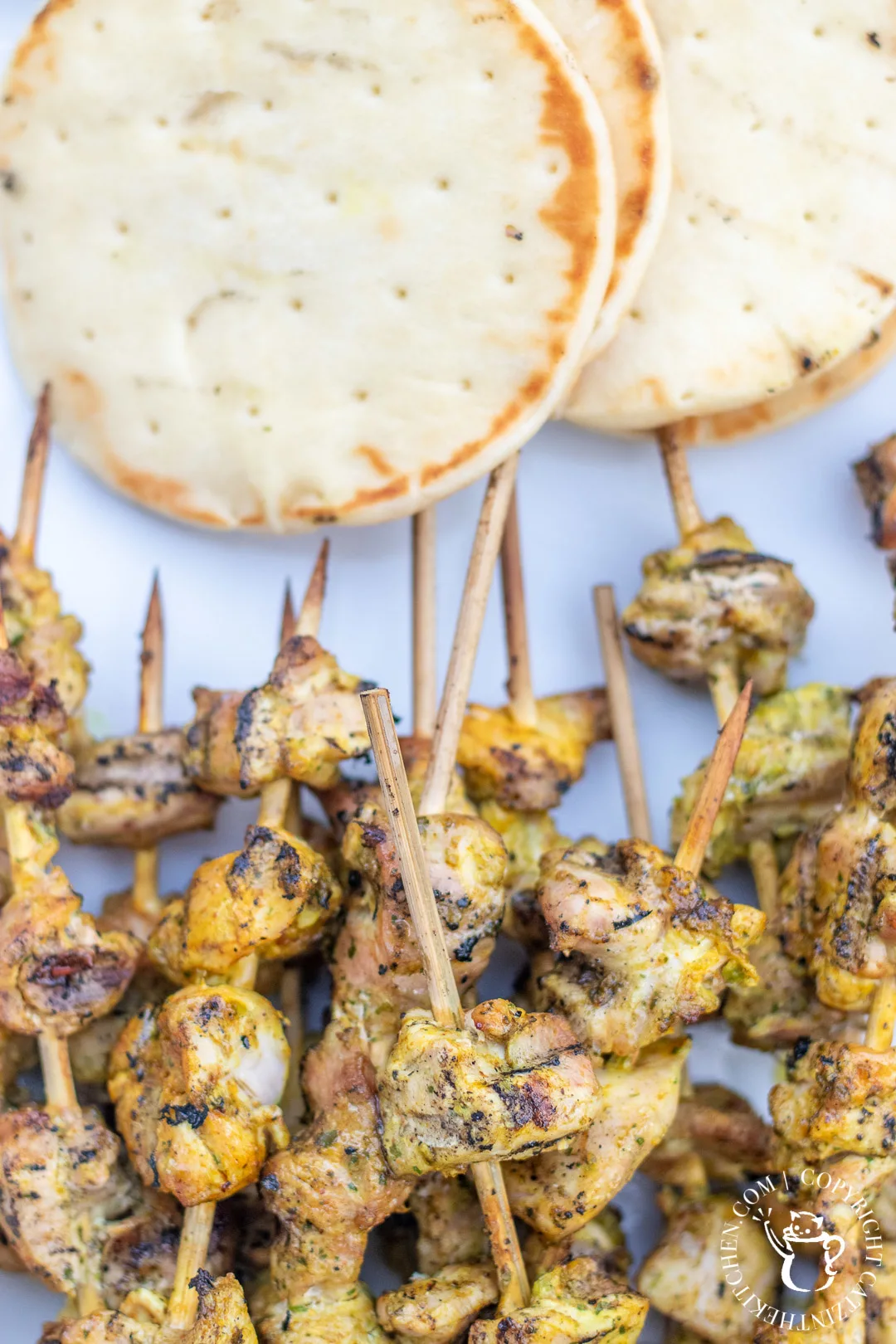 I should note, one more thing I absolutely love about this recipe is that there is no marinating the chicken in advance required! You certainly could if you have the time and want to infuse max flavor, but I didn't and it just made it easier for me – less planning ahead!
This dish is so perfect for summer. It's healthy, it's pretty, and it tastes so herby, fresh, and smokey. If your family loves kabobs, give this one a whirl!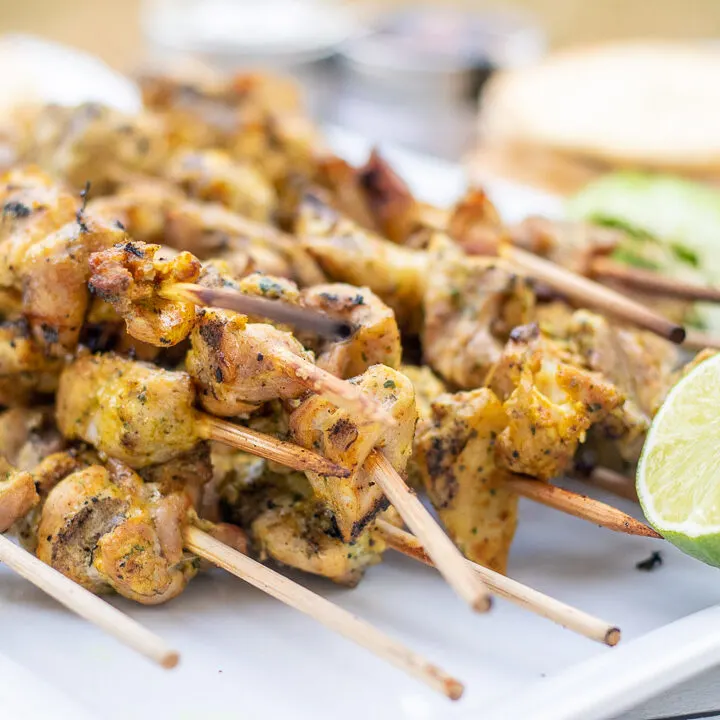 Curry Ginger Chicken Kabobs
These curry ginger chicken kabobs are perfect for summer - healthy, fresh, & smokey! If your family loves skewers, give this recipe a whirl!
Ingredients
1 cup plain whole -milk yogurt
1 1/2 cups fresh cilantro (leaves and stems)
1/2 jalapeño pepper, seeded and ribs removed
1 1/2 tbsp finely chopped fresh ginger
1/2 lime, juiced
Kosher Salt and pepper
3 lbs skinless, boneless, chicken thighs, cut into 1 1/2 inch pieces
2 tbsp curry powder
4 tbsp unsalted butter, melted
Instructions
Preheat grill to medium high. In a blender, combine the yogurt, cilantro, jalepeno, ginger, lime juice, 1 tsp salt, and some pepper. Blend until smooth. Set aside. In the bowl with the cut up chicken, pour in half of the reserved sauce and the curry powder and toss until the chicken is coated. Set aside the remaining sauce for serving.
Thread the chicken onto metal skewers about 5-6 pieces per skewer or you can use wooden skewers. Just make sure they've soaked in water for at least 30 minutes before placing them on the grill. Leave space inbetween each piece. Brush the kebabs with melted butter and season with salt and pepper.
Grill the skewers, turning occasionally, until lightly charred and cooked through, 12-15 minutes for the chicken. Grill the naan until lightly charred, about 1 minute per side.
Serve the skewers with reserved sauce and grilled naan. Enjoy!
Notes
Recipe Source: Slightly adapted from Food Network Magazine
Nutrition Information:
Yield:

6
Serving Size:

1
Amount Per Serving:
Calories:

510
Total Fat:

29g
Saturated Fat:

12g
Trans Fat:

0g
Unsaturated Fat:

16g
Cholesterol:

308mg
Sodium:

501mg
Carbohydrates:

6g
Fiber:

1g
Sugar:

2g
Protein:

60g
Nutrition information isn't always accurate.