Maple Roasted Brussels Sprouts with Cranberries is a side dish recipe that is easy to make, incredibly flavorful, and just looks like Christmas!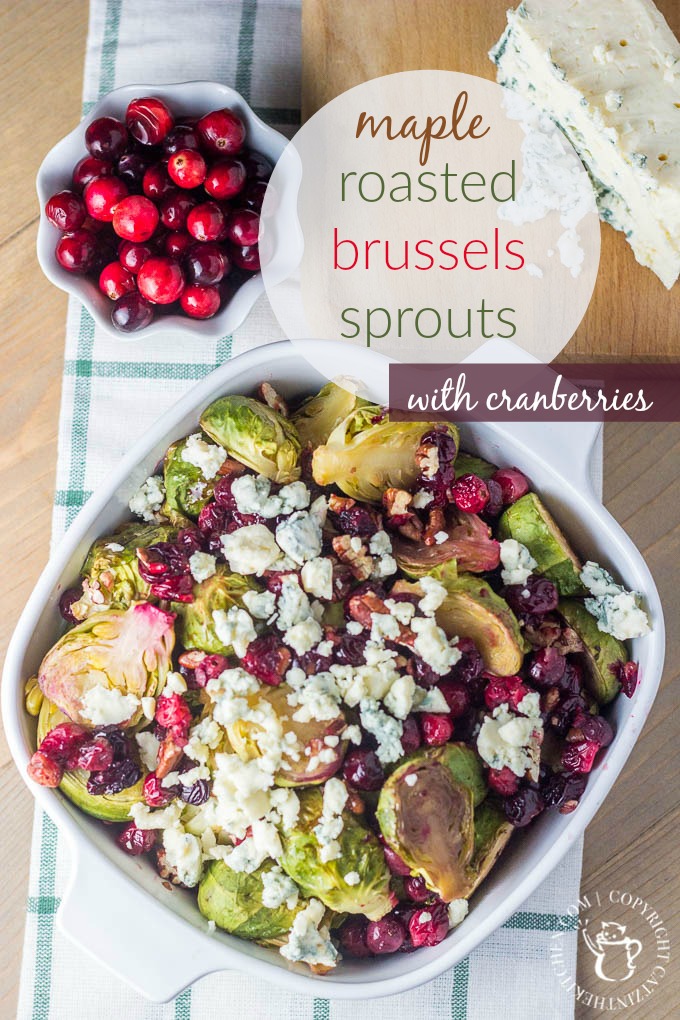 I don't know if you've heard, but we're deep in the #snowpacolypse here in Oregon. This time, the meteorologists got it right (no offense!) with the snow prediction. We'd been hearing since last Saturday and Sunday that we were in for snow come the middle of the week…and sure enough, it came.
And nobody was prepared for it. What? WHY???
One of those things that happens to a city (and valley) that only really gets snow once a year, or even every couple of years. We were lucky enough to be able to get everybody home safe and sound as the white stuff started coming down in the early afternoon, but not everybody was quite so fortunate, including many of our friends and family!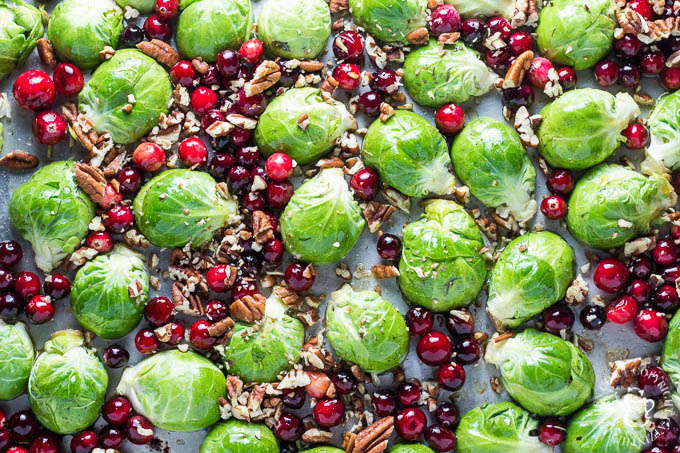 If you live in or even near the northwest, you probably saw on the news or on Facebook that people were abandoning their cars on freeways, cars were overturned in ditches, kids were stuck at schools. It took one of my sisters five hours to get home, and one of my brothers almost nine! Not a fun night.
Maybe you're home today because of snow and ice, which maybe brought you to my little corner of the web, and if so, let me show you this awesome side dish you may want to consider making for your holiday dinner…
I didn't go crazy making sweets this year like I usually do. I mean, I made a few things I hope to share, but I also made some yummy things for dinner. Like these maple roasted brussels sprouts with cranberries!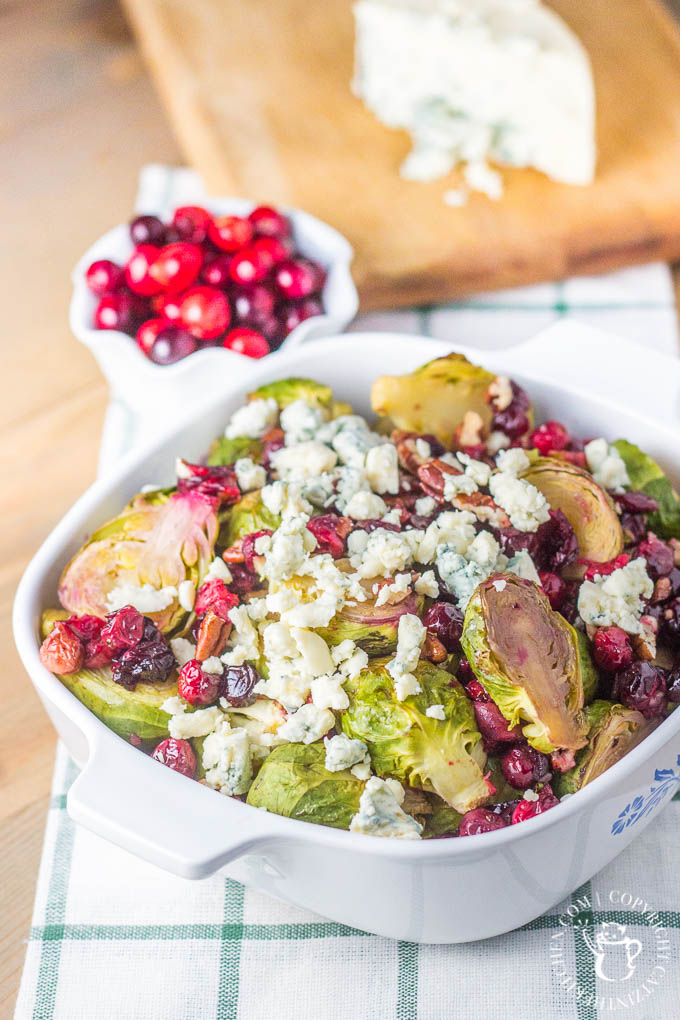 It took awhile to get Josh on the brussels sprouts train. The recipe that did it was these balsamic brussels sprouts I made awhile ago, but since then I like to buy them and incorporate them into different meals (like this one pan chicken meal!).
I was drawn to the idea of cranberries and brussels sprouts together because it just looks like Christmas before they get roasted, and maple syrup (the pure stuff) is just a perfect natural flavor, especially for this time of year. It adds just enough sweetness to even out the bitterness from the greens. For extra flavor and texture, I added chopped pecans and crumbled bleu cheese on top which is just…so good!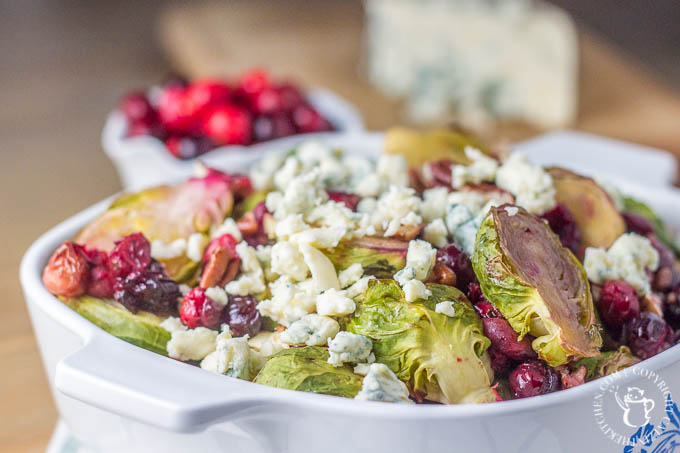 This side dish is also a super easy one and easy enough to double to serve for more people if you're having guests over! If I were you, I would grab a few extra bags of cranberries to freeze while they are still in season so you can make this dish all year long! Not too mention all of this stuff! It's too good not to.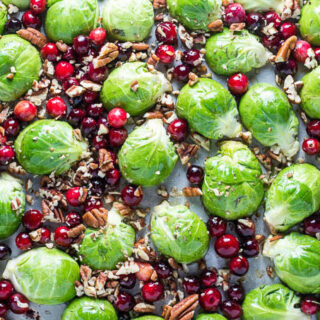 Maple Roasted Brussels Sprouts with Cranberries
Maple Roasted Brussels Sprouts with Cranberries is a side dish recipe that is easy to make, incredibly flavorful, and just looks like Christmas!
Ingredients
1 cup fresh cranberries
1 1/2 lbs. brussels sprouts, trimmed and halved
1/2 cup chopped pecans
4 tbsp pure maple syrup
1/2 tsp sea salt or to taste
Black pepper to taste
1/4 - 1/2 cup Crumbled blue cheese for topping
Instructions
Preheat oven to 400 degrees.
On a large rimmed baking sheet spread out brussels sprouts and cranberries.
Sprinkle with sea salt and pepper and drizzle with maple syrup and toast to combine.
Top with chopped pecans and roast for 20-25 minutes.
Top with crumbled blue cheese.
Nutrition Information:
Yield:

6
Serving Size:

1
Amount Per Serving:
Calories:

157
Total Fat:

8g
Saturated Fat:

1g
Trans Fat:

0g
Unsaturated Fat:

6g
Cholesterol:

2mg
Sodium:

252mg
Carbohydrates:

21g
Fiber:

5g
Sugar:

11g
Protein:

4g
Nutrition information isn't always accurate.