This simple cast iron cornbread recipe can be made with chiles, corn kernels, and coarse ground cornmeal for a more rustic side dish!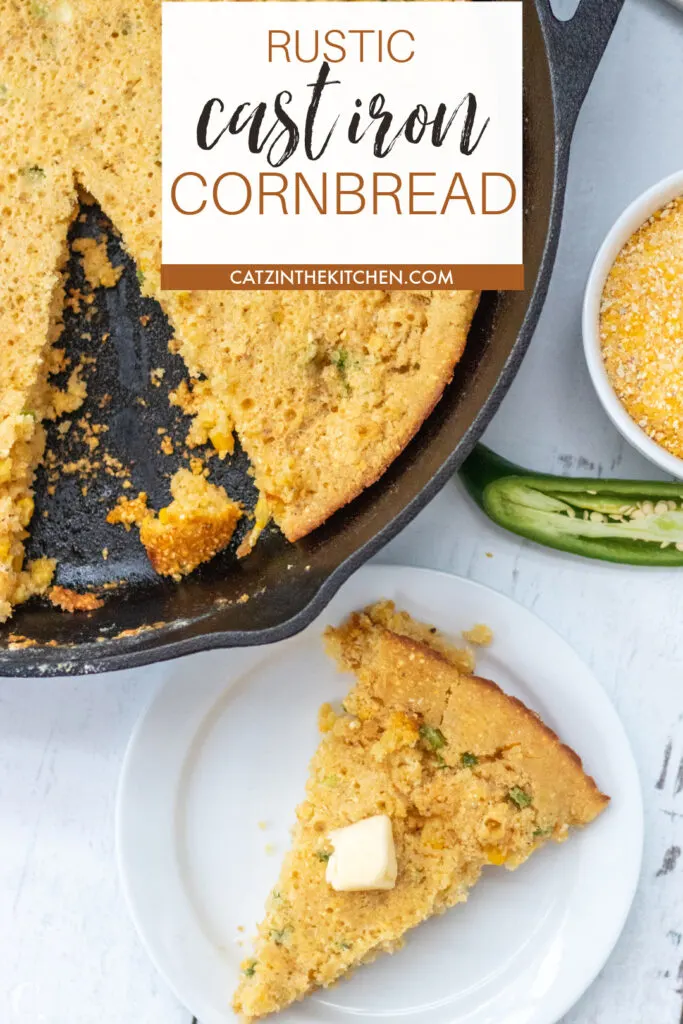 Have you noticed a trend here? We've been using our cast iron pans more and more lately. We used one for the dutch baby, we used it for the grape clafoutis, and now I'm using it for this cornbread! Which, of course, using a cast iron skillet for a cornbread isn't like some revolutionary idea. It's a favorite for many people. But for me, it's a newer idea because I've just always made mine in an 8×8 baking dish. We've acquired a few cast iron pans at this point, and so we're playing with them more and more. In a few ways – durability in particular, obviously – they are quite superior to most other pans! Also, I mean, they just never go out of style. We have a friend who is still using a cast iron skillet her great-grandmother originally cooked on, just passing it on down through the generations…
Cast iron is something like the proverbial fine wine. It only gets better with age, and, well, use. Age and use. Who says getting older is a bad thing?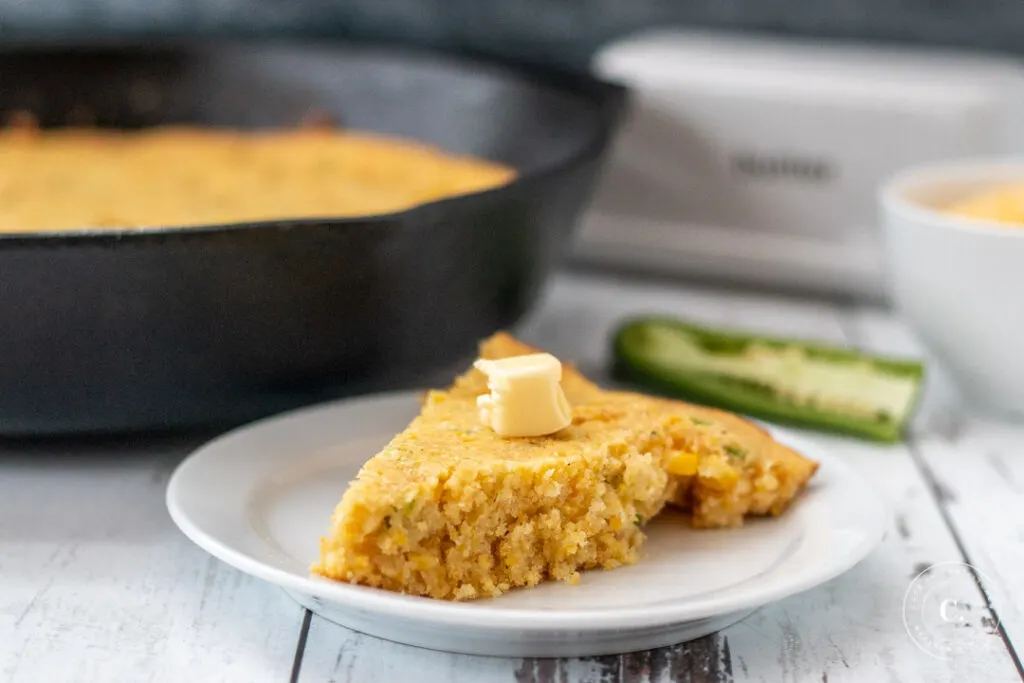 I'm kind of obsessed with one pan meals right now and while this cornbread isn't a proper meal unto itself, just a side dish, obviously, it is all made in one pan…almost. I mean, you do use two small bowls…but you can have those washed and dried in no time. So I'm only kind of cheating on the one pan thing…right? The bulk of this meal involves the cast iron pan, first on the stovetop and then finished off in the oven. Gotta love a pan that can go from day to night, er, I mean stovetop to oven. I'm all about that easy right now!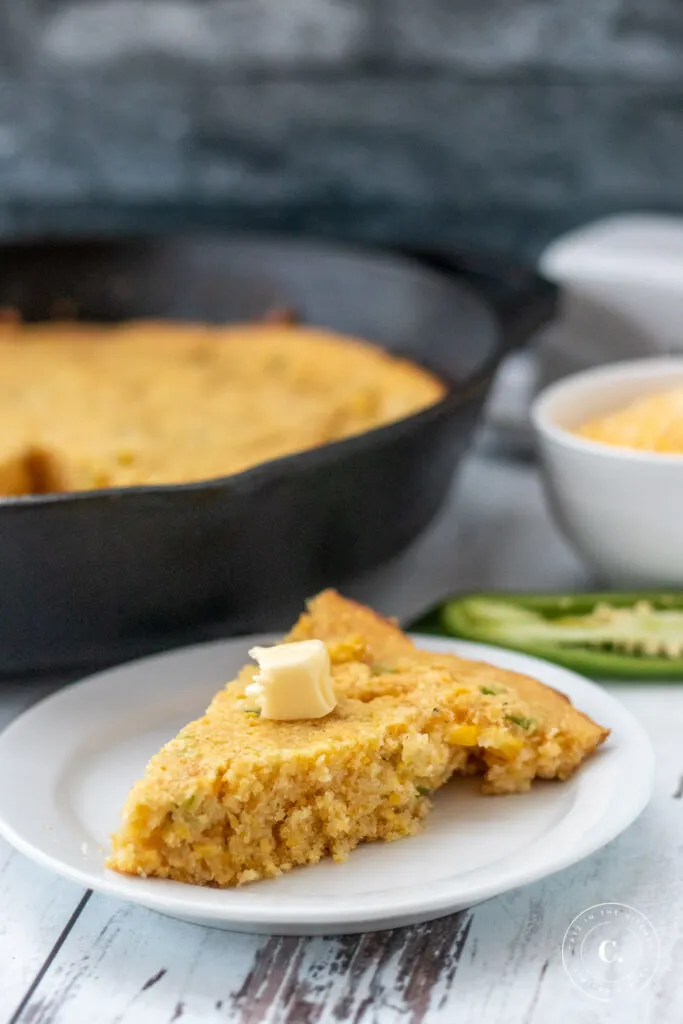 I made a few changes to this recipe to suit my own tastebuds, but you can certainly leave those changes out and just have a very basic and normal cast iron cornbread. But here is what I did:
I added a jalapeño pepper, diced and removed ribs and seeds. When I do that, it makes it a bit more palatable for my kids.
I also added some frozen corn because I like the texture and the flavor.
I did not add cheese, but if I had, I think I would go with 1 cup of grated white cheddar.
Here's the kicker that you may or may not like – and if you don't like it, that is okay by me – I added coarse cornmeal instead of the usual medium grind cornmeal. For reference, I use Bob's Red Mill brand. Now, I say you may not like the coarse cornmeal because it is definitely thicker and a grittier texture when you eat the cornbread. Josh isn't as big a fan as I am, but I really like it, so I keep it. But feel free to use whatever kind you like. The coarse corn meal gives it a stronger rustic feeling.
I like that this is kind of cornbread recipe that you can dress up or dress down, but no matter how you dress it, you're going to have some delightful textures and flavors because of the way cast iron cooks.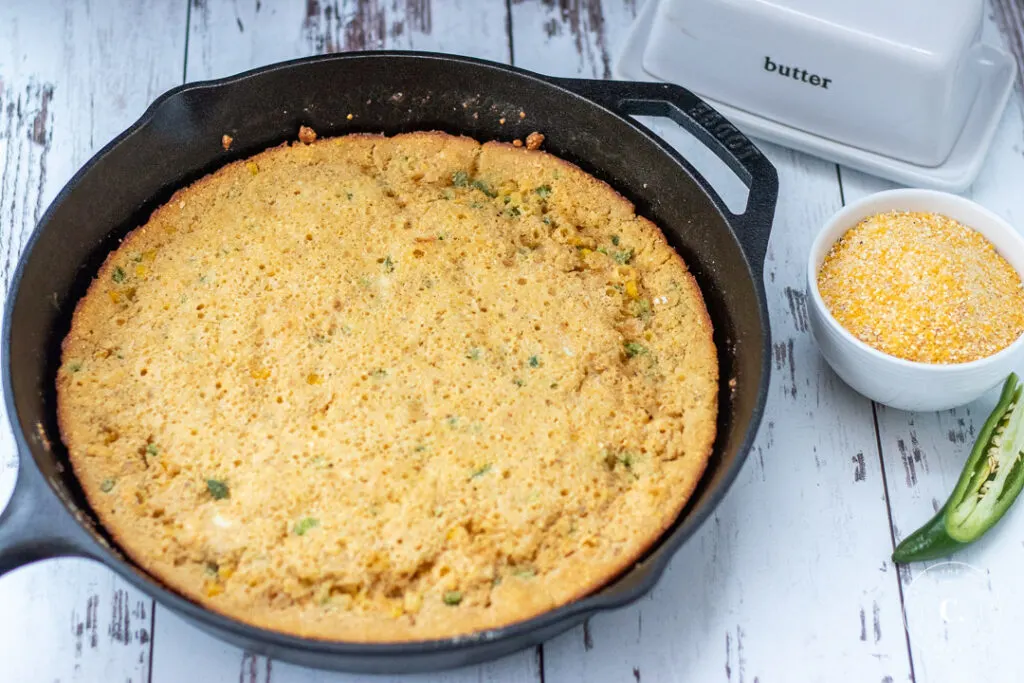 I'm going to be sharing a new chicken chili recipe with you in a day or two, and you all should know by now that every Halloween we serve chili and cornbread, so I wanted to make sure I got these recipes out in advance of the holiday. But also, this cornbread and this new chili recipe are also just really fantastic recipes to make mid-week when you're tired and not really feeling like cooking. Basic ingredients that create one hearty meal with flavors kids (and adults!) will enjoy.
What more could you ask for in a dinner? Well, maybe that it could just cook itself…! This my friends, is about as close to that as you might get.
Enjoy!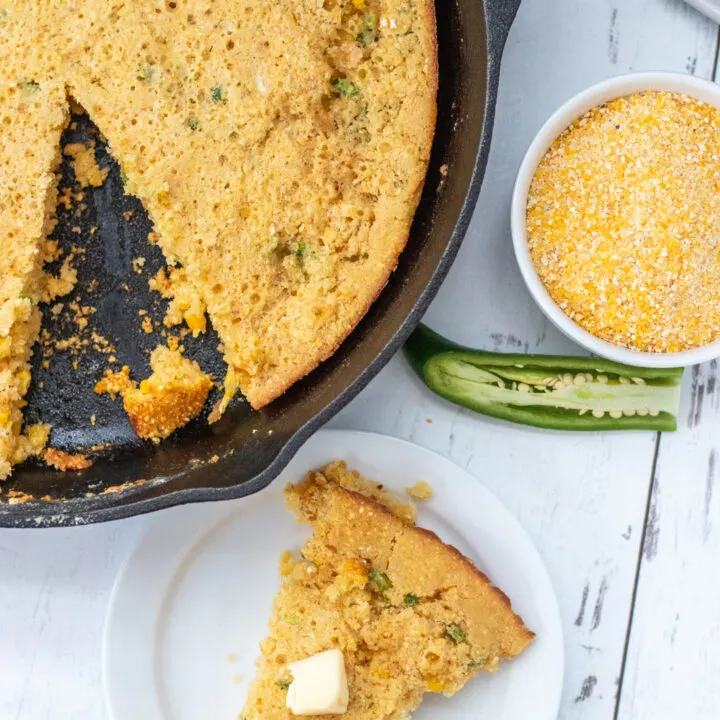 Cast Iron Cornbread
This simple cast iron cornbread recipe can be made with chiles, corn kernels, and coarse ground cornmeal for a more rustic side dish!
Ingredients
1 cup buttermilk
1/2 tsp baking soda
1 cup cornmeal coarse or medium grind
1 cup all purpose flour
1/4 tsp salt
1/2 cup unsalted butter
2/3 cup sugar
2 eggs, beaten
1 jalepeno, diced, seeds and ribs removed
1/2 cup frozen corn
*Optional 1 cup grated white cheddar cheese
Instructions
Preheat oven to 375 degrees. In a bowl, stir together buttermilk and baking soda. In another bowl, stir together cornmeal, flour, and salt.
Melt butter in a 9-inch cast iron skillet over medium-low heat. Remove from heat and stir in sugar, eggs, diced jalepeno, and frozen corn, and buttermilk mixture, whisking until combined. Stir in cornmeal mixture and cheese if adding until only a few lumps remain.
Bake for 30-40 minutes, until a toothpick comes out clean when inserted in the middle. Serve with butter, honey, or honey butter!
Notes
Recipe adapted from Allrecipes.com
Nutrition Information:
Yield:

8
Serving Size:

1
Amount Per Serving:
Calories:

397
Total Fat:

20g
Saturated Fat:

11g
Trans Fat:

0g
Unsaturated Fat:

7g
Cholesterol:

98mg
Sodium:

339mg
Carbohydrates:

45g
Fiber:

2g
Sugar:

19g
Protein:

10g
Nutrition information isn't always accurate.