This easy recipe for chipless nachos is a little healthier than the standard variety, and full of bright colors and smoky, fresh flavors!
This recipe has been on Chels' "to-write" list for over a year! We tested it out multiple times, tried it with different proteins and toppings, and with different cooking methods (oven vs grill), finally got it just the way we wanted it, photographed it, edited the photos…and then Chels had her accident, which you probably already heard about from Instagram or from the Weekly Menu a couple of weeks ago. It's tough to type with no hands, so clearly she hasn't been able to get this recipe for chipless nachos out!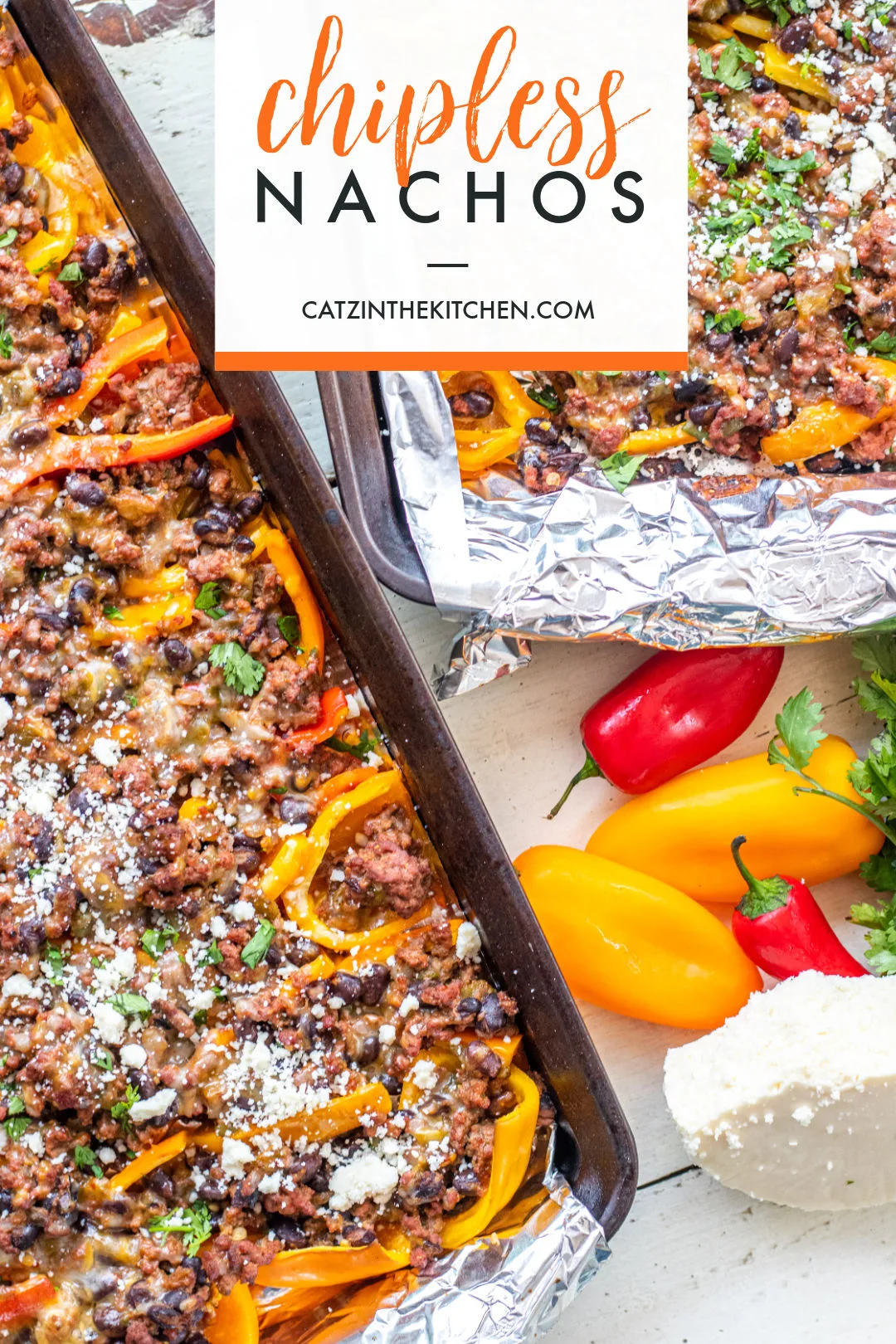 It's going to be another month or so before Chels has her hands back, and this is a great summer recipe, so you'll just have to settle for me typing it up instead! I'll my best to get it right (and it will help that Chels can still proof it!).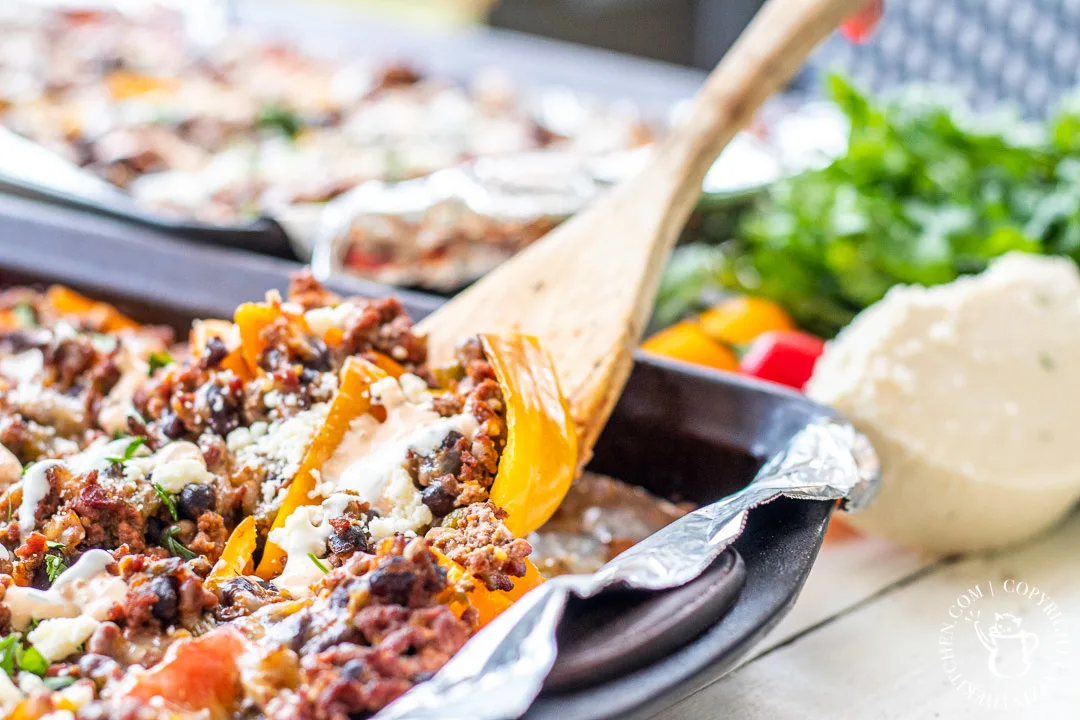 The basic concept here is very straightforward – replace the chips in a nacho with something else, preferably something fun and healthy. Chels' idea was to use a bag of sweet mini peppers – if you haven't had sweet mini peppers before, they are a lot like bell peppers, but smaller, a little sweeter, and just vibrant and beautiful. Our whole family loves them!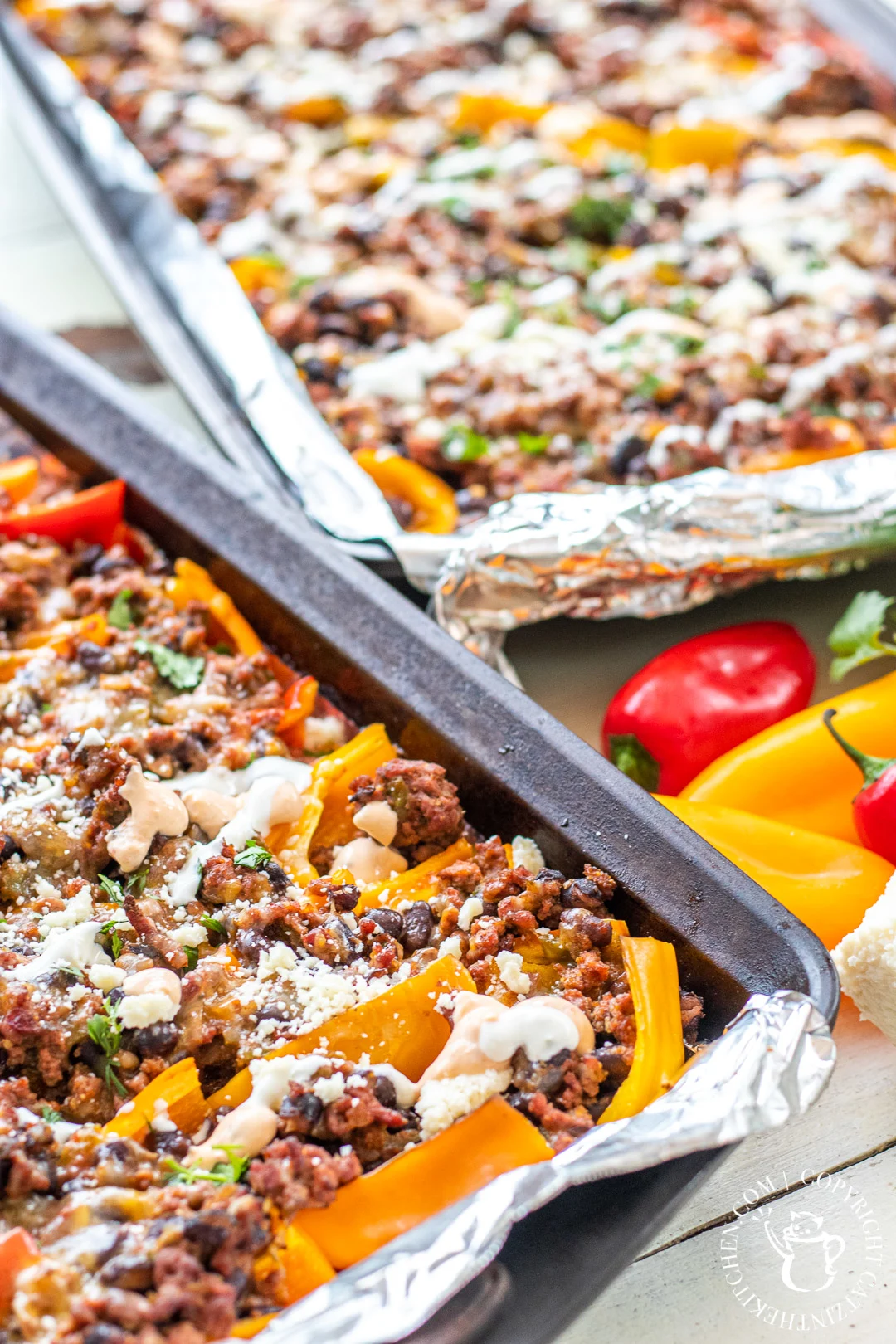 After cutting the peppers in half, they function just like the chips in a traditional nacho. Technically, you could top them with whatever you want, although we'll give you our recommendations for the toppings we've come to favor. We've also worked on a couple of sauces – a chipotle aioli (originally from this chipotle fish tacos recipe) and a lime crema – that we love using for this recipe and many others.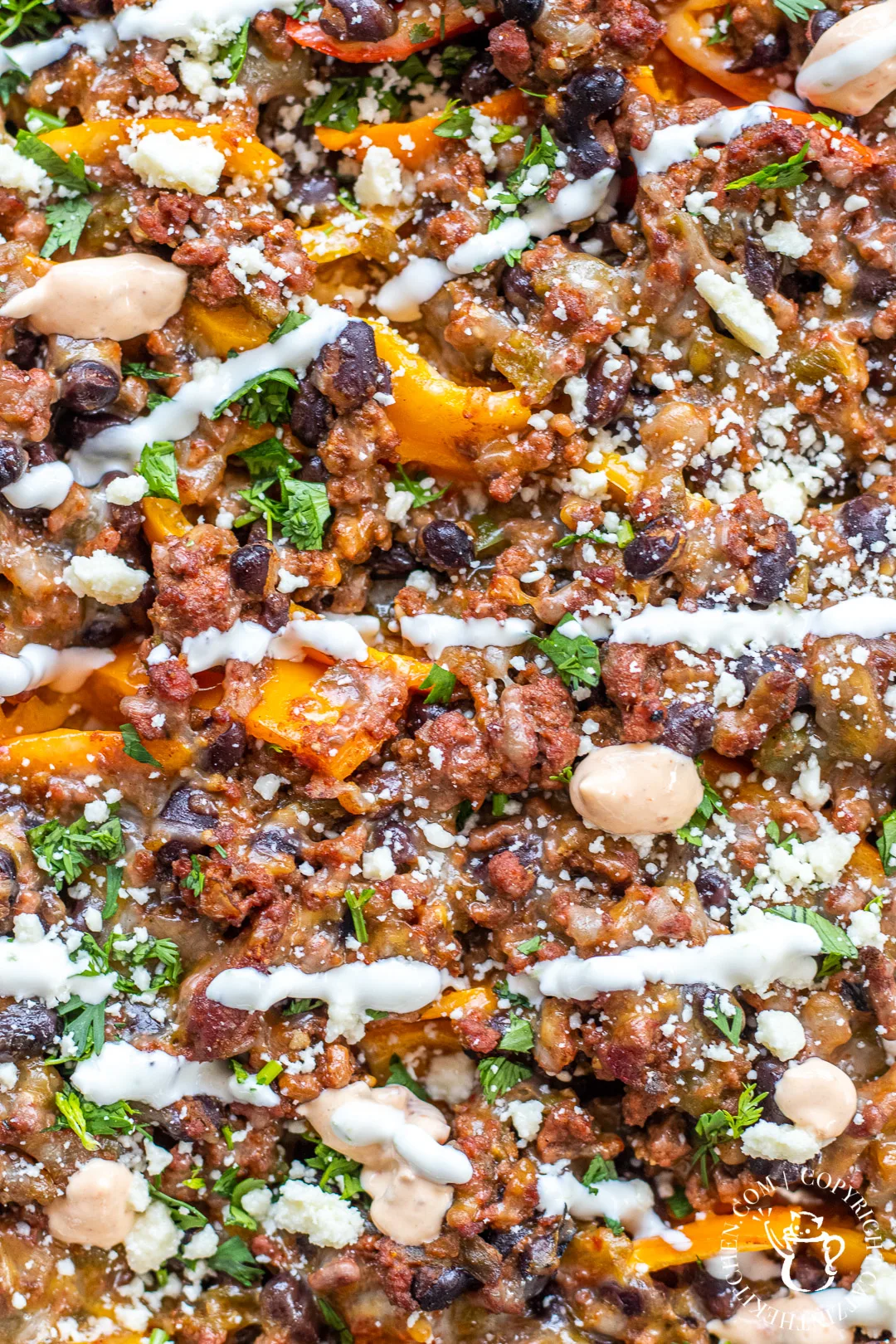 And, of course, multiple cheeses (don't skip the cotija!!), black beans, and cilantro are crucial. You could, if you were so inclined, turn this into a vegetarian dish by leaving out the protein altogether and focusing on the beans as a substitute – throwing a couple of different types of beans together (pinto and black would be good), and mixing them up with some Mexican spices or taco seasoning, in much the same manner as the beef is prepared in this recipe.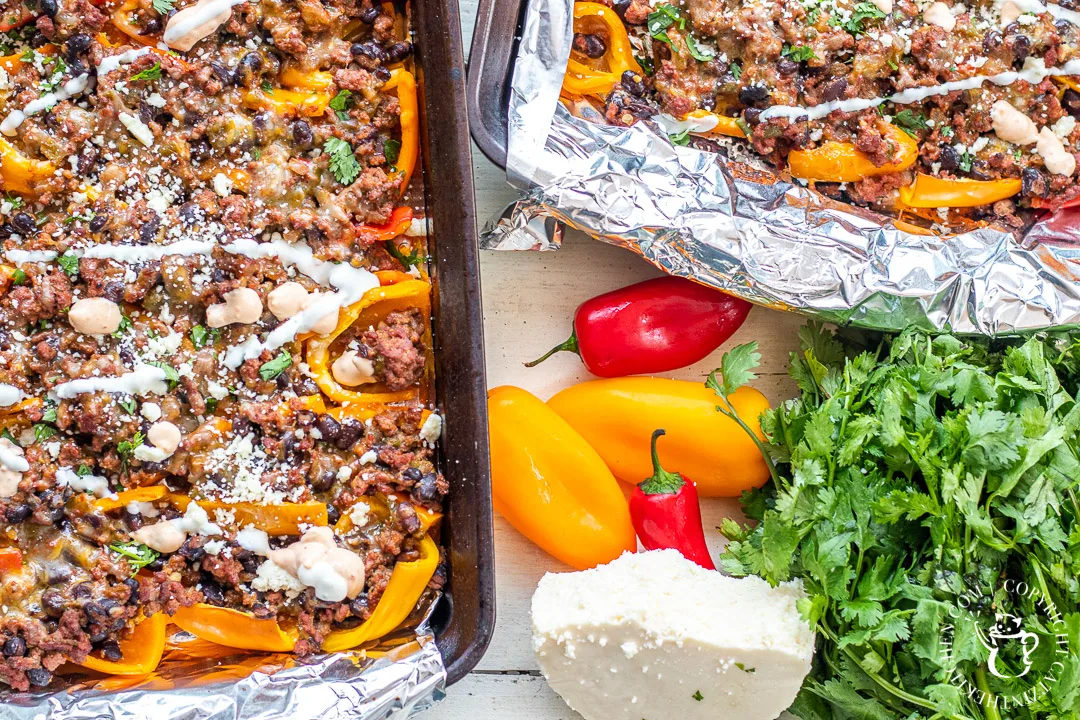 So, enough said – add this recipe to your summer dinner rotation pronto! In fact, if you want, you can make it all year round by moving the cooking for the grill into the oven – you might not get quite as much of that smoky outdoor flavor, but a little chipotle (smoked jalapeños!) aioli will fix that right up for you!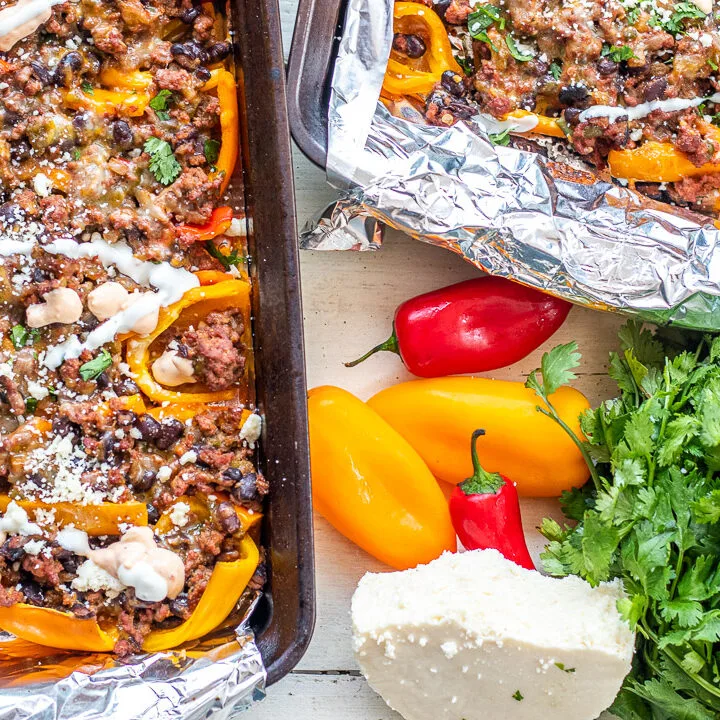 Chipless Nachos
This easy recipe for chipless nachos is a little healthier than the standard variety, and full of bright colors and smoky, fresh flavors!
Ingredients
Chipless Nachos
1 lb ground beef
1 can (15 oz) black beans, drained and rinsed
1 small onion, diced
1 can (4 oz) green chiles
1/4 cup taco seasoning
1 bag (32 oz) sweet mini peppers
1 cup shredded cheese (cheddar or Mexican blend)
1/4 cup crumbled cotija cheese
1/4 cup chopped cilantro
Chipotle Aioli (optional)
2 tsp finely chopped canned chipotle chile in adobo
1/3 cup non-fat Greek yogurt
2 tbsp mayonnaise
Lime Crema (optional)
8 oz sour cream
zest and juice of 1 lime
1 garlic clove, minced
1/4 tsp salt
Instructions
If using chipotle aioli and/or lime crema, prepare first and refrigerate while preparing nachos. For chipotle aioli, whisk all ingredients together in a small bowl until creamy and well-combined. Taste for desired heat level and add more chilis or more yogurt until desired heat level is achieved. For crema, whisk all ingredients together in a small bowl.
Slice peppers in half, and scrape out seeds and ribs.
Preheat grill (or oven) to high heat, or about 400 degrees.
Meanwhile, cook onions in a pan over medium-high heat, just until softened. Add in diced chilis and black beans, and cook for about one minute, then add in beef and cook until browned. Add taco seasoning and cook another minute or two until seasoning is well mixed in.
Cover a large baking sheet with foil, and layer sliced peppers across the bottom of the pan. Spread meat mixture over the top of the peppers. Top with shredded cheese.
Bake or grill until peppers are soft and somewhat browned, about 15 minutes.
Remove from heat, top with cilantro, cotija, and drizzle with sauces if using. Serve immediately.
Notes
Lime Crema recipe sourced from Downshiftology
You could substitute ground turkey for ground beef in this recipe, though we found the beef to be tastier. For a vegetarian option, as discussed in the body of the post, use a mixture of beans instead of beef.
For additional toppings, you could add crunchy tortilla strips, lime wedges, and avocados or guacamole.
Nutrition Information:
Yield:

8
Serving Size:

1
Amount Per Serving:
Calories:

370
Total Fat:

24g
Saturated Fat:

10g
Trans Fat:

1g
Unsaturated Fat:

10g
Cholesterol:

87mg
Sodium:

732mg
Carbohydrates:

15g
Fiber:

3g
Sugar:

6g
Protein:

23g
Nutrition information isn't always accurate.