This fantastic, craveable sweet potato nachos recipe is absolutely bursting with flavor. You can dial the heat up or down, but make these!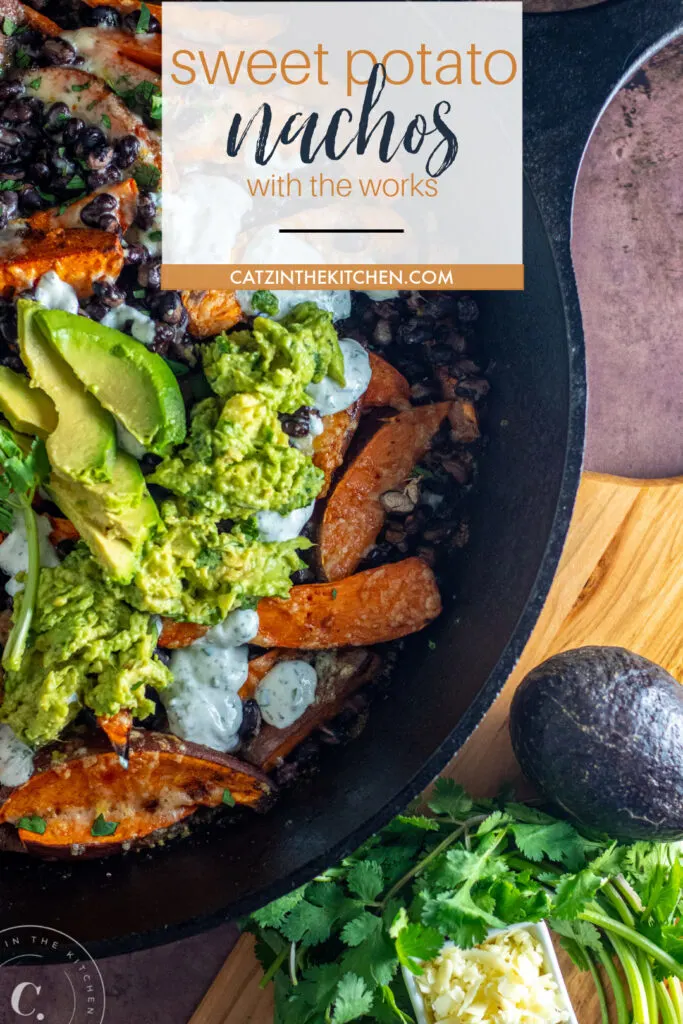 You guys, this post is such a long time coming! It's been a long time since I've done a cookbook review and I'm so excited to share not only this recipe with you, because holy smokes is it good, but the cookbook I'm going to share with you is also one that I think would be a good addition to your cookbook library…if you like to cook, and cook "outside the box" sometimes.
What cookbook am I reviewing?? I'm glad you asked! This is Half Baked Harvest's newest cookbook "Every Day" and it is a very beautiful book indeed! This is Tieghan Gerhard's third cookbook and she also runs the blog Half-Baked Harvest which is also a beautiful site with many drool-worthy recipes.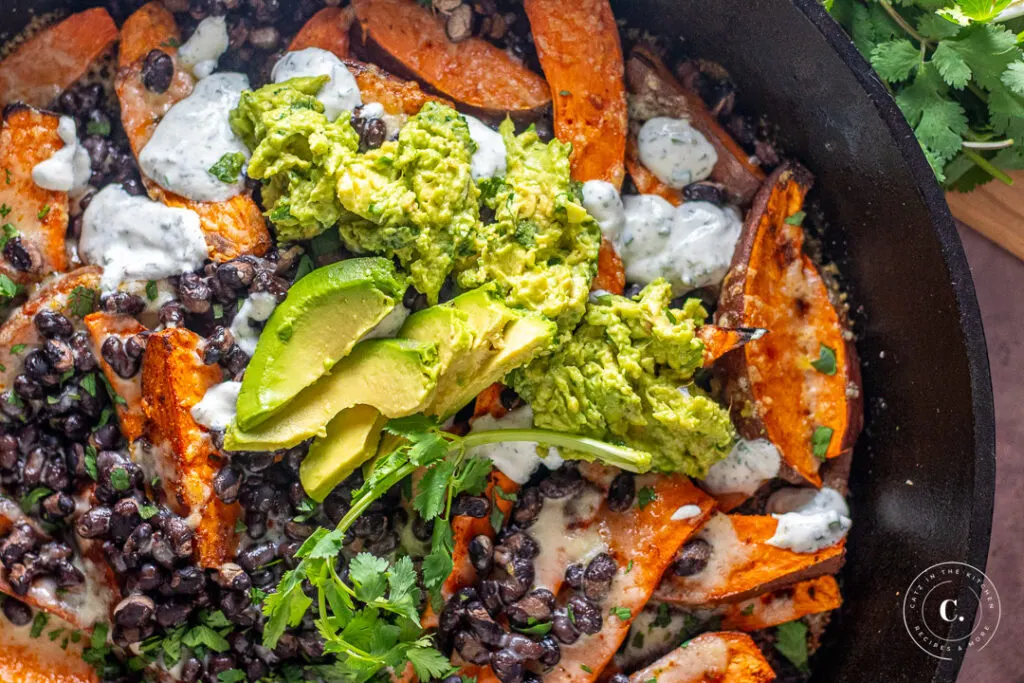 Let's talk about the cookbook real quick and why I think you would enjoy it.
There is a picture for every recipe! This is my absolute favorite thing in a cookbook. I love a good picture with a recipe and I like to see the finished product. Not even my beloved Magnolia Table cookbooks do that – and yes, they always get a point deducted because of it. I just think for a home cook or someone just getting into cooking, we eat with our eyes first. Right?
There is description, memory, reason explained for every recipe. Which makes it personal. I love that! I want to know why this recipe is special to the author. Tieghan does a great job of sharing her love of memories and how she ties it back to food.
Most of the recipes are approachable. Some of them call for a few ingredients I'd never had on hand and so I have to modify, but for someone who is feeling adventurous and really looking for a food journey…you'll love that aspect of the book.
Lastly, she offers categories throughout the recipes to make help finding what you're looking for a little easier…for example, there is 30 minutes or less, dairy-free, and gluten-free for starters. I think that's a nice option for some people who are looking for those categories. I'll be honest though, I never used that feature, but I know there are many who would.
Now I've cooked a total of 11 recipes out of this cookbook, which I feel is a lot! I tried to test a variety, but in actuality, I only ended up cooking one recipe from the breakfast section and one from the dessert section. The only reason I can think of for that is the recipes in those sections seemed a little too sweet for my palette. However, all the pictures for the recipes looked amazing.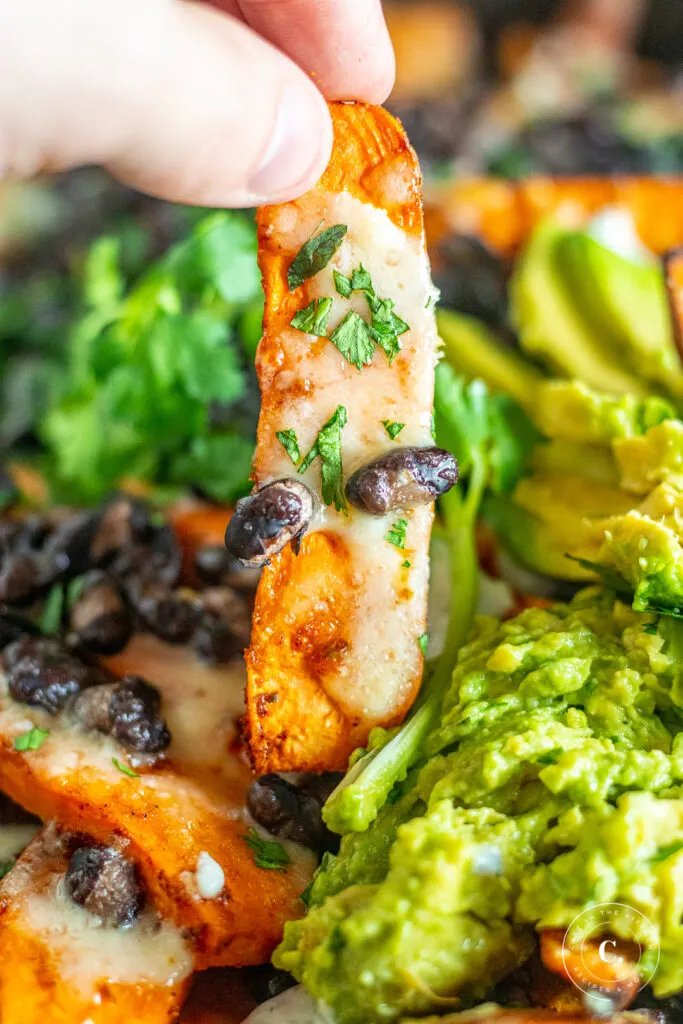 So what recipes did I make other than the sweet potato nachos? Well I'll quickly list them for you.
Double Apple Dutch Baby
Garlic Butter Brussels Sprouts
Nutty, Herby Spring Pasta (this was a favorite and almost made the recipe share…but I love a good nacho more than pasta, so…)
Candied BLT
Brown Butter Aioli
Quick Greek Yogurt Ranch
Coq Au Vin Blanc Meatballs
Cheesy Beef, Black Bean, and Rice Skillet
Slow-Roasted Salmon
Almond Cake with Rosemary-Lemon Sugar
Out of those recipes the only one I didn't really care for was the cheesy beef, black bean, and rice skillet. What I liked about it was that it was a simple recipe, the ingredients were cheap and easy to find…but it lacked texture and we found it better served with some of Trader Joe's Corn Dippers.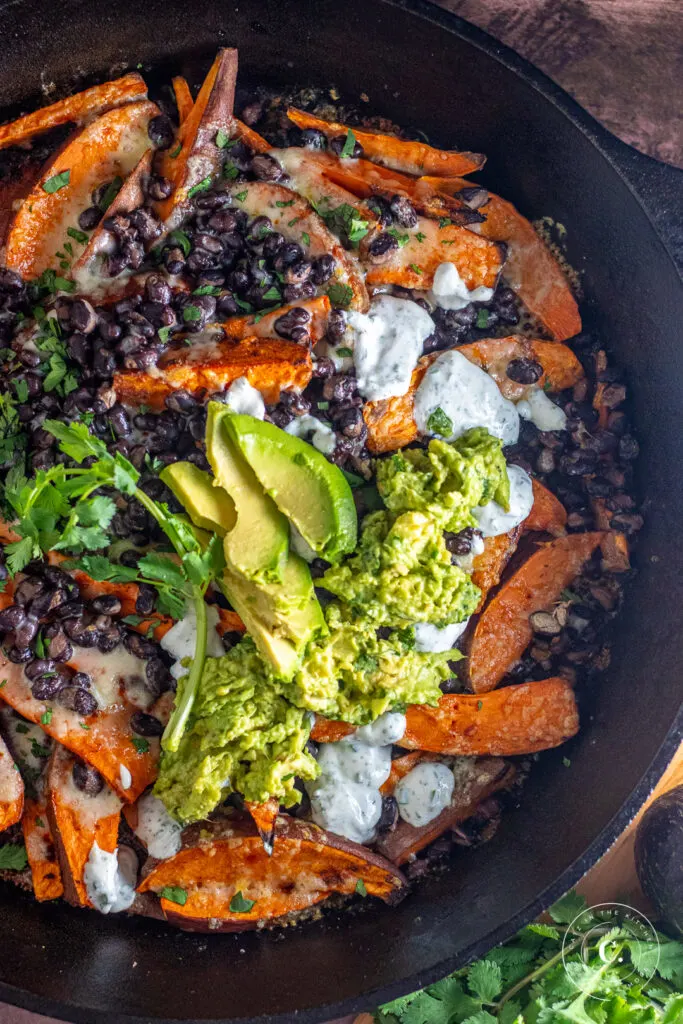 My other note on one of the recipes we made was for the Candied BLTs. The brown butter aioli that you make for it is unreal – so good! Tieghan wasn't super specific on the sourdough for the recipe and just got a basic sourdough…but we would recommend that you get a rustic style sourdough for some texture and then this recipe will be best made during the peak of tomato season. She recommends heirloom and I bought the beefiest tomatoes in my store since it wasn't heirloom season and the flavor from those tomatoes can't be beat. So don't substitute. Just take her advice and get those, but buy a good quality sourdough.
With all of those recipes, how did I end up choosing the sweet potato nachos? Well…it's a nacho and you all know how much I love my Mexican food. It felt like a no brainer, but then I made it and my first bite was all the yes's! It's simple. It's filling. It's affordable. It's beautiful. And a bonus that it is meatless…I love a good meatless meal to mix things up a bit.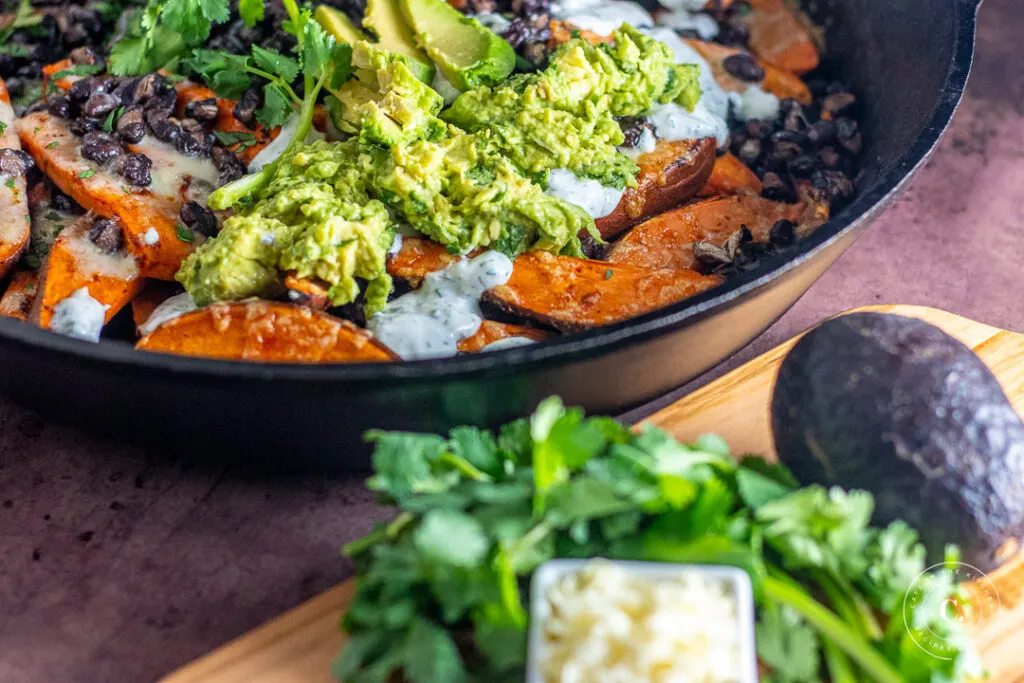 I highly recommend making the quick greek yogurt ranch in advance, as well as the spice rub. However…if you have little kids or maybe you don't like things too spicy or smokey, I would dial down the amount of chipotle chili powder and the crushed red pepper. I accidentally added the full amount of each the last time I made it and the kids were dying, lol! So…know your audience, right?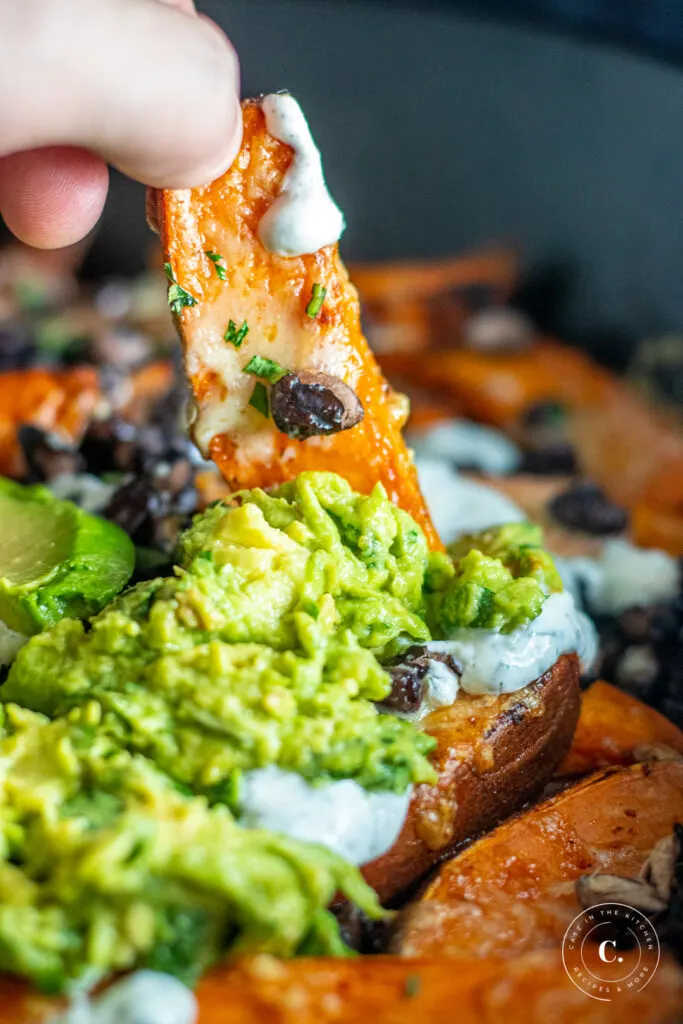 I used a cast iron skillet for this recipe, but a sheet pan works well, too, and if you're feeding a lot of people then a sheet pan will definitely be handy. Also, if you like avocado, feel free to use more than one for that fresh guacamole topping you're going to want.
I have a feeling that you are going to love this recipe and this cookbook. So if you haven't picked it up yet, go do it. It's a best seller on Amazon for good reason…and if you're not sure…make this recipe for lunch or dinner one night. It sure is a tasty one!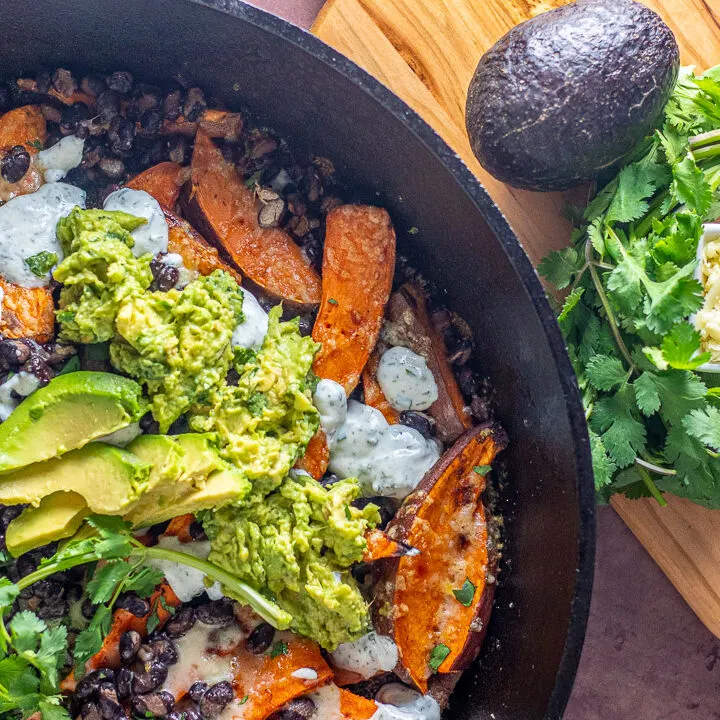 Sweet Potato Nachos with the Works
This fantastic, craveable sweet potato nachos recipe is absolutely bursting with flavor. You can dial the heat up or down, but make these!
Ingredients
2 lbs. sweet potatoes (4-5) cut length-wise, into wedges
2 tbsp extra-virgin olive oil
Fine pink Himalayan salt
2 tsp onion powder
2 tsp smoked paprika
1-2 tsp chipotle chile powder
1 tsp ground cumin
1 tsp garlic powder
1/2 tsp dried oregano
1/4 tsp crushed red pepper
1 (15 oz) can black beans, drained and rinsed
3/4 cup shredded sharp cheddar cheese
1/2 cup shredded pepper jack cheese
1 large avocado
Juice of 1 lime
2 tbsp chopped fresh cilantro, plus more for serving
Quick Greek Yogurt Ranch
1/2 cup plain Greek yogurt
2 tbsp buttermilk
2 tbsp chopped fresh chives
1 tsp dried parsley
1 tsp dried dill
1/2 tsp garlic powder
1/2 tsp onion powder
Fine pink Himalayan salt and freshly ground pepper
For Serving
Store-bought ranch (optional)
Sliced green onions
Crumbled feta cheese (optional)
Instructions
Preheat oven to 450 degrees F.
On a baking sheet or cast-iron skillet, toss together tje sweet potatoes and 1 tbsp olive oil. Season with salt. Arrange the sweet potatoes in a single layer, being sure to ure to not overcrowd the baking sheet. Bake until the potatoes are slightly softened, 15-20 minutes.
Meanwhile, in a small bowl, stir together the remaining 1 tbsp of olive oil with onion pwder, paprika, chipotle powder, cumin, garlic powder, oregano, and red pepper flakes. Drizzle the spice mix over the potatoes (it's more like a paste) and toss to coat. Continue baking until the sweet potatoes are crisp on the outside and tender, 15 - 20 minutes. Remove the baking sheet from the oven, leave the oven on.
Scatter the black beans over the sweet potatoes and then cover with shredded cheeses. Return baking pan to oven and bake until the cheese has melted and bubbles, 5 - 10 minutes.
In a small bowl, combine the avocado, lime juice, and cilantro. Mix well, mashing up the avocado. Taste and add salt as desired. Top the nachos with the avocado mixture. Top with dressing. green onions, and crumbled feta cheese. Sprinkle with more cilantro before serving
To make the greek yogurt dressing: In a small bowl, combine the yogurt, buttermilk, chives, parsley, dill, garlic powder, onion powder, and a pinch each of salt and pepper. Stir until smooth Taste and adjust the seasoning as needed. Store in refrigerator in an airtight container for up to two weeks.
Nutrition Information:
Yield:

6
Serving Size:

1
Amount Per Serving:
Calories:

354
Total Fat:

26g
Saturated Fat:

10g
Trans Fat:

0g
Unsaturated Fat:

14g
Cholesterol:

44mg
Sodium:

471mg
Carbohydrates:

16g
Fiber:

6g
Sugar:

3g
Protein:

16g
Nutrition information isn't always accurate.