If you haven't added this incredibly popular and easy no-bake dessert to your family's repertoire, now's the time to make some Eclair Cake!
I was introduced to this cake way back in 2008 when I was pregnant with Eden and some of my friends had a little baby shower for me. One of them made Eclair Cake and I remember thinking that it was amazing! It was so simple and yet so creamy and chocolatey.
To put it this way, I think it tastes like a Boston Cream Donut. I would say pie, but I've never actually eaten a Boston Cream Pie, only ever the donut, and I think the flavors taste like the donut…which I'm guessing is pretty similar to the pie version. Have I lost ya or did all of that make perfect sense?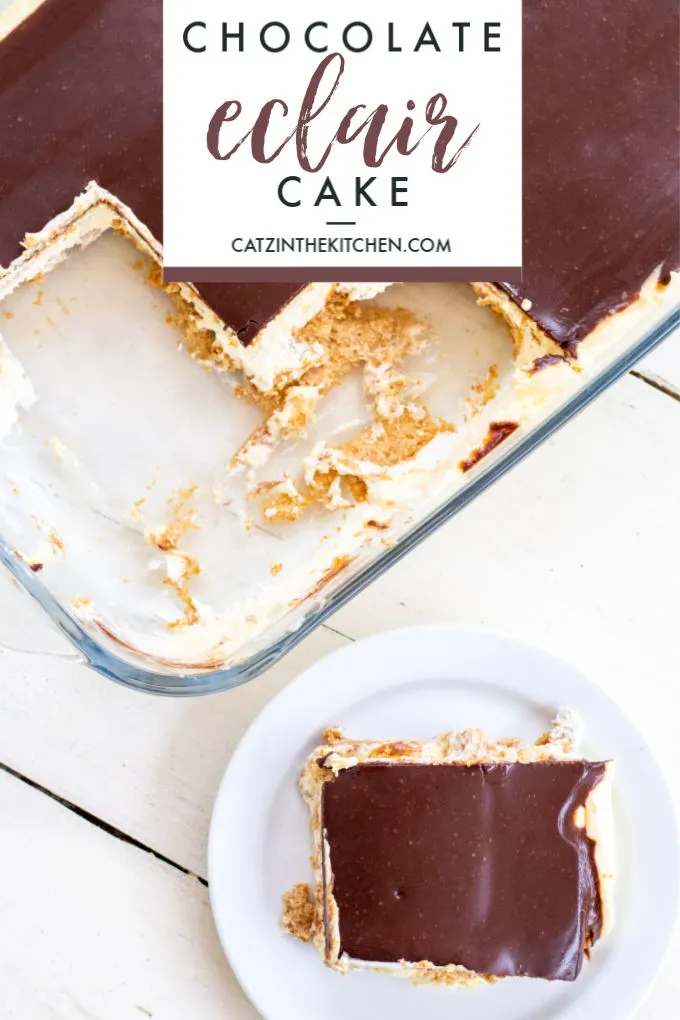 A few years later, this cake came back into my life when I realized that my sister-in-love had included a recipe for that yummy Eclair Cake in a box of recipes she gifted me – a delightful, simple version that Josh's mom and their family has made many times. As I did some research in making the cake a few times myself, I found there was a common basic recipe, which virtually everyone seems to agree is excellent and foolproof, based on how easy it is to find just about anywhere online (this recipe and this one are a couple of examples of ones I consulted) – apparently we're not the only family that thinks this eclair cake is worth making and sharing! There are slight variations among the basic versions of these recipes, but one that I really like and have adopted is the idea of adding Caro syrup to the frosting, which I picked up from Jen's version over at Carlsbad Cravings (more on this in a minute).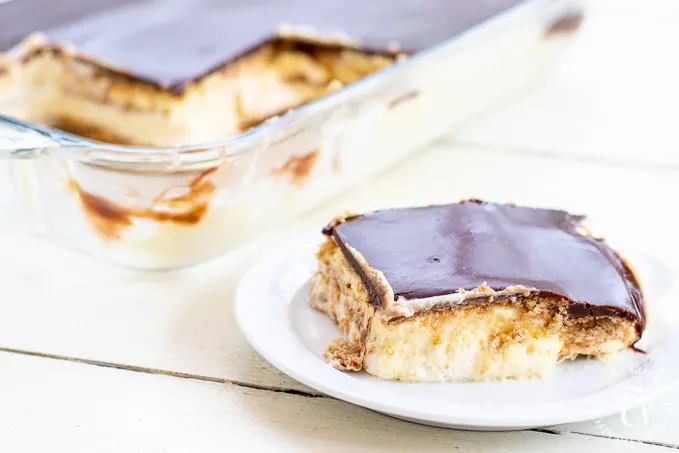 Reasons why I like this cake (and should make it more often!):
It requires zero baking, only chilling.
It's the perfect dessert to bring to someone as dessert with a meal, because they can throw it in the fridge. You can even make it a day in advance!
Perfect baby shower or potluck treat. Basically, if you've got a crowd, make this!
Uses inexpensive ingredients
Makes a simple weeknight dinner a bit more exciting
Perfect for summer because like I said above, no baking required!
A few things to mention about making this dessert: I did not use a KitchenAid to whip the ingredients together, as I didn't want to risk possibly over-whisking. I whisked by hand and that worked perfectly – just make sure that you mix all of the ingredients together. It's easy for some of the pudding to sit at the bottom of the bowl and not get incorporated, so before you start assembling the cake, just make sure that everything is evenly combined. You could also use an electric mixer, but I don't think it's necessary. But…if you're making this with kids, they would enjoy licking the beaters clean!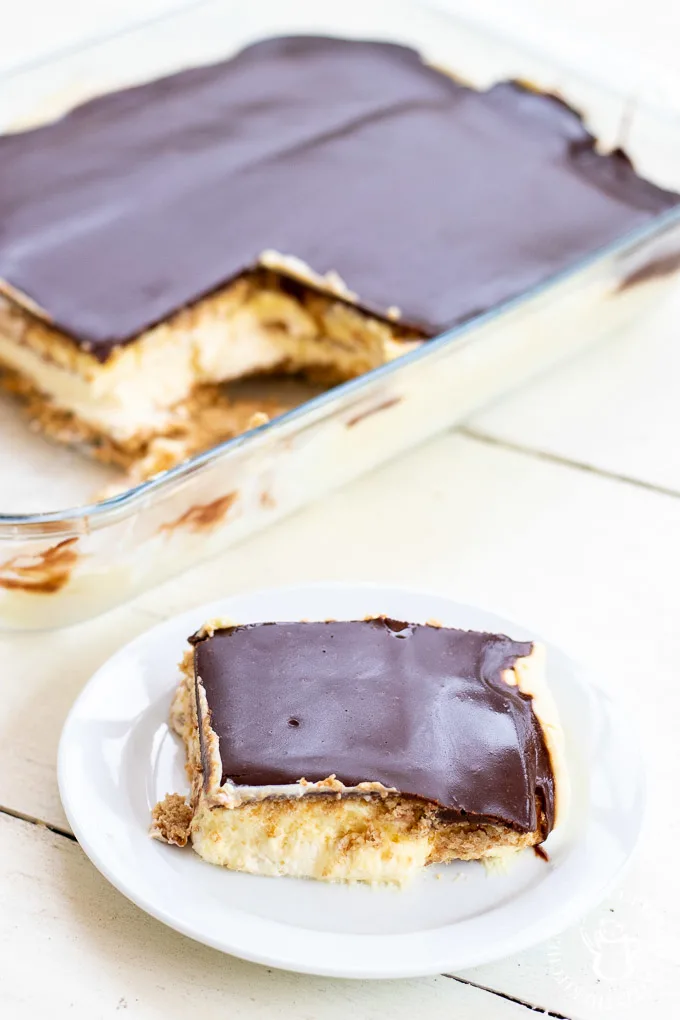 Don't skip the Caro syrup when making the ganache (unless you're avoiding corn syrup, of course). I understand it's extra added sugar in an already sweet dessert, but the corn syrup actually does add something to this recipe. First of all it helps keep the ganache smooth when heating the frosting ingredients together. Secondly, it helps to make it more pliable or flexible when spreading it on top of the cake, which you want when you're trying to make the frosting even and spread out all over. And lastly, it just give the chocolate a shinier appearance – a sheen – rather than a dull chocolate shade. So, unless you're vehemently opposed to using corn syrup, try it in this recipe, please!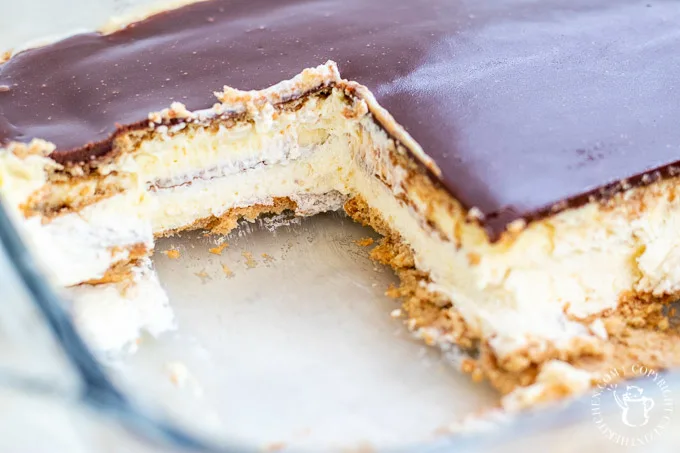 I've read that you can use chocolate frosting or even coco powder in place of the chocolate chips, but I like how simple this frosting recipe is and because I'm not much of a chocolate person, I added a little vanilla extract to the frosting to give it a bit more depth. But you can leave that out if you like, too.
So, there you have it, if you're one of the families that hasn't found a version of this to adopt yet, here's a no-bake dessert that is perfect all year long and that I promise will become a friends and family favorite in no time at all!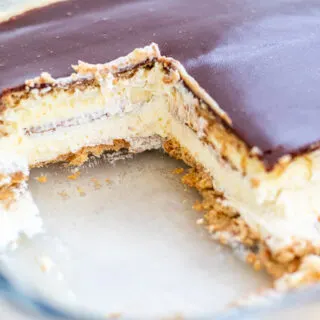 Eclair Cake
Total Time:
8 hours
10 minutes
If you haven't added this incredibly popular and easy no-bake dessert to your family's repertoire, now's the time to make some Eclair Cake!
Ingredients
1 8 oz. carton Cool Whip
2 3.4 oz packages instant vanilla pudding
3 cups milk
14 oz. (about 3 sleeves) graham crackers
Frosting
1 cup semisweet chocolate chips
3/4 cup heavy cream
1 tsp vanilla extract
1/4 cup corn syrup
Instructions
Using one sleeve of graham crackers, place a layer of graham crackers on the bottom of a 9x13 baking dish, breaking up the crackers as needed to make fit. Set aside.
In a large bowl, mix together pudding, milk, and Cool Whip, by hand (or electric blender), making sure all the ingredients are evenly combined. Spread half of the pudding mixture over the layer of crackers. Add another layer of graham crackers on top of the pudding, followed by the last layer of filling, and another layer of graham crackers. The final result is 3 layers of graham crackers and two layers of pudding.
To make the chocolate frosting/glaze, microwave the chocolate chips, heavy cream, vanilla extract, and corn syrup in a medium bowl and heat for 1-2 minutes, stirring every 30 seconds until smooth. Cool the frosting for 10 minutes at room temperature. Cover and spread the top layer of graham crackers with frosting. Cover with lid or place plastic wrap over the baking dish tightly and refrigerate for at least 8 hours, but overnight is best - if you can wait that long. Leftovers will keep in the fridge for 2 days.
Notes
Adapted from mutiple sources - see text of post for links and details
Nutrition Information:
Yield:

12
Serving Size:

1
Amount Per Serving:
Calories:

273
Total Fat:

17g
Saturated Fat:

11g
Trans Fat:

0g
Unsaturated Fat:

5g
Cholesterol:

22mg
Sodium:

98mg
Carbohydrates:

28g
Fiber:

1g
Sugar:

21g
Protein:

4g
Nutrition information isn't always accurate.