This recipe for easy chicken gyros with tzatziki sauce is simple, filling, and fast. It can be on the table in 30 minutes and is easy prep ahead of time!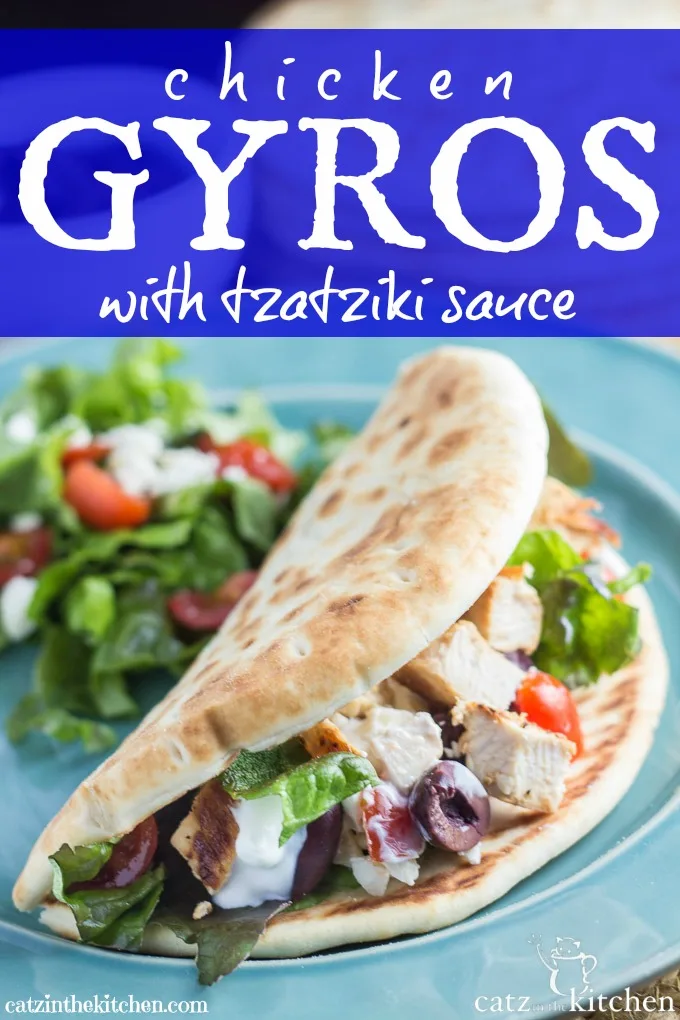 Ever since we made these Chicken Gyros in my homemaking & hospitality class at the beginning of January, I've been excited to share them. I came home from the class just talking about how much I loved the recipe.
It's not unusual for me to get pumped up about a recipe, I mean, hello – Food Blogger! But this was one of those recipes that I couldn't wait to make again and again and again.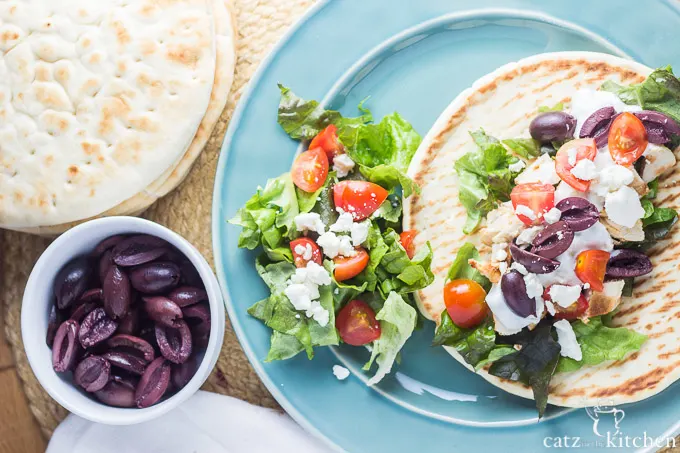 As I mentioned in the Tzatziki Sauce post yesterday, I've had Greek food twice and both times it didn't go over well. So when my friend Lisa mentioned that was what we were cooking, I was a little hesitant. I know a lot of people LOVE Greek food and I know gyros are probably one of the more popular dishes, but because I wasn't sure if it was something I would really enjoy.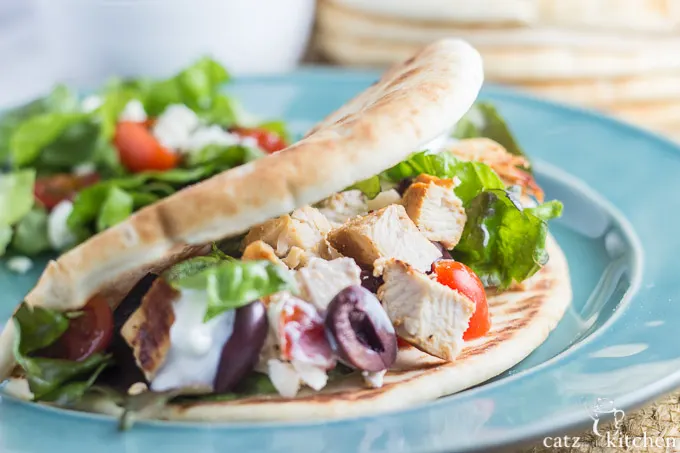 Let's take Thai food for example. I think I'm discovering that I like Thai prepared very carefully. We made Thai wraps in one of my classes last year and they were amazing. But then the other night we made Thai Ramen for dinner and I wasn't crazy about it. Josh, Christian, Grace, and Eden LOVED it. Like they all cleaned their bowls. But it was so peanut buttery and so rich that I felt kind of sick. So I ate a blondie to take away the flavor, and all was right in the world again, lol!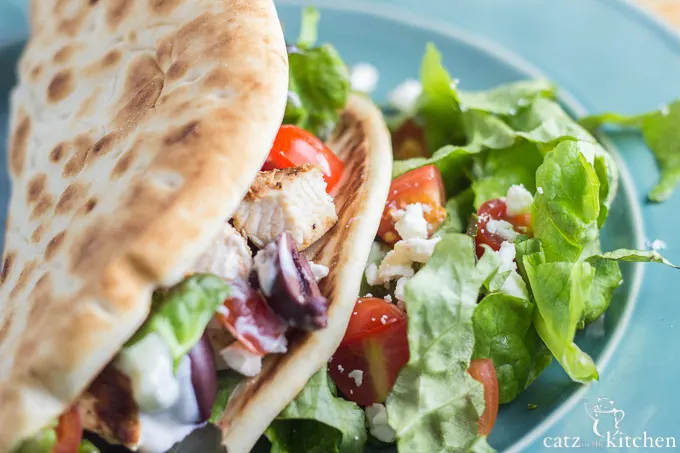 I think it's a matter of finding out what recipes work for your palate and which ones don't. These gyros definitely work for my palate, though. If they weren't so filling, I would eat ten of them. Do I know how authentic this recipe is? I do not…I just know it's tasty!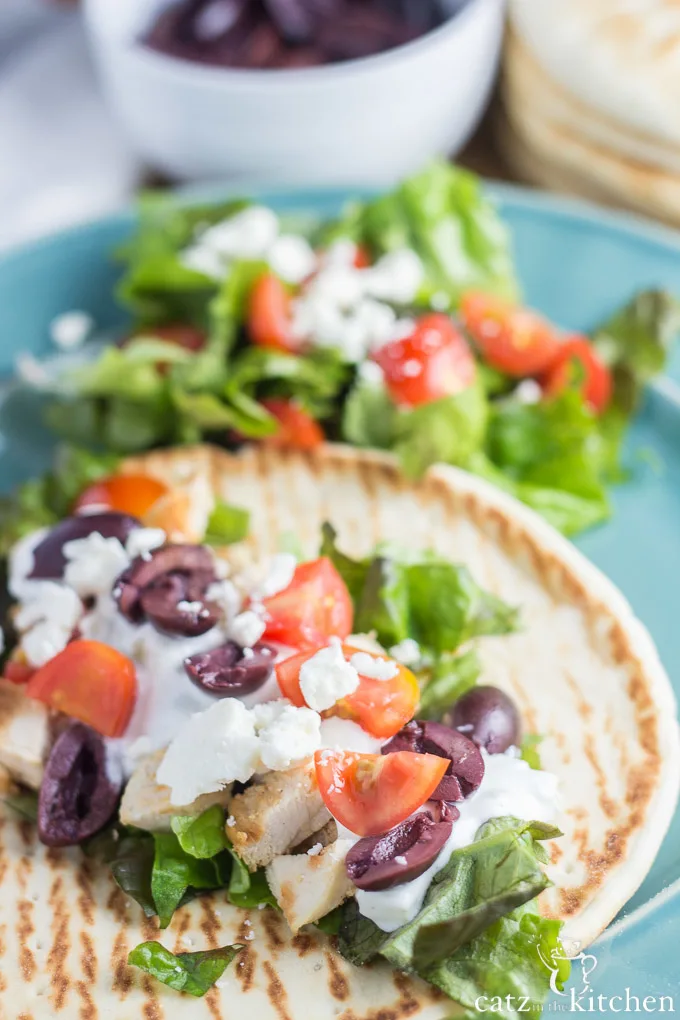 You'll notice that I omitted red onions from the pictures. Red onions and I don't get along. I had an allergic reaction several years ago and I've been wary of them since. I've eaten them in small amounts, but I don't go out of my way to buy them. If you love red onions, I would encourage you to add them because I'm sure they do add to the flavor.
Also – if you have a Cosco, buy the flatbread there. It is marvelous and cheap and dang are they delicious!
Chicken Gyros
This recipe for easy chicken gyros with tzatziki sauce is simple, filling, and fast. It can be on the table in 30 minutes and is easy prep ahead of time!
Ingredients
4 boneless, skinless chicken breasts
4 cloves garlic, minced
juice of 1 lemon
2 tsp red wine vinegar
2 tbsp extra virgin olive oil
1/2 cup plain greek yogurt
2 tbsp dried oregano
Greek flatbread
Instructions
Place all ingredients into a large Ziploc bag and let marinate overnight.
BBQ the chicken on a grill until the juices run clear, turning once for about 15-25 minutes total. Alternatively, you could cook the chicken in the crockpot on low for 6-8 hours or bake in a 375 pre-heated oven for 20-25 minutes.
Remove from heat and place on a plate. Cover with foil and let rest for 10 minutes before chopping up into bite-sized pieces.
Pre-heat oven to 400 degrees and place the flatbread on the oven racks and warm for 2 minutes. Remove and build your Gyro. We placed red leaf lettuce down first, followed by chicken, Tzatziki sauce, sliced grape tomatoes, sliced kalamata olives, and crumbled feta cheese.
Nutrition Information:
Yield:

8
Serving Size:

1
Amount Per Serving:
Calories:

173
Total Fat:

6g
Saturated Fat:

1g
Trans Fat:

0g
Unsaturated Fat:

4g
Cholesterol:

52mg
Sodium:

107mg
Carbohydrates:

8g
Fiber:

1g
Sugar:

1g
Protein:

21g
Nutrition information isn't always accurate.