Warm, easy, simple, quick, even pretty kid-friendly – what's not to love about this recipe for Kale & Sausage Pasta?
"This post originally appeared on the blog back in October 2012 – almost 10 years ago! The post, photos, and recipe have been updated. It's one of those great meals that doesn't require a ton of ingredients or time. That's often the best kind of recipe in my book!"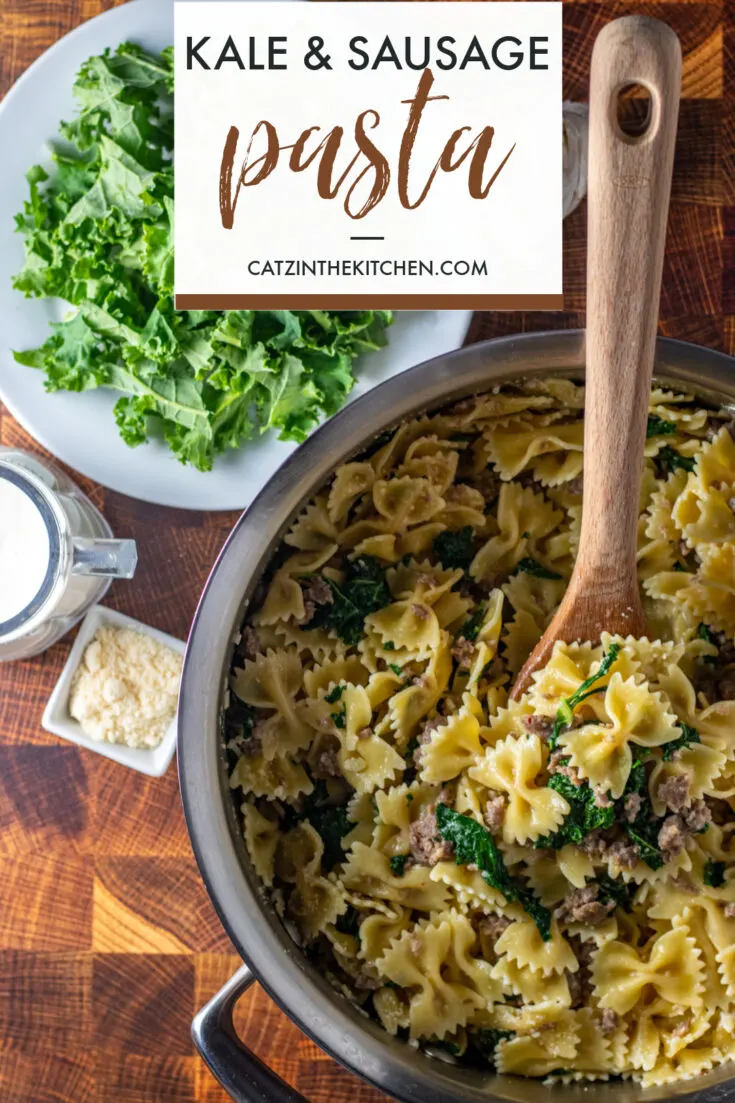 I have to tell you that I am in love with this dish! I have found myself getting inspired by some of the seasonal vegetables that keep showing up at my local farmer's markets and in the grocery stores, and really wanting to use them in my own cooking at home. Instead of spending money on produce that is expensive because it is out of season, I'm trying to make a better habit of getting to know what the in-season produce is and cooking with that.
To be fair, I don't cook or use kale that often. It's just not one of the lettuces I reach for the most. But, I know that it belongs to the super food family and I'm all about trying to get my family to eat more of those types of foods, especially during cold and flu season. My family does enjoy pasta and sausage, though, so this seems like a win-win in my book.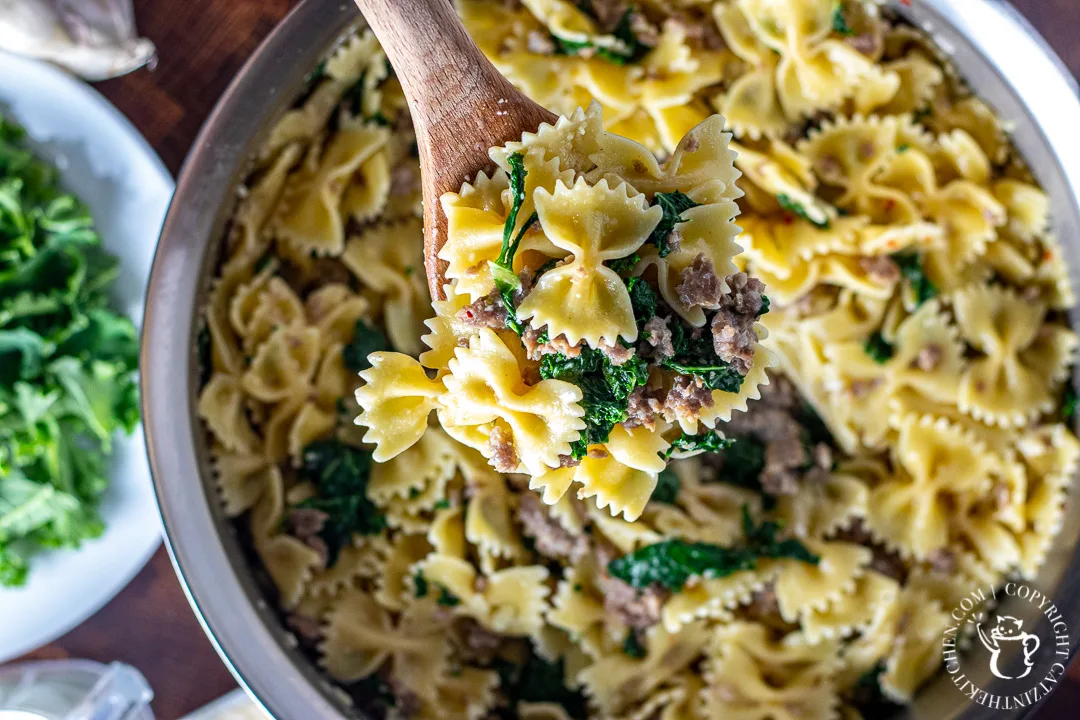 I'm going to be honest, I don't typically enjoy meals that have wilted down greens. I find the texture a bit off-putting, but since I've been doing this cooking thing for a bit now, I've figured out that what I don't like is greens that have been wilted down too much (you can go too far with it!) or greens that are reheated after being cooked down. The greens just get stringy, the color is off-putting, and I find the flavor to be a bit bitter; and by the time you get to that point any of the health benefits are gone as well. So I'd rather starve, if I'm being honest, than eat a meal with greens that are stringy or bitter. Ya feel me?
This meal is not that, though. This pasta is teaming with flavor, texture, and goodness. It's the kind of meal that you want to heap into a bowl and sit on the couch, under a blanket, and watch a good movie with. It's a comfort meal, through and through. You could absolutely pair a salad with this and some crusty bread and give yourself a full on meal. I always feel like with a good bowl of pasta, you don't need any of the rest. Let the pasta be the star and make peace with it, and then thank me later.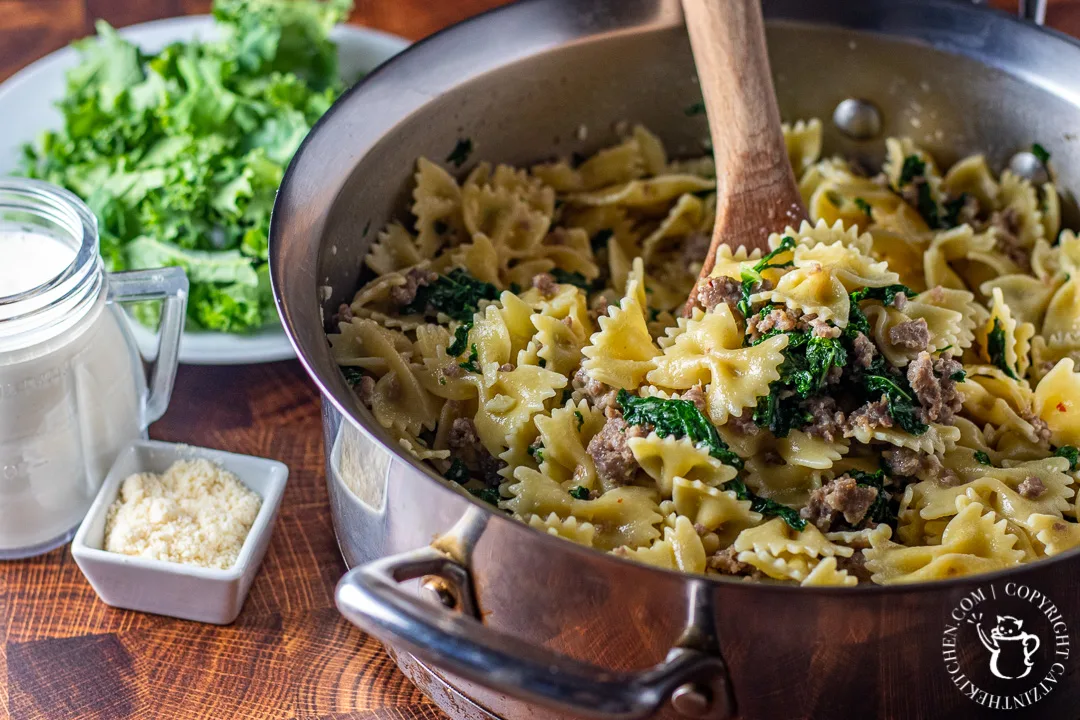 Let's talk substitutions.
What if I don't have heavy cream on hand?
That's totally fine. Half and half or whole milk would work great. You just want milk with enough fat content in it to help thicken the simple cream sauce you're simmering.
Do I have to use kale?
No, you don't. Chopped spinach would also work great. And if wilting greens isn't your thing either, you could always steam or roast some broccoli, asparagus, or green beans into the pasta as well. But I suggest trying it

with the

kale first.
I don't have farfalle pasta on hand.
No worries. You could use elbow, shells, penne, even rotini.
We don't eat pork. What could I use instead?
Any ground meat would work here, like ground beef, turkey, or chicken. The Italian sausage has a lot of flavor in it, so I would make sure to add some other spices like ground cayenne, fennel, and pepper when browning it up. Chicken sausage would also work really well here too.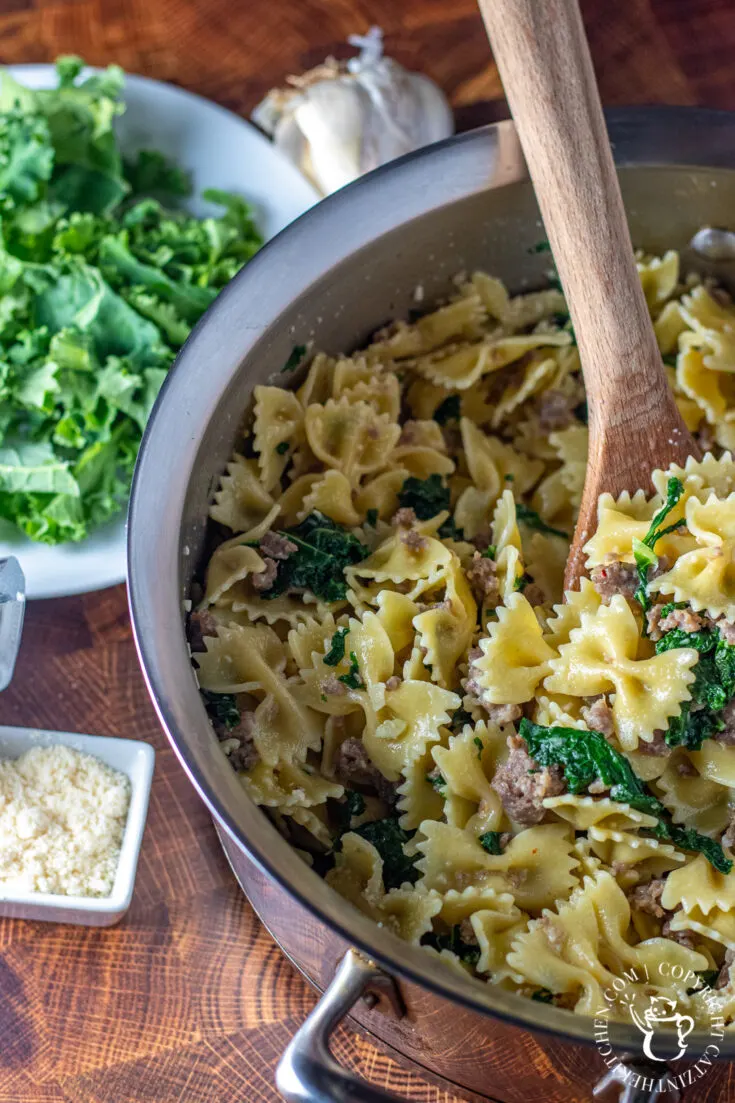 I would like to add that you could use a spicy Italian sausage here, too, if you like your food with a little more heat. Josh is really the only one who likes/can handle any kind of heat, but that might be a good option for you!
I also want to add, don't be shocked if it seems like initially too much kale when adding it to the pan. You will be surprised by how much it shrinks when it is wilted down.
I was shocked at how much my family and I enjoyed this meal. I loved how affordable and minimal it was in ingredients. I'm always looking for meals that will help me stay in line with my grocery budget, nourish our family, as well as get them to try something new. In this case, trying kale out. If you're looking for a meal that will also cross off some of those items, give this one a try. I bet your family will enjoy it, too!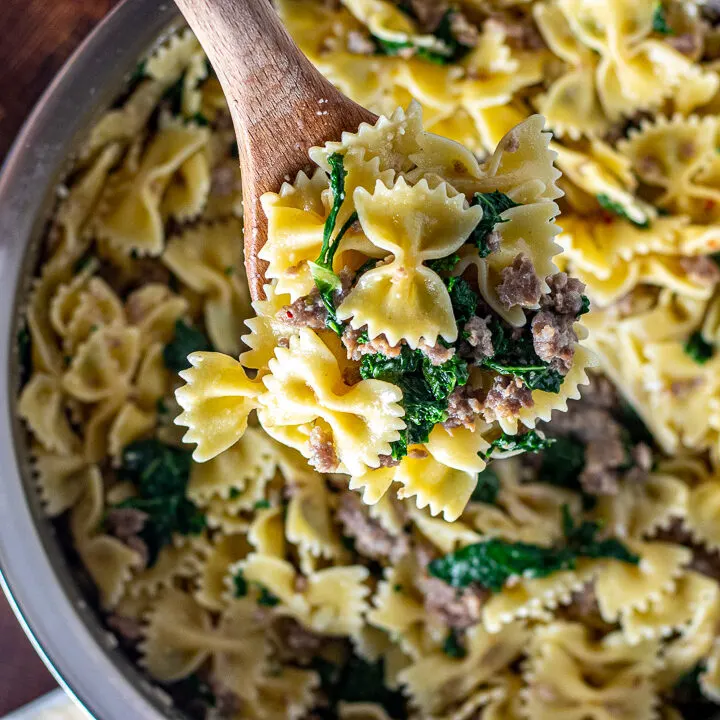 Kale & Sausage Pasta
Warm, easy, simple, quick, even pretty kid-friendly - what's not to love about this recipe for Kale & Sausage Pasta?
Ingredients
1 lb. short cut pasta, like farfalle
1 lb ground Italian sausage
2 cloves garlic, minced
1/2 cup heavy cream
1/2 cup water
1 large bunch kale, trimmed and coarsely chopped
1/2 cup grated parmesan cheese + more for topping if desired
Instructions
In a large pot, bring water to a rolling boil. Season the water with salt and cook pasta according to package directions, drain.
While the pasta is cooking, in a large skillet, brown sausage over medium-low heat for about 7 minutes. Add garlic and cook another 1-2 minutes. Add 1/2 cup water and 1/2 cup of cream and simmer until reduced by half, about another 7 minutes.
Add chopped kale and toss until wilted. Add pasta and remove from heat. Sprinkle with parmesan and toss until combined. Serve right away.
Nutrition Information:
Yield:

6
Serving Size:

1
Amount Per Serving:
Calories:

518
Total Fat:

31g
Saturated Fat:

14g
Trans Fat:

0g
Unsaturated Fat:

19g
Cholesterol:

73mg
Sodium:

724mg
Carbohydrates:

35g
Fiber:

2g
Sugar:

3g
Protein:

23g
Nutrition information isn't always accurate.