This recipe for Breakfast Kale Salad from Melissa d'Arabian's new cookbook is healthy, tasty, colorful, and ready in about half an hour!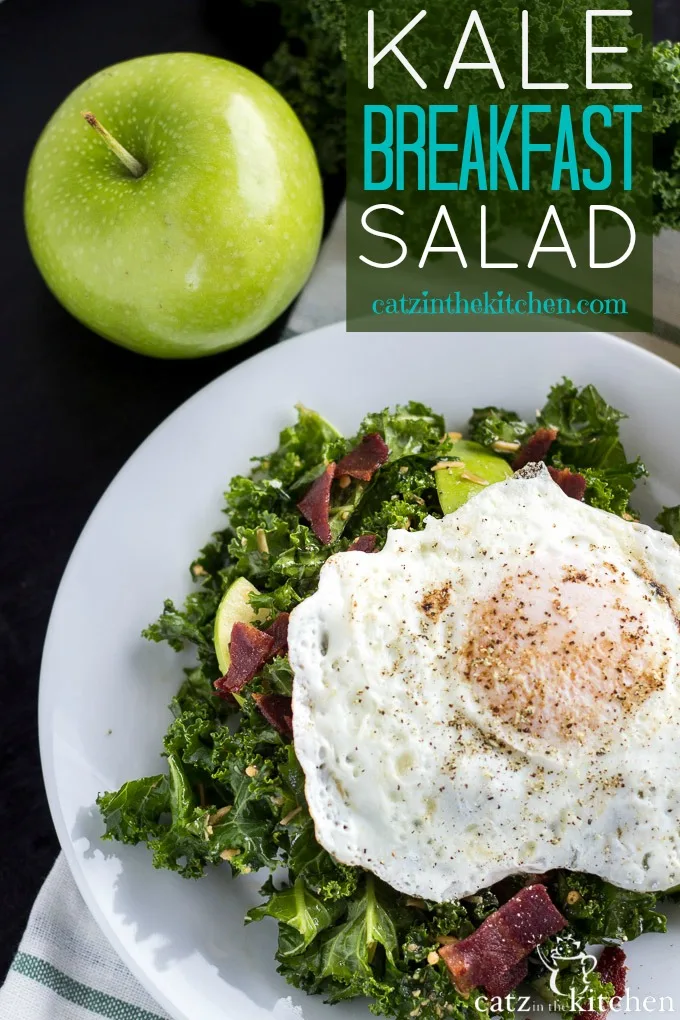 I'm pretty new to the whole kale thing. I've used kale once before in this ridiculously old Fettuccini with Sausage and Kale Pasta, and it was so good. I think by now we all know about the health benefits of eating kale, and if you don't, then climb out from under your rock and join me on this wild ride of kale! …um, does that actually make sense? Anyway.
Josh bought me Melissa D'Arabian's new cookbook, Supermarket Healthy and I've loved looking through it. So many recipes I still want to make, but as soon as I saw her recipe for the kale breakfast salad, I knew I needed to try it.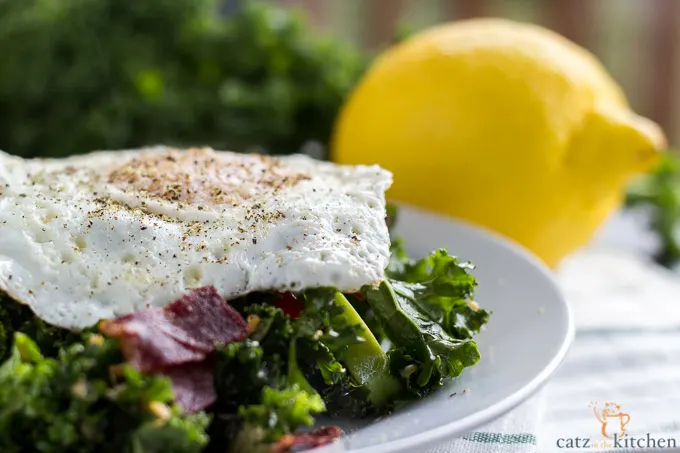 I was just so intrigued by the idea of a salad for breakfast. I would never ever even think of eating one. It's like breakfast nachos, which I hear are delicious, but still have yet to try. I've just come to the conclusion that if you pop a dippy (that's what I called a sunny-side up or over easy egg when I was little) egg over any food, it's probably going to taste delicious!
Like the Royal Red Robin burger – put an egg on it and it's amazing! Put an egg over a kale salad, and, oh, yeah – add bacon – and you've got a crowd pleaser! I mean, bacon and eggs?? It's just interesting enough to try!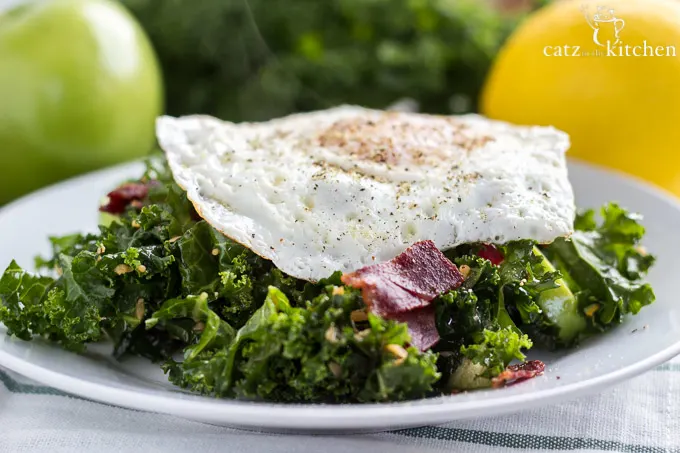 I did have to give myself a pat on the back for eating this salad for breakfast. It is just so healthy, fresh, and tasty! I like knowing that I'm doing something good for my body occasionally, lol! Not that I eat badly. I love to eat and I love to eat all kinds of food. I'm not a health nut, but I believe in balance, and this balanced salad will definitely make you feel less guilty about anything you've eaten or are about to eat within the next 24 hours.
Breakfast Kale Salad
This recipe for Breakfast Kale Salad is healthy, tasty, colorful, and ready in about half an hour!
Ingredients
Dressing & Kale
1/4 cup fresh lemon or orange juice
1 bunch kale, ribs removed and leaves stacked and thinly sliced lengthwise like ribbons
Toppings
3 slices turkey bacon
2 tbsp olive oil
1 granny smith apple, cored and cut into bite-size pieces
1/4 cup cheddar cheese, shredded
4 large eggs
1/2 tsp kosher salt
1/4 tsp freshly ground black pepper
Instructions
To make the dressing for the kale, whisk the lemon or orange juice, maple syrup, balsamic vinegar, and salt together in a large bowl. Add the kale strips and dress the salad with your hands, coating the dressing into the kale.
Spray a nonstick skillet with baking spray or olive oil and set the heat to medium-high. Add the bacon and cook until crispy on each side about 5-6 minutes. Transfer the bacon to a cutting board and chop into pieces.
Drizzle the olive oil over the kale and toss to combine. Add the apples and cheese and toss again. Divide the salad into 4 servings on plates.
Crack the eggs in the same skillet you used for the bacon and cook them over medium heat for a sunny-side up egg. Slide the eggs onto each plateful of salad and sprinkle with salt and pepper and serve.
Nutrition Information:
Yield:

4
Serving Size:

1
Amount Per Serving:
Calories:

277
Total Fat:

19g
Saturated Fat:

5g
Trans Fat:

0g
Unsaturated Fat:

12g
Cholesterol:

211mg
Sodium:

844mg
Carbohydrates:

16g
Fiber:

2g
Sugar:

10g
Protein:

13g
Nutrition information isn't always accurate.