If you've got apples to use up, grab this recipe and make this apple zucchini bread. It's a simple and quick recipe that is just delightful!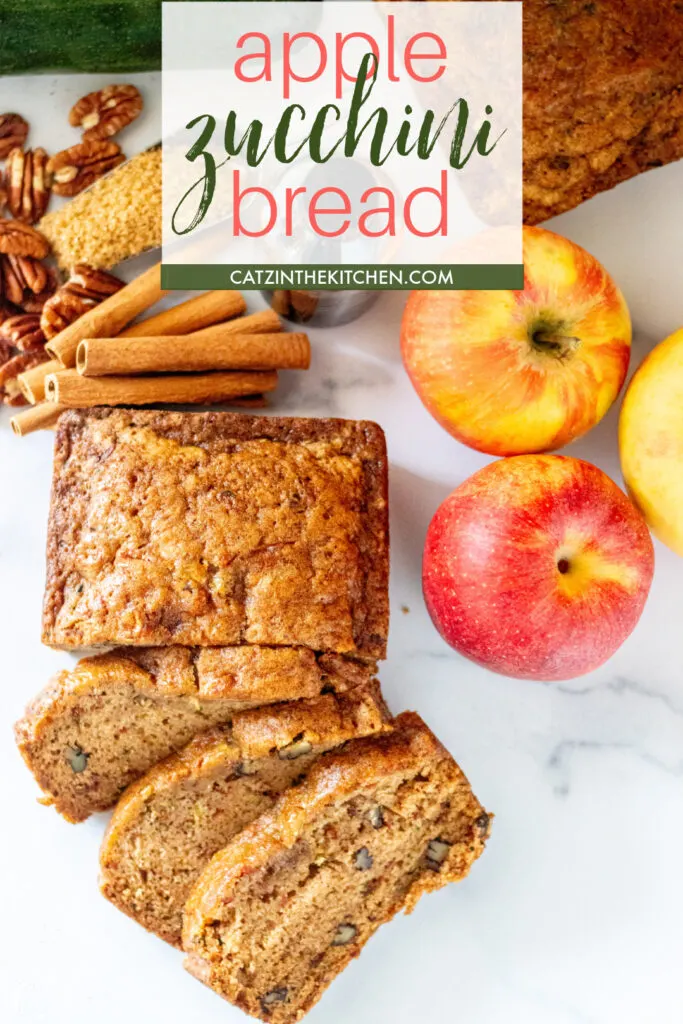 For the last five years or so, I've wanted to go apple picking in Hood River, it's been on my bucket list. Hood River is a city about an hour and half from where we live, and they're known for their fruit loop. It's a 35 mile loop that boasts 28 fruit farm stands, wineries, and breweries, cideries, and fields for flower picking.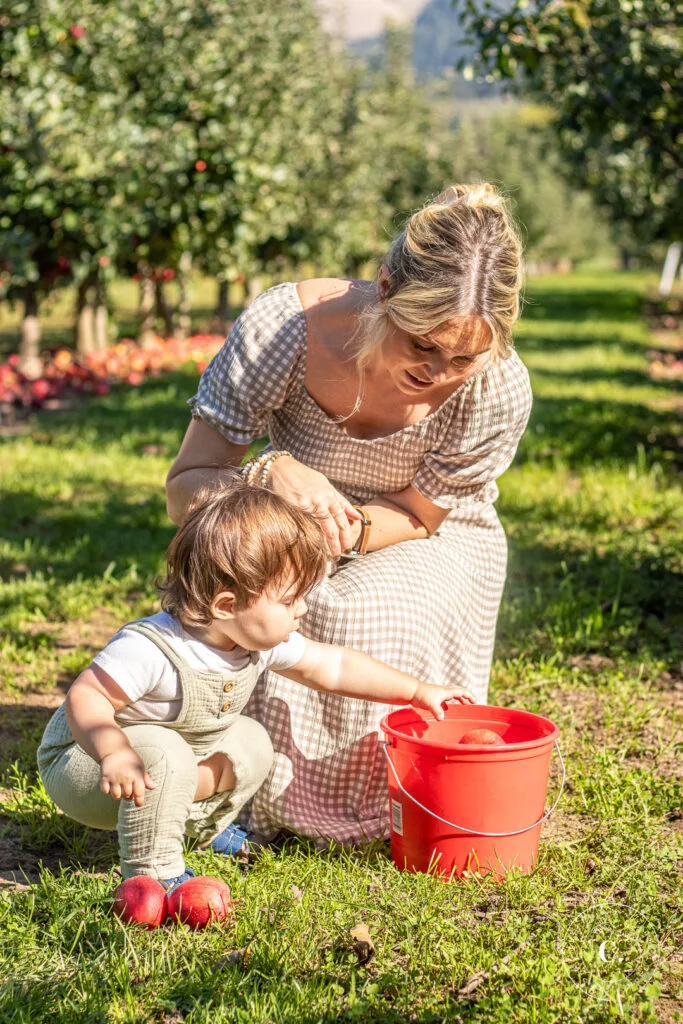 We went out one beautiful, warm Sunday in the late morning and made the drive to Hood River and spent a few hours at The Gorge White House. We ordered lunch there, and while we waited for it to be ready, we picked apples – it was so fun! We got a few cute pictures of the kids and just had a lovely afternoon together, all seven of us. It's rare to get us all together anymore, it seems. With Grace in college and working and Josh traveling lately and just a lot of different activities on the calendar, I wasn't even sure this was going to be possible. But I think we got the last beautiful October day with temps close to the 80's and made some sweet memories as a family.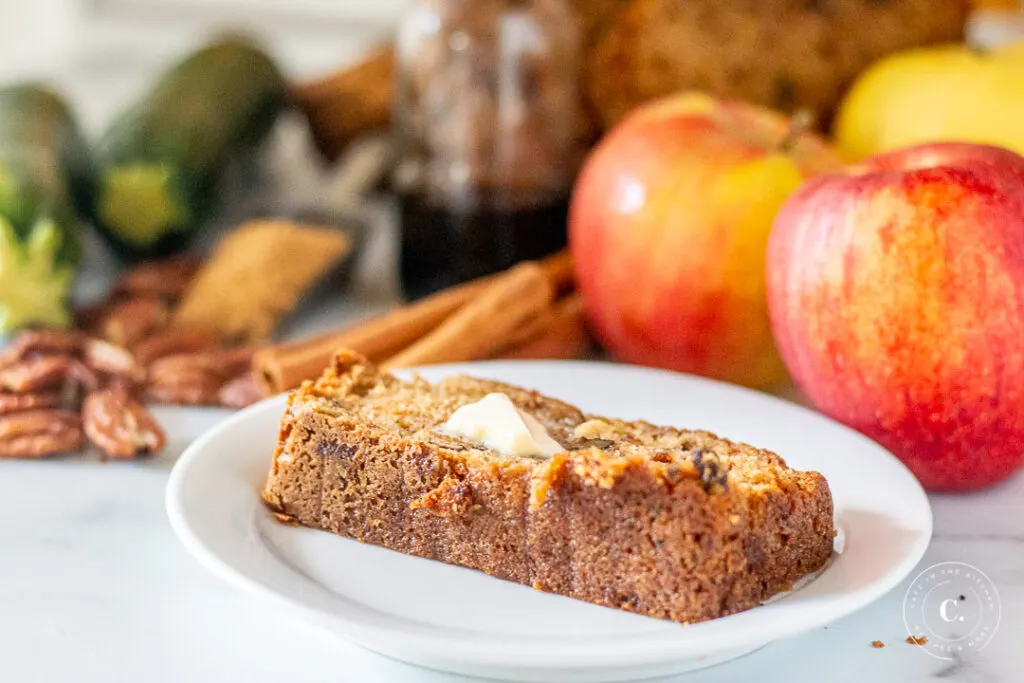 I've got a lot of apples to play with now, though. I've been making my grandmother's apple crisp, this cast-iron apple pie, and we made crepes with apples, too! That was amazing, by the way. With that recipe, we cooked the apples in honey butter (!!).
Dreamy is all I can say about that one.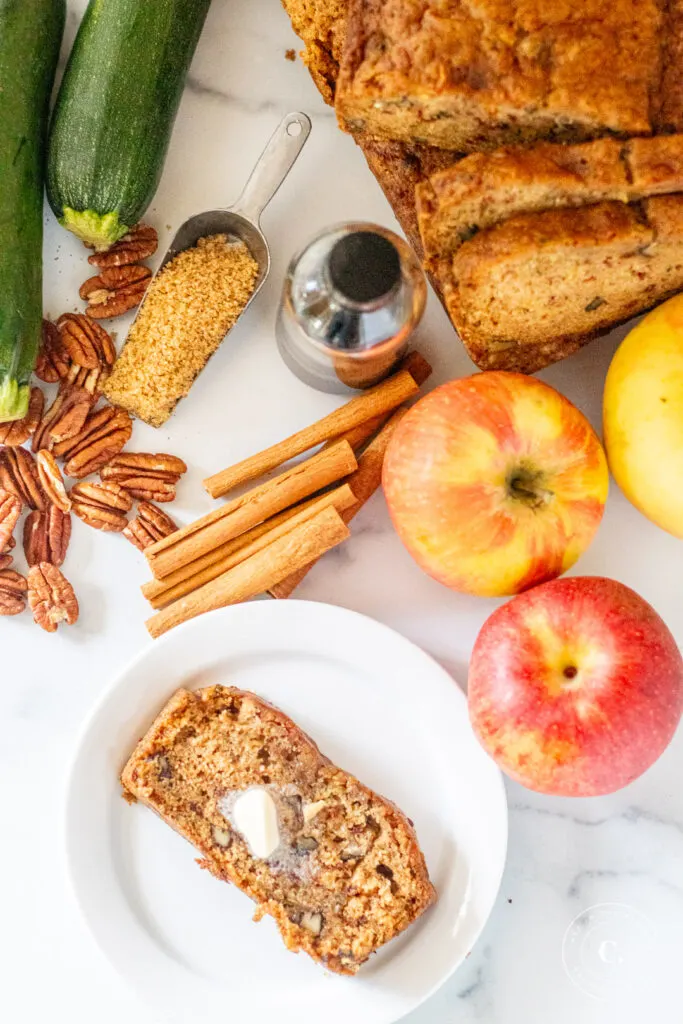 I also made this Apple Zucchini Bread. I happen to love "quick" breads. Simple to bake. Simple ingredients. Quick breads make a great snack or even breakfast/dessert. I am particularly fond of this bread because it makes three loaves, which reminds me of my friend Cindy's Pumpkin Bread that is also on the blog. That recipe also makes three loaves of bread. You know what three loaves of bread means, right? One loaf to eat and two to give away. In our case, I made one for Josh to share with his men's Bible study, and then I saved the other two loaves for these pictures! 😆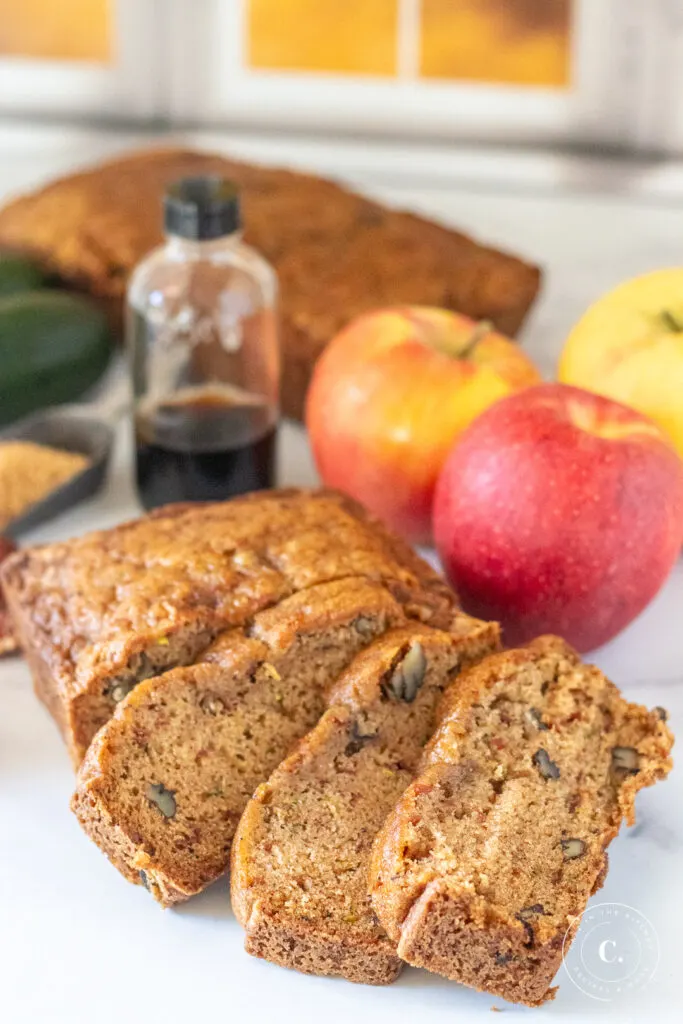 Between the apples and shredded zucchini, this is not a dry bread at all. Instead of using vegetable oil, I used applesauce, which is not only a healthier option, but also just added to that beautiful apple flavor. I used pecans in this recipe, but of course you could also use walnuts if you prefer, or if there is a specific nut allergy.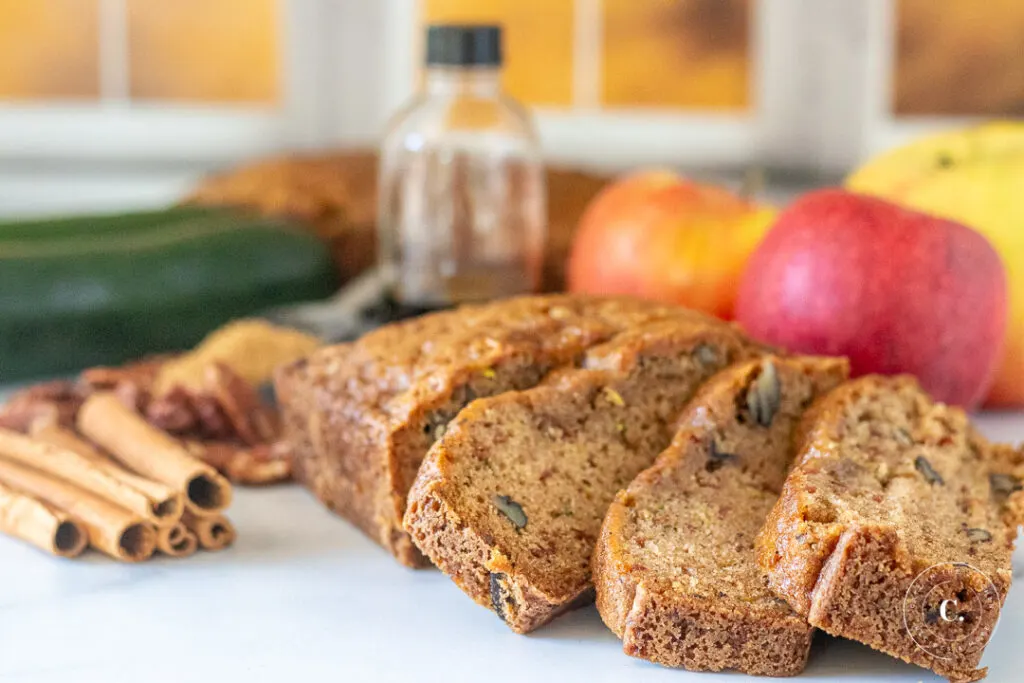 I love the earthy fall flavors from the cinnamon and nutmeg. It's just sweet enough, but not too sweet. Let me put it this way, this bread warmed up with a bit of grass-fed butter = chef's kiss!
If you've got apples you're looking to use up, grab this recipe and make this apple zucchini bread. It's a simple and quick recipe that is just delightful!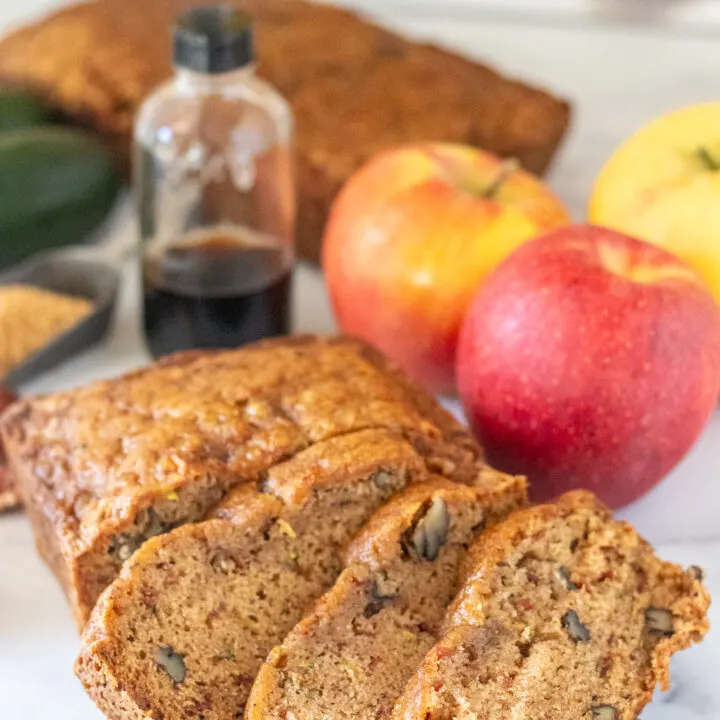 Apple Zucchini Bread
Yield:
3 loaves ( 12 slices each)
Total Time:
1 hour
25 minutes
If you've got apples to use up, grab this recipe and make this apple zucchini bread. It's a simple and quick recipe that is just delightful!
Ingredients
4 cups all-purpose flour
3 tsp baking soda
1 1/2 tsp ground cinnamon
1/2 tsp ground nutmeg
1/4 tsp salt
5 large eggs, room temperature
1 1/2 cups unsweetened applesauce
2 cups sugar
1 cup packed brown sugar
1 tsp vanilla extract
2 cups shredded zucchini (about 2 medium zucchini)
1 cup grated peeled apples (about 2 apples)
1 1/2 cups chopped pecans
Instructions
Preheat oven to 350 degrees. Grease 3 8x4-inch loaf pans, set aside. In a large bowl, combine the flour, baking soda, cinnamon, nutmeg, and salt. In a large bowl, beat the eggs until frothy. Add the applesauce, sugars, and vanilla; beat until blended Stir into the dry ingredients just until moistened. Fold in the zucchini, pecans, and apples.
Transfer to the greased loaf pans. Bake for 55-60 minutes, or until a toothpick inserted in the middles comes out clean. Cool loaves for 10 minutes before removing from pans to cool completely.
To share, wrap loaves in wax papers to keep fresh and for a cute presentation, wrap in a cute towel for a cute presentation. If you don't plan on giving these away right away, wrap in plastic wrap securely.
Notes
Recipe slightly adapted from Taste of Home
Nutrition Information:
Yield:

36
Serving Size:

1
Amount Per Serving:
Calories:

163
Total Fat:

4g
Saturated Fat:

1g
Trans Fat:

0g
Unsaturated Fat:

3g
Cholesterol:

26mg
Sodium:

133mg
Carbohydrates:

29g
Fiber:

1g
Sugar:

18g
Protein:

3g
Nutrition information isn't always accurate.