This recipe for apple tartlets couldn't be much easier. A sheet of puff pastry, some apples, and a few pantry ingredients, and you're ready to go!

Chels gets AllRecipes Magazine (food blogger life – many food-centric magazine subscriptions!), and in a recent issue, she came across this recipe for simple apple tartlets. Since I've been the one experimenting with puff pastry, she suggested I give it a whirl. So far, we've done marionberry danishes, chocolate danishes, and, most recently, these ridiculous little sausage mummies!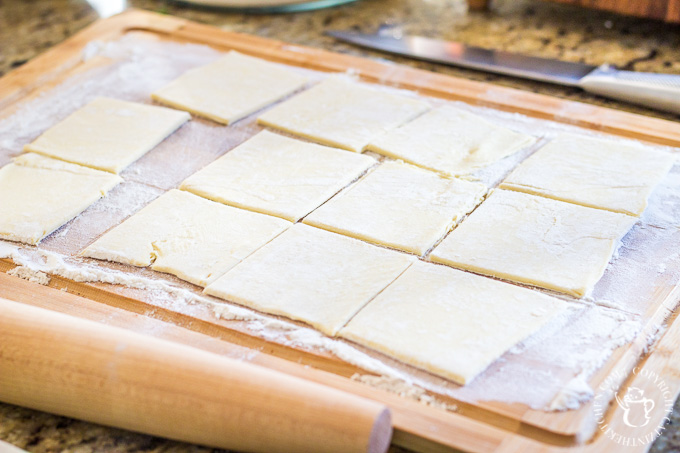 I really want to try making our own puff pastry…but it looks like an insane amount of work for something that will undoubtedly be only comparable (or *gasp* worse than) to Pepperidge Farm's quality product anyway! (No sponsorship – our stores just carry it, and I love it.) And, honestly, frozen puff pastry sheets are so danged easy to work with. Also, guess what just made Food Network's list of eight things you should never make from scratch? Yeah, that would be puff pastry.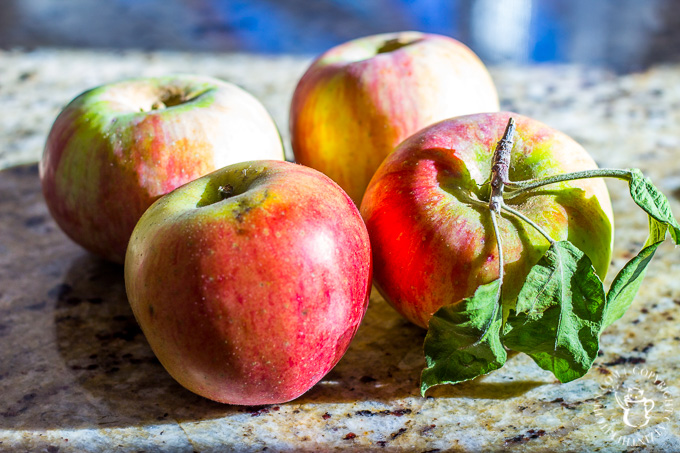 As it happened, we had also just gone apple picking (quickly becoming a favorite fall family tradition, no matter what Jim Gaffigan says).
That's why there have been so many apple-centric recipes on the menu lately! We made the Pan-Seared Chicken with Apples and Pears the other night, we had that giveaway with the Healthy Apple Pie Egg Rolls last week, and then there was the Chipotle Turkey Chili with Apples and Cheddar! I wouldn't quite call it apple overload, but, yeah, we're emptying out a big box of local apples over here!
I will admit, I always bring my camera and tripod when we go apple picking. It's just one of those ridiculously picturesque family activities. Even when you're a guy that works in an office in front of a computer with a house in a subdivision, you can take pictures of your family on a farm picking fruit. Feels like little people in their native environment. I love it.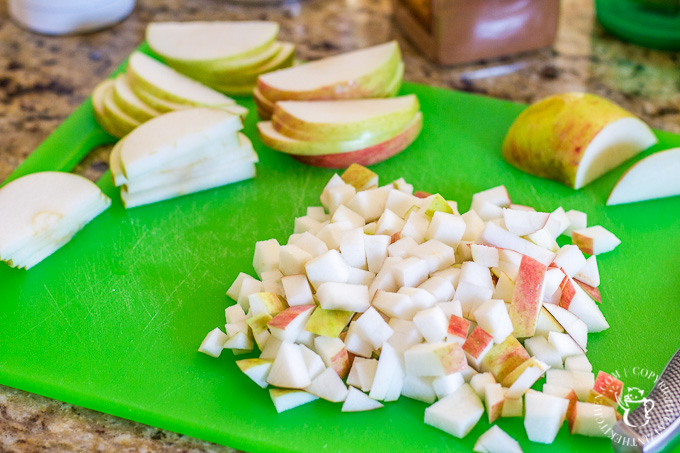 I wanted to try preparing the fruit for these apple tartlets two ways – sliced and diced. My suspicion was that sliced apples would be prettier (more photogenic, if you will), while diced would be easier for little people to eat. Turned out that was pretty on the nose. The tartlets with the sliced apples would be much better suited to being an appetizer or dessert at a holiday party, and adults with adult-sized mouths and teeth won't have any trouble eating them without having a big slice of apple dangling from their lips. The kiddos, however…the diced apples are quite a bit easier to get their little mouths around without mess and drama. If you're serving a mixed group, do what I did, and make both! It doesn't really add anything to the prep. Just dice half your apples and slice the other half!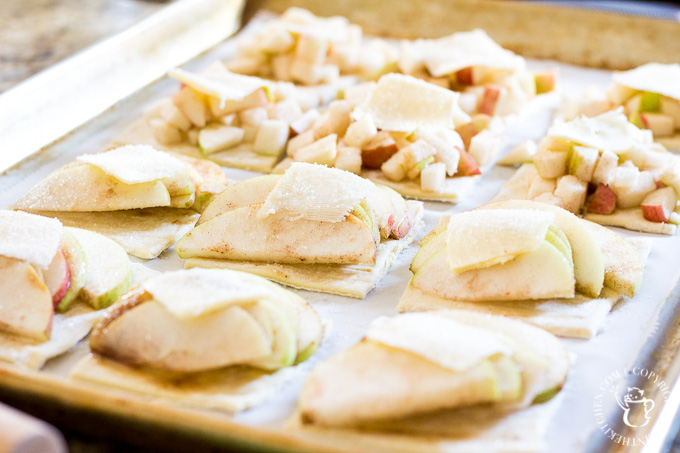 Okay, I have to take a second here – I'm not the only one that immediately thought of Jon Lovitz guest-starring on Friends when I read the title of this recipe, am I? Actually, I know I'm not, because Chels did, too…tartlets…tartlets…tartlets…
Now that we're got that out of the way…this recipe really couldn't be much easier. You basically roll out the puff pastry dough a bit, slice it up, slice the apples up, bake them, baste them, and eat them! Okay, so there's some lemon juice and cinnamon and butter and sugar in there, too, but it really is easy, and the result is a surprisingly sophisticated dish that somehow isn't the least bit stuffy.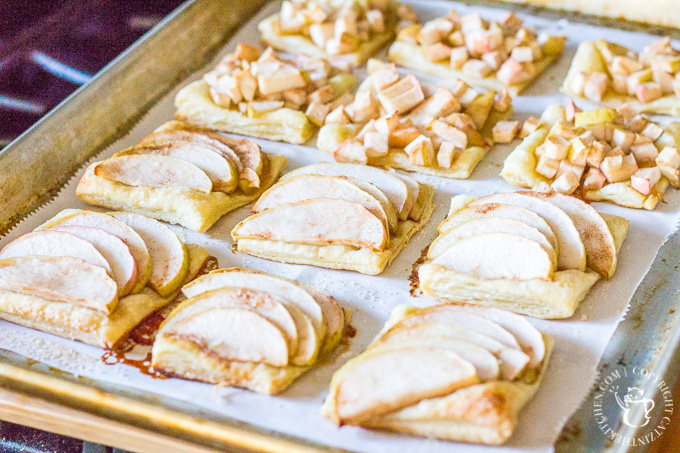 I would say these apple tartlets lasted about ten minutes in our house. I fought the hoard off long enough to photograph them quickly, and then they disappeared. I may have been responsible for a couple of those disappearances. Maybe.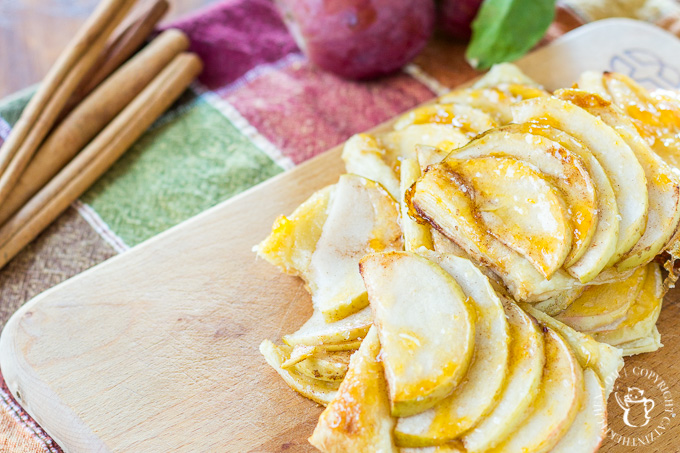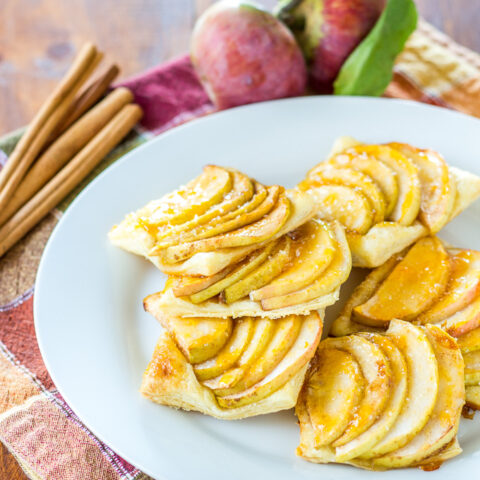 Easy Apple Tartlets
This recipe for apple tartlets couldn't be much easier. A sheet of puff pastry, some apples, and a few pantry ingredients, and you're ready to go!
Ingredients
1 sheet thawed puff pastry
4 large apples
2 tbsp brown sugar
2 tsp cinnamon
3 tbsp lemon juice
2 tbsp cold unsalted butter
1 tbsp white sugar
1/4 cup apricot preserves
(optional) coarse sugar for topping
Instructions
Lightly flour a surface, and roll out sheet of puff pastry to about 9 in by 12 in. Cut into 12 squares, roughly 3 in by 3 in each.
Preheat oven to 375 degrees and prepare a baking sheet by lining it with parchment paper, then lay out puff pastry squares on baking sheet.
Either slice applies thinly or dice them, depending on preference (see body of post for thoughts on this).
Mix lemon juice, brown sugar, and cinnamon in a bowl, and toss apple slices / pieces in it. If using apple slices, fan out a few slices across each pastry square. If apple pieces, top each square evenly.
For each square, top with a thin slice of butter and sprinkle with white sugar.
Bake tartlets until the edges are golden brown and slightly crisp, 15-20 minutes.
In a small saucepan, warm apricot preserves over low heat. Use a basting brush to brush preserves over tartlets, sprinkle with coarse sugar if desired, and serve immediately.
Nutrition Information:
Yield:

12
Serving Size:

1
Amount Per Serving:
Calories:

99
Total Fat:

3g
Saturated Fat:

1g
Trans Fat:

0g
Unsaturated Fat:

1g
Cholesterol:

5mg
Sodium:

11mg
Carbohydrates:

19g
Fiber:

2g
Sugar:

14g
Protein:

0g
Nutrition information isn't always accurate.