Have some leftover turkey? Cocoa, peanuts, chili, cilantro – these simple but incredibly flavorful slow-cooker turkey mole street tacos are just the ticket.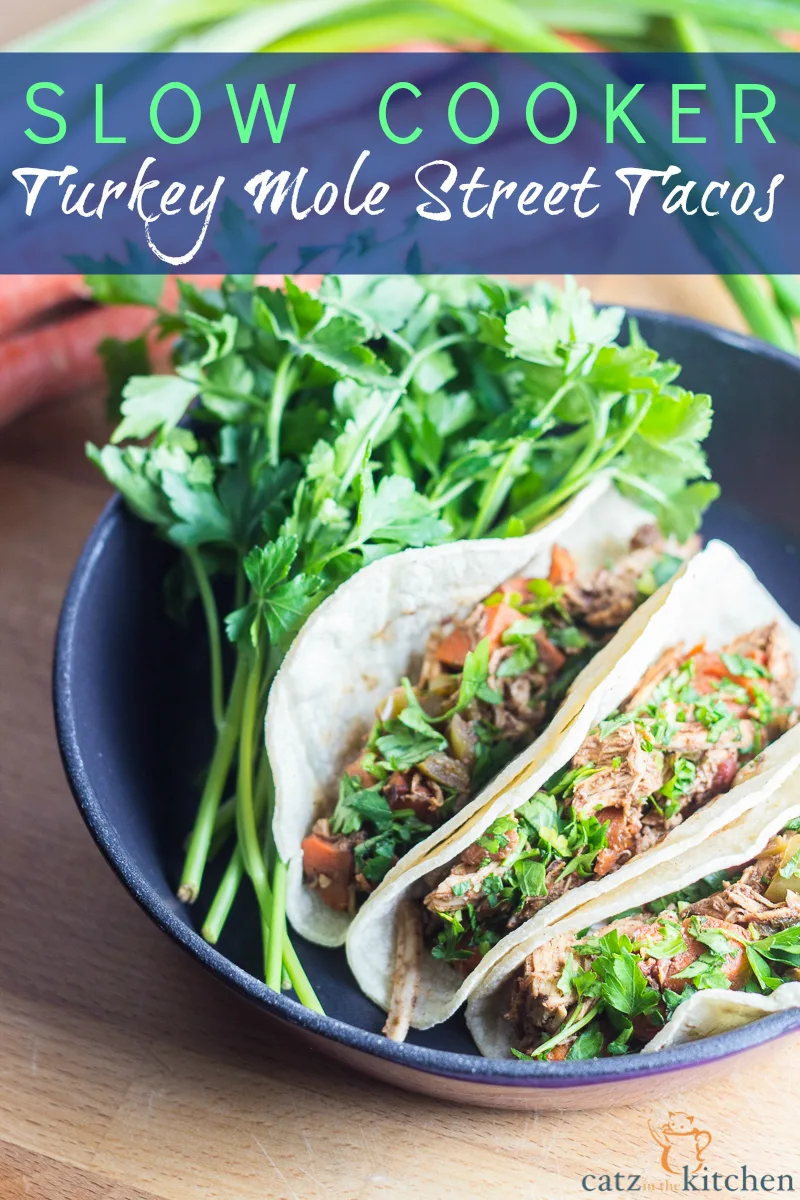 I love street tacos. Actually, I love all tacos. Fish tacos. Beef tacos. Chicken tacos. Hard tacos. Soft tacos. Chocotacos. Tacos are where it's at. But back to street tacos. Truthfully, I don't know what the technical definition of a "street taco" is (I don't know if there even is one), but I've taken it to describe a simple taco served in a warm corn tortilla. If that's right, then I think I can safely call this recipe a street taco. If it's not, then I'm going to dangerously call it a street taco.
Can you serve a taco from a slow-cooker on the street? Sure. Why not. Battery-powered slow-cookers for the win.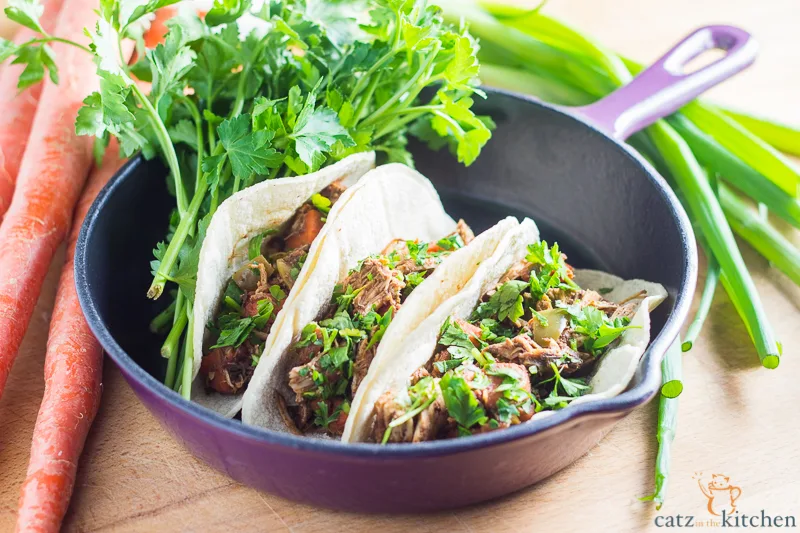 Anyway, in the spirit of finding you something new and different to do with your Thanksgiving turkey leftovers, we bring you this excellent and easy recipe for mole taco filling. I'm not enough of a mole aficionado to be able to tell you whether or not this is an authentic representation of mole sauce, but I can tell you that it tastes like mole to me. Actually, the definition of mole has become so broad over the years, that this dish probably qualifies just fine with its dark color, turkey base, and ancho chili flavor. More than any other flavors, the peanut butter, ancho chili, and cilantro are what jump out and grab you here. Peanut flavor in a taco is just so novel – when you first smell the earthy peanut aroma wafting out of the slow-cooker, your nose will promptly inform your tastebuds that they will enjoy this meal!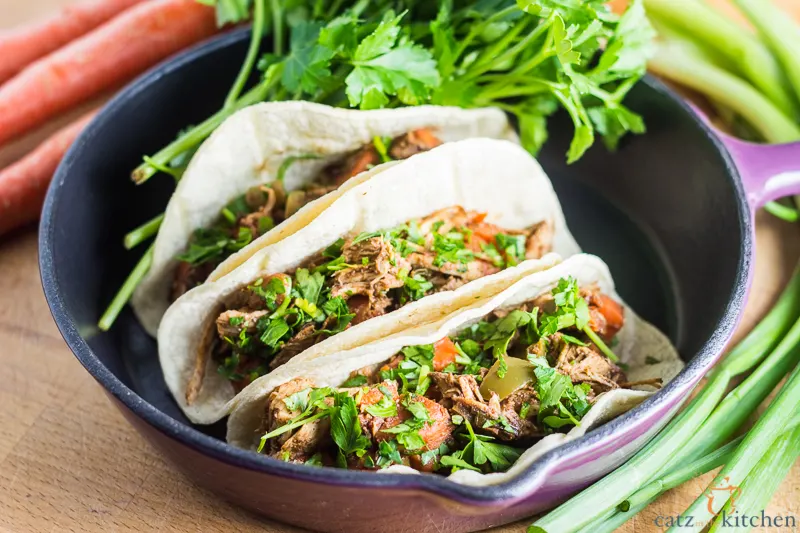 Chels added a bit of sour cream to hers for moisture, and I added a little chipotle sauce to a few of mine (mostly because I'm just obsessed with all things chipotle). I'd say you can really add whatever you want, but you'd be just fine with the tortilla, the turkey mole mixture, and some fresh cilantro. As an aside, I haven't counted the calories, but I'd say this is pretty dang healthy. Also, Costco sells excellent taco-size white corn tortillas for about $4 per 100. Can't beat it.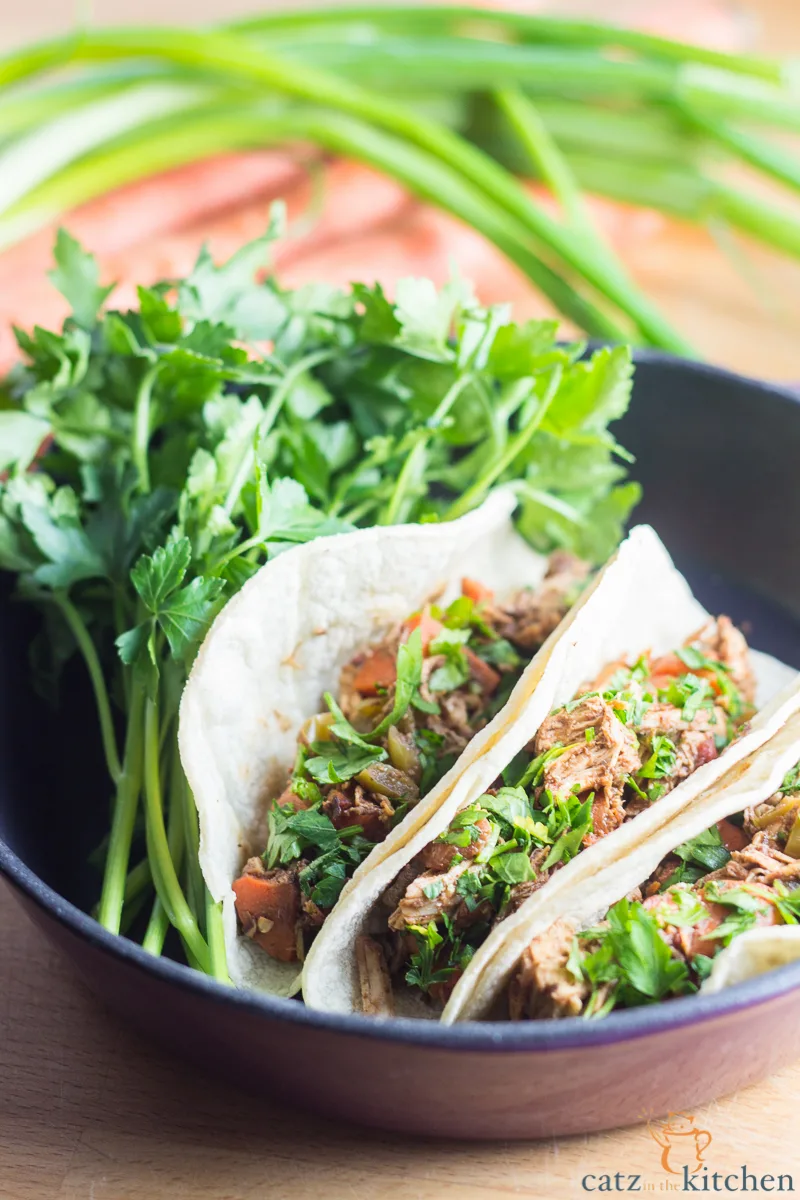 Enough talking! Get out your slow-cooker and your leftover turkey, and get to work!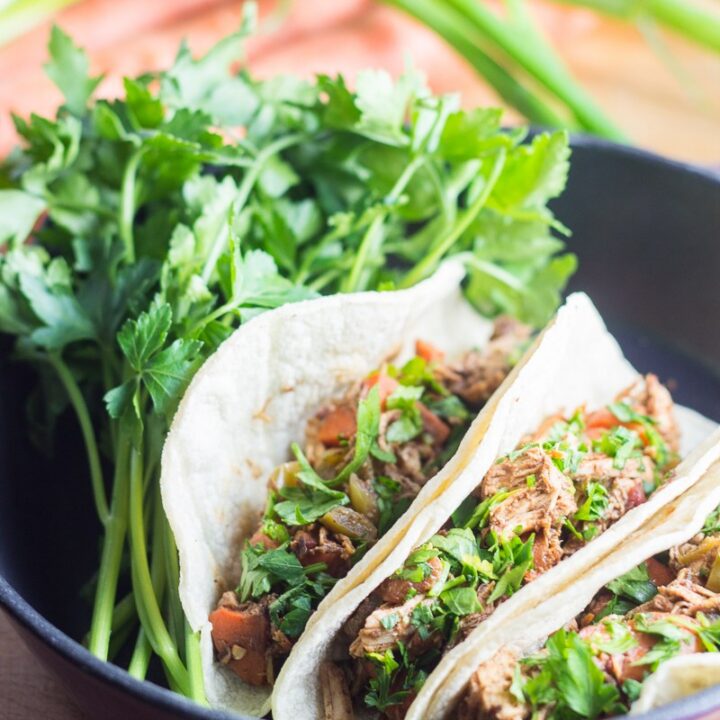 Slow-Cooker Turkey Mole Street Tacos
Total Time:
8 hours
15 minutes
Looking for a delectably different use for your leftover turkey? Cocoa, peanuts, chili, cilantro - these simple but incredibly flavorful tacos are just the ticket.
Ingredients
1 can (15 oz) diced tomatoes, drained
2 carrots, cut in 1/2 inch pieces
1 green bell pepper, finely chopped
1/4 cup fresh cilantro, chopped (plus additional for topping)
2-4 scallions, chopped
2 tbsp creamy peanut butter
1 1/2 tbsp soy sauce
1 tbsp ancho chili powder
2 tsp unsweetened cocoa
1/2 tsp cinnamon
2 cups turkey meat, chopped or shredded
15-20 white corn tortillas
Instructions
Add all ingredients except turkey and tortillas to a slow-cooker and stir until combined.
Cover and cook on low for 6 hours.
Stir in turkey and continue cooking for an additional 2 hours.
When ready to serve, warm tortillas in a dry skillet over medium heat.
Serve turkey mixture in tortillas and top with additional cilantro.
Nutrition Information:
Yield:

18
Serving Size:

1
Amount Per Serving:
Calories:

101
Total Fat:

2g
Saturated Fat:

0g
Trans Fat:

0g
Unsaturated Fat:

2g
Cholesterol:

15mg
Sodium:

126mg
Carbohydrates:

14g
Fiber:

2g
Sugar:

1g
Protein:

7g
Nutrition information isn't always accurate.