With some easy additions for enhanced flavor, this citrus & garlic turkey is simple, straightforward preparation for a classic Thanksgiving bird.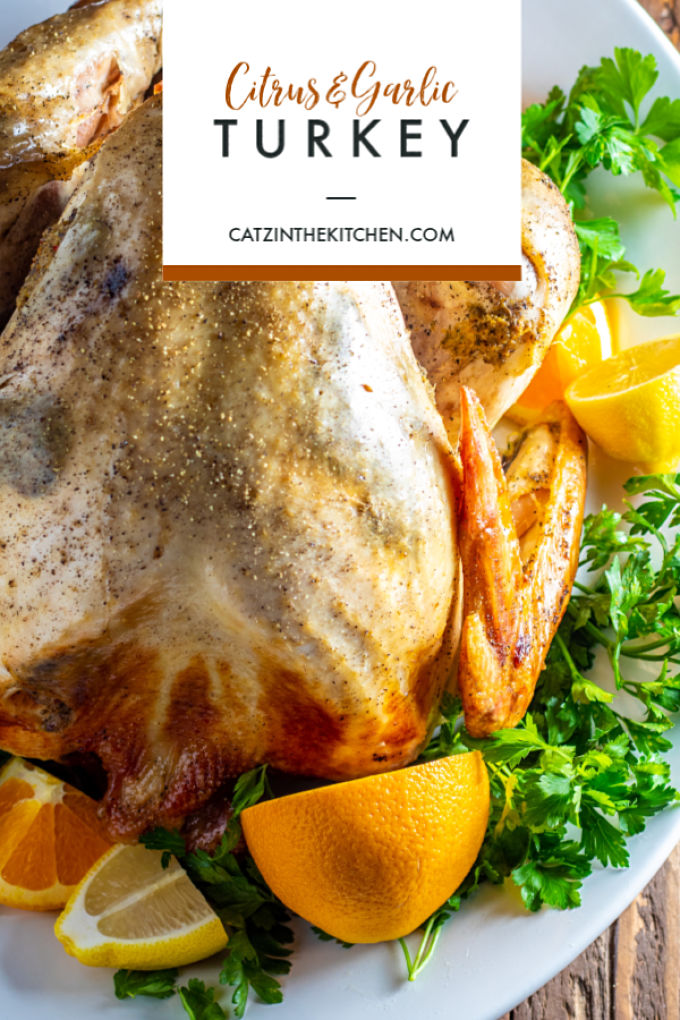 Well, it is Thanksgiving week, and we do only have one roast turkey recipe on the blog. I know. One. It seems like a major oversight on our part. Of course, in our defense, it is not your run-of-the-mill turkey recipe. It's one glazed in pomegranate molasses, and, let me tell you, that is one heckuva way to prepare a bird. But that isn't for everyone, or every year. Sometimes, you want something a little more classic.
I would say that this citrus & garlic turkey is a very slight twist on a classic preparation. You've got the addition of the citrus herb butter, the aromatics underneath the bird, and all of the citrus stuffed inside, but the actual roasting is rather traditional, and none of the spices or flavor combos are exotic or unusual. All of that being said, though, these little tweaks bring big flavor, and, more importantly, combined with dedicated and timely basting and an appropriate cooking time, avoid the gravest of all Thanksgiving sins…dry turkey (*shudder*).
I exaggerate, of course. I've cooked a few dry turkeys, and as sad as that was, they made great leftovers in turkey sandwiches, perked up under a good gravy, and still filled the house with delicious Thanksgiving-y smells. So even a dry turkey can be quite enjoyable. But…if you want to be able to just carve off a piece and delight in it…this recipe is not a bad way to go at all.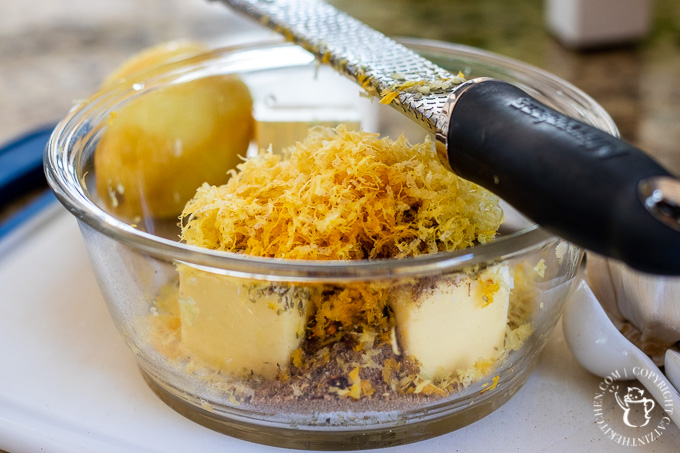 For me personally, the most interesting part of this process was making the spiced citrus herb butter. I don't think I've ever made a butter roll like this before, and I found it really, really easy. As long as the butter is room temperature, I can't see why this should intimidate anyone. Measure out your spices, grate in some citrus zest, and get it mashed up.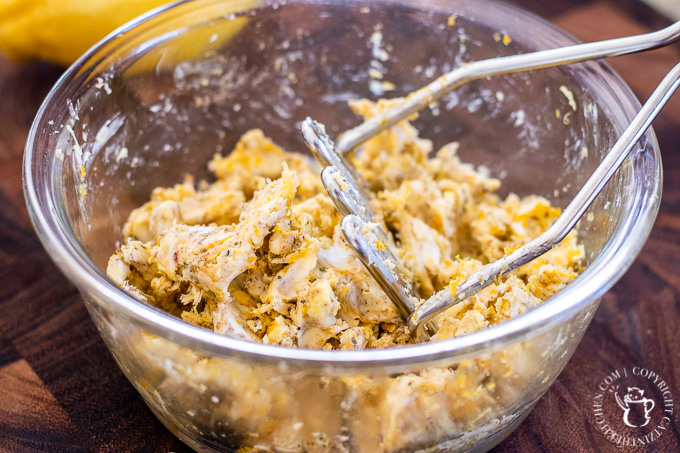 I don't know that I would say my butter log was particularly attractive, but it got the job done. This was the first thing I did, as it needed to firm up in the fridge, and I needed to give it time to do that. After an hour, it was ready to go.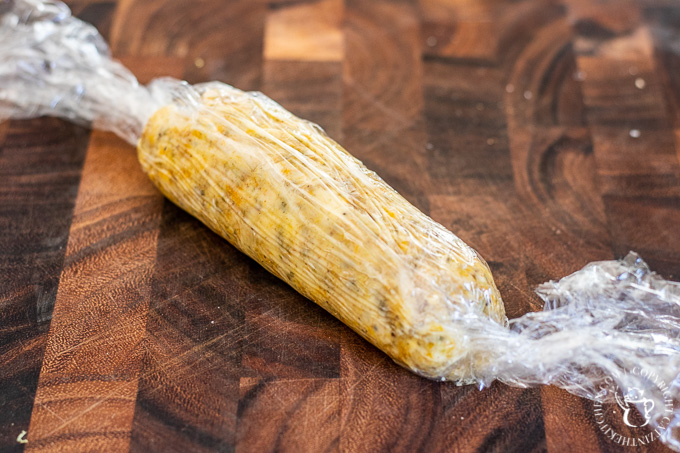 Now, I'm going to include this next picture, which I readily admit is not appetizing. But I found it intriguing. I'm used to stuffing the bird itself with the aromatics. Here, though, they go in the bottom of the roasting pan, along with some garlic halves (YUM) and, well, the turkey's neck. Not pretty, but, hey, we're going for flavor here. It's not a beauty contest (more on this later…).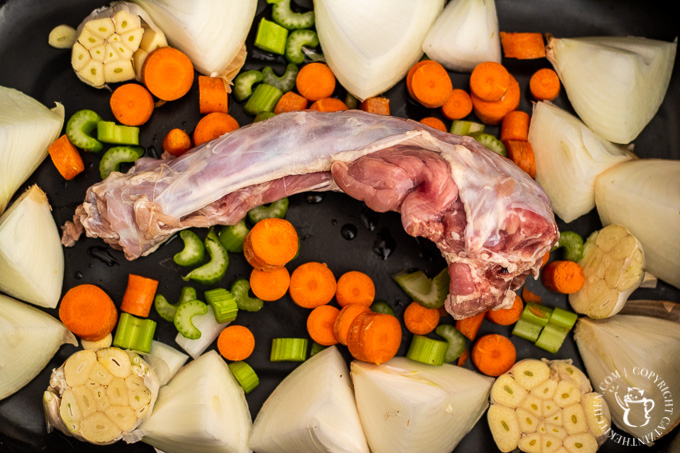 Instead of the aromatics, the flavors going into the turkey were the butter roll and citrus! I chopped up as many lemons and oranges as the cavity would hold crammed them all in there. This was a big bird (25 pounds!), so it took a good amount of fruit to fill it up.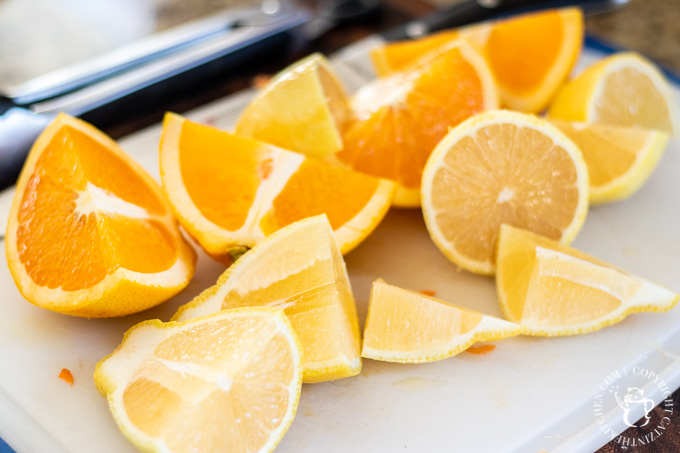 This last part is where it got a little messy. The spiced citrus herb butter roll is supposed to get cut up and slid under the skin of the turkey. This sounds easy, and it is apparently easy for Chels to do with chicken, but for me and this turkey…it was hard. There were some places I could make it work, but I ended up making some incisions in the skin to get it everywhere it needed to be. This didn't affect the tenderness or the flavor of the finished product, but it did make the turkey less presentable than I would have liked. To make appearance matters worse, some of the butter medallions held their form better than expected, allowing the herbs to roast in place as the bird cooked! This made for some delicious bites, but a few odd-looking dark spots. Ah, well, as I said…not a beauty contest. But these are things I plan to work on when I inevitably make this turkey recipe again.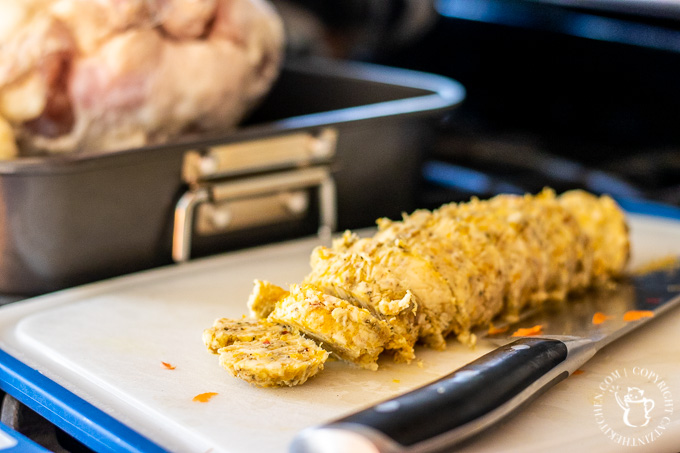 Aside from the above, this is a classic, straightforward preparation. We use a turkey roaster, as we also need the oven for other things, and between the aromatics and turkey neck in the bottom of the roasting pan and the giant bird, we barely got the lid on! Lots of basting with the juices from the bottom of the roasting pan and lots of temperature checking in the last hour or so, and we ended up with a truly tender, flavorful bird. Give it a try! Happy thanksgiving!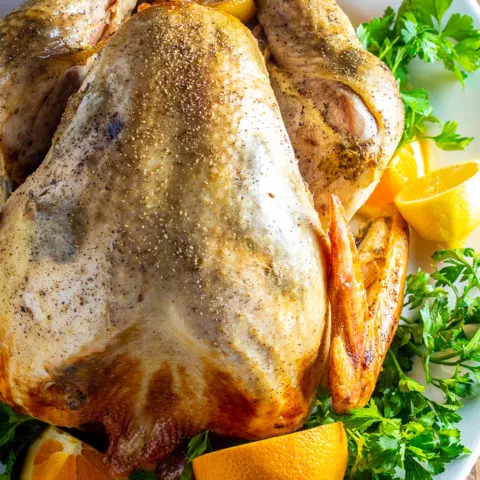 Citrus & Garlic Turkey
Prep Time:
1 hour
30 minutes
Total Time:
5 hours
30 minutes
With some easy additions for enhanced flavor, this citrus & garlic turkey is simple, straightforward preparation for a classic Thanksgiving bird.
Ingredients
3 large cloves garlic, grated
1 head of garlic, cut in half horizontally
2 lemons
1 orange
1 1/2 sticks unsalted butter, at room temperature
1/2 tsp red pepper flakes
3 tsp dried oregano
1 1/2 tsp coriander
Kosher salt
Ground black pepper to taste
1 large turkey (thawed, neck reserved, giblets removed and discarded)
2 onions, quartered
2 carrots, sliced into rounds
2 stalks celery, chopped
Instructions
In a medium bowl, mash together butter, grated garlic, zest of both lemons, zest of orange, red pepper flakes, oregano, coriander, 1 tsp of salt, and a pinch of black pepper.
Use a spoon to transfer the mixture to a piece of plastic wrap, and then mold the mixture into a roll or "log". Refrigerate until firm (about an hour).
In the bottom of a turkey roaster or a large roasting pan (if using an oven), add onions, carrots, garlic halves, celery, turkey neck, and two cups of water. For a roaster, place the base rack over this mixture. For a roasting pan, cover the top of the pan with a rack on which you can place the turkey.
Rinse the turkey thoroughly in cold water and pat it completely dry, and then slice the butter log into rounds.
Separating the skin of the turkey from the thighs, breast, and drumsticks, slide the rounds of butter underneath the skin, distributing as evenly as you can.
Fill the cavity of the turkey completely with the lemons and orange, and then tie the legs together with kitchen twine (if not already tied together).
Season the whole bird generously with salt and pepper. Place it into the roaster or on the prepared rack and let it sit at room temperature for about 30 min.
Preheat the oven or turn on the roaster to 350 degrees, and then roast the turkey for about two hours, then begin basting the turkey every half hour with juices from the bottom of the roaster or roasting pan. Continue this for another 1 1/2 to 2 hours, or until turkey is well-browned and the internal temperature at the thickest part of the thigh registers 165 degrees.
Remove turkey from heat and allow to rest for another half hour before carving.
Notes
Slightly modified from original recipe published in Food Network Magazine.
Ingredients are for a large (20-25 lb) turkey. For smaller birds, adjust accordingly
Nutrition Information:
Yield:

8
Serving Size:

1
Amount Per Serving:
Calories:

221
Total Fat:

19g
Saturated Fat:

11g
Trans Fat:

0g
Unsaturated Fat:

6g
Cholesterol:

111mg
Sodium:

110mg
Carbohydrates:

10g
Fiber:

2g
Sugar:

4g
Protein:

6g